WE decided to ask Anfield Wrap contributors what they would do this summer with clubs that weren't their own; how they would resurrect Aston Villa? How can Arsenal make the next step? Who would you hire and who would you fire?
Each got to advise, be Director Of Football or even take the reins at the club in question. And of course, we asked Dave Downie to do Liverpool.
You can read the others here:
Norwich City — Gareth Roberts
HAVE you heard of "morbo"?
It's a Spanish word that doesn't translate easily to English. Literally, you'll get back "disease", but that's not the core of my big plan for Norwich City domination (although wiping out a squad that finished 19th in the Premier League and conceded 67 goals is tempting).
No, morbo is, essentially, needle. An edge. That thing you can't quite define that fires your belly when you think of your club and compare it to their club. It's being about something, and that something being better than them. It's swagger. Fight. Pride. And it's sticking two fingers up at the end when it all worked out right for you.
Norwich City already know morbo. They have it with Ipswich Town. They hate Ipswich Town. And Ipswich Town hate them. So there's a start. Something to build on. Something to seize and make it our mojo.
Because day one walking through the gates at Carrow Road, the big concern for me is that it's all too nice; too accommodating. So accommodating, in fact, that there's a hotel in one corner of the ground overlooking the pitch. And a restaurant in another.
"Three courses, a kip and I'll take the three points as well, please. And make it snappy. Are you back yet? WHERE ARE YOU…"
Come on, Norwich. There's potential here. There's a loyal following waiting for someone to provide the spark. There's even a section of the ground the fans call 'The Snakepit'. How boss is that? They want it, so let's give 'em it. Let's get morbo. Let's get nasty.
Number one then, this ground needs to be rocking every game. At just over 27,000, Carrow Road isn't the biggest, but no matter. It's not the size, it's what you do with it. Set the mood right, and this lot can go like a train. You watch.
Balls out then, step one — let's sit down with the key fans. Let's have a chat. Is there an appetite to push for a safe standing section? Is there scope for it to be unreserved, so the loudest fans can get down early, get in, rub shoulders with their mates, and then kick off the rest of the ground singing every week? I want someone on that. Look into it. Tell me the rules. I want us to be first. All that matters.
And the actual ground itself. A hotel? OK, we can't knock the thing down. But no-one looks out the windows while the game is on (I checked) so let's cover it up for matches. And not with some crap sponsor either. Or a nonsense logo ('We Come Not To Play' anyone?). Let's cover it with something that gets the fans fired up. Struggling? I'm thinking a huge mural. I see a ploughed field with a smoke-heavy sky, burning tractors turned over and Ipswich Town shirt-wearing farmers laying dazed beside them as a mean-looking canary clutching a Molotov cocktail stares menacingly ahead. Think 'The Yellow Wall' in Norfolk. Yes, the Yellows. Up the Canaries.
(By the way, during research, I stumbled across this kit. Norwich 2016-17 under Gareth Roberts' command will be wearing this).
I want the kids in there as well. We'll talk logistics later, but at Norwich we can't start getting blasé about being a one-team city. It's not just other football teams that we are competing with for little ones' attention, it's the very perception of football. We need a new generation of match-goers learning the ropes at the ground, not kids that think footie is played out on Sky TV and the PlayStation. So let's go to see them. Let's make it happen. Let's get out of the walled training pitches and the gated stately homes and into the city; into the schools. Inspire them. Show them we're real. Tell them what we're about.
Explain why we hate Ipswich, tell them who Jeremy Goss is. About Bayern Munich, about the 1985 Milk Cup win. Show them the final. Explain the atmosphere. Bite them with the bug. And we go from there. Norwich boast the oldest football song in the world (it's claimed) in On The Ball, City. Let's get people singing it. Meaning it. Every week. Give them the words, if need be. Whatever it takes.
So there's the ethos. We're not taking any shit any more. We're not nice. And you can shove Alan Partridge quotes up your arse. We don't want people turning up to what is a beautiful-looking city and taking the piss, we want them turning up for a battle. There's a pub called The Murderers after all.
The manager then.
Alex Neil is the current manager. His CV includes promotions for Hamilton Academical and Norwich, via the play-offs, in 2015. He'd only taken over in the January, though, so let's not get too carried away, but 17 wins out of 25 from then until the end of the season in that campaign is pretty impressive.
As a player, he won the Scottish First Division with Hamilton.
Sound.
Does this feel like a fella leading the fight? Is he our Braveheart? Because you know what, look at that table again from the season just gone. It's the Premier League, yes. But we should be in the Premier League.
Last season in the Premier League, Norwich managed just nine wins from 38 games, scoring 39 goals and, as mentioned, conceding 67 (only Villa conceded more).
The Canaries lost five out of the last six, including an embarrassing collapse to relegation rivals Sunderland. That's a time when they were supposed to be fighting for their lives. Canaries? Yeah. In the polluted mine-shaft sense. They failed to score in 16 games in the top flight and managed just five clean sheets.
And — and I witnessed this — they managed to lose 5-4 to Liverpool in a game the Reds were absolutely desperate to gift them. They'd grabbed a draw in injury time yet still managed to give it away. I enjoyed it as a Liverpool fan. But it should have cut deep on the banks of the River Wensum.
So fight, heart, gusto, morbo? I'm not feeling it.
How does Mr Neil walk back in front of the same group of players — give or take — this summer and tell them to start believing? How does he fire them up? What does he do different? Do they really want to hear about who Norwich did or didn't buy as excuses? Or do they just want to be fired up and coached into achieving their best in a sport they love? One they've made their living out of.
Alex… You're fired.
I want the club to feel different post-relegation. To aim higher than just scraping a return to the top flight then fighting relegation; to have a burning desire for success against the odds. I want everyone involved at Norwich City to pour everything they have into making us better. Every day. Every hour. No half measures. No half arsed. We're going to be this real unit. We're going to worry people. We're going to find every possible potential advantage and exploit it. On and off the field.
For all this to happen, the football side needs new names at the top. Names that Norwich fans can believe in. That excite them. That fire them. That inspire them. And that make everyone else in the Championship sit up next season and say, "oh, hello, don't fancy going there much!".
I want drive in this team. Desire. So it's a welcome return to Carrow Road for a man who can bring that in bucketloads. Back where it all started, welcome please, ladies and gentlemen…
Craig Bellamy.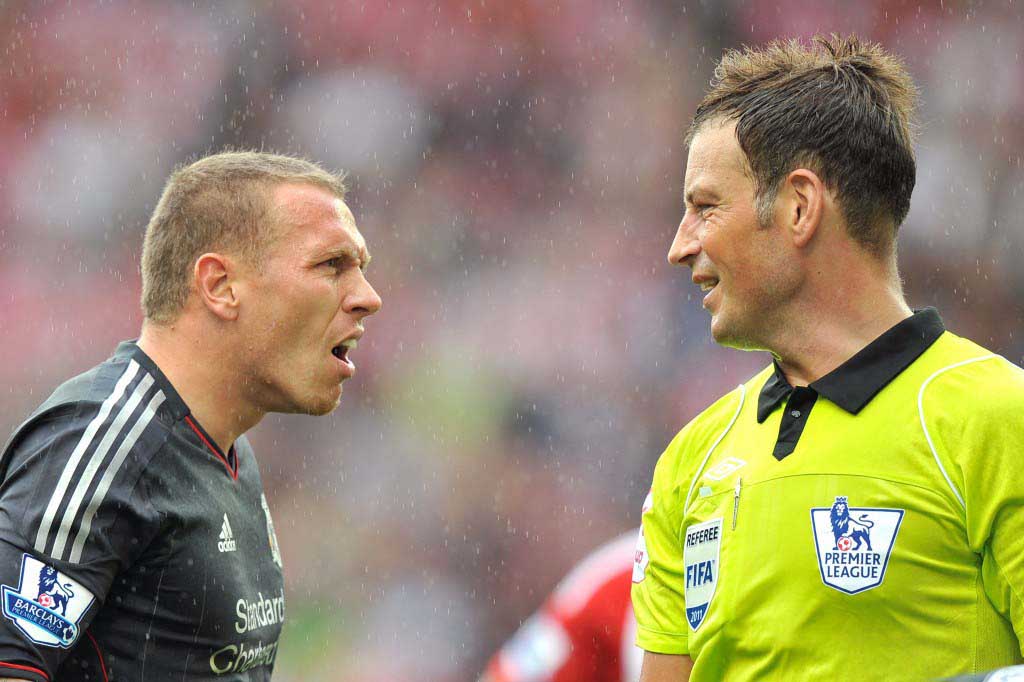 Oh yes. The boys will run through walls for Craig. And here's a man who knows the power of being mentally in the right place. Skill allied to mental focus. He can pass on this wisdom. He isn't just passion and fight; he's more than that. He's played at the top, for different managers in different systems. Yes, there's a passionate streak — we want that — but he's an intelligent man, too.
Bellamy knows how important it is to bring players through the system given his own path to the top and he has been taking the time to learn more about the game. He's recently been watching what goes on Ajax on his own time, for example, and has also worked with Wales youngsters alongside studying for his badges.
It is of course Craig's first big job on the management side. So, it is with great delight that alongside Craig, working upstairs as a sounding board on players and approach, I'll be bringing in another man with Norwich in his blood.
Steve Bruce.
Bruce has won honours here, and is quite rightly respected in the game. Having achieved promotion to the Premier League on four separate occasions we thought Steve the perfect man to help fire up this club.
He went public on his doubts at Hull following promotion and we struck while the iron was hot. Brucey loves his food and drink — what better place than Norwich?
Delia Smith once asked Norwich fans, "Where are you?" I know now they are in the best place they can be. They're buzzing. We intend to keep it that way.
Now you may ask, what is this 'we' talk? Well, as we move into the future, 'we' is obviously me, Craig and big Steve. I'll largely leave them to it, to be fair, choosing instead to cruise the Norfolk Broads with a boat and a fishing rod. I'll turn up on matchday though, which is more than can be said for some of the bigwigs about.
But right now 'we' is me and Lee Wright.
Lee is the man I've leaned on in this difficult time. I mean, one minute I was on the wind down, looking forward to shorter days in the office, a bit of sun and some time with the family. And the next, I was bossing Norwich fucking City.
Lee is an exiled Scouser living in Norwich. He's played footie down there, albeit at a slightly lower level, and he works in the leisure industry in the city. So I ran the ideas above past him and he was right on board (albeit that he added ditching the goalkeeper's pink socks, scrapping goal music and sacking the mascot).
And on the playing side, then? Where are we at? And what could Lee tell me?
It was a damning verdict, and it started in Lee's speciality position. Goalie. "Rudd and Ruddy – both shite."
Keeper needed, then.
The defence?
"They're shite at the back. Bassong is poor." We gave Russell Martin some brownie points. Being Scottish, and the captain, we reckoned he'd be on board with our plans. Timm Klose will be back next season, too. But a centre half feels essential for the slog of the Championship.
Elsewhere then? Wes Hoolahan was seen as solid enough, but at 34 there has to be some concerns about his ability to contribute across the course of a long season. In fact, according to Lee, "about three quarters of the team are out of contract next season".
Nothing Craig and Stevie can't sort, though. I'll take the phone when I go fishing just in case.
Steven Naismith is a belter, I argued, despite Alex Neil seemingly not fancying him when it mattered last season. I was surprised Everton sold him, and in the Championship he will surely shine (plus his work ethic will suit the morbo spirit). Him and Bellamy will be like that.
There was little love for Norwich's firepower from Lee, though.
Jerome Sinclair don't impress him much, and Dieumerci Mbokani was brilliantly described as "shit at being a brick shithouse". Given the 39 goals total in 38 league games for Norwich, it's clear a striker is needed.
"Hiya, Liverpool? Can we borrow Benteke? And Danny Ward for that matter – Aberdeen fans seemed to love him and he isn't getting a game at Anfield anytime soon."
We chatted on the strange case of Ricky Van Wolfswinkel, a fella the Reds were once linked with. Norwich paid a then club record £8.5m for him in 2013, he appeared in 25 games, scored one, then has since been on loan at St Etienne and Real Betis, managing six goals. Once upon a time he was scoring for fun and was nicknamed — according to Wikipedia — "HatRicky" – because of all the times he scored three goals in a game.
He's got a year left on his deal, clubs aren't queuing up, he's still only 27… the fairytale is waiting to be written, fuelled by Delia's delicatessen and Bellamy's iron fist, perhaps he can be the man.
Will that do you? The rest is for me Craig and big Steve Bruce, to be honest. Don't want to tell the world, like. But for now, just imagine the ground. Just imagine the faces. Think of the roar:
Kick it off, throw it in, have a little scrimmage,
Keep it low, a splendid rush, bravo, win or die;
On the ball, City, never mind the danger,
Steady on, now's your chance,
Hurrah! We've scored a goal.
City!, City!, City!