WE decided to ask TAW contributors what they would do this summer with clubs that weren't their own; how they would resurrect the likes of Aston Villa, how Arsenal make the next step.
Each got to advise, be Director Of Football or even take the reins at the club in question. And of course, we asked Dave Downie to do Liverpool.
Here they are then…
---
Spurs – Philippa Smallwood
THE day is May 14, 2016. I opened my email from Neil Atkinson: "YOU are the boss!"
Great…my mind racing away with what I would do if I was Klopp. Which players could I rely on? Which players could be discarded and who would I get in? What formation and shape would I commit to? What was required to make us THE BEST?
When I was little I always dreamed this day would come.
I lead 18 men out into the centre of the Anfield pitch and turn to the adoring crowd all chanting my name. I, Philippa Smallwood had taken this team to the brink. To the brink of sweeping aside all who had stood in their path to greatness and finally lifting that elusive Premier League trophy, after 27 years.
I couldn't reply quick enough: "Great idea, Neil! I'm up for it."
I opened Neil's reply, and it sudden dawned on me. I hadn't read the small print. Well actually, there was no small print. It was there clear as day and read: "What you would do if you were put in charge of another team".
My dreams were dashed!
Spurs I got. Fucking Spurs! If it isn't bad enough that they run around with cocks on their shirts, what could I find to criticise about a team that had a great season? What changes could I make to them? Why try and fix something that isn't broken?
If I'm honest I probably watched Spurs the least out of any team. I even missed the game at Anfield because I was on holiday. I just didn't get them. I didn't quite get what they had done to get them where they were. They didn't amaze me with their attacking brilliance. In fact, they bored me with their organised yawn-fest.
There was no shock value as with Leicester. Let's face it, Spurs have been teetering on the brink for some time. Looking like they may one year beat Arsenal to their fourth place trophy.
This was that year! The year they would finish above the Gunners! Then on the last day of season they play like the cocks on their shirts and allow the Gunners and Mesut Özil to take the piss, and make my job that bit easier.
4:0 win and we finished above Tottenham in the #bpl table! 🙌💪 P2!!! #AFCvAVFC #COYG #YaGunnersYa @Arsenal pic.twitter.com/dbKPXMN3uW

— Mesut Özil (@MesutOzil1088) May 15, 2016
Looking back now, I don't think they actually had that great a season. They finished on 70 points and in third place. For four of the previous nine seasons they would have failed to finish in the top four with that points total. So were they just lucky that pretty much every other team wasn't up to scratch?
The best season they have had was actually under Andre Villas Boas in 2012/13. They only finished in fifth place, but had 72 points. In the league they had a 55.3% win rate – winning 21 of the 38 games played, which is the highest for Spurs in the Premier League era. Was AVB just unlucky that season that he missed out on the top four?
They also reached the quarter final of the Europa League that season, losing out to Basel on penalties, but went out in the last 16 this.
In the 2013/14 season when AVB was sacked by the quick-firing Daniel Levy, he had a 50% win ratio after 16 games. For both the 2014/15 and 2015/16 seasons Spurs have won bang on 50% of their league games, so on what basis has Pochettino now been handed a new five-year contract?
If we are looking at this fairly, then I have no idea how or why Tim Sherwood lost his job. Miraculously, he had a 59.1% win ratio after his 22 league games in charge.
At best, in his two seasons in charge of Spurs, Pochettino has managed to help maintain the level previous managers had got them to. A League Cup final loser's medal his highest achievement.
I'm not saying he should lose his job, just that you could argue those before him were unlucky to have lost theirs.
So, what would I do if I was Pochettino next season? Or if I was advising Pochettino?


I don't see any reason why Pochettino would or should change the shape of the side. A settled and well organised 4-2-3-1 formation worked well enough, and suits the squad Pochettino has assembled. Everyone knows their job, so why mess with what isn't broken?
They managed to swap players around for the Europa League games, but the problem next season is that with the Champions League they will not have this luxury. The fans will not accept playing Nacer Chadli off the front against Real Madrid or Barcelona. If they play the first 11 every game, then no doubt fatigue will play a major part come the end of the season.
So, they need better quality back-up or to upgrade some of the current first choice 11 so they now become the able back-up. With an already relatively small squad, I would add some extra quality. They encountered very few injuries during the season, which didn't highlight the size of the squad as a potential problem.
Stating the obvious, the priority has to be a top quality striker to take the pressure off Harry Kane. He has managed two brilliant back-to-back seasons for Pochettino, scoring 21 league goals in 2014/15 and 25 league goals this season. If he was to get injured then I cannot see where the goals would come from.
A striker I like the look of is Andre Ayew, and he should be playing for a team better than Swansea. Rumoured to be available for around £15m and with Premier League experience, he would be my choice. A player who has the physicality to take on a similar role as Kane, but who also can produce a bit of magic. He can also play in areas other than centre forward, adding that bit more variation.
https://www.youtube.com/watch?v=gSc6BIbaoyg
The centre midfield is Tottenham's real strength for me. With Dier (22), Alli (20), Mason (24), Bentaleb (21) and Dembele (28), they have players who can remain the heartbeat of this side for many years. You would like to think they can only grow and get stronger together. So, no tinkering needed here.
Out wide, Spurs currently have Eriksen, Chadli, Son and Lamela. This is one area I think they could make real improvements in. Eriksen is a gem, with only Özil creating more goals than him this season. Son has just had his first season in the Premier League, and I would like to think he can improve.
Lamela has been at Spurs for three seasons now, and I am yet to see enough from him to suggest that he should be first choice for any team aiming to compete both in the league and the Champions League. He is a hard working wide player, but with only five goals to his name for the season, should his place not be under threat?
If Spurs really want to compete, then they should look to bring in a dynamic wide player. I'd try and ruffle a few feathers over at the Emirates. Alex Oxlade-Chamberlain struggles for games when he is fit at Arsenal. But he is someone who I could see thrive under the careful guidance of someone like Pochettino. Why shouldn't a player move from Arsenal to Spurs for change? And if nothing else it gets some needle going.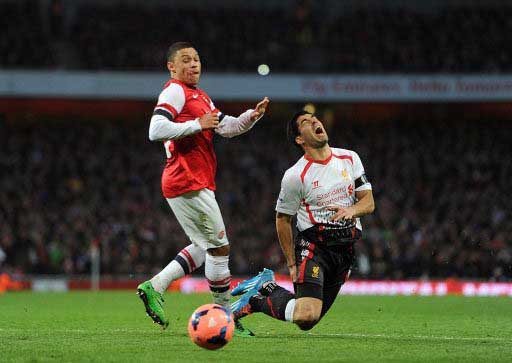 If they don't get him, they could look abroad, someone like the linked-to-Liverpool Brahimi could well be worth a gamble.
In defence, the only real concern is what happens if they get a couple of injuries? With Alderweireld, Vertonghen and Wimmer as the only central defenders, they rely on Eric Dier to fill in if required. But why move him from midfield?
I would love to see John Stones under the wing of Pochettino. There is a proper defender in there somewhere and I am sure that he can help find it and nurture him into a great player. Test Everton's resolve and attempt to get him in. It would be a massive signing, a statement of intent.
Spurs already have the creative player they need in Eriksen, the centre midfielders they need, the centre forward they need. So go huge at centre back and say to the league we want to be the best; we want your best.
At full back I have been impressed this season with Kyle Walker and Danny Rose. I had doubts about both of them defensively, but they have nailed down their places.
As back up there is Kieran Trippier and Ben Davies, who have more than held their own when having to step in, so no changes for me.
Without spending a huge amount of money on Manuel Neuer or David De Gea it is difficult to see how you could improve on Hugo Lloris in goal, and I doubt they would leave their respective clubs for Spurs (no disrespect).


Michel Vorm is a decent back up keeper. This gives us a solid squad of about 24 with options all over the pitch – we could handle Saturday/Tuesday or Sunday/Wednesday with little drop-off.
But, and there's always a but…
But, does anyone have Dr Steve Peters' phone number?
A real concern when looking at the recent history, and especially this season, is the mental fragility. When the pressure was on at the end of the season they fell away. I would like to put it down to it being a young squad with no experience of being in that position before, but Leicester's players showed no such weaknesses.
They also had a relatively poor start to the season, with three draws and a defeat in the first four games. If they found it difficult with no summer tournaments to contend with, it would be a concern for me next season after so many of the squad has been called up for the European Championships.
With 13 draws they were difficult to beat. But it's the fine margins that win you titles. Throw caution to the wind. Don't settle for the draw and go for the win. Spurs supporters had a great time this season. Take a few more chances and they'll have an absolute ball again.