BRENDAN Rodgers — just lay off him, yeah?
It's a timeless one, isn't it? Being fickle about a manager. Like the slag-off recidivists that we are, we love to lump it all at his door the very moment things look a little bit dodgy. Yet, as day follows night, you can trust the fan to turn on the boss at the first hint of frustration. The fan knows it's wrong. He or she can't be this stupid. Maybe it's the sense of powerlessness. Or is it simply that the football machine is guilty of feeding the frenzy by relenting to the cycle of backing and then sacking managers within ever decreasing cycles?
Brendan Rodgers. About a month ago he was king of the mountain. Eight wins in 10. 12 in 16. Best managerial record in the world since Xmas. Something like that. Then that bloody solar eclipse happened and he can't buy a break. Two league defeats. Big 'uns it has to be conceded — to Manchester United and Arsenal — have seen him take the mightiest of perceived 'from hero to zero' tumbles.
Before that black day in mid-March when the sky darkened so briefly yet so ominously for Brendan he was surfing the crest of what felt like a mighty swell. He'd done the thing that makes folks sit up and really respect emerging managerial forces. He'd come back off the ropes and was swinging and punching kippers in all directions. He'd risen, fallen, and risen again. Looked into the abyss and gambled and twisted his way out of it.
https://www.youtube.com/watch?v=bOVaSica_j0
Rodgers did what Rodgers does better than anyone — he went back to the lab, trashed the place, disregarded all previously accepted rules and data and started experimenting again. He emerged with a team of monsters — a young attacking  No.10 in Markovic stationed at left wing back, a Bambi-esque centre mid in Emre Can now a new type of marauding offensive defender, Henderson at wide defensive right, wide boy Raheem Sterling in at central striker, comedy keeper and perennial stayer (rather than goer) Simon Mignolet reborn as a ball punching, empty anything and everything, flying machine. All reinvented so that they, and the team, might perfectly orbit the genius of Brendan's brain (golden) child, Philippe Coutinho.
The 3-4-3 worked and in the afterglow of what felt like a season-defining dispatching of Manchester City at Anfield in early March, the gallery was more than buying into Brendan Rodgers' vision. Managers couldn't work out a way round his new system — frustrated as it dumbfounded then routinely dismantled their hapless teams. Whispers were that champions City had Rodgers as their No.1 target to replace Pellegrini. Barcelona were keeping a watching brief. Every smart (arsed) journalist under the sun seemed to be tapping a nose towards Rodgers' new revitalised LFC as next seasons 'Champions elect'. They were calling it early.
So where did it all go so wrong? Two defeats later and the forums and phone-ins are posing questions about Brendan's fitness for office. How can he keep his job now? Others have fallen for less. Success in the FA Cup can't mask the flaws in the Rodgers set up. Whispers of dressing room mutiny and Melwood malcontent. The squad needs major surgery. Liverpool are miles behind rivals Arsenal and Man Utd. Blah blah. Relentless and predictable blah.
The problem for Brendan, and his ilk, is that football likes to draw a big conclusion. Every fucker wants to grandstand. It's a shame that there are no spaces left for nuance. The answer to the question doesn't always have to be 'he's the next Barca manager' or 'he should be sacked'. It can be, let's look at the body of evidence as pieces of a puzzle. With this guy do we seem to have more right than wrong ones? What part has fate played? What might have happened with a better head wind? An injury less here, a faster settling in of a new signing there?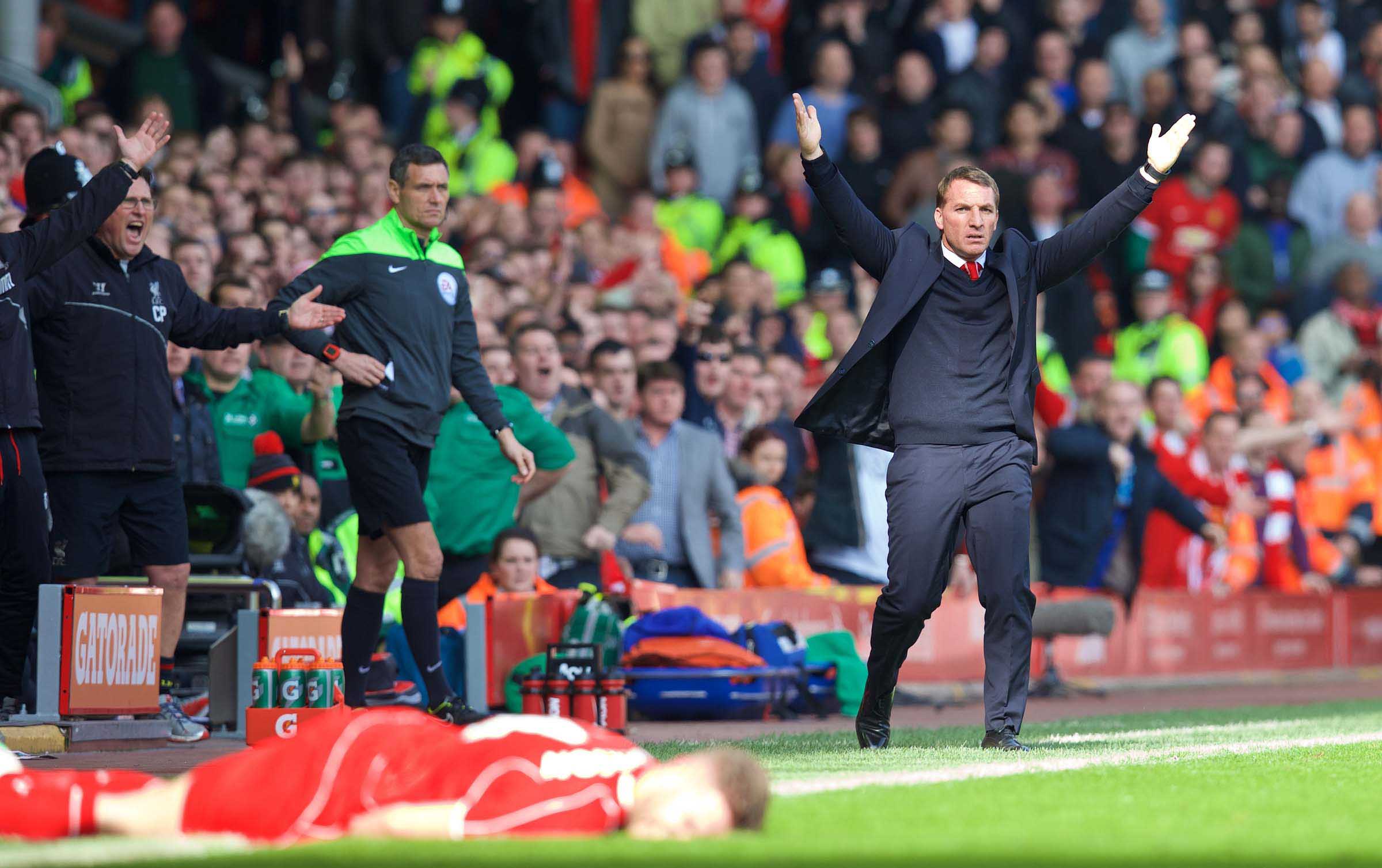 Trouble is, that the negative prophesies tend to self fulfil. The sackee instantly looks the loser and usually takes a while to rediscover his mojo, while the new era always feels fresh and replete with endless possibilities. Owners of the bigger ships vindicate the hatcheteers by granting wishes and providing the illusion that twisting — rather than sticking — will eventually be its own reward .
And, we all like a change. A new toy. New dreams to dream. It's only natural. Doesn't make us right though. Not when we've got a real catch in Brendan Rodgers. A Raheem Sterling or Jordan Ibe in managerial guise. He's young, he's raw, he'll have dips in form, but ultimately he's unbridled talent. A giant in the making. A near future world star. Let's nourish, encourage , and back him.
Never mind what happens next this season in the paltry number of games that remain. He nearly won the league with a team thats level had been sixth, seventh or eighth for going on five years. He got us playing again this season despite the twin traumas of Suarez's desertion and Sturridge's injury. It's not his fault that the club bought him a Balotelli-shaped couch when he wanted the boat pushed out for an Alexis Sanchez model table lamp.
The lad Brendan knows what he's doing. Let's not be discussing his right to the Liverpool manager's job. The boy's good and will prove it next season. Don't believe me? Just watch.
Read: Liverpool: To compete is to fail but never fail to compete
Read: Liverpool: Little more than a balanced investment portfolio?
[rpfc_recent_posts_from_category meta="true"]
Pics: David Rawcliffe-Propaganda-Photo
Like The Anfield Wrap on Facebook