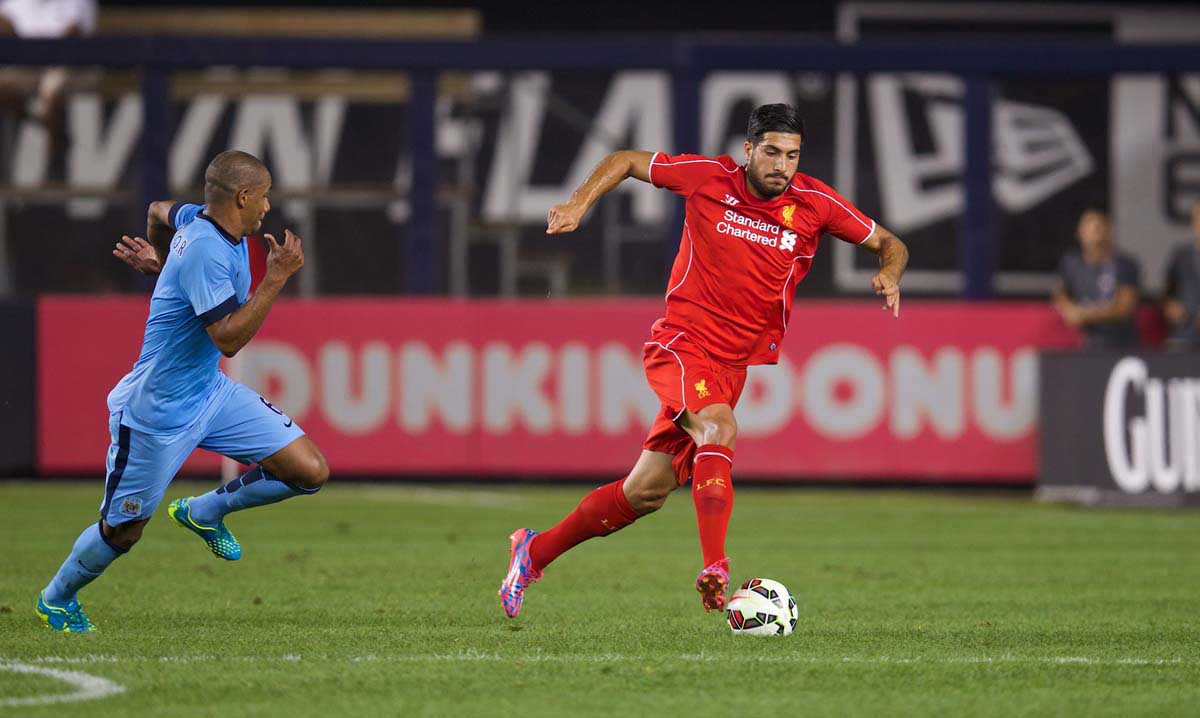 VERSATILITY can be a bit of a dirty word in football, especially in England. Multi functional players who can fill a variety of roles within a team are seldom elevated to hero status among fan bases or celebrated in the media.
Take James Milner.
He has played at full back, on the wings, in central midfield and has even tried his hand up front for one of the best club teams in world football. Yet, to this day, if he starts a game for his country, people on this island usually groan. Ask the average British football fan what they think of a player like Milner and I expect the phrase 'Jack of all trades, master of none' will make an appearance somewhere in most summaries. The general consensus that surrounds players like Milner is that they're all right to have in a squad but not someone you would necessarily want to be starting every week.
We've had numerous players like this at Liverpool down the years. For the first half of his career Jamie Carragher was always set to be replaced by a 'better' full back but was worth keeping around because he could 'do a job' anywhere along the back four or even in defensive midfield at a push. Dirk Kuyt was regularly forgotten during the summer months of the late 2000's whenever names like Ricardo Quaresma appeared in newspaper rumour columns. Who needed a hard working, unspectacular Dutchman who could play in any forward role when an eye catching Portuguese winger with a step over in his locker could be acquired for just £20m?
It's always been curious to me that players who can fill a variety of roles are so often looked upon in a comparatively unflattering light until they 'make a position their own'. How many times have we all heard the words 'his versatility works against him' uttered over the years?
Take Steven Gerrard as another example. He is one of the most versatile players you could ever wish to see. He's played basically every position on the pitch for Liverpool at some stage or other yet, during his peak years, if he wasn't allocated a central midfield berth by Rafael Benitez the media and many Liverpool supporters went into melt down regardless of how effectively he was performing elsewhere. It was almost portrayed as if Benitez was insulting Gerrard whenever he gave his skipper a place in the side other than the one he craved most.
Gerrard never seemed pleased when playing out wide despite the fact that he won the Player's Player of the Year award doing so. Even when he lined up as a second striker and formed that deadly partnership with Fernando Torres it always seemed a safe bet that he would drop back into central midfield sooner or later. Personally I always got the impression that Gerrard was never completely happy in his own skin unless he was in the centre of the park dictating matters the way the most talented kids always do in amateur youth football. There is no doubt that many of his advocates and friends in the media saw things the same way. There was basically a lobby for Gerrard to be reinstated as Liverpool's main midfielder for a sustained period of the Benitez era.
Maybe our brains crave just order like that. Perhaps there is a need to tie a player down to one specific role before we can truly see them as great.
Gerrard will be remembered by most as a central midfielder when he hangs up his boots despite the reality that his best years were not spent in that position. His defining game in Istanbul saw him occupy three positions over 120 minutes of football. He struggled in the first half of that Champions League final when he was in central midfield but in the second period he moved further forward and excelled before ending the game at right wing back where he nullified the dangerous Serginho. It summed up exactly how important his versatility was to Liverpool and how he was often best deployed away from the centre of the field.
To this day though, suggesting that Gerrard isn't and wasn't a great central midfielder can spark some furious rebuttals from people. He's the best all round footballer I've seen play in a red shirt but I can immediately think of several Liverpool players from the past decade alone that I'd much rather have in the engine room than the captain.
Which brings me, belatedly, to my main point.
It may be early days but Liverpool look to have a rather special talent on their books. I speak, as the title suggests, about that handsome German bloke named Emre.
When he was signed in the summer from Bayern Leverkusen he was widely expected to fill a central midfield role on Merseyside. Six months on and that hasn't been the case. The only position he's actually had a consistent run in the side at is centre back.
That he's looked so comfortable and full of class despite primarily occupying a role that no one was expecting him to is, quite frankly, incredible. So is the fact that he's less than a year older than Raheem Sterling. Being 21 years old and playing for a new club in a new league in a position that isn't completely natural must be taxing and yet Can looks like he's been doing this his whole life. Still a kid, albeit a physically imposing one, he exudes the confidence and composure of a veteran and is arguably Liverpool's most impressive centre half as things stand.
Against Everton on Saturday the imposing Romelu Lukaku was completely bullied. Can regularly dispossessed the Belgian striker and dribbled around him as if he was a training cone on several occasions. Dealing with Lukaku hasn't been an easy task for Liverpool defenders over the past few years but the German made it look like shelling peas at Goodison Park.
On the ball, the drive and ability to power past players from deep that Can displays adds another vital string to his team's bow. Against Bolton in the F.A Cup last week he shifted up the pitch into midfield, eased through the gears and dragged Liverpool into the next round of that competition. It was more understated and subtle than the Gerrard style rescue acts of years gone by, but every bit as impressive.
Perhaps he will now have to do that more often from here on in.
Lucas Leiva's injury means there is a void to be filled in the heart of Brendan Rodgers' side and neither Joe Allen or Steven Gerrard look as well suited to replacing the Brazilian and partnering Jordan Henderson in the engine room as young Emre does at present. A duo of Henderson and Can has most everything on paper. Legs in abundance, technique, presence and brains. It could be Liverpool's central midfield for the next five years plus if they maintain their current upward trajectories, but moving Can into that role right now would come at a price as it would obviously mean he would no longer be part of the back three that has finally given this team a solid foundation of late.
He may not be a natural centre back, but Dejan Lovren or Glen Johnson taking up that position over the coming weeks should Can move forward isn't a particularly appealing thought. Our outstanding young midfielder is simply a far better defender than the £20m Croatian or the fading England full back. That is simultaneously a huge compliment to the youngster and a damning indictment of the club's current defensive options.
Brendan Rodgers now has a big decision to make with crucial games against Spurs, Southampton, Manchester City and Manchester United looming; is it time to unleash Emre Can in the middle of the park or is it more important to retain the stability and sense of calm that he is providing to a previously shambolic defensive unit?
Perhaps this is the beginning of what will become a recurring theme over the coming years. Maybe Liverpool fans are destined to debate Emre Can's best position on a week by week basis and argue over where he is best utilised just as we did for so long with our captain during his best years. It's entirely plausible that, with the skill set he already possesses, Emre Can will be a 'utility player' at Anfield and, despite the public's often-times negative perception of such players, that would not necessarily be a bad thing.
If he doesn't make one position his own for the next few years it shouldn't matter. Javier Zanetti is a God in Italy and Argentina and he played in numerous positions all through his career. So too, have many other exceptional players down the years. As long as Emre Can is on the pitch, Liverpool will be a better team and that's the main thing. It's just a shame that this squad doesn't have two or three of him right now because they sure could use them.
At this particular juncture I'm not entirely certain what Emre Can is going to be but one thing is for sure, it should be great fun finding out.
[rpfc_recent_posts_from_category meta="true"]
Pics: David Rawcliffe-Propaganda
Like The Anfield Wrap on Facebook