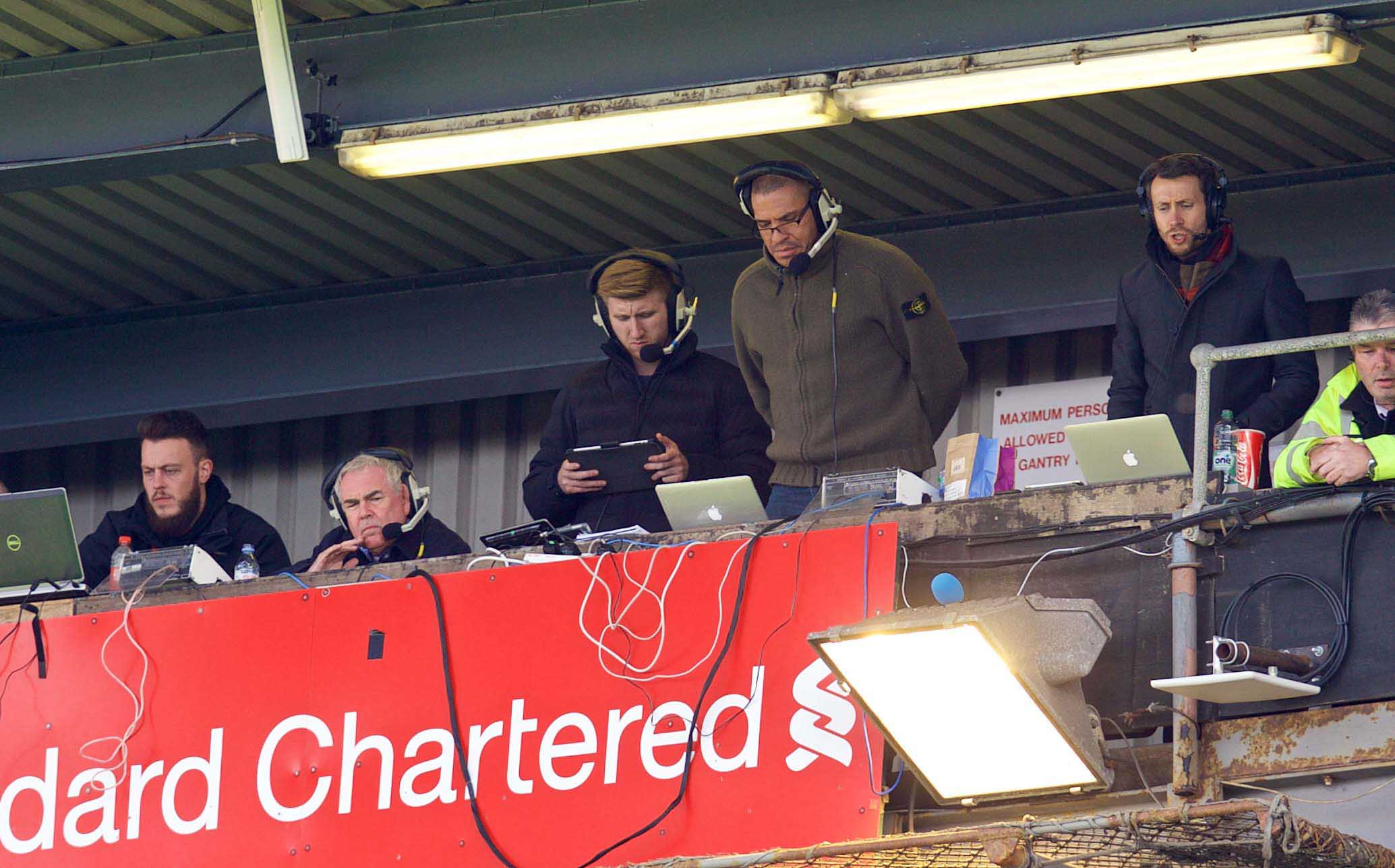 DON'T PANIC. I'm thinking the big friendly letters on the front of 'The Book' in Hitch-Hiker's Guide To The Galaxy (the radio version not the bloody awful film) as opposed to Corporal Jones' catchphrase in Dad's Army. Dad's Army was an absolute dog of a programme and there is never any excuse for quoting it. The message remains though. Don't Panic. Or — to change the emphasis — for Christ's sake, will everybody stop panicking please?
It's all gone horribly wrong hasn't it? The whole thing's on it's arse, we're all going to hell in a handcart, choose your cliche, insert it in the following gap….
We lost a game of football. A game. One, single, solitary game. We deserved to lose due to the fact that we didn't show up in the first half. Conversely, we deserved to draw it on the strength of our second-half performance. We come out of Sunday lunch with a 2-2 draw and we'd be….we'd be….we'd all still be moaning wouldn't we? We'd be playing the blame game and the media would be playing their own little blame game concentrating on completely different areas to us. Everybody would still be blaming though.
So let's ignore those three months that we went unbeaten. Let's ignore the fact that since mid-December the only team to beat us domestically is Manchester United and let's figure out who's to blame for this current appalling (sitting in fifth, five points off fourth with the fourth place team's run-in being much more difficult than ours) situation.
This isn't verbatim. I was too busy screaming at the radio to make notes on this one but on the way back from the game I turned on TalkSport. I know. I know but Aldo had packed his gear up and headed for wherever Aldo heads for and CityTalk were playing whatever nonsense passes for the top 40 nowadays so my post-match analysis listening needs were somewhat limited.
What I got was Stanley Victor Collymore.
Stan. Stan. What do we say about Stan? There's tons you could say about Stan. There's an entire doctoral thesis to be written about Stan (much of it actionable, so let's not go there). Let's say this: all the talent in the world and a level of application that makes Mario Balotelli look like Dirk Kuyt. I don't feel a great deal for Stan but I don't think of him as ever having really been a red. Not really. I don't like his trotting out of the idea that he was a Liverpool player; I don't think he ever was, not in his heart. So his commenting on us irritates me.
His stance this weekend infuriated me. It's a stance that many other media outlets have chosen to focus on but Stan's was the first I heard so Stan's getting the blame for it. I'm reasonable like that.
Forget Istanbul. Forget Cardiff. What Steven Gerrard will be remembered for is slipping against Chelsea and being sent off against United. This is — apparently and via the gospel according to Stan — the true Gerrard legacy; a slip and a stamp.
Apart from the very obvious fact that I couldn't give a toss what anbody other than us thinks of our captain and his legacy (the fifth European Cup, the one that really upsets the Mancs, the one they'll never get close to), the idea that Gerrard's entire career can be overshadowed by a slip that didn't cost us the league — that was the paucity of depth and quality on the bench at the end of the season — and a sending off that didn't cost us a game (we've established that we lost it in the first 45 minutes that he wasn't on the pitch not the second 45 minutes that he wasn't) is ludicrous.
(Entire paragraph, one sentence with sub-clauses all over the place. Rambling even by my high standards).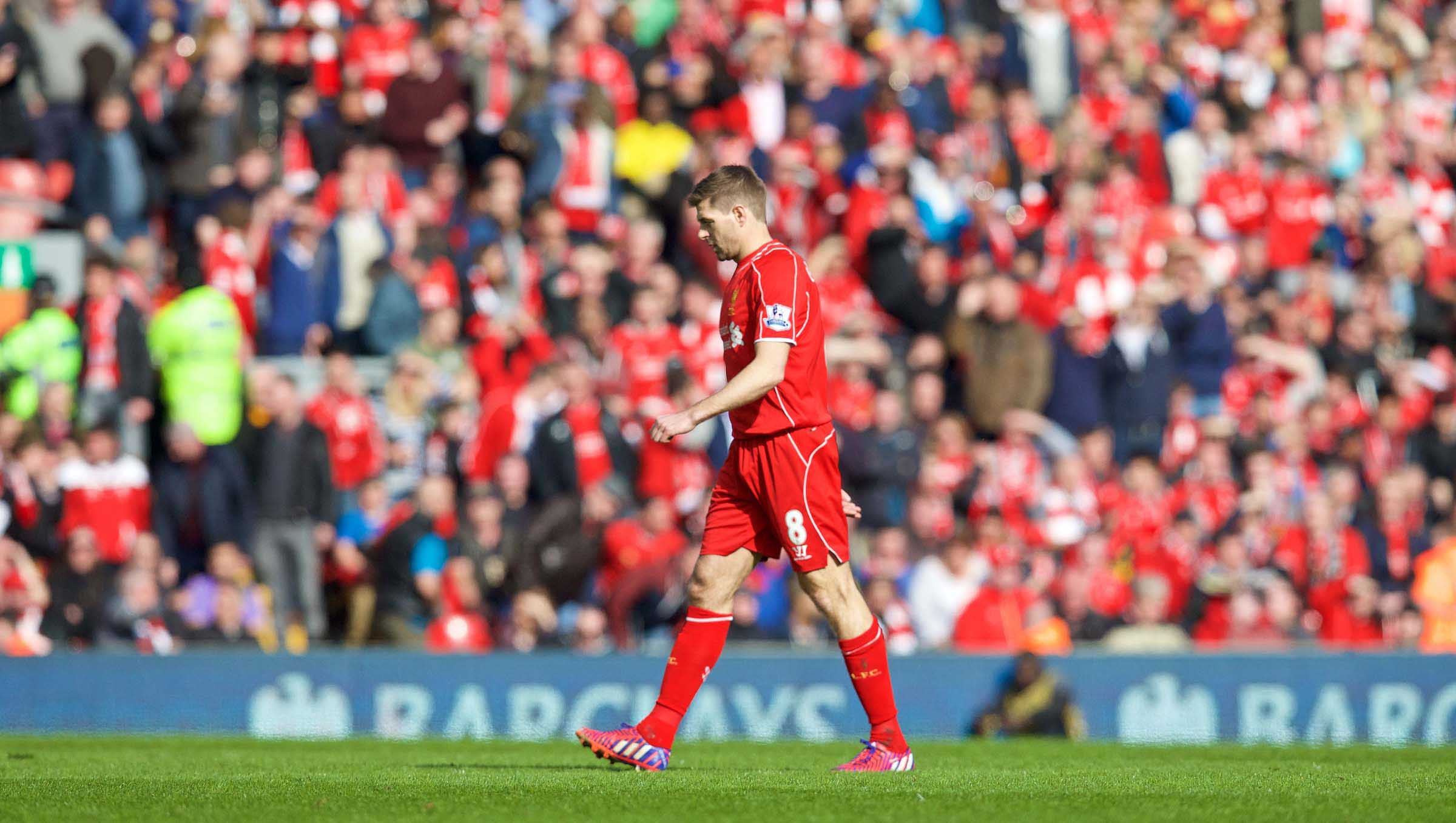 Steven Gerrard's legacy will be the passion, belief and leadership that he brought to every second of every one of his Liverpool appearances. The stamp may have been ridiculous, the sending off may (and I'll repeat that MAY) have prevented us from dragging a result out of a game that we'd put ourselves out of before his appearance but Steven's 40-second cameo set the tone for everything that followed. He brought some energy, some fight, some belief, some determination to the side (I'm not even talking the formation change that came with him yet, I'll come to that). Gerrard left the pitch, the spirit he injected didn't; he was the start of the fightback.
Steven Gerrard didn't cost us the game, he dragged us back into it. Again.
Raheem Sterling. Obviously. How dare he ask for more money? How dare he renegotiate a contract until it meets the level of stardom that we've asked him to show for us?
I'm torn on this one. Part of me agrees with Neil's stance that we're asking the lad to play a minimum of three positions in every game and should he not execute all three perfectly then we're on his back. The question is this: do we want him to sign a new contract? Probably best not giving him stick every time that he has a poor touch then and perhaps letting him know that we believe in him may be a good idea. Possibly Brendan using him in one position at a time might help (although it's obviously not just him, Lallana's moving around, Markovic has played all over the place, Can is sitting at centre back) — his versatility is costing him at the moment; if he were a more limited player we'd probably be seeing more of his good qualities.
And then, the other side of me is saying "if you — or 'your people' — want 150k a week then maybe you should try proving that you're worth it, that you deserve it, that you're having an impact on games". Raheem isn't having an impact on games at the moment. Could do with a bit of rotating onto the bench for a game or two but our options are looking a little stretched. A slight twinge in England training might be useful. A tactical twinge. Like Sturridge's, like Lallana's. Not that I'm accusing anyone of cheating the owl like.
Simple fact is, Raheem is best off at Anfield. If he goes to a Bayern or a Real or a Barca or a PSG then he's a bit-part player. Take the 100k, look at what's available again when you're 25. You seriously won't be much less of a multi millionaire for it. But the money's not Raheem's fault, the loss to United wasn't either. He had a poor game. He wasn't alone.
Sturridge then. Lazy, arrogant, useless Daniel Sturridge. Playing on ego, not the player he was, never going to get his pace back. Too selfish. Did you see what he did to De Gea? Curved it round the best keeper in the league (shall we say world?) with pace and power at his near post. With his weak foot. It was ridiculous. It was a hell of a goal. He hadn't played well. Again, not alone. He hadn't had the service.
The midfield then. Swamped in the midfield. Overrun. United had us here. That Henderson and Allen? Useless aren't they? No good against the big teams. Can only press and harry and dominate against the bottom half. A waste of space when they come up against quality opposition. Like City. These lads that we're calling for everything? They've been getting it right for us for the last three months. They're the lads that have pulled us from nowhere to (at the start of Sunday's game) two points off fourth place. Three months unbeaten. Clean sheets all over the place.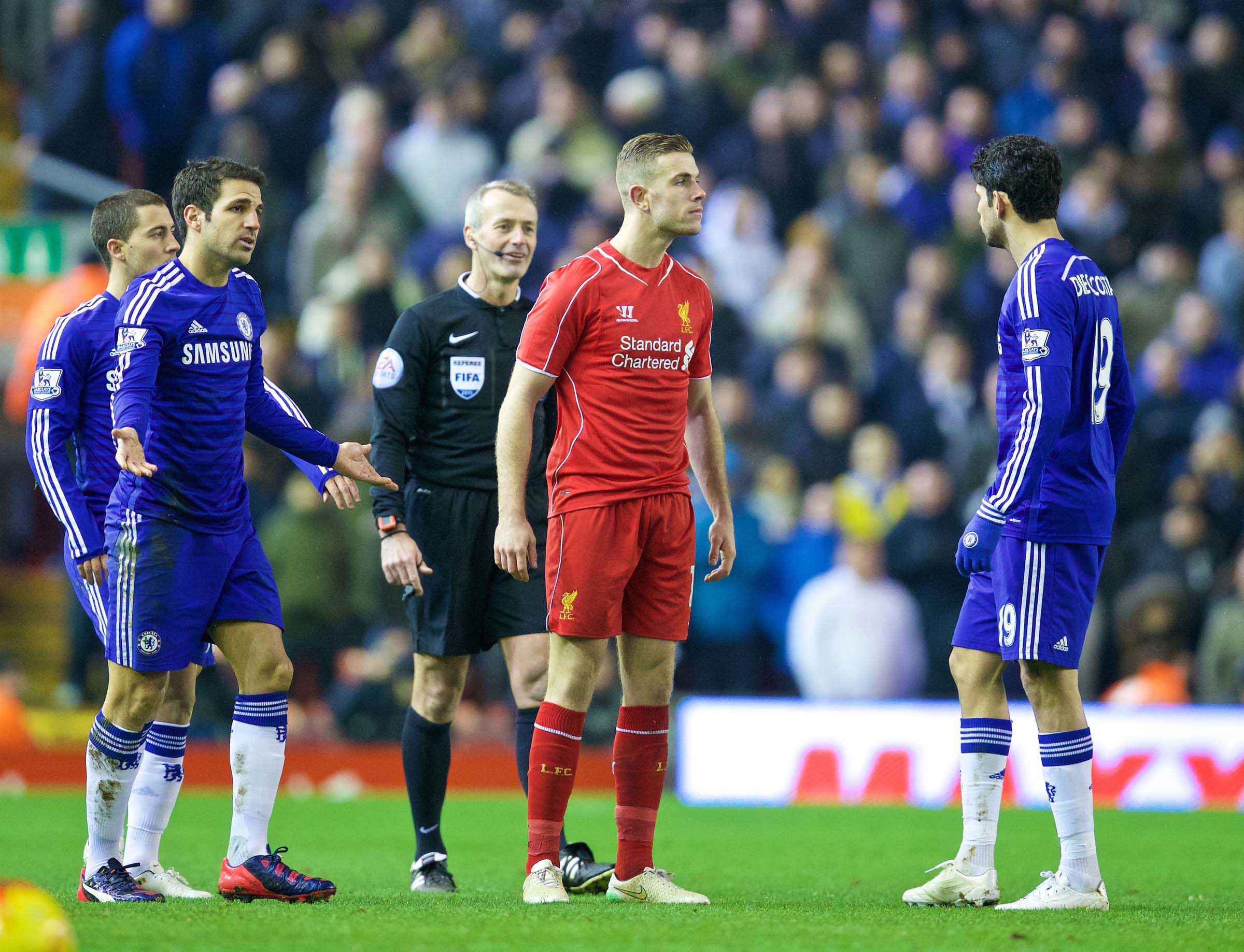 We won't slag off Sakho, he was immense. We'd slag him off last season. Not now. Now he's great. Won't slag off Mignolet. Blameless for the goals, saved a penalty from Rooney, keeping clean sheets all over the place. Slagged him off in November. Yeah but he was useless then wasn't he? That's ages ago.
Player that was useless, definitively, inarguably useless, 14 games ago is now thoroughly dependable. Players that were incredible a fortnight back are a waste of space. Do you think we might be fickle?
Yeah, but we've been found out haven't we? When it mattered, when it really mattered, against a big team (City, let's keep pointing out City) we were found wanting, because, because…..
Because the manager got it wrong. He knew what United would do, knew they'd use the same system they'd used against Spurs, knew what Fellaini would do to us and let it happen. He's been found out. Again. Allowed the midfield to be swamped and DID NOTHING about it.
Except this. This is a big one. This isn't being talked about anywhere as far as I can see but this is bloody huge.
At half time he decided that the way to sort all this was to bring his captain on and play the diamond. Yeah, but we'd have all done that wouldn't we? We'd have started with the diamond, he should have done that anyway. This is the key though; this is gloriously mad. This is mad to a 'wouldn't have even got away with something this mad last season' level. At half time, one goal behind to our most bitter rivals, Brendan Rodgers goes two at the back. Two. Just two. Skrtel and Sakho. He backs his lads. He pushes everybody up. It's there at the kick off. Emre's not a centre back anymore, he's not even a wing back; he's a winger, plain and simple. We're going for it. Big style.
And the bite's there. And the passion's there. And it lasts longer than Gerrard does. It stays when he goes. Hendo and Allen wake up (in fairness, we woke up on the 37th minute, something clicked and we started playing, backs to the wall and we woke up, that's probably the point that Brendan pushed them into a diamond) and start to dominate. Shape's better, pace is better and we want it. And I don't think we get the credit for that. It had gone wrong, we put it right. Steven goes, we alter nothing. Joe does the job instead.
And we go two down to an absolute worldie. Nothing you can do about that. But Brendan does something about it. He take off a left back (who he's pushed forward anyway) and he puts on another centre forward. Which is the moment that Sterling moves from right wing back via centre forward to left wing and we still give him stick when a ball goes loose and we still give the lad stick for being willing to play anywhere. And Mario makes a difference and United have something to think about. Ten men on the pitch and our manager is making attacking changes. There's no question of damage limitation, there's only the desire to change things. Two defenders on the pitch. Every other outfield player is attacking. And we're complaining? We should be raving about the sheer brilliant madness of what we try in the second half.
Here's the thing. Here's another thing that people aren't talking about. That incredible Mata goal? If that idiot Atkinson (Di Maria was the clearest bookable handball on Earth, Martin, he caught it, Phil Jones was the reddest red card you'll ever be able to brandish) had managed to get out of Joe Allen's way in the build up, that goal doesn't happen. Joe had that covered all day long, watch it again.
Small margins, as ever. There's still eight games to go and United's run in is an absolute pig. Yes, we've got Chelsea away and Arsenal away and we can't possibly win either or both of those can we? Just like we couldn't beat Swansea away, just like we couldn't beat City at home, just like we couldn't go from 15th of December to Sunday unbeaten.
It's backs against the wall. It's injuries and suspensions (let's assume the three matches for Skrtel shall we?). It's all or nothing. It's playing in the face of adversity.
This is the fun part. This is what makes going the match worthwhile. It's all going to be fine. Don't panic. And don't listen to Collymore.
[rpfc_recent_posts_from_category meta="true"]
Pics: David Rawcliffe-Propaganda
Like The Anfield Wrap on Facebook