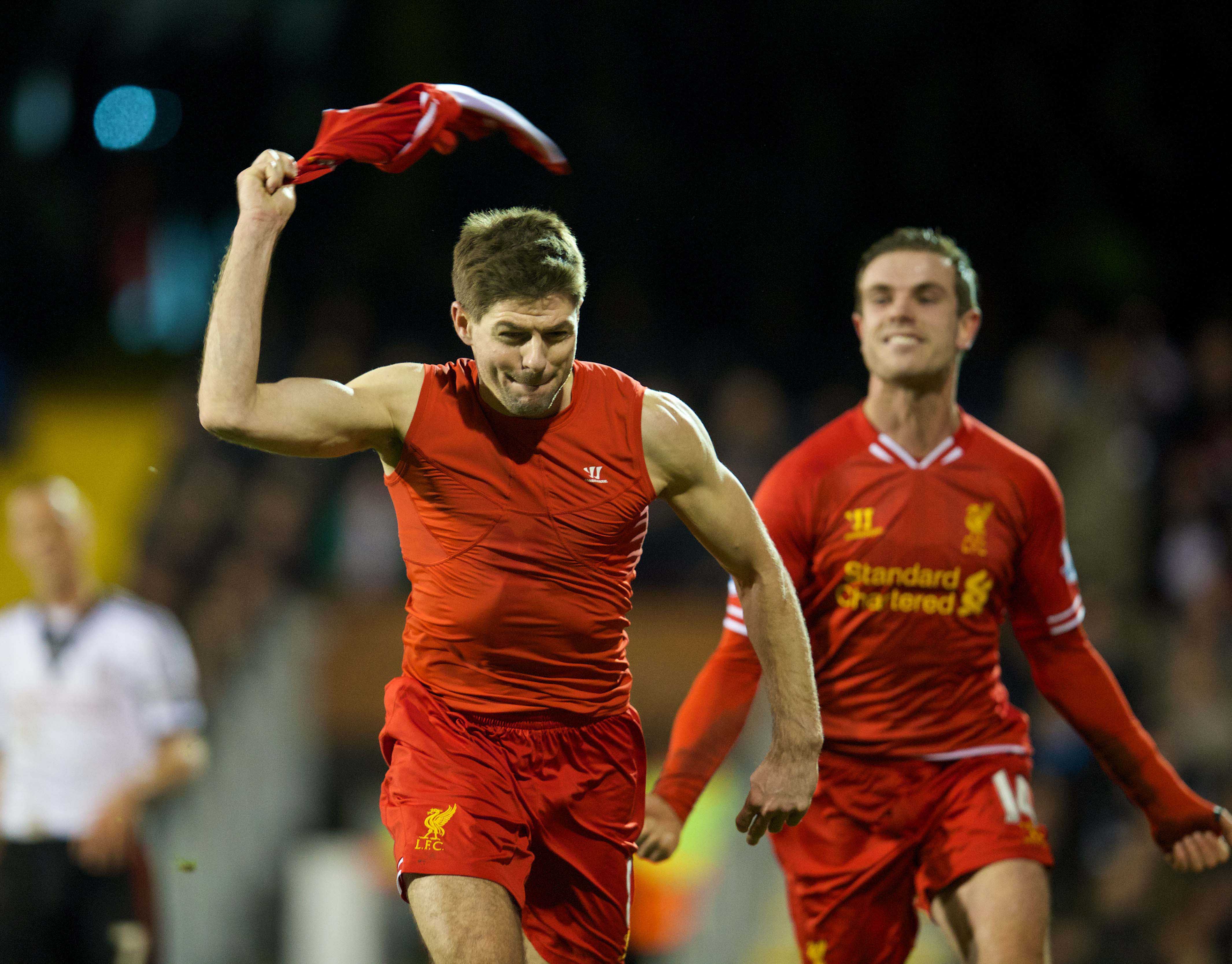 I SHOULD be going to bed. I'm due in work at 7am, and the alarm clock will ring at 5. Instead, I'm pouring a bevvy and writing this because my head's chocka. It's chocka because one of the greatest players every to pull on the red shirt is leaving. It's chocka because of how arsed I am about that fact. It's chocka because I'm a cynical 38-year-old nark that tells himself he isn't arsed about footie any more. I'm arsed about this. I'm gutted.
Let's not fuck around here – millions of words about the current captain will now spew from keyboards the world wide. These won't be among the best. They're not aiming to be. They're just here to say this: Steven Gerrard *is* Liverpool. He's the man who has pulled this club up on his own time and again and taken it – and us – to places we would never have seen if it hadn't have been for him; his determination, his will to win, his quality. That needs to be recognised and appreciated above anything else.
Forget research, stats, timelines and milestones; all the stuff you'll read about in the hours that follow. Don't worry if you've forgotten a certain goal, or a certain moment — you'll see them all soon. Just think instead of the first thoughts that form in your mind as a Liverpool fan when you think about the skipper: Steven Gerrard scoring *that* goal against Olympiakos. Steven Gerrard slaloming through the Sheffield Wednesday defence. Steven Gerrard clearing efforts from Everton off the line and celebrating with a clenched fist. Steven Gerrard running the length of Goodison with his hand to his ear after slamming in a shot no-one was saving. Steven Gerrard scoring one of the greatest goals you'll ever see. In an FA Cup Final. In injury time. Steven Gerrard scoring, and inspiring, in Istanbul. Gerrard at right back, in the middle, on the right of midfield and behind the striker. Gerrard kissing the camera at Old Trafford. Gerrard scoring every conceivable goal. Gerrard snapping into tackles and jumping on Everton players. Gerrard putting Jack Wilshire on his arse. I could go on. And that's the point. I could go on. Your list will be different — take your pick, the lad's racked up hundreds of great moments in a red shirt, we'd be here all day. And I've got work.
Let others snipe about shite that doesn't matter. Let others sing bullshit songs about England, slipping and transfer requests. Nothing can spoil the Steven Gerrard legacy. Not to my mind. This is a lad who grew up a stone's throw away from me on the Bluebell estate in Huyton. Who went to school with one of my best mate's brothers. An ordinary lad from an ordinary home who went on to be one of the best in the world.
Even now, even at the tail-end of his career, he is capable of things that very few in the world are capable of. Remember that skimming half-volley ball he played the other week? What about that through ball at Fulham at the end of the last season? What about those passes that he effortlessly curls 40 yards or the close to un-defendable balls he puts into the box from a free kick? What about the free kick against Basel? Again, I could go on. And that's the point. I could go on.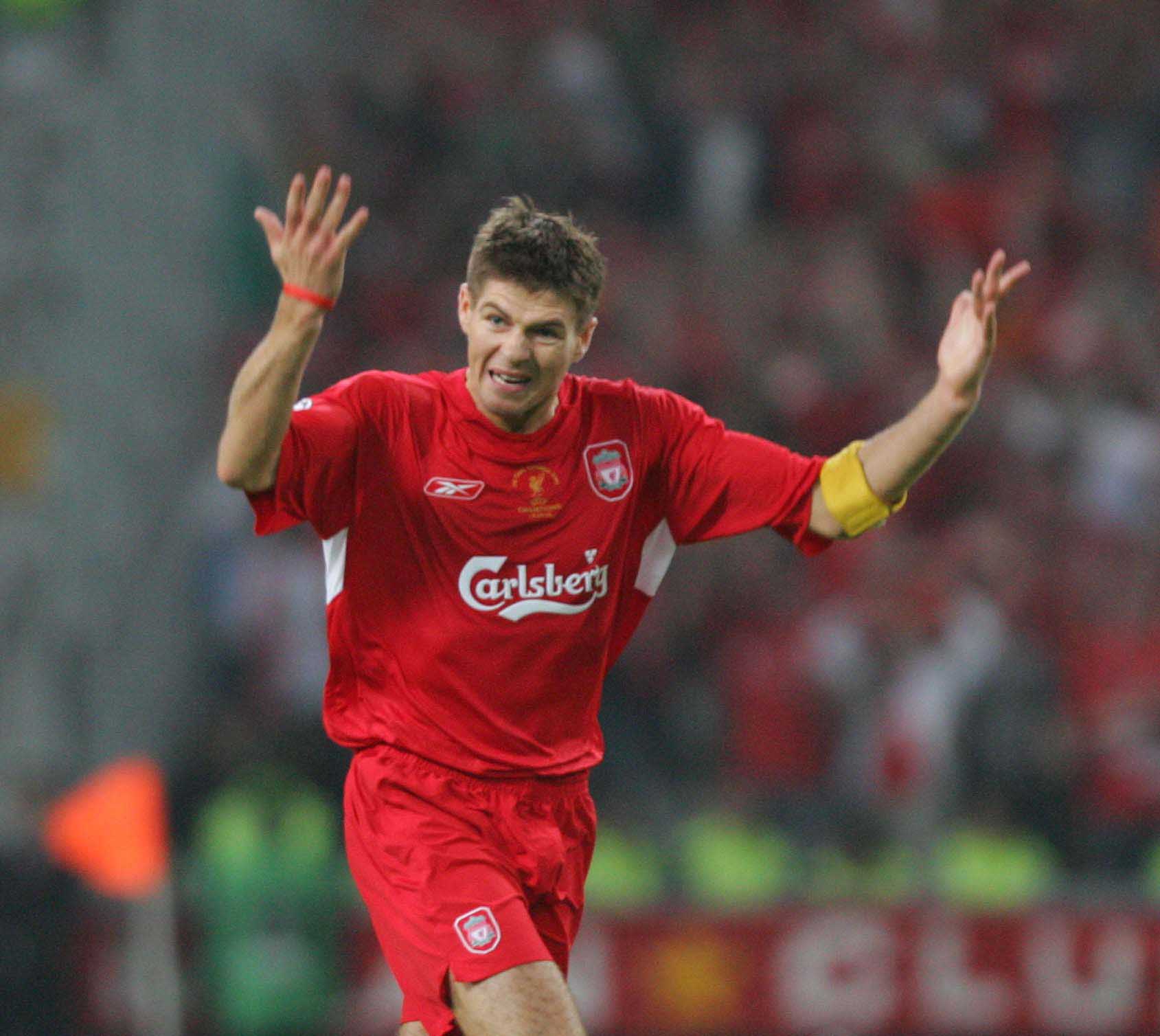 Is Steven Gerrard the best player to have wore the red? He's up there whoever you ask. The only one I'd put close to him that I have watched on a regular basis live at the match is John Barnes. I didn't go the game until I was teenager. I missed Kenny and Souness. Gerrard I have watched from day one and I'll watch until it ends. In Huyton his talents were no secret. The fella who used to cut my hair at Twig Lane barbers used to rave about his ability before he was anywhere near the first team. In the same barbers a hand-drawn picture of him in a Liverpool kit lived on a shelf long before he was in the national conscience. This is a lad who has been at Liverpool since he was eight. Eight years old. No one – no one – can have a pop if he decides 26 years – TWENTY SIX YEARS – later that he fancies a change. America? He'll piss it. I'm not looking forward to the moment he kicks a ball wearing another club shirt though – and I've been one advocating that he should play less for Liverpool to get the best out of his final days.
Here we reach an important distinction to make. Steven Gerrard has been great for Liverpool Football Club — that is an unquestionable stone-cold, nailed on fact. But no man can beat time. Not even Steven Gerrard. It's hard to take. This is your hero. A man who has bailed Liverpool out of the shit so many times. A man who has lifted the club beyond the mediocrity that surrounds him on the pitch over and over again. But it can't last forever. Nothing does. And suggesting using Steven in a cameo, or resting him, or using him in a different position at different times — none of that stains what has come before. Legend is an overused word. Luis Suarez wasn't a legend, he was a supremely talented footballer who used Liverpool as a rung to reach the goal that Luis Suarez wanted to reach. Steven Gerrard is a legend. He has won honours with Liverpool and been absolutely key in doing so. He willed it. He told it 'no' and he made it 'yes'.
His capability to do that now has lessened but Steven Gerrard is still hugely influential. People snipe about Brendan Rodgers 'favouring' him, 'accommodating' him and the rest. But put yourself in his shoes for a moment. You're an outsider. A man with no Liverpool connection. In front of you is a man who dragged Liverpool to a European Cup final and come back to Liverpool holding the gold. A man who people are inspired by, a man who players at Liverpool say, no matter what *we* think of his leadership skills, IS a leader. Jordan Henderson, Daniel Sturridge, Suarez, Raheem Sterling….every new signing; take your pick, they always reference his influence: they value his opinion, they're in awe of him, they want to play with him. The lad is a world-class footballer. A world-class footballer from Huyton.
Rodgers has referenced his influence, too. And let's be honest, he's needed it. I'm not privy to what goes on behind the scenes, but my guess is this: you persuade Steven Gerrard, you get Steven Gerrard on board, then you're a big part of the way there in getting everyone else on board, too. Unofficially, I wouldn't mind sticking money on Steven Gerrard being Rodgers' unofficial No.2 since the manager took charge. But all that's for another day. This is a sad moment – a moment when what shouldn't be a surprise came as a surprise. Steven Gerrard is leaving Liverpool and Liverpool face an almighty task to replace his influence on and off the pitch. Can you buy it? Can you coach it? Time will tell. But insisting on buying young players, and players with potential? It's a big ask to replace someone like Gerrard with that policy in place. Perhaps that's why Rodgers has played him so often; perhaps that's why he has pushed for a better contract to be laid on the table. Because, deep down, he knows we won't see the likes again anytime soon.
Steven Gerrard is leaving Liverpool and I for one will miss him when he goes.
I'm going to bed.