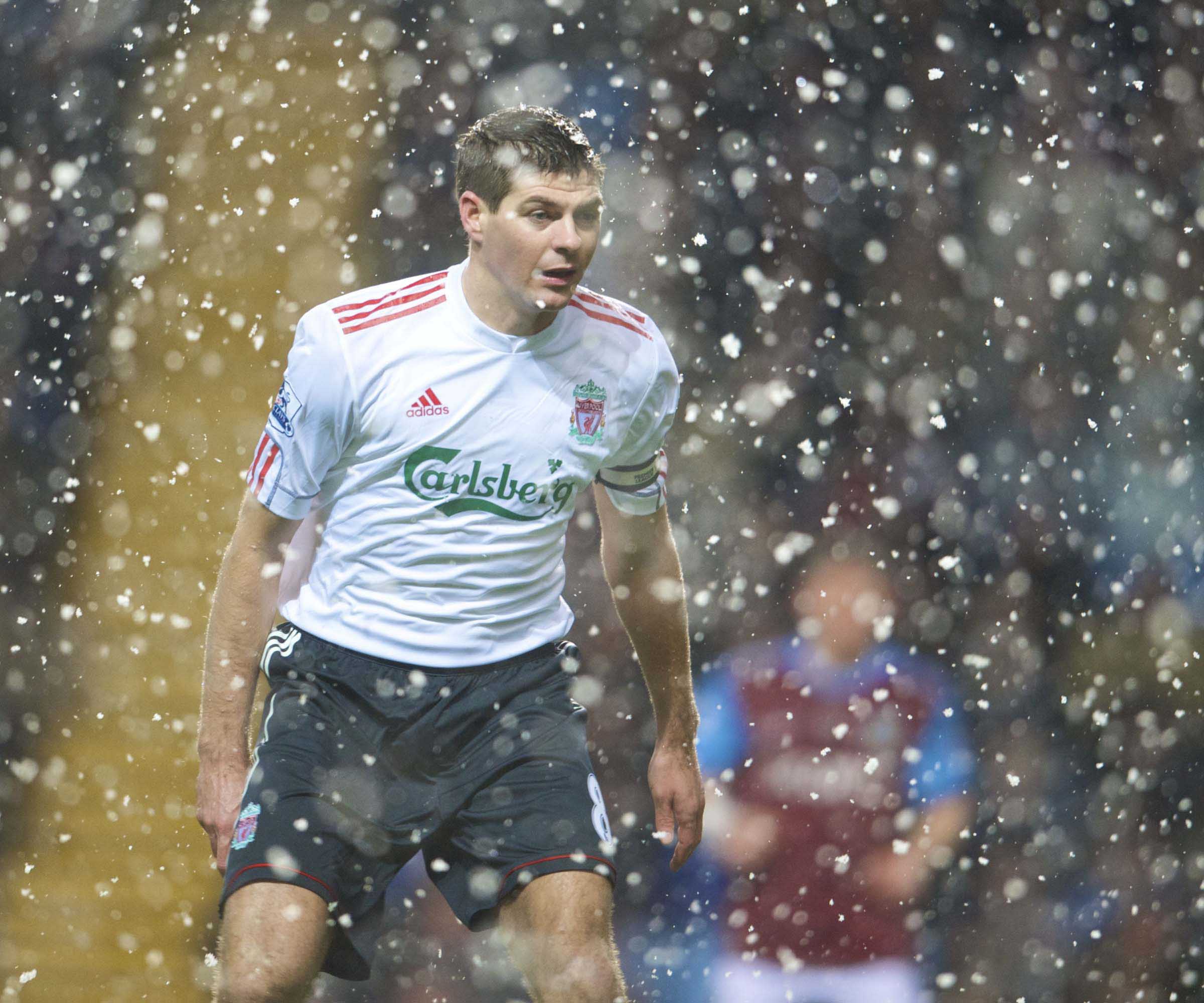 REPLACING Steven Gerrard. I love this title. Gareth Roberts gave it to me. This was the sentence: Can Liverpool replace him – do they need to, should they try, should they break the bank or stick with current spending policy etc.
I love this because, firstly, it's lovely and broad and secondly because I don't know what Gerrard he's talking about. Because there are three Gerrards. Possibly four or five, but let's stick with three. Three ages of Elvis, three ages of Gerrard. Any more ages would feel greedy. So let's look at them one at a time…
The three Gerrards:
1. The Exuberant Gerrard (98-04)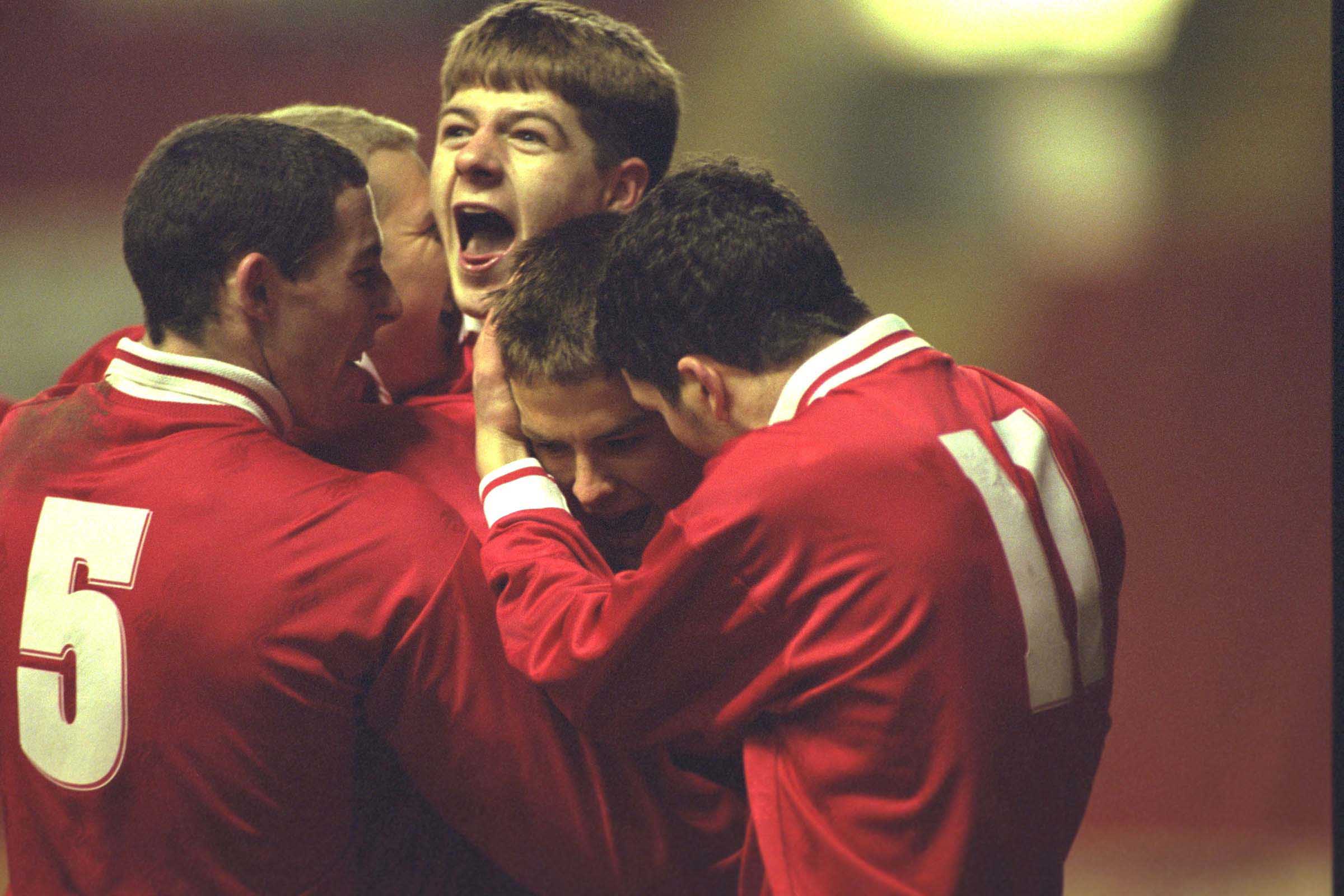 This is the Gerrard who comes through, celebrates clearing the ball off the line, gets sent off loads – mostly in Derbies – is brilliant in the treble season, is one of the best young players in the world, learns a load from Gary Mac, scores screamers, scores headers, stamps on Gary Naismith, plays right back, right mid and centre mid, gets handed the captaincy when the side is on the wane and then drags them into the Champions League places in 03-04 before Houllier is sacked.
That one. That brilliant one which was what it was to be young and alive. To fight the world and win. God, that Gerrard. Makes me want to fall over drunk loads in Leeds again before going and beating them the next morning 0-2 and then win the treble and that. That Gerrard. I remember everything. Sort of.
There is one thing we don't remember about this Gerrard. One blank. It is this — he doesn't score as many goals as you think. For instance, in his God-like 03-04 season, when we remember him dragging us into the Champions League, he only scored four league goals. All season. Four. His best season for return is the Treble season when he gets 10 in 50 in all competitions. In 170 league games under Gerard Houllier he scores 20 league goals. Fewer than one in eight. This is mad.
So do we need to replace this one? Should we try to? Well, how? How do you replace this one? Part of the point about this one is that he comes through the ranks. Gerrard was Gerrard in a few senses before he even kicked a ball for Liverpool. He was talked about. Wait until you see him. Liverpool should be constantly looking for a new Gerrard and should be constantly expecting to fail — Gerrards are so rare. So, so rare. The search is about what youth policy should be, maximising all talent and hoping to find, and maximise, brilliance.
This season two midfielders called Jordan, Rossiter and Williams, have made their debut. We should have seen more of them, but events, dear boy, events. Last season Flanagan came through properly. Wisdom is away on loan. We have a youth set-up which seems (and don't they all, always?) primed to produce young players who should be steeped in what it means to play for Liverpool. However, can any of them match Gerrard? I'll tell you now….No. Because it doesn't happen. There wasn't a Gerrard before Gerrard. The nearest was probably Terry McDermott. Possibly Peter Reid. Sort of Steve Heighway but he was more of a winger wasn't he? A Scouse lad coming through. Do note both McDermott and Reid had to go away from Merseyside before succeeding at Liverpool and Everton — curse those youth setups. And both would say Gerrard was a much better player than them.
OK, so Gerrard was one of the finest young talents of his generation. Can we import one of those? We already have. His name is Raheem Sterling. He's brilliant. We've nailed that and well done to everyone involved. He has loads still to do, but he's incredible and exciting and he's now worked with senior pros Steven Gerrard (yes!), Glen Johnson and Martin Skrtel (errr), Daniel Agger and Luis Suarez (not here). Those other lads referred to above can come through, but what do they come through into? You see, this Gerrard didn't just play with Gary McAllister. He played with Robbie Fowler, Sami Hyypia, Jamie Redknapp, Christian Ziege, Nick Barmby, Jari Litmanen. Remember the League Cup final against Birmingham? Everyone was rubbish, everyone except Didi Hamann and Markus Babbel, who showed what winning took.
The Gerrard that ends this period has already had a season as Liverpool captain and is surrounded by experience. Here too, we might already have replaced Gerrard insofar as any club can. Jordan Henderson may not be from Huyton, but he's an honest lad who understands a football community. He's hugely talented (though not Gerrard talented) and he'll do anything for this football club. He hasn't had the heart-stopping moments of Gerrard, but he's seen a League Cup won and experienced a title challenge. There is a conversation we're going to have which, like most of our conversations, is irrelevant but is presumably going on internally at Liverpool as well, where it is very relevant. The question is this: what do we want Jordan Henderson to be? And how are we helping him? Henderson has now played 191 games in Premier League football. He's scored 17 goals. Almost certainly more mundane goals but only three fewer than Gerrard.
What Steven Gerrard did next I don't think Jordan Henderson can. And that's fine. Because what Steven Gerrard did next is remarkable and what we might need Henderson to do is a different job in any case. Henderson might not have Hyypia, Hamann and Carragher. But he does have Raheem Sterling, Daniel Sturridge and Philippe Coutinho.
2. The Essential Gerrard (04-10)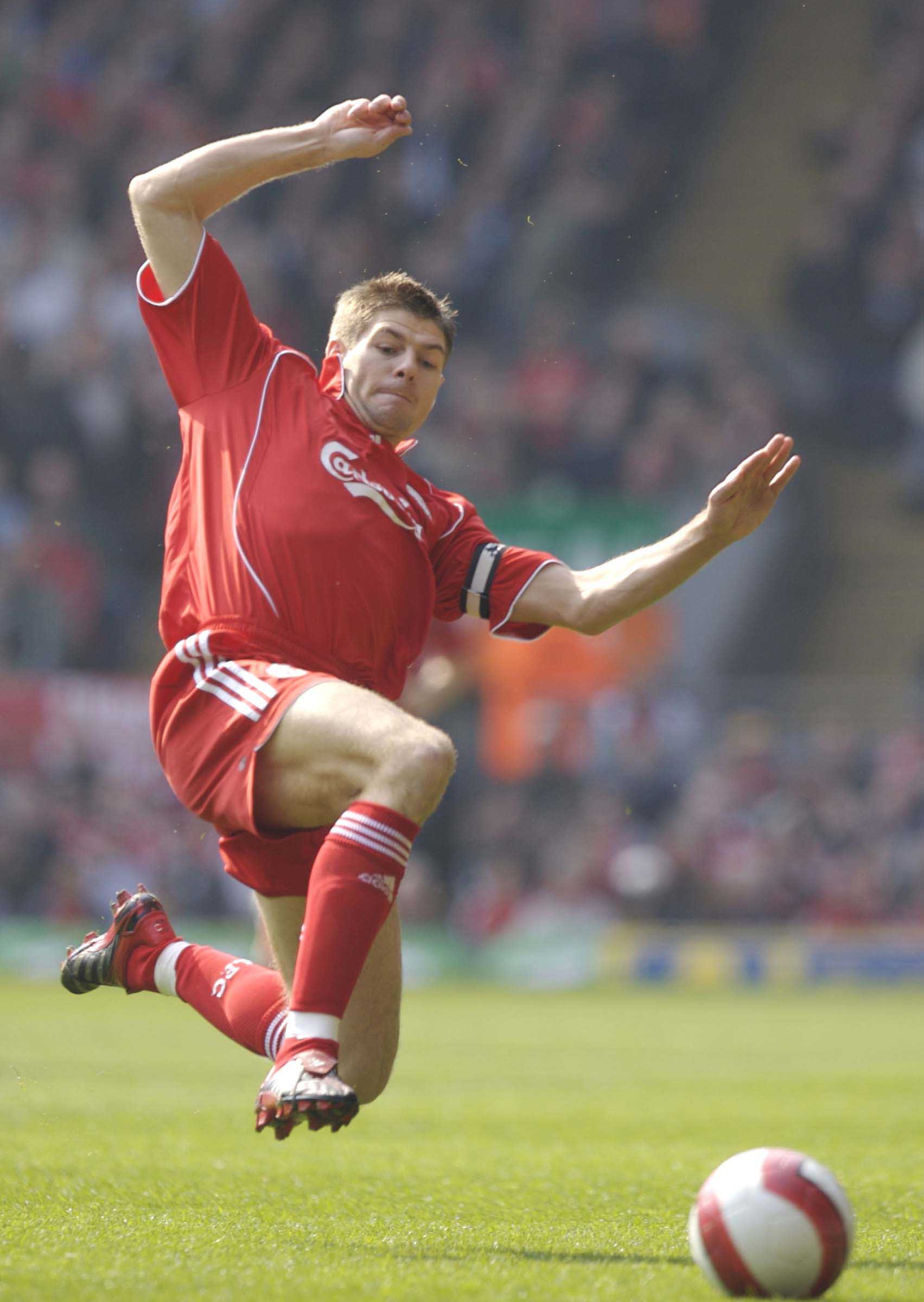 This Steven Gerrard. My god. This one. Firstly, let's feel the goals. From August 04–May 10 Steven Gerrard played 292 games in all competitions and scored 104 goals. Better than one in three. He never played centre forward. His poorest return in this period was 06-07 when he scored 11 in 51 (equivalent to his best return in the period prior) and his finest was 08-09 when he scored 24 in 44 games. And now remember everything else he did, the quality of his delivery, his movement, his all-round abiltiy. His will to win. This is the Gerrard.
This period is while Rafa Benitez was Gerrard's manager. It's fair to say that Benitez got the best out of Gerrard while simultaneously oddly always looking to return him to centre midfield. Liverpool's business — and the resulting return of Gerrard to centre mid the summer of 06 — remains some of strangest happenings in the history of the football club. Gerrard had won Player of the Year, scoring 23 in 53 from a free-ish-right-hand-side-ish role. Liverpool then replaced him with Jermaine Pennant, shifted him central and then Gerrard had his poorest return under Benitez.
Had Robbie Keane been any good in 08-09 there is every chance Gerrard doesn't get the chance to have that magical season. Part of the enigma of Gerrard is that he's always been a slightly reluctant Roy Of The Rovers. One who seems to take more pleasure out of being consistently involved in games than scoring all the goals (which seems counter intuitive to football and the reality that he scored all the goals). Especially the big ones. That was never greater than the Gerrard of this season.
What is this Gerrard? Match-winner, leader, endless contributions from midfield. Able to strike up relationships all over the pitch. Gerrard-Alonso. Gerrard-Torres. We know those ones. But also worth remembering Gerrard-Kuyt. Gerrard-Fab Aurelio. Gerrard-Finnan. Give Gerrard a switched-on footballer and they'll get the best out of each other.
Do you replace this one? Er, yes. If you can.
Goals from midfield. Where do you get them from? Match-winning strikes all over the show. Where do you get them from? The closest player I can think of domestically is Yaya Toure — he got 20 in all competitions last season. He's good. If we can have him, I'll have him. However time is beginning to become Yaya Toure's enemy too; he'll end this season 32. Current Premier League scoring charts have Hazard on eight — a very different and un-buyable player — Eriksen and Chadli on seven and David Silva on six. None of these returns are close to the Essential Gerrard, none of them match this all-round footballer either.
A couple of seasons ago we had a go for Henrikh Mkhitaryan, who scored huge numbers of goals from midfield. Ever watched him? I have, though only once or twice as I have things to do. He's no Gerrard, nowhere near. Doesn't get anywhere near as involved in games. But he has goals. Dortmund are struggling this year so you never know if we could pull something. We create a lot of chances for someone like him to prosper. We're getting linked with Shaqiri, a lad who can't get on for Munich. I think he'd do OK if he came here — remember everyone in this league is rubbish — but a new Gerrard? Yeah, alright. I'm sure lads who do the stats and watch the overseas football can throw another one or two names in the frame, but I'm sceptical. I watched the Essential Gerrard every week between 2004 and 2010. He was astonishing. Not perfect and not brilliant every week, but capable of performances that blow the mind. You only need to look at the testimonials in the last couple of days from players who played with him such as Alonso and Arbeloa.
There's no cheat here. There's no magic formula. You can't even solve the problem by throwing money (we don't have) at it. Chelsea haven't replaced Lampard's goals from midfield. They have all the money in the world and a ton of lads on loan. You find a new way, not look to replicate an old one. We won't be replacing this Gerrard. That's the reality. It's OK though. Because no one else will be cloning him either.
3. The Elder Gerrard (10-15)

From early 2010 until Brendan Rodgers's arrival at Anfield, Gerrard had serious problems around injury. I suspect in many of the games in the previous six years Gerrard was playing carrying some form of injury — 100 per cent match fit was probably something of a halcyon dream for him.
It's important to emphasise that in this period between 2010 and August 2012, Liverpool under Dalglish coped reasonably well without him being available or at his best until Lucas Leiva broke down at Chelsea.
However, what he'll have been in that period is present. About the place. Being Steven Gerrard. While Jamie Carragher was being Jamie Carragher, Dirk Kuyt Dirk Kuyt so on and so forth until we remember Kenny Dalglish will also have been Kenny Dalglish.
So many players speak of the value of Gerrard behind the scenes. We saw that on the pitch last season, a season where we saw, publicly, the value of his captaincy like never before. We saw him lead this gang of young, exuberant players on the pitch, lead them closer to the league title than Steven Gerrard had got before. He was also good at football. Very good. It felt we got closer to the essence of him away from the pitch, whether it's dry jokes in interviews, screaming at footballers in huddles, whirling his top round his head or pushing vampiric cameras away from Suarez, you could see what he is and was. A man who carried a city. A man who gets the core of Liverpool Football Club. A good man, one you'd follow anywhere. Everything that had come before made sense into that one season. It was, frankly, the end of something. We might get an epilogue next May — and I hope we do — but there at Craven Cottage is the natural conclusion of this football life.
He wasn't on his own though. He was another footballer that was energised by Suarez, who was helped by Sturridge. He had a midfield and attack full of options and had Henderson's support. What we've seen this season is that while a Gerrard can help guide this sort of side on the pitch, he can't carry it. Gerrard's played with poorer attacking players than any who have set foot onto the Anfield turf wearing Red this season, but his Essential incarnation could carry those lads. This one can't and the latest evidence of that is only two days old. What goes on off the pitch is, for us, the eternal mystery of football. What happens on the pitch is what we can all see. A thought exercise — how do we speak of the impact Gary McAllister had on Gerrard if Gary Mac Month never happens?
Regardless, can this be replaced? McAllister was brought into Liverpool. These players can be bought into a club but how often does it work both on and off the pitch? Eto'o looks to have had a positive impact on Everton but they are, by any measure, poorer than last season. Lampard's doing a job for City but his contribution isn't being overstated –- they were Champions last season without him. Chelsea have brought Drogba back — he's scored one key goal but hasn't offered a load else on the pitch. Two seasons ago Liverpool bought Kolo Toure in when Carragher left. It clearly helped, Kolo raced out of the traps and has been good in patches this season, yet he can't offer it week in, week out. One of the ways Kolo helped was that he was fresh, by the way. He wasn't tarnished with loads of Liverpool's sad memories and nearly moments. He came in and said: "These are good. Really good."
But look at Kolo. And sort of Rickie Lambert, too. There's the idea knocking round that Liverpool's transfer policy would mean Liverpool would never bring an older player in. That's two in two summers. Are either the right player? Lambert clearly not. But that's a weakness in recruitment not in policy. Do we really want Liverpool buying three or four over 30s?
Buying a Gary Mac is hard. We've not done it very well a load of times. Loads have failed. Any transfer strategies, any committees or directors or managers. Not just at Liverpool.
The answer, of course, across all of these things, is to have a sense of what is best for the club and act consistently accordingly. The answer to all things football. The answer, as supporters, is to acknowledge that people get things wrong all the time in football. There is no magic formula. There are no easy answers. There just needs to be the desire, the ambition and the hunt for progress. We need Liverpool to show that. That's the answer to Robbo's question. Same as it ever was.
We can be justifiably saddened. Each of these Gerrards was a joy to watch. Each informs the other. I'll talk of all them forever. We won't see his like again, because that just doesn't happen. We haven't seen Alex Raisbeck's like. Billy Liddell's like. Ian St John's like. Ian Callaghan's like. Kevin Keegan's like. Kenny Dalglish's like. Graeme Souness's like. Ian Rush's like. John Barnes's like. Robbie Fowler's like. These footballers transcend and enhance a football club but they remind us that in the end Woody Allen is always right. Football clubs are like sharks. They have to keep moving forward or they die.
Pics: David Rawcliffe-Propaganda