Rob Gutmann's preview ahead of Liverpool v Manchester City at Anfield, with Jurgen Klopp likely to pick a similar side to the Porto 11…
LIVERPOOL versus Manchester City is the defining rivalry of English football's modern age.
Punditry flirts with the idea that Chelsea or Manchester United are essential ingredients to the game's most important face offs, but neither has the established consistent win rate of the Premier League's defining big two. City know Liverpool are the biggest threat to their ambitions and we should want for nothing more than to finish ahead of them.
When thinking ahead to these titanic clashes, I've often found myself saying and thinking that any and every outcome seems available — a big Liverpool win, a City ambush, the cagey draw, the multi goal thriller. All possible. Usually. Now I think, with the conviction only of the hunch, that this time it is different. This time, my gut tells me that Liverpool hold the cards.
I think so because City have not convinced me for some time. They won a league last season by putting together an incredible winning run during a phase when Liverpool were losing bodies and minds. That run deserves endless praise, but either side of it Man City were quite mortal. They have started this campaign in similar vein.
City defeated Chelsea a week ago, narrowly but to exaggerated acclaim. They deserved victory over Chelsea but didn't make many chances and were flattered by the overhyped home side's lack of ambition. In midweek, City succumbed to PSG in the Champions League. It was less than two weeks ago that lowly Southampton held them to a home draw.
Of course, Pep Guardiola's side remain a massive threat in any one given game as much as in any wider competition. Their scalp is the one Liverpool prize the most. Yet I look at their current selection options and no combinations fill me with dread. They have a range of lineups that can devastate any opposition but the feeling is that these days, to beat a big team, that their blend and application need to be of the very best varieties. 
Pep Guardiola has a depth of squad that enables him to seamlessly interchange personnel with little discernible variation in quality of performance. His B selection can be as devastating or flat as his A choices. The names on the backs of those pale blue shirts are not that significant, they are all very good footballers. How many are truly remarkable these days, though?
Where once we'd single out a Vincent Kompany or a Yaya Toure, a David Silva here, a Sergio Aguero there, where now are their giants? Kevin de Bruyne is a head and both shoulders above the level of his compadres. He is truly peerless.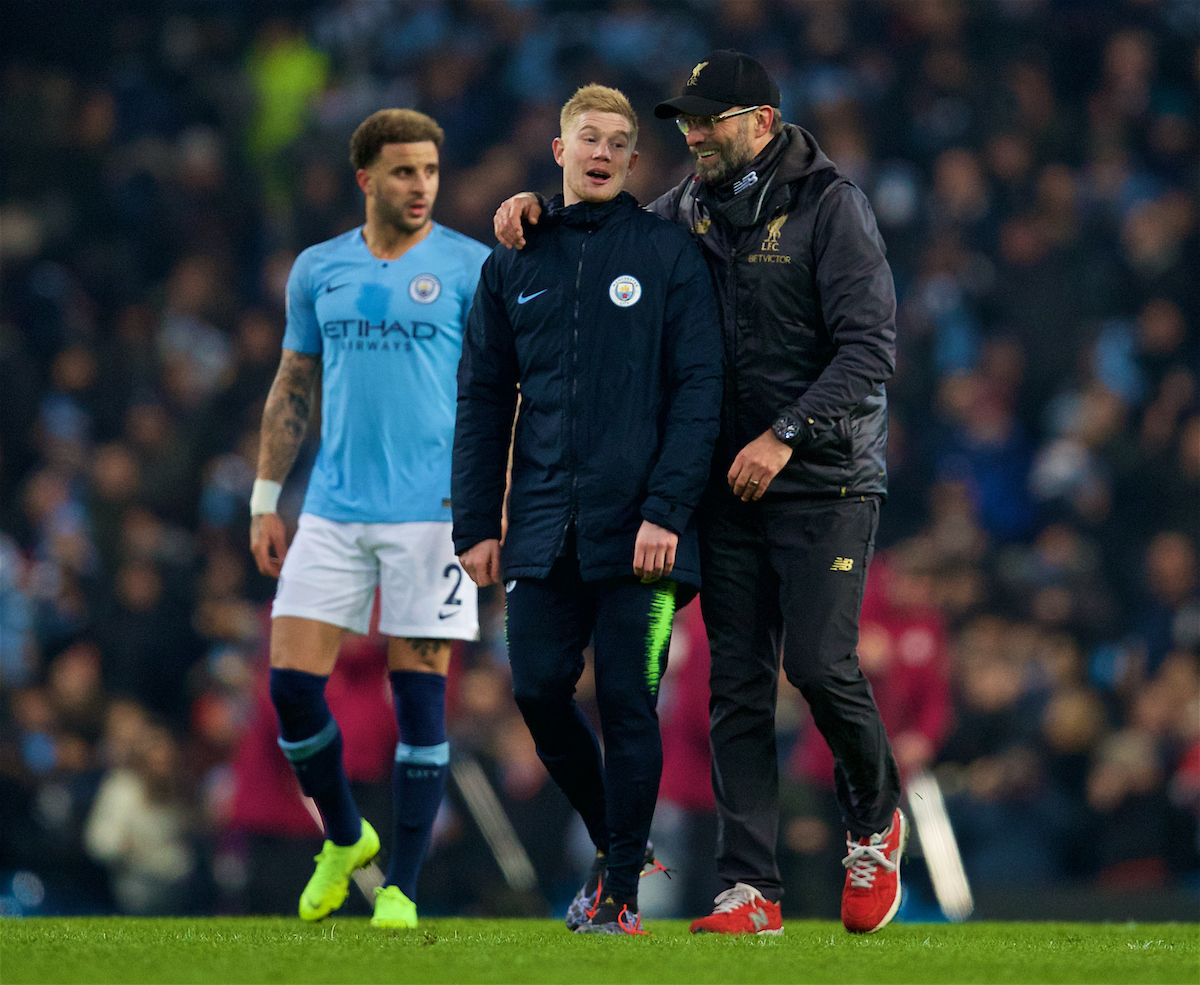 Liverpool know that Guardiola would probably start with a good many more of their players than his own. I think he'd prefer Alisson, Trent, Robertson, Van Dijk, Fabinho, Henderson, Salah and Mane, at the very least, ahead of City counterparts.
Klopp wouldn't pick a single Man City man ahead of any of his best back five. Jurgen would have Kev De Bruyne in any Liverpool midfield, but would he consider selecting the likes of Rodri or Fernandinho ahead of Jordan Henderson or Fabinho?
Of course Liverpool would find games for top performers like Bernardo Silva, Ilkay Gundogan and Phil Foden, but they'd have to dog it out for a midfield slot with Liverpool equals like Curtis Jones, Thiago and Naby Keita. 
In the front three positions, I don't think Grealish, Torres, Jesus or Mahrez ever get games ahead of fully fit Sadio Mane or Mo Salah. They'd have their work cut out to get picked ahead of Diogo Jota or Bobby Firmino. 
Unless fate intervenes, Klopp will probably select the side that defeated Porto 5-1 in the week, and so he should. It was a magnificent Liverpool performance and the blend of the starting 11 was truly sensational.
The manager won't be that inclined to freshen his team given the healthy five-day break between the last and the next game. If there is a change to be made, it would most likely be midweek brace scoring Bobby Firmino coming in for Diogo Jota. I'm focusing only on a Reds win. Defeat, though possible, is hard to fathom. Our form and time is now.
Into these, you better than these one to 11 Reds.
Predicted 11: Alisson; Milner, Matip, Van Dijk, Robertson; Fabinho, Henderson, Jones; Salah, Firmino, Mane
---
"This Liverpool side looks hungry, like they want to prove a point after last season…I think Sunday can be the next step on to what we all want…winning the league."

🗣Liverpool v Manchester City: Team Talk

Subscribe👉https://t.co/oaOWcUhPWR
Listen👉https://t.co/d7sSw7UylL pic.twitter.com/l93Bwhf8He

— The Anfield Wrap (@TheAnfieldWrap) October 2, 2021
Recent Posts: