Assessing Liverpool's 2-2 draw with Manchester City at Anfield – now that the dust has settled are we more prepared to see it as a good point?
LAST week I wrote about how draws are defeats nowadays.
It's never good to take the lead twice and come away with a solitary point so there's little celebration to be had for such a nugatory reward. The blood was singing as we walked away from Brentford last Saturday — furious at the loss of two points, but, though the result was similar at Anfield yesterday, this point came with a sense of relief.
I was still angry, though looking back it seems more like frustration. I fired off messages to mates, furious that two Liverpool players pulled out of challenges in precarious situations, before pouring scorn against a first-half midfield which looked like it was only there by invitation. I then got onto the manager and vented a fair amount of spleen for keeping James Milner on when Grealish and Foden were playing with him the way a sadistic cat does with a petrified mouse.
The frustration came from the way Manchester City played. I was in a minority when I praised Chelsea for their second half defensive display at Anfield. Mourinho may have been the first to criticise teams for 'parking the bus', though God knows he's done it enough times himself, but there's ample skill and concentration involved to do that.
City were a different prospect altogether. Jurgen Klopp later acknowledged their preference for going through the centre but they were equally comfortable going wide and taunting poor Millie. We were doing the same, of course — using the middle three to fight more than create — but they got more joy. Foden was phenomenal and, though Grealish is a useful addition, he's nowhere near his ability.
As Neil Atkinson pointed out in his post-match piece, you can only judge the strength and character of your team when they play the stronger teams. City are the benchmark and it's no shame to admit their superiority, no matter how slight. Anfield was exhausted just watching them in the first half.
That's not to denigrate The Reds. Mistakes and humility can be useful if you learn from them. Jurgen had the gumption to spot the issues at half time and bring us more into the game. City won't go behind twice often this season and it was great to see our lads come back like that from a stinker of a half.
A draw then, and one that we seem happy about. I'm not sure if City should feel the same. They should have had the game done before we woke up, so that in itself feels like a victory, albeit a pyrrhic one. Maybe things would have been different if Milner got a red card but, then again, maybe things would have been different had Trent Alexander-Arnold not been injured. We'll never know.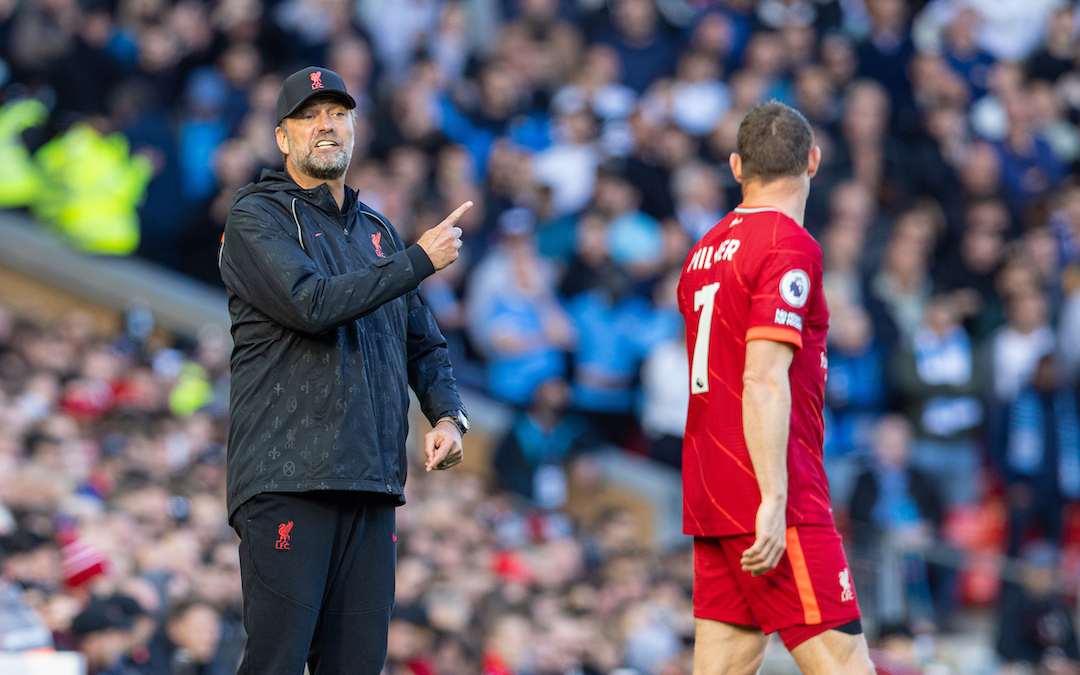 What yesterday did show was the significance of tiny margins. If the ball falls in front of Fabinho or he doesn't have to take that touch then it's a different outcome. Equally though, if Mo Salah isn't Mo Salah…
I was angry leaving the ground but today I'm angry at my attitude. Sometimes we just become too invested in the result and ignore the show before us. Yesterday saw the two best teams in the country, arguably Europe, trading punches through fire and skill, and no one gave an inch. That wasn't a game. It was a miasma of beauty. Gorgeous and horrific beauty played out with a target no one could reach.
And we forget that at times. We'd all like to see Liverpool take the title through a desert of crushed foes, but there's glory in watching two peerless teams slugging it out both mentally and physically. I think City have the edge at present, but ours is a side happy to solve problems, to work things out for itself.
We did that in the second half and had it not been for the quality of the opposition we would be top. Luckily the war never ends, only the twice annual battles. Both come off the field exhilarated and disappointed, knowing they've faced the best. Who is the better? Small margins will decide.
I'm often accused of harping on about the great Liverpool sides. Terry McDermott's glorious seventh may well be my favourite Liverpool goal of all time, Kenny Dalglish my favourite player and Ray Kennedy my hero. History doesn't have a monopoly on greatness though, and just because the kits were better, the game cheaper and the punditry more muted, it doesn't mean those legends can't be joined by more contemporary candidates.
I've been lucky. I was in the ground when Luis Suarez dug out a performance against Norwich that even he couldn't understand. I've seen Michael Owen and Robbie Fowler in their pomp. I've bounced with Fernando Torres and now I've seen Mo Salah.
Those 'Best Ever Liverpool Player' charts are usually reserved for the past and we mourned one of the candidates yesterday. How fitting was it to see THAT goal performed against that opposition in that ground as we remembered Roger Hunt.
I've still no idea how Salah did it. With every turn of his hips there's a chance he'll be closed down and he still kept on. It was more than a goal. It was art. It was a demonstration of what genius can do.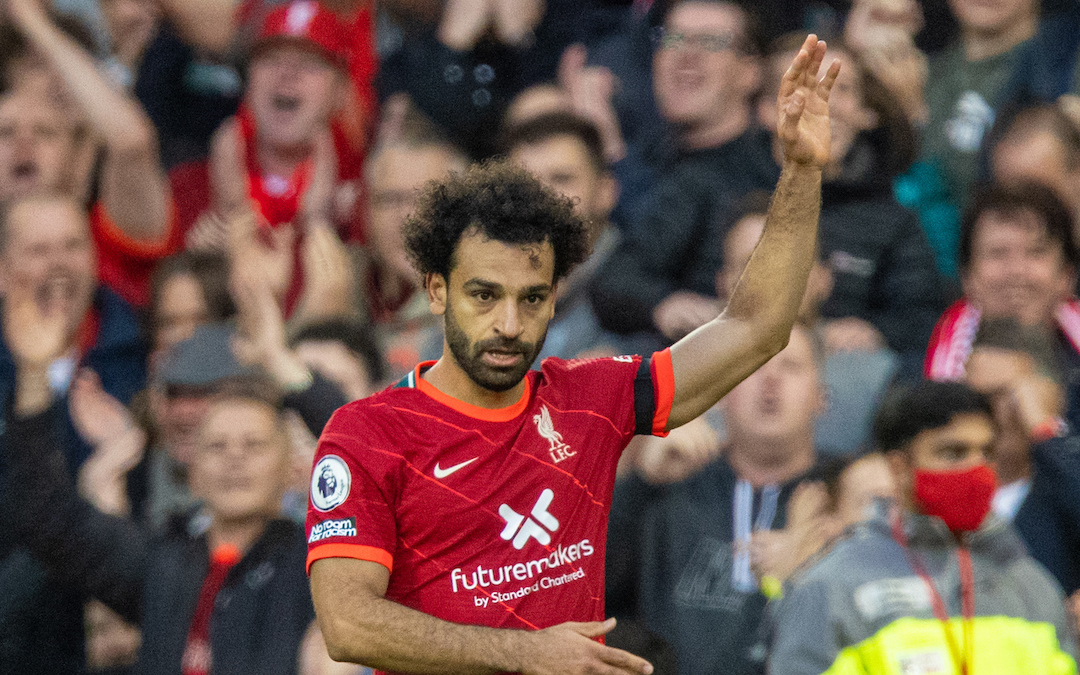 Oh, I know. We all love a bit of hyperbole but it comes to something when you don't celebrate the goal — you just shout the same expletive time and again at the man with your eyes like saucers. I can admire the goal, I just can't explain how he did it and they're always the best ones.
If he's locked in a contract dispute with the club he might as well have run to the director's box and raised a suggestive eyebrow to them while rubbing his thumb and first two fingers together. That's what he can do. That's who Liverpool have got. Pay the man. You have got the money and he can still win the league. You don't piss about with that level of genius.
Jurgen's learned a lot from the past two league games. From the complacency at Brentford to the battle scars of yesterday, he'll know that this side — our lads — will fight different battles over the next 31 games.
We can make up the shortfall on City before we face them again at the Etihad. The two sides bring out the best in each other. Liverpool and City are the dominant teams now, even though the European champions lead the league. This is the level we've achieved and it's the tiny margins which may decide who carries off the trophy.
I was angry yesterday — too caught up in the Red side of things and maybe caught off guard at the quality of City — but today is about admiration. We're in this race and there was so long when we were nowhere near it.
Cherish these days, cherish Mo Salah. These are the days of miracle and wonder, even when they become unbearably tense.
Just imagine the Reds being anywhere else. Imagine supporting someone else.
I can't. I just can't.
---
"Klopp's mantra against City has always been to be brave and we showed that in the second half."

🗣️ @robbohuyton hosts @DamianKav & @dan_morgan3

🎥 Watch 'The Post Match Pint' in full 👉 https://t.co/RZ5ckXvRKw pic.twitter.com/mMt1UZV3sM

— The Anfield Wrap (@TheAnfieldWrap) October 4, 2021
Recent Posts: