After Liverpool's draw against Brentford was met with the reaction of a defeat, why is it that a point now feels like none for The Reds?
DRAWS feel like defeats these days.
I know they shouldn't, and the fact that they do shows the level of expectation The Reds now carry, but they're hard to take all the same. Saturday was no different.
I keep asking myself why? After all, it's the context which decides what is a good draw or a bad one. Had their fourth goal stood and we'd gone on to equalise just as the ref was looking for his whistle to blow for time then Sunday morning would feel better, flavoured by elation.
No, Saturday was disappointing because we went behind and then led twice. Maybe it was also because The Reds were also a little bit shit and we're not used to that these days.
That could be down to several factors. Virgil van Dijk was out of sorts all day, possibly due to tiredness after so long out. Fabinho couldn't settle and the full backs were left exposed as Jurgen Klopp failed to change the system to stop them overloading the back post.
Yet more than anything it's probably because Ivan Toney and Bryan Mbeumo decided that Van Dijk and Joel Matip were just names rather than titans and were just as fallible as anyone else. Toney in particular gave Virgil a much harder time than Lukaku did last month.
Brentford sat in stark contrast to so many teams who accept that they'll be digging in rather than seeking out weaknesses. Burnley even went so far as to waste time when we were losing, but The Bees kept coming back, even at 3-3. I'm not sure we would have survived another 10 minutes. The whole second half had a creepy Crystal Palace 4-3 semi-final feeling to it. Next goal wins.
And that would have been entertaining had it been another side generously donating a couple of points so maybe we could acknowledge that this was just an even encounter rather than blaming the side, the tactics or the ref as many are wont to do. Sometimes, it's just a good game and you don't always win those.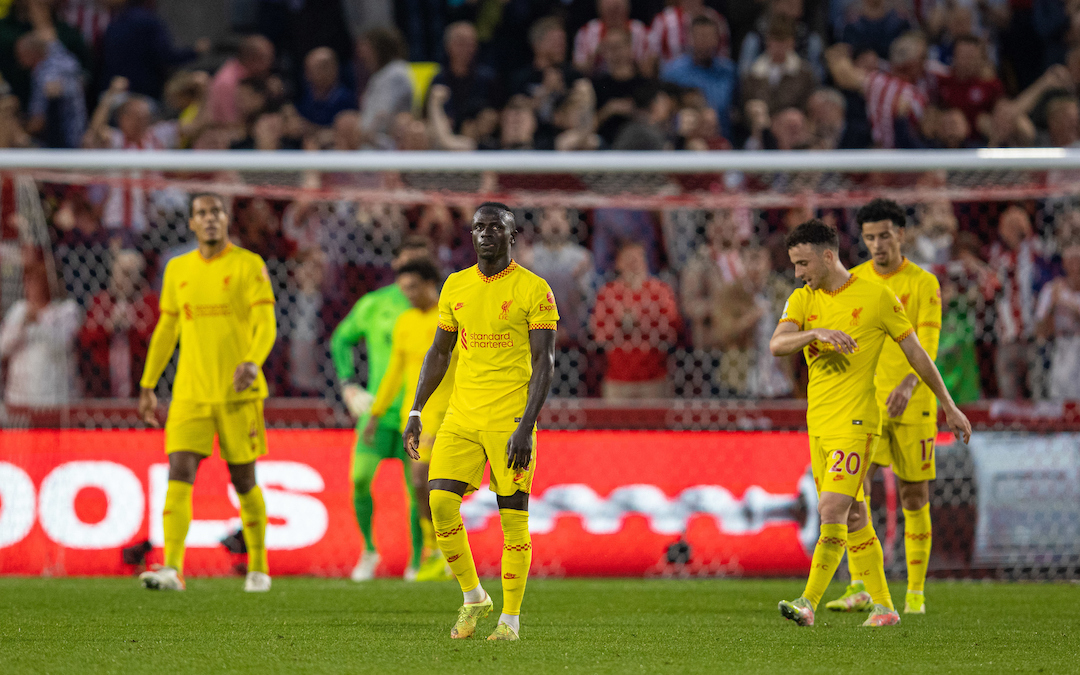 But that doesn't work for me. It still felt like a defeat, particularly with Manchester City besting the seemingly unmoveable Chelsea and Bruno Fernandes spending more time on a public apology than working out where to put his pen. It wasn't just the game; it was the opportunity that was 'lost.'
Expectations are always high and it's easy to see why. This is an age where even a season long haul approaching perfection can't always be good enough. Two draws in a week can practically kill a league season off and though there's little harm with a draw at the Etihad or Stamford Bridge, a point against a newly promoted side is frustrating at best.
These are days of fine margins. If the thickness of David Raya's glove decreases by a few centimetres, Curtis Jones scores and we take the points. If Mo Salah chooses a more prosaic finish than the one he fluffed, then we're looking down on the league from a loftier position. Should Jurgen reward Curt's goal with another 10 minutes on the pitch then you never know.
Small, small margins. We're building our Sunday moods on fortune and fate.
And the worst thing is that we're lucky enough to go through this. I watched the Brentford fans swarm (sorry) around the stadium after the game was over and they were understandably delighted with their draw. A draw against Liverpool is a win for them while a draw against them is a loss for us. 
That's the difference and I wondered what it must be like to think that 40 points is enough to crown a decent season. For us that's a third of the season taken care of to make us smile. That's not knocking them. It's just another world and one I'm partially jealous of right now.
Fair play to them too. Some of their fans may have borrowed their tiresome musical repertoire from their richer neighbours, but they're a likeable club. I mean, Chabuddy G and the lads from Kurupt FM support them. I can think of no finer accolade. 
They're enjoying the game for what it is. I wonder what it must be like to go to the game and not have the stress of the result. It's almost as if this is all supposed to be fun.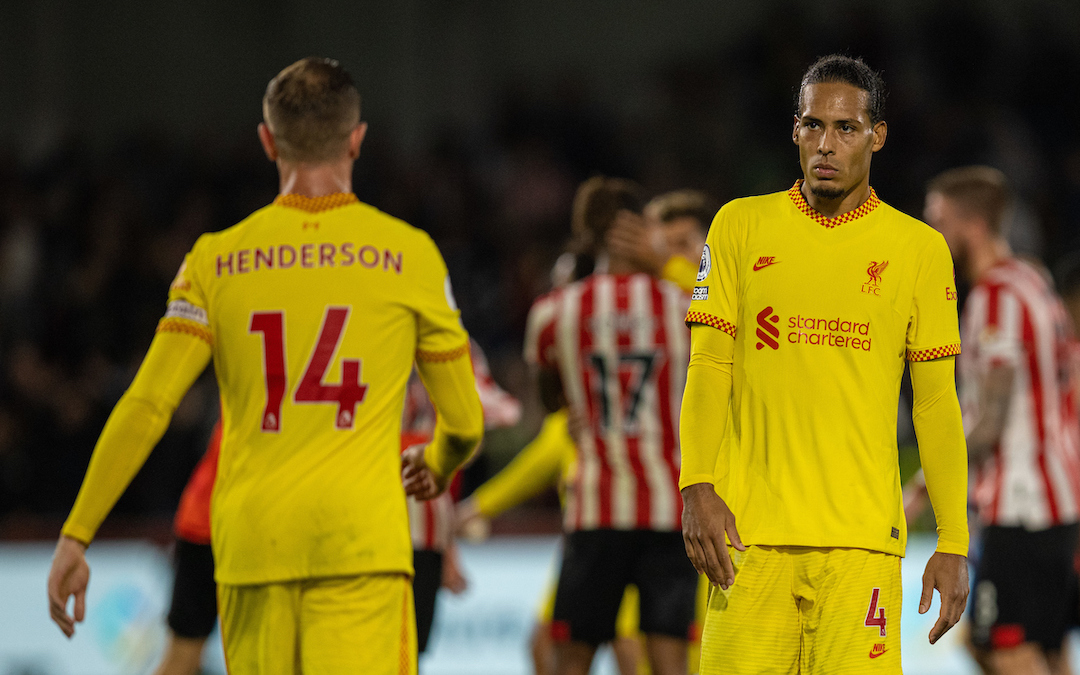 Every steward I met wished me a good game and safe journey with a smile and I don't think I could do that if I were staffing the away end at Anfield. I would barely manage a grunt — too preoccupied with wondering just how many men Trent Alexander-Arnold is supposed to be marking on the back post.
The danger of this 'every game must be won' credo is not just a loss of enjoyment in the dying minutes but a lack of focus. No one at the club wanted that result but they're also not going to sulk about it either. Onwards and upwards to the bigger and better games to come. That's what professionals do. If we learn something from that performance then maybe it's not such a bad thing.
But fans don't always get that. Well, I don't at least. Jamie Carragher used to say that he couldn't go out on Saturday night if we lost, so fraught would he be by what had just occurred and I'm just as bad with a draw. The flashbacks will be there a good while yet. I hate that I'm like that at times.
It's just a draw. We didn't lose and we got what we deserved. A fair point. Their tactics were spot on and the fine margins didn't fall our way this time. That's the game.
I shouldn't be frowning at passers-by. I shouldn't be muttering about the lack of ale in the ground (had far too much after Norwich as it was) and I should be optimistic about the games to come, but I can't do it. It's the opportunity gone. Not wasted as such, just not taken.
Hopefully we can wash away the stain of that result with the fragrant unguent of victory in Portugal. That'll help. Then comes City.
We have to look at the bright side. Brentford have got no ale in but we're still top of the league. At least we've got that.
Up the sulking a bit but trying not to Reds.
---
"To an extent, it was probably the Brentford crowd that edges them over the line to the draw; while we lacked quality in key moments."

🎥 Brentford 3 Liverpool 3 | The Bacon Butty | #TAWVideo

Subscribe to Watch👉https://t.co/oaOWcUzrlr pic.twitter.com/pg7PvKdu3d

— The Anfield Wrap (@TheAnfieldWrap) September 27, 2021
Recent Posts: