Gini Wijnaldum's Liverpool career could come to quiet end on Sunday, but Dan Morgan writes that it might just be the full circle ending…
"THAT'S that, then".
A phrase uttered in my presence on May 21 2017 inside a full Anfield stadium, around 25 minutes into a Liverpool game against Middlesbrough.
Nathaniel Clyne, who could lineup for the opposition on Sunday, had just skied an attempt over the crossbar from 25 or so yards with the game goalless. It was the type of effort nobody wants in that situation – a rush of blood to the head when you want calm and for one more pass to prevail.
Not now, don't become demonic.
Time has a way of offering nostalgic glances to days passed with unnerving consistency. It can suddenly become Rust Cohle's flat circle – measured linearly down here but non-existent within space and therefore bound to repeat.
On this day, Liverpool eventually ran out 3-0 winners to secure Champions League football in Jurgen Klopp's first full season.
That most certainly was not that, not by a long shot. The victory ensured momentum gathered in swathes behind a team determined to upset an oil-fuelled apple cart threatening to dominate Europe's elite competitions for the foreseeable.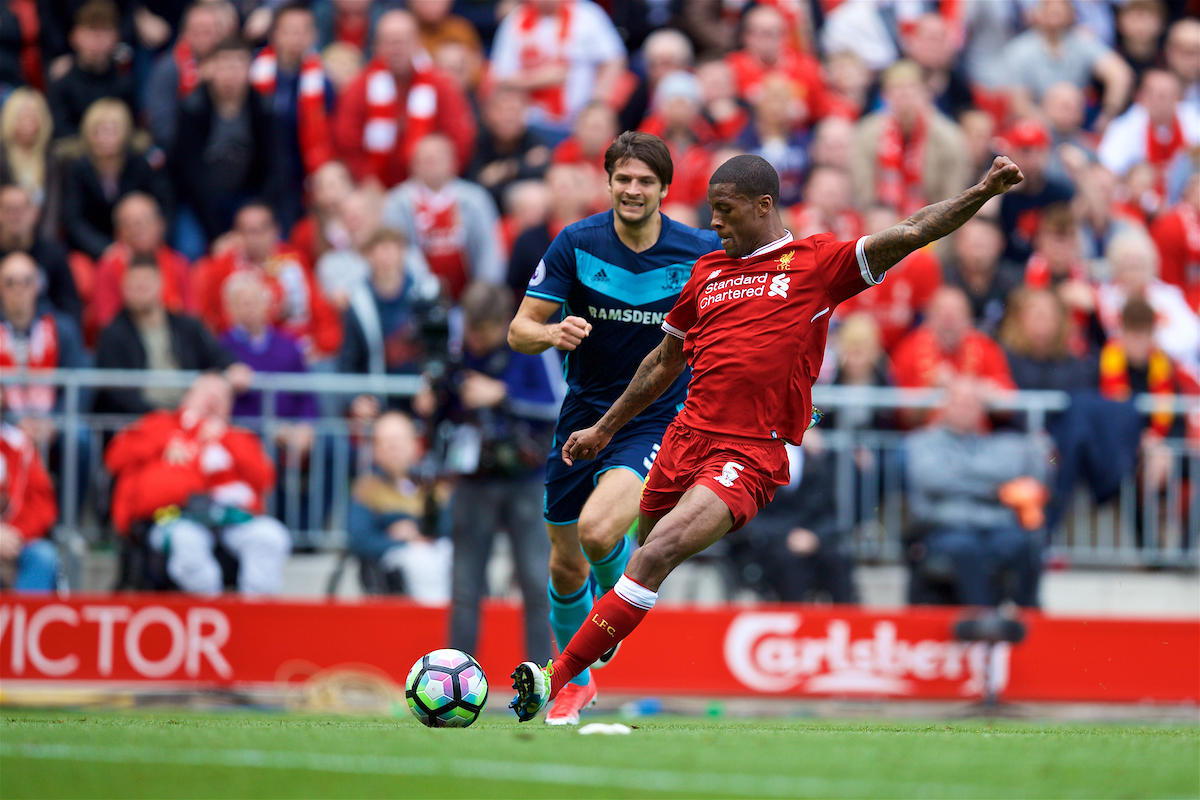 But there was a point in which irrationality was creeping forward, beginning to win the odd set-piece inside heads. That was until Gini Wijnaldum found the net on the stroke of half time with the most certain of Kop strikes.
And no sooner does the ball leave his foot do we quantum leap to the current day – with a trail of Manchester City, Kyiv, 97 points, Barcelona, Madrid, the Premier League title and a pandemic all encapsulated in a fleeting glance – oh boy.
There are several ways in which Wijnaldum's Liverpool journey can offer the most poignant representation of what's passed. The thread of his performances week-on-week can become the patchwork for us to mark flags in the ground of Klopp's tenure.
But big moments have never been his raison d'être. He's a player who has always looked to keep himself and Liverpool ticking. He's been consistent in the chaos around him – both good and bad.
He's been easy to miss out because of his penchant for facilitation and simply because there's so much going on with a Klopp Liverpool team that you can only spread your own energies so thin.
But being so present and consistent for a team in which midfielders are demanded to part with their soul is a special achievement. His legacy will adopt shades of Ronnie Whelan, but in Gini's own way it deserves to stand alone.
Liverpool got the player none of us thought we were getting. While we saw a mercurial and streaky playmaker at Newcastle, Klopp saw a disciplined and consistent vessel.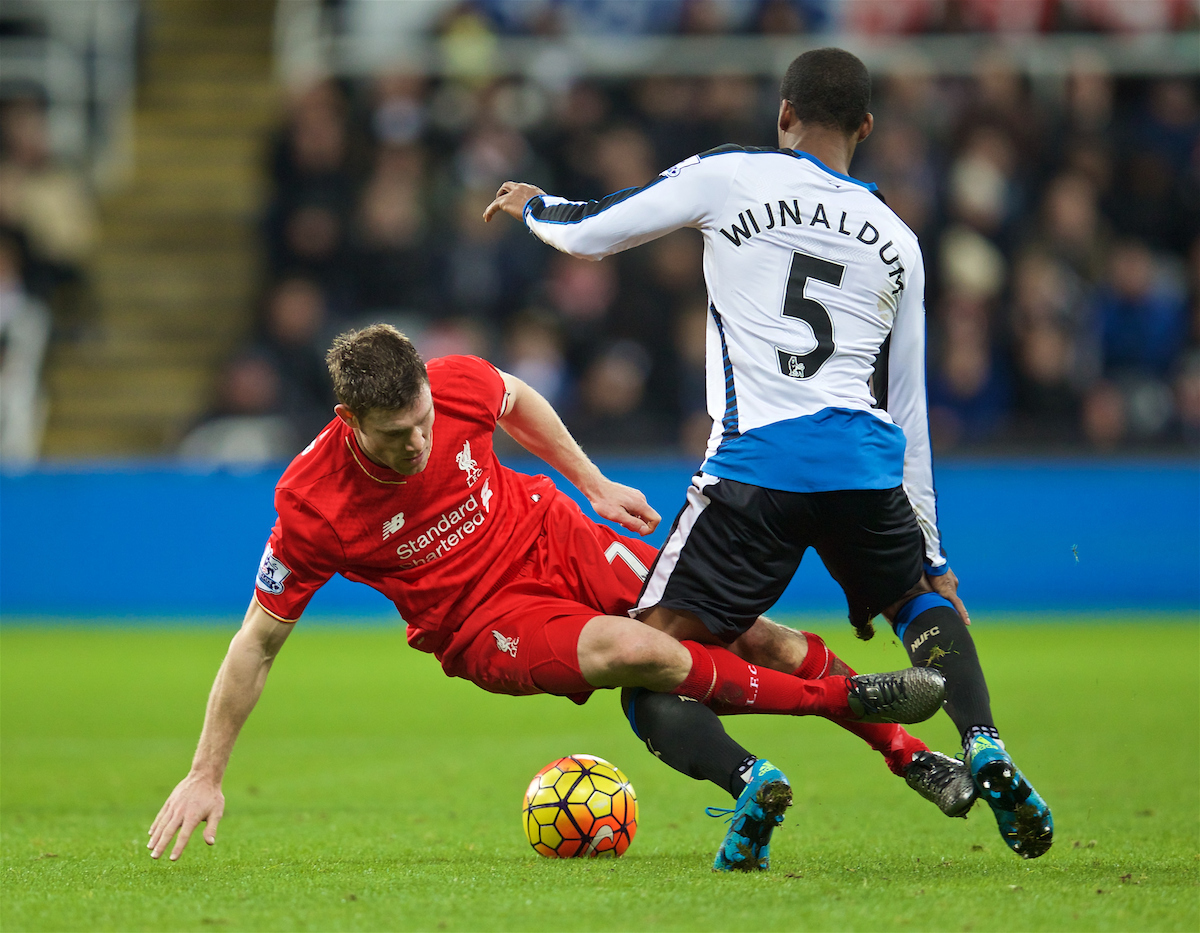 There will be those still hoping for an announcement of extension and who argue he deserves the deal he should have got following the 2019 Champions League final. But time has long since moved us forward with its swift, hoodwinking efficiency.
And now we're left with the very real possibility that Sunday is his last ever game for Liverpool. Interestingly, I haven't read or heard a thing which has drawn attention to the fact.
Rightly so, as Liverpool have a job to do and because Wijnaldum wouldn't have it any other way. He knows only one thing; To apply every last straining sinew of himself to the cause of Liverpool Football Club being where it should. That won't change a minute before 6pm Sunday.
Once that whistle sounds and fates are sealed, that might well just be that, then. A player who started one journey four years ago reaching his own stop.
The time for reflection will inevitably come to pass on the drop of his shoulder, the chant of his name and the comfort and reassurance of the Liverpool number five.
Yet if we've learnt one thing from Gini Wijnaldum it should be to enjoy every single moment and to only look forward, because my word it goes too quickly. He will do everything to start another Liverpool journey this weekend, it's just one he won't be part of.
The ultimate sacrifice. In many ways, it couldn't sum him up any better.
---
🗣 Burnley Beaten, Palace Next: Weekender | #FreePodcast | #LFC

Our free podcast looking back on Burnley 0 Liverpool 3 and ahead to the return of supporters against Crystal Palace at Anfield…

Subscribe for more 👉 https://t.co/oaOWcUzrlr
Listen 👉 https://t.co/CpDBbzOurp pic.twitter.com/a4WAKa3cGz

— The Anfield Wrap (@TheAnfieldWrap) May 21, 2021
Recent Posts: