I GUESS that this must be the place. We've arrived.
Repeatedly it felt like we'd never get here – 2002, 2009, 2014, 2019. Time and time and time again we nearly got here, we were at the door.
We were at the door again and everything stopped. The game ceased to be. Life was put on hold. But we've arrived. We haven't seen each other for months, we speak distanced. I'd love, love, love to see you but we've arrived and we've arrived together, you and I. What's a song without you. Every song I write's about you.
Remember the times. Remember the people. Remember what hurt and remember the journey. Because the journey has been everything. The journey, frankly, has been your life. What a life. What a privilege.
So much rattles through my head so fast. Every blink a cut, a new face, a new smile. Of all those kinds of people, you got a face with a view.
Adam Melia spending the summer sitting in trees smiling at passersby. Leeds away when Emile Heskey was just remarkable. Walking down Breck Road crying and laughing after Andrey Arshavin scored four. Brendan Rodgers on the pitch when Philippe Coutinho scores against Manchester City.
I'm on my way from misery to happiness today.
Grabbing Paul Senior when Mo Salah runs through and scores against Southampton and it being more bedlam than you've ever conceived of because the arc of the universe was bending towards this. Making a pact with God when looking for a cat.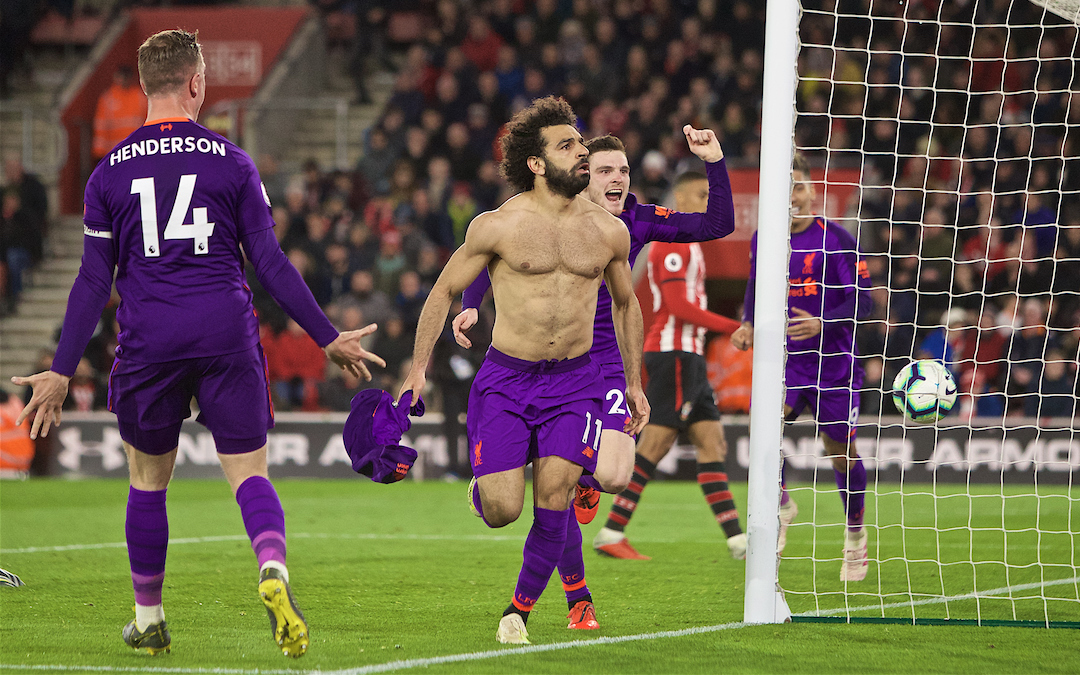 Being in Tokyo at 2am when Fabinho rifles home against Manchester City. Being in the King Power watching Leicester City be dismantled. Swifty and the lads behind me when Mo Salah runs through against Manchester United and the arc of the universe really, properly bending towards this, this time.
He takes his top off. Shining like a national guitar.
Thirty years is such a long time but you barely notice the start. You're too young or were too blessed with success. But by the year 2000 you begin to worry. By 2002 they have gone close twice, once in the mid-90s and then once again that year.
Vladimir Smicer volleys home against Chelsea as time ebbs away. Liverpool get sold, you protest and Yossi Benayoun scores against Fulham and Liverpool win at Hull but that day United beat Tottenham and you carry it somewhere. It won't leave you.
More protest and Liverpool go to court and get sold again. Your life moves on, it never stops. You notice more people at football matches look younger than you and then 2013-14 happens and you feel younger than you have in your whole life. Younger than you have ever felt. The 2008-9 season was an old man's game, but 2013-14 is for the young.
Don't let the sun go down on me. The thing you carried since United beat Tottenham goes, it dissipates but it isn't enough. It isn't quite enough but your heart is open anew.
We allowed ourselves room for greatness, we brought adventure back. We could climb the mountain and smile as we went. This was the best thing in your life. It was a leisure activity not a custodial sentence. Let the greybearded treat it that way.
And then Jürgen Klopp filled that gap. A man able to tell you that this should be the best thing in your life and mean it and smile. Because he was a man able to make it so.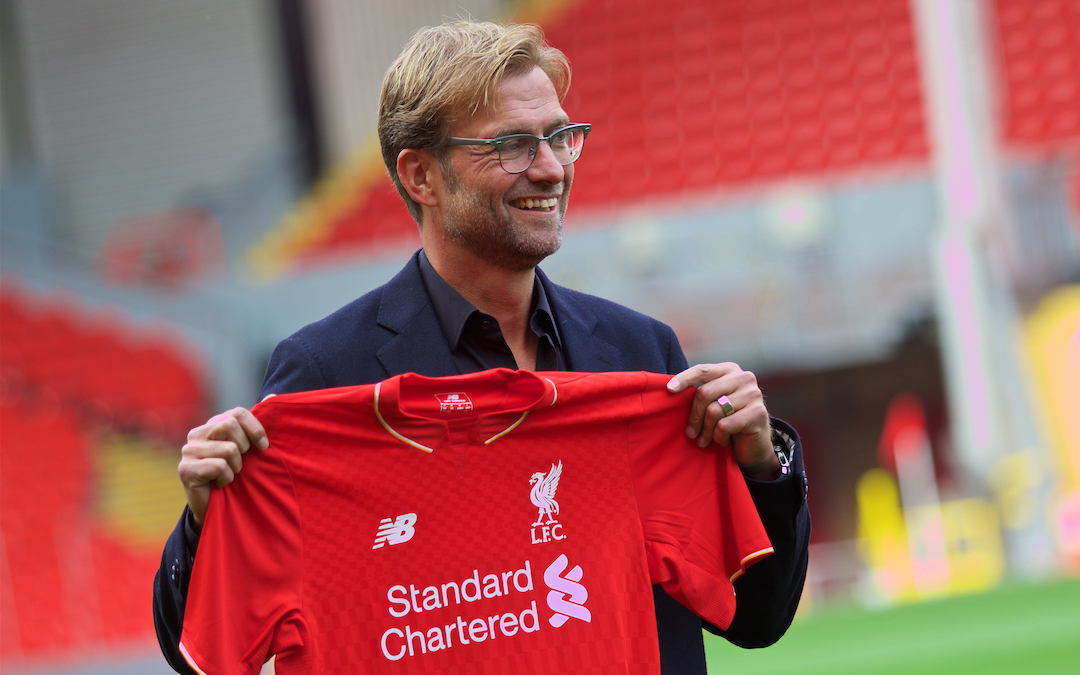 What they've done, what they've achieved will take time to truly settle, not just for us but for football in general. The mountain climbed by this Liverpool side has been the biggest ever. A Manchester City side that has been financially doped and simultaneously pretty well run and with Pep Guardiola in charge of it. A side capable of averaging 99 points across two seasons. That was the final obstacle in front of the promised land.
That obstacle hasn't just been overcome, it has been – perhaps briefly – dismantled in overcoming it.
Jürgen Klopp saw all this coming and said "go on then" to the gauntlet Manchester City laid down. And the owners and the administrators; his staff and his players; and us, the loons who had been denied the promised land so many times before, we backed him to the hilt. We followed him to the very jaws of hell. And then we took the next step. We weren't to be denied. Not this time. Not on his watch.
What Klopp did is unique. Nobody else did it, nobody else even conceived of it. Every other side in English football was content to just wait it out. Hope Guardiola wins three leagues and swerves it. Liverpool FC didn't do that. Where would be the fun in that? Where would be the adventure? Where would be the joy? And why does Jürgen Klopp spend his time and ours if it isn't fun, isn't an adventure, isn't at least trying to be joyous.
They grew and grew. Got to know one another, improved in each other's company and reached such a pitch 100 points became possible.
In December 2018, at Wolverhampton Wanderers Liverpool won 0-2 and being there that day was being in the presence of Champions, being in the presence of a side that was winning a football league. It just took a bit longer than normal, that's all.
There are love stories everywhere beyond ours. There's a captain who has come through those hellish jaws time and again. Among our ranks there's a Real Madrid failure and a Chelsea failure and a Celtic reject. There is a group of young men who have found each other, found this place and made it their own. They've lived our need and responded to it.
Lesser sides, lesser groups would have been diminished by the domestic disappointment of last season but not this Liverpool. Instead, they turned it into a springboard.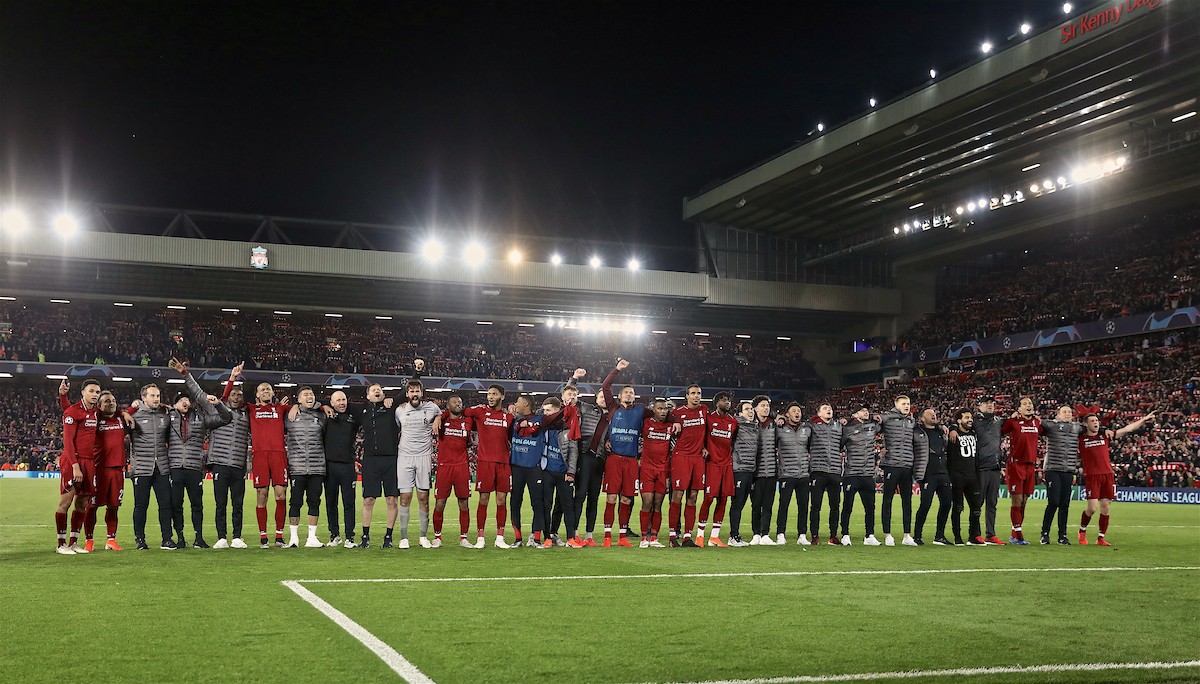 We can't thank them enough but we can and will try. I'd build a statue of each of them as long you'd build it with me.
We needed them to give everything and they did that. Sadio Mane wanted to win the league more than you because he took that burden on. Look at them and walk around them. They are our heroes, they gave us what was both unattainable and what so many Liverpool sides had attained before them.
The league title they have won is both the first and the 19th. It is building on a legacy and cementing it. It is adding to our history and it stands alone, away from it.
Remember the times and remember the people. Remember the process and hold the process close. I've been writing these love songs, these bits of sweetness with tones of sourness for six years now. I've been writing about a football team but also about a journey, about all of us embodied in some of us. You'll have your own gaps to fill in through all this.
It's the twist of a kaleidoscope, the swivel of hips, it's eyes locked across a dancefloor, eyes that light up, eyes look through you. Your own moments are yours, treasure them, own them, tell me about them. Our experiences are disparate until they aren't, until we come together swelling in pride about this side and what it has done in this moment.
All of our lives are punctuated by this. All of them defined in part by the journey.
Liverpool are league champions. Thank you for sharing getting here with me. There could be no better companion.
We've arrived at the promised land. We've arrived home.
---