Neil Atkinson's post-match review after Liverpool's 7-0 win against Crystal Palace in the Premier League…
IT may look slightly different soon enough, but that league table was what I most wanted for Christmas.
Advent has come early in a footballing sense – normally we are four or five games further along at this stage. It's another reminder that things aren't quite normal. Today though, Liverpool have made them being top on Christmas Day normal.
For the third consecutive season Liverpool sit top when turkey is tucked into and for the third consecutive season it is ominous for the rest of the division. Today it is ominous because of what today signifies backed up by Wednesday. Liverpool are hitting their stride.
And they are hitting the ball well. All seven goals are brilliant finishes, often beautifully created.
Roberto Firmino's pass to Andy Robertson in the buildup to the third goal was pretty special but it became only the fourth best component of that goal. Robertson's pass for Roberto Firmino to make it 0-3 was tremendous. Then there was Firmino's first touch in the area which set up his relaxed but unstoppable finish. It's a dream of a goal.
It put the game beyond reasonable doubt. Crystal Palace hadn't played poorly, far from it. They'd been tidy, dangerous and had worked ever so hard first half to stay with The Reds. Had they kept a little more composure in the penalty area they could have equalised the early Takumi Minamino goal.
Composure is fascinating in this context because it is fair to say that Alisson Becker, Joel Matip and Fabinho are practically made of the stuff. All three intervene at crucial moments and do so by knowing where they are and what is happening around them.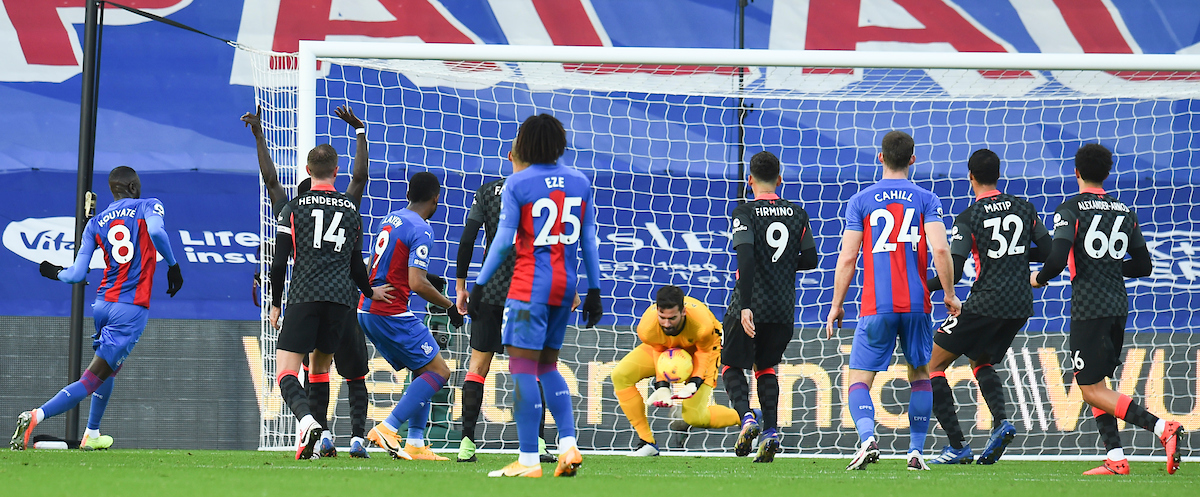 Crystal Palace were not as bad as the score. We obviously play pretty well today, bizarrely they were not horrendous. After the third one it seems unsurprising that we were winning, but it wasn't in the face of total collapse at any stage. They are, oddly, a small credit to themselves Crystal Palace. Our next four goals slot in one after the other.
Often with a 0-7 (SEVEN) or something like it (as 0-7s do not happen all that often) you struggle to find ways to praise central defenders and goalkeepers, but not today because Crystal Palace themselves don't stop. They just run into that zen-like brick wall over and over. So much of what was good about Liverpool stems from that collective calm.
So much stems from the captain. It was a serious performance from Jordan Henderson today. His reading of the game and ability to find space just continues to improve and it started at a pretty high level. Today he offered drive and constancy; an explosive metronome. The goal crowned the performance – no more, no less.
Liverpool's finishing this season has been nothing special. Across their games they have been about par for expected goals, a metric they have outperformed last few seasons. The reason why they have outperformed is that they have excellent finishers, excellent footballers. Today you get to see them all in full flow.
You get a sense also of how driven they are as individuals as well, a slight edge of tension (oft punctuated by Roberto Firmino, you suspect) which has always been present but today gets a public airing. Mo Salah has said he was sorry not to be a stand-in captain, and clearly has his own journey in mind.
Sadio Mane, forced to play supporting act to Salah's profile, is understandably understated about what must be a deeply frustrating situation at times. That he does not show it much is to his great credit and reveals him to be the dream team player. Today it escapes during the substitution. There were goals he wanted to score.
What I think all this shows, and what Roberto Firmino's performance and goals show, is that we try to say that as long as the team is functioning who scores doesn't matter, but it clearly does on a personal level to all three of these footballers. Part of their job is to score goals and if they aren't doing it, they aren't happy.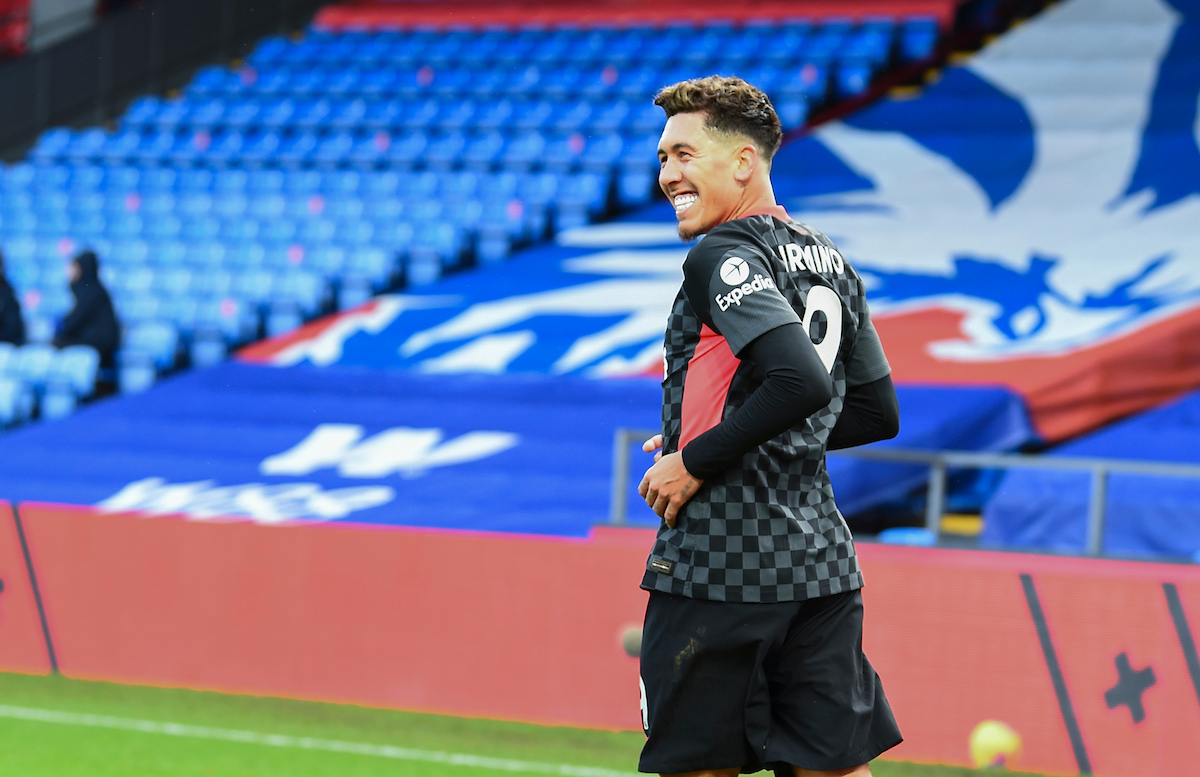 Our manager has to manage this and evidently has been doing so marvellously; just look at the last few seasons. They have worked it out, whatever that means behind the scenes, we get to see what is in front.
What is ominous for the rest of the division is the idea that all three are just hitting their straps at once. All three scoring in the same game; two getting a brace.
The prospect that Liverpool become ruthless as we move through the Christmas period and into January couldn't be timed better, let them crackle, have them hungry. There are goals enough for the three to share – the more all three score, the more games we win. It is as simple as that.
Today Naby Keita, Alex Oxlade-Chamberlain and Takumi Minamino made it clear they will have a place at this party. There are more to come back, more to follow them but Keita and Minamino can sleep well tonight – 90 minutes they contribute brilliantly to.
Be afraid, the league. Be very afraid. Liverpool have had not just their toughest run of the season but their toughest run of the last three. It couldn't have been harder or more taxing. We couldn't have plausibly been more threadbare. We couldn't have been more stretched.
We're top of the pops. We're on the march. Nothing has been won yet, far from it. There is a lot of work still to be done. But our footballers love to work.
Have a look at that league table. Compliments of the season. Look after yourselves, let The Reds look after the hurdles.
All the best.
---
"Liverpool were phenomenal. Best performance of the season. It's really ominous for the rest of the league. Liverpool have a got a work-rate that nobody else can get near."

Subscribe for all the best audio and video reaction after a belter 7-0 win 👉 https://t.co/oaOWcUzrlr pic.twitter.com/8iPPevqnag

— The Anfield Wrap (@TheAnfieldWrap) December 19, 2020
Recent Posts: