Roberto Firmino was struggling to find his best form, but Leanne Prescott believes that fans being back in Anfield has had a big impact on the Brazilian's game…
FOOTBALL fans back at Anfield. How we have all missed this.
For the lucky few, a small taste of normality in abnormal times. For all of us, a return of the raw emotion that makes football what it is.
Thousands of individual voices all aligned in complete unison. Strangers turned comrades.
It is the absence of the voices makes you appreciate it all so much more. Actual fans, back at last. Stadiums bursting into life.
The smattering of fans booing when Spurs come out of the tunnel, making Anfield as hostile an atmosphere as possible. The cheers when the Champions arrive. The energy and desire we have all missed so dearly. It is what has made this fortress so impenetrable.
The 2,000 fans singing You'll Never Walk Alone and paying homage to Gerard Houllier were 2,000 voices expressing the feelings of all us.
What a difference it can make, for us and the players.
Urged forward with every kick, applauded for their commitment and dragged to the finish line when the legs began to go, The Reds have missed us as much as we have missed them.
Few more so than Roberto Firmino.
A master showman, questionable stylist and kung-fu kick lover, he has always struck me as someone who thrives off the fans and it's of little surprise his return to form has coincided with their return.
The Brazilian has never been a prolific goalscorer for Liverpool – his role in the team doesn't need him to be – but there have been times this season where other elements that are so synonymous with his game have also suffered.
His touch, usually deft, turned sluggish. His passing, usually measured, turned inaccurate. His pressing, often relentless, undoubtedly suffered from the congested fixture list. Usually a lightning rod of energy, he has shown an alarming lack of confidence, particularly when through on goal.
As they say, though form is temporary, class is permanent. Fitting, then, that it was the latter that prevailed against Spurs.
Twice denied by Hugo Lloris, his all-round game was as good as it's been all season in terms of his first touch and link-up play. Indeed, it was far more reminiscent of the Firmino of old, dropping into midfield and manipulating the space, with his movement dragging defenders out of position.
He was skilful, deft, inventive – all the things you need to disassemble Mourinho's double-decker bus.
A maverick, maestro and ultimate facilitator, Firmino is many things except your typical number nine. He goes against every stereotype of the role: more defender than he is striker, creator than he is finisher, but with the flair of a typical Brazilian.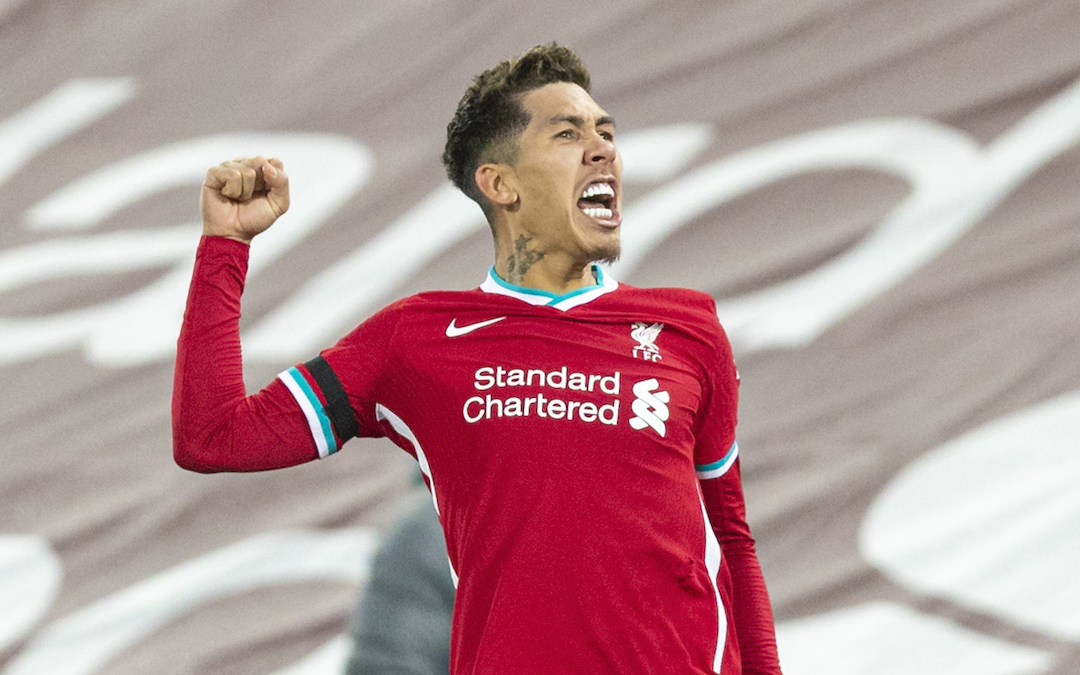 He is the musician playing "12 instruments in our orchestra", as Klopp so aptly put earlier in the season, and Spurs couldn't live with him.
It's a tight game, a hard-fought contest between two teams who will be right up there at the end of the season. And then comes the 91st minute.
The game calls for a hero and Firmino proves he is.
His winner, an immaculate header into the top corner, was the perfect end to a brilliant performance; only his third goal of the season, but a hugely important one.
Gone was the humour celebration, inevitably copied by Mane seconds later. This was Adebayor at the Etihad and a glance to his teammates to urge them to follow suit. Sprinting towards the bouncing Kop, his celebration underlined how much the return of fans means to the players. A rare outpouring of joy in a tough year for us all.
Is it a coincidence that he turns in his best performance of the campaign in front of an audience? It's hard to say, but his celebration was part joy, part release. You could see the sheer emotion in his face. He needs witnesses and was elated to share it with a smattering of Kopites. He feeds off witnesses marvelling at his brilliance, and marvel we did.
Our Bobby Dazzler back at centre stage again to ensure the best team won.
Liverpool, top of the league. These Reds will take some shifting.
---
"Mourinho thinks they deserved at least a point."

"But the point is they don't do it, we win. This Liverpool team win when they deserve to win and win when they don't deserve to win."

Subscribe to TAW Premium to watch "The Post Match Pint' from Anfield 👉https://t.co/oaOWcUzrlr pic.twitter.com/VT9vAwsH5X

— The Anfield Wrap (@TheAnfieldWrap) December 17, 2020
Recent Posts: