STREET footballers at an elite level are a joy to behold.
Luis Suarez, Wayne Rooney and Steven Gerrard were all phenomenally talented players who held an unnerving amount of raw abandon and instinct, honed into them on the streets of Croxteth, Huyton and Salto, Uruguay.
There is almost a sense of innocence to these players. An ability to see them as boys and teenagers, despite their athleticism and physical development. In a sense, you get to see the person they've always been.
Street football can transmit itself in various forms, and of course it is not just confined to the pavements. Watch any Liverpool training session or warmup before a game, you will get the same sense of authenticity and fixation with Roberto Firmino.
The 27-year-old is different to the aggressive and abrasive style of others. However, watch Firmino and you see the boy on the beaches of Brazil – slaloming side to side with the ball at his feet, manoeuvring his body to dazzle imaginary opposition and configuring new ways to make the football come to life.
Firmino has always played football with a beaming smile on his face. He has an unnerving ability to bring the frantic pace of the Premier League down to his level and make players suffer from his array of technical attributes in almost slow motion.
His goal against Arsenal in the 5-1 demolition during 2018-19 is a testament to not only such skill, but the fear of embarrassment present in opposition defenders to the point in which it becomes their reality.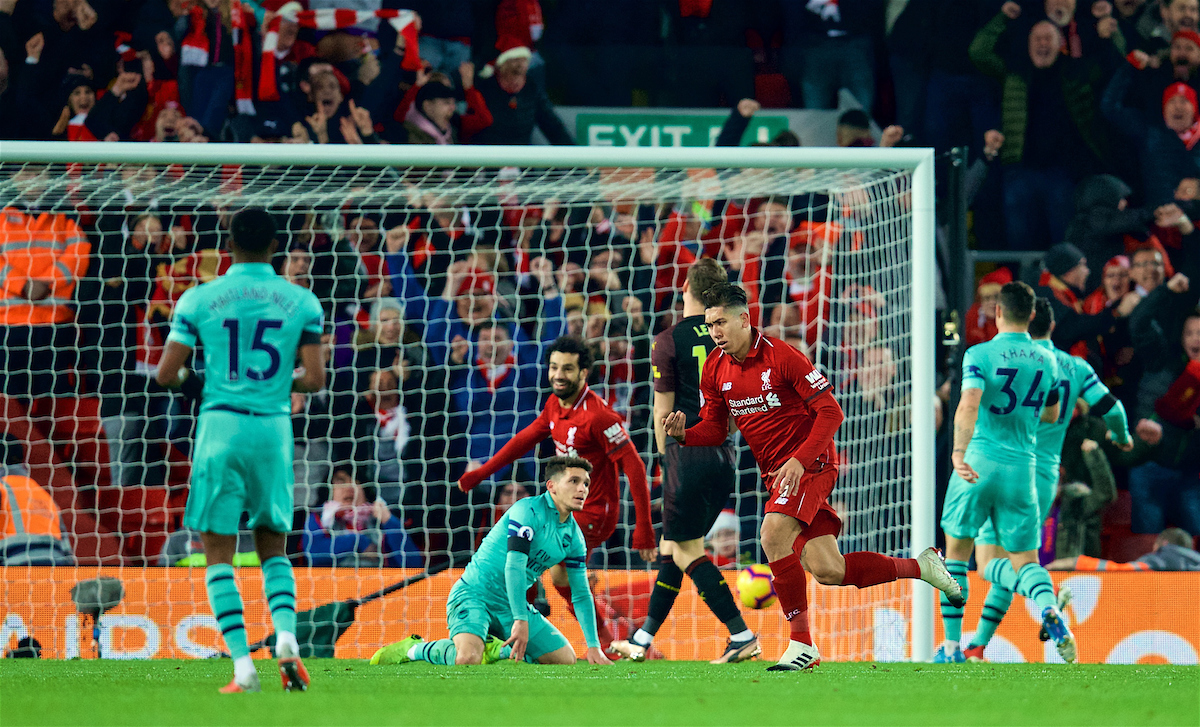 As Firmino ran toward Sokratis Papastathopoulos and Shkodran Mustafi, they were already beaten, eventually crumbling in front of him, looking up in both horror and admiration akin to a historic portrait hanging from the walls of a museum.
Yet last season will not go down as Firmino's best in a Liverpool shirt.
Despite being integral to the playing style of Jürgen Klopp's team, he was hampered by form and fitness at different spells of the campaign.
An early season change of shape for the team seemed to have a stifling effect. With the Reds adopting a 4-2-3-1 shape and Firmino operating in the number 10 position, he often found space more cluttered and restrictive to the way in which he likes to operate.
This is arguably what makes him such a fascinating footballer, and why at times he has been described as being two players in one – being he is at his best when more, not less, responsibility is placed on him.
In the latter half of last season, niggling injuries preceded a start in the Champions League final in Madrid on June 1 in which he was clearly half fit, at best, and lasted just over the hour mark.
During a frustrating transfer window for some supporters, there was talk of the need to provide more adequate cover and also competition for Firmino, as many weren't sure whether the slight dip in standards would linger beyond the season prior.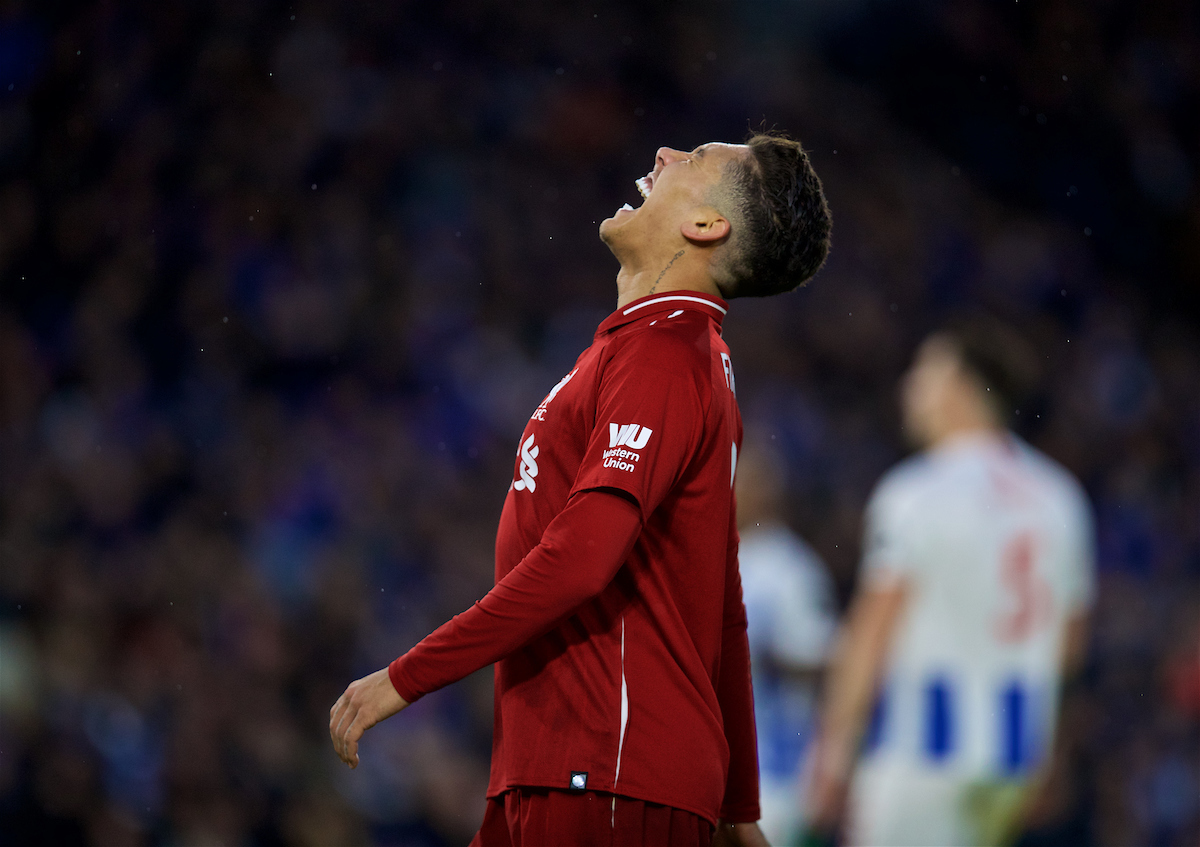 Firmino's statistics for 2018-19 were not entirely unpredictable, with his highest numbers coming from pressures (24.03) and pressure regains (3.93) per 90 minutes.
Already this season, however, the contrast is stark.
Most notably, Firmino is up on dribbles (2.93 compared to 1.77) and touches in the box (19.02 compared to 11.67). He is down on pressures and regains compared to last term, averaging 1.95 and 20.00. His xG is also up from 0.38 to 0.60, as is xG per shot from 0.16 to 0.20.
It should be noted that this season's statistics are based on two games against Norwich City and Southampton, respectively. The change to the players game is visibly noticeable, however. Firmino looks fitter, sharper and hungrier in body and mind.
It would be naive to conspire as to why this is. It could be a commitment to the 4-3-3 shape with the Brazilian being pivotal to attacking situations of the team. He may also be aware of the standards being set around him by the likes of Sadio Mane, and is therefore bringing his own levels up in comparison.
The stats do suggest that maybe Firmino has been tasked with doing less going backwards and more in the opposition's final third this season. This would push his two wide forwards and two number eights further into wide areas, allowing Liverpool to penetrate and outnumber with their marauding full backs joining too.
Whatever is currently setting the standards which enable us all to see Roberto Firmino as the footballer who plays with that infectious smile from the sands of Maceio, Brazil, to the turf of Anfield, Liverpool, we hope it is here for the duration of 2019-20 and beyond.
"Some supporters were going down to Southampton fearing the worst.

"It was a massive, massive win for Liverpool." 👏@JamesPearceLFC on this week's FREE Anfield Wrap show…

🗣 You can listen in full here 👉 https://t.co/lFtRo11V3O pic.twitter.com/RG5jb6y0SJ

— The Anfield Wrap (@TheAnfieldWrap) August 20, 2019
Recent Posts:
[rpfc_recent_posts_from_category meta="true"]
Pics: David Rawcliffe-Propaganda Photo
Like The Anfield Wrap on Facebook