THERE are no cup finals in September. No title was ever decided on game five. So why does this feel like a game of monumental importance?
History may well cast this encounter into the ether, but in the here and now it's hard to fathom a more pivotal moment. Of course, this sounds irrational and a little bit hysterical, but stay with me. I'm a title-winning veteran. There are less of us around these days. Cherish us and enjoy us while you still can. We know what winning the league feels like. Age is sure as hell withering us, and our recollections are hazing by the year, but no one will ever steal those treasured trophy-winning memories from us. More than the memories, the feelings, the sensations in the gut, will never fade.
I used to "sense" titles. Smell them coming. Liverpool were very, very good in my youth — late '70s and the '80s — and we'd start every season feeling it was a god-given right to win the league. But we'd never feel certain, though. That was part of the fun. We were frequently asked if it got boring, winning year on year. It never got old. In fact, each passing triumph just heightened the anxiety that at some point this must all come to an end.
The story of each season would have its own unique character and narrative. Some of the best were those where we had to come up on the rails to win. To prevail in adversity. Like 1981-82 — mid table at Christmas and floundering, top of the pile in May and all conquering.
My favourites, though, were the ones where we looked right from the off. Yes there'd be a twist or a turn along the way, but early on there would be that "sense" that winning the league was our destiny. The pivotal moment would often come around now. I'm thinking of that day we went to fancied Manchester City in the early part of 1978-79 and blew them away 4-1. In 1987-88, it was the game at Newcastle. Again, they were rated. Again, we humiliated them in front of their own, another 4-1 to Liverpool. Markers were put down on those days.
Liverpool have a tough month of fixtures ahead, but this impending matchup, with as good a Spurs team as there's been in my lifetime, feels like it could be a make or break point. I'm being melodramatic because I think we all need to be. Me, you, the manager, the team, all of us. Because — to channel Jürgen Klopp — it's essential that we believe.
League titles are won by confident teams. Sides that can banish doubt. Those Liverpool teams of my youth turned up to win each and every match. I almost can't remember when we ever spoke of an English league fixture and said to ourselves "a draw would be a decent result today".
We're too battle scarred these days from 28 title-less years to be counting any chickens yet, or so naive as to not know that a draw away to Tottenham is never a bad result. These tonked us 4-1 at Wembley a year ago. But… We have to win this. We just do. Or at least near die trying.
It aids our cause a touch that Spurs are currently unbeaten in zero games. They won their first three of this campaign, including a mugging of Manchester United at Old Trafford, but they lost 2-1 at Watford in their most immediate fixture. It's a crap result and they didn't look great. It's only one setback, but better to face them on the back of that than after a long winning streak. It's the proverbial "good time to be playing them".
Last year in this fixture we were beaten inside the first 25 minutes. Dejan Lovren and Simon Mignolet had nightmares, and Spurs played like demons. Liverpool will have some different players to parade at Wembley this year, some in particularly key positions. No crap goalie this time. This time we bring Alisson Becker. The greatest 'keeper of all time. That's the fantasy he's nurturing at least and the blotting of his copybook at Leicester doesn't change that, although he could do with not soiling his own cage again any time soon.
We also bring new centre backs. Lovren and Joel Matip stunk out Wembley last October but they won't get to reprieve themselves this time round. Virgil van Dijk and Joe Gomez look and feel like the present and future of Liverpool's defence. Other newbies are the full backs Trent Alexander-Arnold and Andy Robbo. That's four new faces in the back five.
In midfield, I hope we recall Naby Keita. He was rested against Leicester and we missed him. He'd had moments in his first three outings that suggested he wouldn't be long in fulfilling the prophecy for him. A red nation craves a midfield messiah and an heir to Steven Gerrard's legacy. No one has a better chance of being our saviour than Naby.
Klopp's ultimate selection will be much predicated on the fitness and freshness of his international break returnees. Mercifully, our front three have only had to play a solitary game apiece. The Dutch lads — van Dijk and Gini Wijnaldum — have the relative respite of a near full week's training ahead of Wembley. So by the standards of these things, we might arrive in West London on Saturday morning in relatively good fettle.
If there's to be changes from the winning side at Leicester, expect Keita to replace Wijnaldum or James Milner. There might also be a surprise omission, if Roberto Firmino is deemed too weary to start after his exertions for Brazil. Might this enable a first start of this campaign for either Xherdan Shaqiri or Daniel Sturridge?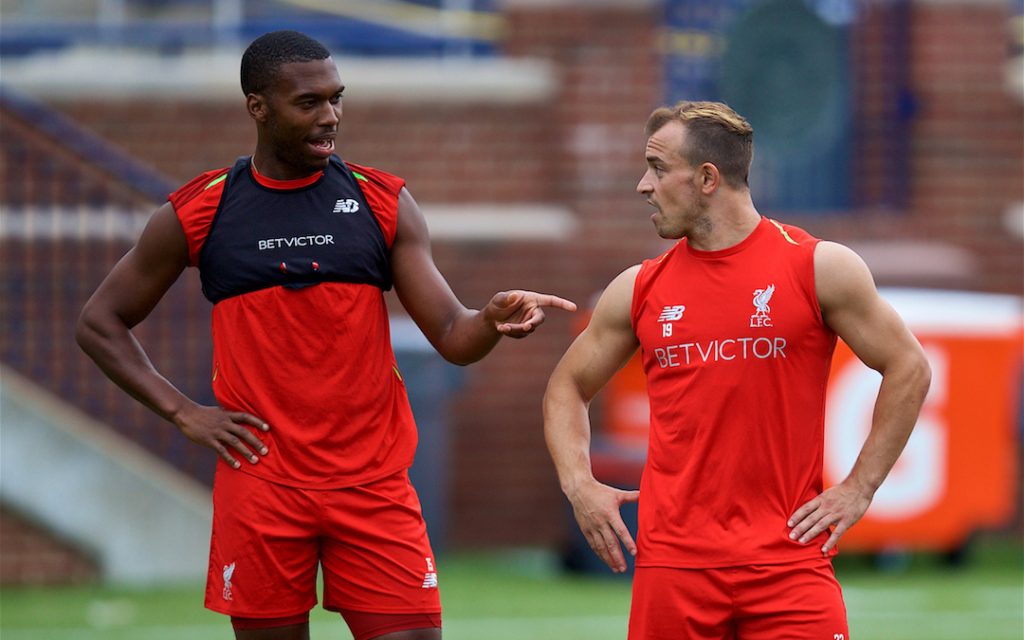 The Spurs were jolted by defeat at Watford two weeks ago. They were quietly motoring and purring in the wake of their demolition of Man United. Then reality caught up with them. It may well catch up with us soon too. Tottenham are a very good but very strange side. There's a mental strength there, that seems to emanate from the stoic Mauricio Pochettino, that has ensured their place as *one of* this hugely competitive league's very best teams, for a number of seasons now.
The *one of* is key though. It's not that they "need to win a trophy", they're bigger than that — they need to take the next step and be the actual best team. A bit like Liverpool.
Those of traveling down to London at the crack of dawn on Saturday will do so with stout hearts and bagfuls of optimism. As we did about a year ago. Lightning often does strike twice in football. Be arsed with having to go through that trauma again, mind. Have them focused from the get go, Jürgen. This isn't quite a cup final, regardless of Wembley, but it is on the level of some sort of semi final.
Win it — and that's no small ask — and take a giant step forward.
Predicted 11: Alisson; Trent, Gomez, van Dijk, Robertson; Henderson, Wijnaldum, Keita; Salah, Firmino, Mane
Kick off: 12.30pm, Saturday
Referee: Michael Oliver
Odds: Tottenham 19-10, Draw 51-20, Liverpool 29-20
"A few years ago Chelsea in the League Cup would have been a really big game… now you're thinking 'what's the weakest team we can get away with and still qualify?'" ✊

🗣 Listen to this week's FREE Anfield Wrap podcast in full here 👉 https://t.co/fuxOdwWB6T pic.twitter.com/etsI0bHm2B

— The Anfield Wrap (@TheAnfieldWrap) 10 September 2018
Recent Posts:
[rpfc_recent_posts_from_category meta="true"]
Pics: David Rawcliffe-Propaganda Photo
Like The Anfield Wrap on Facebook