LIVERPOOL have flickered through the first wave of games collecting all 12 points.
Jürgen Klopp looks closer to his masterpiece than ever, having curated a tasteful gallery of players. A squad deep with strength and with competitions for every space.
The absence of squad depth has cost The Reds not only in three finals under Klopp but also in their league finishes — having had to grind out fourth place in both the last two seasons.
So why is this year different? Well for one, Liverpool have more players, better players. Getting to the Champions League final and the squad Klopp now possesses are both contributing factors to The Reds being framed as Manchester City's biggest title rivals.
Liverpool will have to keep connecting four as they have thus far, and the depth of this squad is certainly as geared towards that as it has been under Klopp. Having strength in depth will win games and the boss will have to squeeze the best out of his backup options to have something shiny to hoist above heads in May.
Those options aren't there just to make up numbers or to act as fresh legs. It's about those players in reserve having the ability to change games, or to help see them out. Liverpool have lacked game changers in recent seasons and success this season could well rest upon the impact of fringe players like Xherdan Shaqiri and Daniel Sturridge.
In spite of limited minutes from the bench so far, the squad players will be eager to help rack up points and chase silverware. Sturridge and Shaqiri aren't exactly the axis on which this Liverpool side spins, but they are experienced and, when called upon, are likely to help push The Reds towards victory.
Bench boys for now, surfing the wave of positivity behind the majestic trio of Roberto Firmino, Sadio Mane and Mohamed Salah, there will be room ashore for Liverpool's numbers 15 and 23 as a riptide of games rushes in — seven in 22 days, to be exact.
Shaqiri's substitute appearance against Leicester City offered a different insight into what he will add to this Liverpool team, particularly in the sense of seeing out games.
The Swiss international has been criticised in the past for his lack of defensive work, but any player who can come on and hold the ball up, cause trouble and create chances the way he did at Leicester, is a player who will be vastly appreciated by supporters, the manager and his teammates.
Klopp's deployment of Shaqiri at the King Power Stadium is telling of how he can be used to great effect in certain situations — the springy Stoke nuisance with instructions necessary to the scoreline, whether that be adding to it or preserving it in Liverpool's favour.
If Liverpool find themselves four up as they were at home to West Ham on the opening day, the instruction will be simple; go and stretch them sonic calf muscles on the wing and have some fun in front of the Anfield crowd. If the pendulum has swung and The Reds are on the ropes, as at Leicester; go and hold up play, and run the clock into three Liverpool points.
His style of play is predictable yet difficult to control. He is the type of player everyone else seemed reluctant to buy, but one The Reds will be glad to have. If he wasn't at Liverpool, another top Premier League club would surely have looked at him to bolster their ranks.
Shaqiri played more minutes in the league for Stoke than any one player played for Liverpool. That means he'll guzzle as many minutes as he can and will be a great option, especially as a title challenge rumbles on, the wheels of which could have taken a knock had points been dropped at Leicester.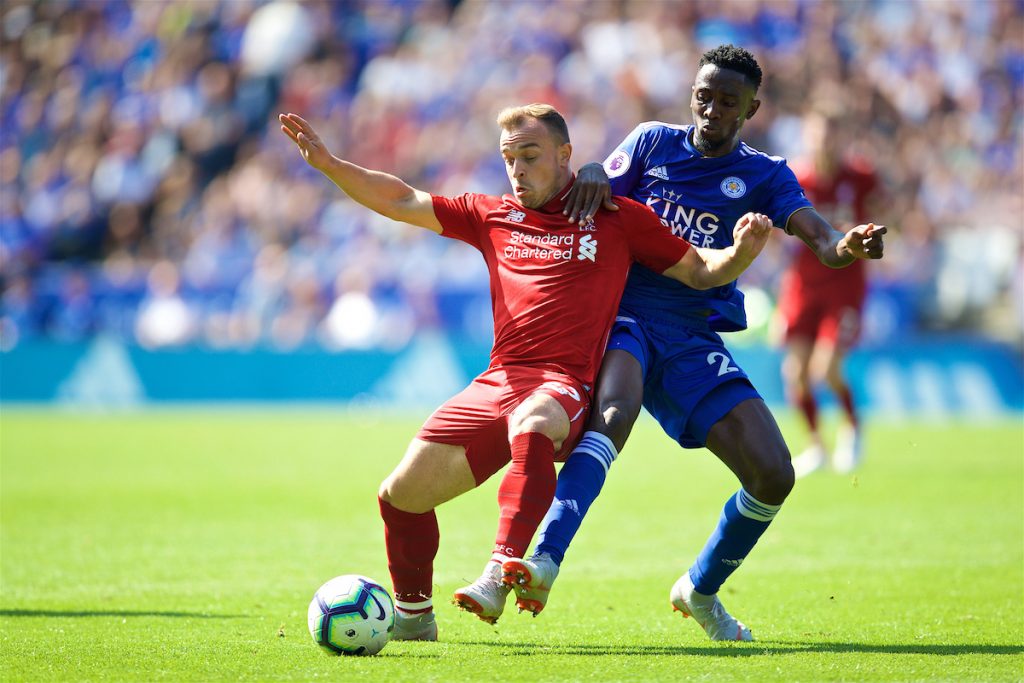 His influence that day was similar to that of a Marouane Fellaini. Stylistically, Fellaini and Shaqiri are obviously completely different breeds. Their commonality, though, is that they are nuisances for opposition players. They'll simply play to their strengths and know exactly what it is they have to contribute to help their teams win.
Players like these put the noose in nuisance. It won't always be eye catching, but if it can entangle wins then it should be welcomed.
The difference is Shaqiri has enough quality to transcend the nuisance tag. See his overhead kick against Manchester United on the pre-season tour of the USA. That little sprinkle of magic carved open a shelter in fan acceptance, after some questioned his arrival.
He also scored and got two assists for Switzerland in their 6-0 deicing of Iceland last Saturday, so it surely won't be long before he finds his competitive scoring feet for Liverpool.
If Shaqiri is Klopp's pocket-sized Swiss Army Knife, Sturridge is his Comeback Kid.
After a positive pre season, Sturridge managed to chip away at our hearts once more. Just as most of us felt that his Liverpool career was nearing the end, here we all are emotionally invested in one last fling.
Sturridge is undoubtedly an exceptional football player, though he has had exceptional bad luck with injuries which have anchored him to more time out than in. He sank to relegation during his loan spell with West Bromwich Albion, which appears to have given him a new outlook on life at Liverpool and all the good it holds.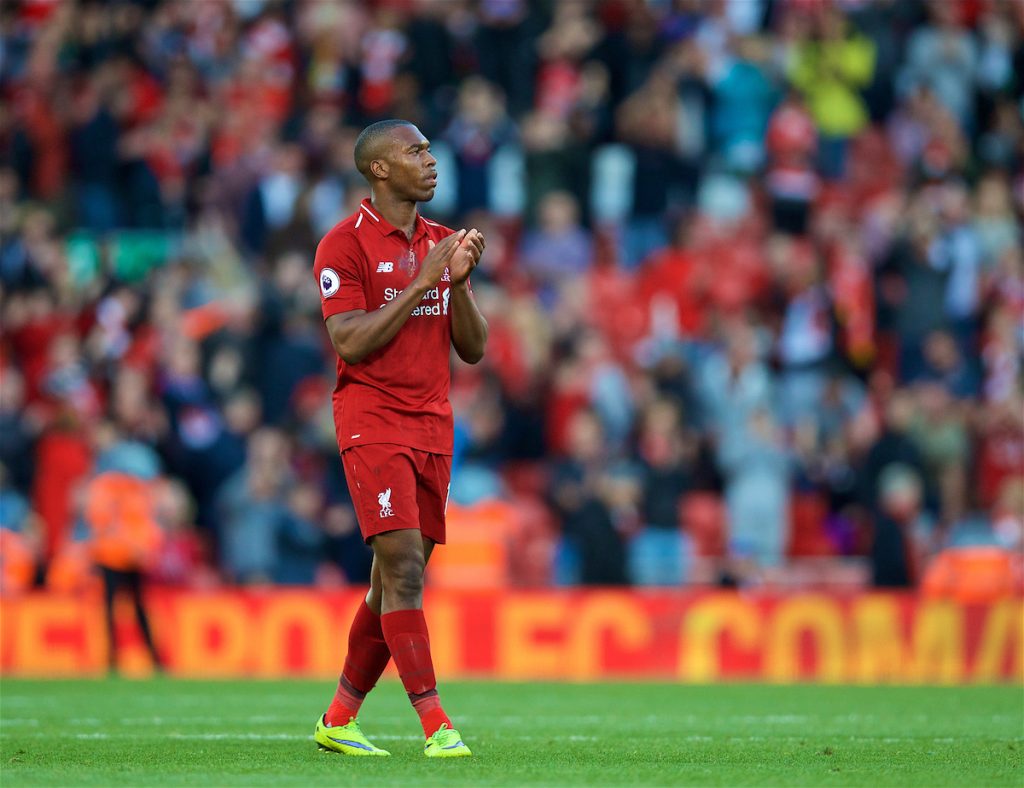 We thought we'd never see him dance again, but there he was within seconds of coming off the bench against West Ham on the opening day — one touch was all it took as he added the fourth on an easy afternoon.
There is shared optimism as well as bated breath. It does feel like this season there is potential for a story of redemption, and most importantly an opportunity for success.
The main concern is that injury problems may come back to haunt him. We can only hope the only haunting will be his deadly finishing. He is a world-class finisher who isn't ready to bow out just yet, and as the games ramp up there will be more asked of him. Hopefully he'll be there with his smartest touches — and one goal in 14 minutes is quite the efficient return.
Silverware in Sturridge's hands would be the perfect end to his Liverpool career; he deserves it if only for that 2013-14 effort. Liverpool is yet again his last-chance saloon and this could well be his final season at Anfield, so let's hope he makes the most of it.
Here are two players who finished last season in the worst possible fashion, who find themselves rising from the ashes of their experiences. Rising with The Reds, with an opportunity they will both be grateful for.
That's something that may just benefit us all.
"That period at Liverpool was easily the best time of my career." 🙌

🗣 Listen to our exclusive interview with former #LFC striker @petercrouch in full here 👉 https://t.co/PFGnMibzIc pic.twitter.com/9zjCswCKBx

— The Anfield Wrap (@TheAnfieldWrap) 12 September 2018
Recent Posts:
[rpfc_recent_posts_from_category meta="true"]
Pics: David Rawcliffe-Propaganda Photo
Like The Anfield Wrap on Facebook