THIS is the third article I've written about Andy Robertson for The Anfield Wrap.
There's no immediate need for a restraining order, but I do want it put on record that if he is ever abandoned by his birth parents, I'll happily adopt.
Since 2013, this kid has routinely made me dewy eyed with pride. Even when he was at Hull I was digging around for footage of his exploits. Needless to say, I've spent most of the last 13 months viewing the world through what looks like a goldfish bowl of pride-induced tears.
I saw Andy do his first "level up" in 2013, moving from Queens Park in the nether regions of the Scottish senior game to the rarified surroundings of the Scottish Premier League with Dundee United. We were all wide eyed — this kid was like Doogie Howser in snazzy Nike Mercurials. He got Scottish Young Player of the Year without breaking sweat. Of course he did. It was the first of many situations where, without any real expectation, he overdelivered.
He moved to Hull. Steve Bruce wanted him to be Gary Neville. He delivered. But in the modern game, you don't overdeliver when you're a Gary Neville. It was only when Marco Silva took the reins that he started to show his true ability again — and only for long enough to convince Liverpool to surprise everyone and reach for the chequebook.
A progressive player, a progressive manager, a progressive club, all hellbent on overdelivering. It's fair to say he was a natural fit. A great season ensued, supplanting an in-form Alberto Moreno for the starting berth, and steadily establishing himself as one of the first names on the Liverpool teamsheet.
What a ride. By Easter, he'd proven himself worthy in an elite side playing in the very highest echelon of the game. Everything was in place — but did he have that ruthlessness he needed to make the final jump? Was he too nice when it came down to the crunch? The answer came in Rome.
Now — I hate Roma. Everyone who has an affection for Andy's former club, Dundee United, hates Roma. It's a long story, but it's also the reason many in Dundee love Liverpool.
So when things were a little nervy and Andy casually lashed a belligerent Roma player onto the track in front of the away end in the Stadio Olimpico last spring, with a Champions League final berth somehow looking certain as a result, I thought my heart might burst. That bettered even his impeccable showing in the final itself. That block on Cristiano Ronaldo — Jesus — talk about blowing every expectation out of the water in your first season. But the moment in Rome is the best one, for me. It encapsulated everything I felt he needed to add.
He'd set a tone. He'd made that jump. The kid had everything — he'd proven it in the Champions League semi final, and he'd go on to prove it again in the final.
As a teenager, the raw tools were obvious; the quality on the ball, intelligence, and work rate. There were also hints of his leadership, and ability to influence the tempo of a game from full back. But we'd never seen him bully a player. We'd never seen him dominate. But there he was — facing his biggest ever test — born again nasty. Born again ruthless. Robertson became future Liverpool captain material.
Of course, as it stands, the Liverpool side boasts not just one, but several candidates who in recent years might have been tagged certain future captains of the club — Trent Alexander-Arnold, Joe Gomez, not to mention the more glamorous imports further up the pitch. Only one of them can wear the armband, but the team is chock full of leaders and players who, it's clear, are developing the kind of traits it takes to win things.
This side goes a goal up in what would, until very recently, be tagged tricky aways — a Crystal Palace or a Leicester City — and it simply closes things down. It's down to ability, it's down to organisation, but most of all it's about the collective belief projected — the calm even — that the team exudes. It's not an old, gnarly side either. It's just a side full of the right type of characters.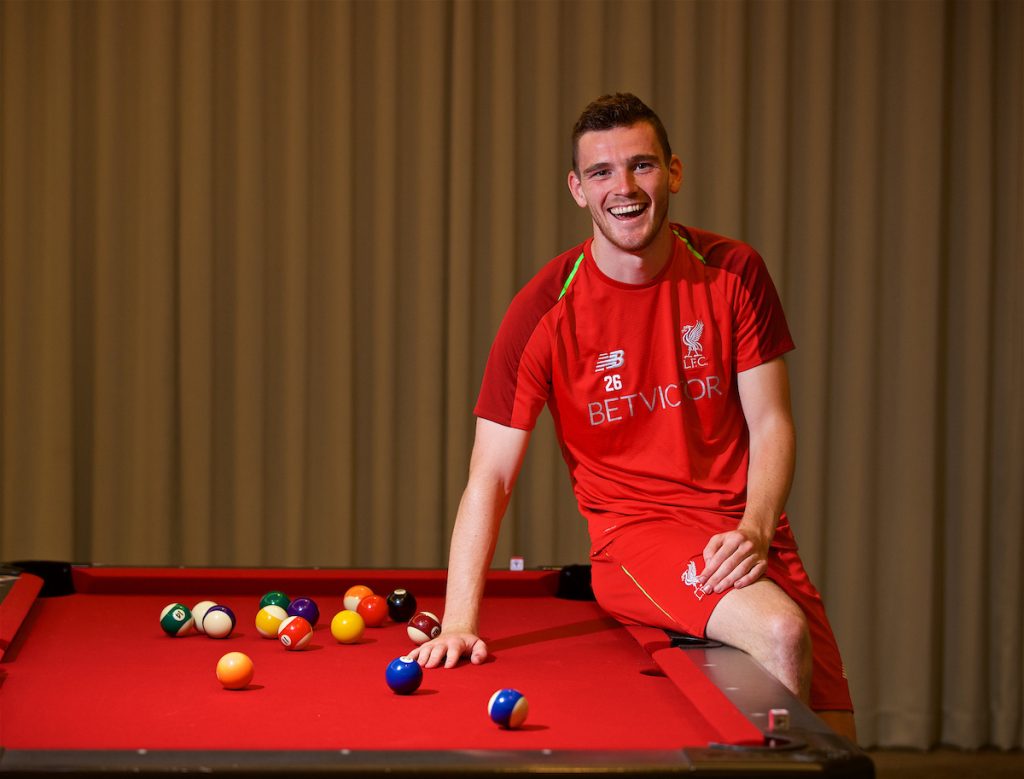 It's fair to say that the expectation is growing as a result, but every indicator points to a continuation of the overdelivery. An integral part of a defence that's only conceded one goal in the opening four league games, and is en route to recognition as the most effective unit in the country, Robertson is also making the difference at the other end — with two assists to his name already this season. This is about as complete a full back as you can get.
Amazing that we have two of them really, isn't it? In Andy and Trent we have two players of a tender age who, even though they overpromise, still somehow manage to consistently overdeliver.
Against that backdrop, today's SFA announcement that Robertson was to be made Scotland captain, while again a dewy eyed moment of pride for me (as Andy's imaginary prodigal father), came as no surprise at all. The kid has no ceiling on his ability and comfort at the highest level. He's already Scotland's best player, and the one capable of making a difference when it matters (it's not his fault the resources around him are a little scant).
If Scotland can benefit as the boat that floats on his rising tide, maybe more of us north of the border will start caring about our national team again. Andy's certainly the kind of character who can help spark that reconnection. If he can instil a little winning mentality around the camp, and if his attitude rubs off sufficiently on his peers, maybe Scotland will begin to rediscover its footballing spine.
Regardless, the Scotland captaincy tastes a little like the sprig of parsley on the Michelin-starred steak. Andy is en route to becoming a genuine superstar, and you can be certain his feet will stay rooted to the ground as he grows.
All we need to do is just continue to enjoy the ride, and hope for that little bit of luck that will lead to the silverware he deserves.
"I feel as if that 15 or 20 minutes were special [in Rome]."

"We really felt like we were all in it together." 👊

✍️Subscribe to TAW Player to listen to our exclusive interview with Liverpool left back @AndrewRobertso5: https://t.co/q0tg7SnGVz pic.twitter.com/YWtVfpi6Og

— The Anfield Wrap (@TheAnfieldWrap) 23 July 2018
Recent Posts:
[rpfc_recent_posts_from_category meta="true"]
Pics: David Rawcliffe-Propaganda Photo
Like The Anfield Wrap on Facebook