THE first time I visited Liverpool, I was 10 years old.
My first game at Anfield saw Liverpool pump West Ham 6-0. My dad was pleased. Every time Kenny Dalglish came near the Anny Road end he'd pull out his camera and snap him. I remember feeling starstruck. Ian Rush opened the scoring early on, and a few minutes later, Kenny scored too. That was that for me.
I already had his pictures from Shoot magazine all over my wall and his Ian Skelly Motors sticker (from my dad's Scotland programme) stuck on my chest of drawers (I had murder with my Mum years later when I came back from uni and found she'd removed it). But that was that.
Aged 10, I was in love again. I'd fallen a year earlier for someone else — more on that later — but here I was, experiencing true footballing polygamy for the first time. I knew my dad loved Liverpool, and I'd already had two or three strips for my Christmas by this point — the Umbro classics in their wee boxes — but you have to go there and drink it in to really feel it for yourself.
A few days later, I visited Anfield again. But this time the stakes were somewhat higher. This time around, I would witness, aged 10, in my second game at Anfield, the European Cup semi final first leg against Dinamo Bucharest. But it was all a little strange for me — and here's why.
I'm from Dundee in Scotland. From the age of five, I'd been a season-ticket holder at Dundee United — and was, though I didn't realise it at the time, witnessing something of a miracle.
With a corner-shop budget, this tiny football club had risen under the tutelage of a tactical genius (one Jim McLean) to the upper reaches of the Scottish domestic league. Alex Ferguson had risen through the ranks at the same time, both managers under the close scrutiny of the then Scotland manager Jock Stein, and Stein had preferred McLean to Ferguson as his assistant for the 1982 World Cup.
With resources dwarfed by even his domestic rivals, McLean had started delivering trophies — two League Cups at the turn of the decade followed by the first real miracle — the Scottish Premier League title in 1983.
I'd followed Dundee United home and away that season — the club had put buses on for fans to travel to aways as they realised the title had became a possibility — and my first love had appeared before my eyes. Dundee United had a player who was seemingly capable of the kind of magic I thought only Kenny could muster. Ralph Milne.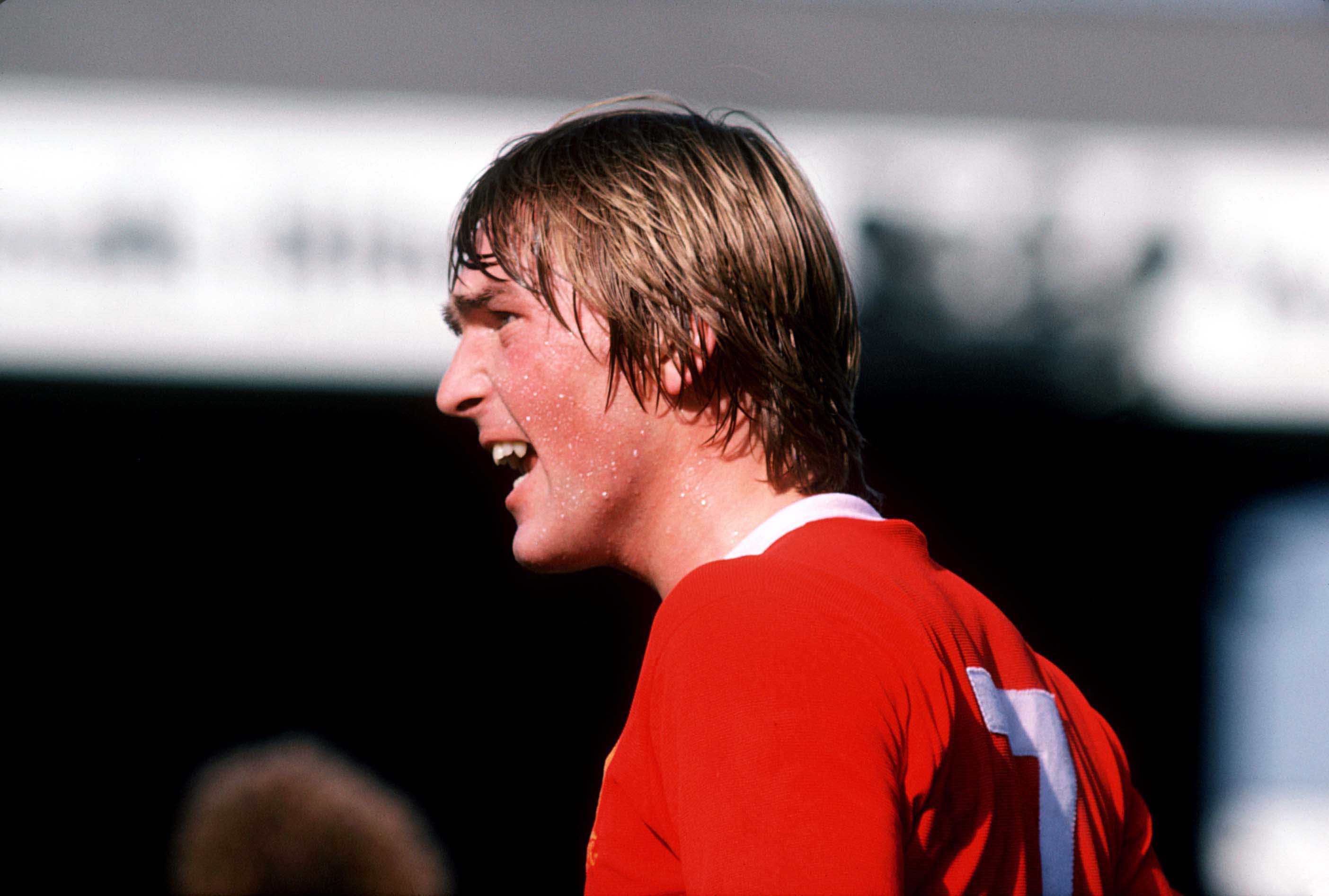 A weak mentality and alcoholism would rob Milne of fulfilling anything close to his potential, but his Icarus-like rise between 1982 and 1985 rocked European football. He was the cherry on a solid, pressing, tactically astute young side full of Scottish internationals, and with years of UEFA Cup experience behind them by this point, scoring five past sides like AS Monaco and Borussia Monchengladbach in the process, they came into the only European Cup campaign of their lives with a reservoir of street smarts.
That European Cup run was their second of three miracles. Beating Rapid Vienna home and away in the quarters, I'd prayed for Liverpool to come out of the draw in the semis. They were my dad's team, my uncle John's team. I cheered them on in finals and whenever they appeared on the telly, and I loved Kenny. But out of the pot came Roma.
In the oddity of all oddities, my dad decided to take me down to Anfield for the game against Dinamo Bucharest, leaving my sister to go with her pal to the first leg of the Roma game at Tannadice. Maybe he thought we'd get battered and I wouldn't be able to take it — who knows — but in the process, I saw Sammy Lee score and Liverpool win 1-0, and then came home to watch Sportsnight, and sat open mouthed at the result from the other semi. We'd won 2-0.
Against a team boasting several superstars from the '82 World Cup (their squad boasted the 1982 Brazil side's Cerezo and Falcao, with Bruno Conti from the World-Cup winners) the little side I'd watched week in, week out had blown them away with a display of intensity you'd maybe recognise as a follower of the current Liverpool side.
Imagine what was going through my mind then, aged 10? Imagine the emotional turmoil. It looked like we'd end up in a European Cup final, and the other side likely to make the final… Well, I'd just properly fallen in love with them too. Dearie me. Dallas never conjured up such intrigue.
I'll get to my point in a moment, but first, let's get the formalities out of the way. Liverpool progressed to the final in Rome having won 2-1 away in Bucharest — itself no mean feat. And we know what happened after that. But what's maybe not immediately obvious is the extent of the achievement that followed.
Yes, we've heard Alan Hansen talk about the mental strength it took to beat Roma in a final on their own pitch. We know about Joe Fagan and the way he relaxed his players ahead of the trip. But what's not so widely known is the context behind all that. That's where Dundee United come back into things.
So — to my point.
The second the whistle blew at Tannadice, the Italian media had set about demonising the Scottish side, and in particular Jim McLean. The Roma manager, Nils Liedholm, made gentle allegations of a training regime involving systematic doping — ironic given this was a club barely able to afford to pay a decent wage to its players, let alone designer performance-enhancing drugs.
The result was a situation that stretched the Dundee United management and staff's street smarts to their limit. They knew how to sit deep and hit on the counter away from home, but the degree of intimidation was unlike anything they'd ever experienced in their careers.
In his autobiography, Jousting With Giants, McLean described the experience as one that sickened him from start to finish.
Jock Stein, his mentor, had travelled to the game with Dundee United, as had SFA chief Ernie Walker. It transpired that the standard police protection ordinarily in place had mysteriously disappeared, with the players and staff exposed to constant abuse from the moment they arrived. The fans threw stuff from the stands (luckily the athletics track was wide enough to keep them from the pitch), and the players taunted the United players and staff. And then the game started.
I remember we'd finished school early to go along to our neighbouring school and watch the match together. They were brutal, but they got away with it. And then the strange decisions started.
A dodgy pen turned it. And then it all fell apart from there in the baking Italian sunshine. At the end, the United players and staff were pretty much kettled by the Roma players in the tunnel, and a bit of a shoeing ensued. But all that was garnish really — Roma were through. United were out. I remember crying a lot. It was hard to take. And the papers the next day were pretty scary for a 10-year-old football obsessive.
Stories later emerged that Roma, with the final set to be played on their own ground, had bribed the referee. Ernie Walker demanded a UEFA probe. Of course there were standard denials, but it made sense of the events on the pitch that day. And then, years later, Roma Director Riccardo Viola, son of the Roma President at the time, confirmed that the club paid the referee £50,000 — a king's ransom at the time — ahead of the second leg in Rome.
Here's the transcript from Viola in the interview:
"Roma gave a middle man 100 million lire (£50,000) destined for referee Vautrot. That is true and a shameful fact.
"Spartaco Landini, the director of football at Genoa, came to see my father. He told him Vautrot was a friend of his and that we could get at him via another friend but the referee would have to be given 100million lire.
"He said a dinner would be organised with the referee on the eve of the game and a signal to show the deal had been done would be demanded.
"During the dinner a waiter went up to the referee saying 'Telephone call for Mr Vautrot'. That was the prearranged signal.
"Vautrot left the table and when he returned said, 'My friend Paolo rang and he sends you his best wishes'. Then I got up, rang my father and told him, 'Message received'.
"All this was done because we had a difficult game ahead of us against Dundee United. Going out of the competition would have had serious repercussions."
Football has a way of sewing itself into a community's consciousness, and it's maybe no surprise that Liverpool are still well liked on the Tangerine half of Tayside to this day. Meanwhile, the Dundee FC fans wear Roma shirts to taunt the United fans. But the part of all this that's unspoken is the question of what happened ahead of the final that followed. If Roma were prepared to bribe the ref to put Dundee United to bed, what were they prepared to do ahead of the Liverpool game?
We can only speculate. But Hansen's claim that the win in Rome was the Liverpool side's greatest achievement is only underlined by the events that preceded it in the semi that year. Liverpool prevailed — we all know the story — wobbly legs, a penalty kick blasted over the bar, and another penalty slotted, with a daft little jump in celebration. That win had more significance for our little family than most, that's for sure.
McLean's Dundee United side would go on to achieve a third little miracle in 1987, losing to IFK Gothenburg in the final of the UEFA Cup, with the home fans staying en masse to applaud the Swedes on their lap of honour round Tannadice.
By contrast, you still see the occasional Gothenburg shirt around Dundee FC. Sport can be monstrous, but it still forges links and has symbolism beyond what's immediately in front of your eyes.
I was praying that Liverpool would draw Roma in this semi, you see. I want revenge, and I want it served hot and spicy. It's just what everyone — all of the parties involved in this thing — deserve.
"Every single day I wake up I think about Kiev." 🏆

🗣 Subscribe to #TAWPlayer and listen to all of our Champions League coverage as the Reds look to make it number six 👉 https://t.co/rsl3LeA1dd pic.twitter.com/RxvERQHLwZ

— The Anfield Wrap (@TheAnfieldWrap) 23 April 2018
Recent Posts:
[rpfc_recent_posts_from_category meta="true"]
Pics: David Rawcliffe-Propaganda Photo
Like The Anfield Wrap on Facebook