ANDY Robertson has had a lot of media attention in the last few weeks.
After first hearing The Kop singing his name against Manchester City, he's been the go-to story for most writers and media commentators covering Liverpool. Jürgen Klopp gets a fresh question on him with every passing press conference.
He even featured on the Graham Hunter podcast — an interview that maybe gave listeners a proper feel for the kid as a person. An intelligent, thoughtful, empathetic fella, and a football man through and through. As someone who's admired him a long time, it's been nice to see others start to see in him the things I saw in him as a nipper.
I say "start to". That's the point I'll try to make in this article. It's nice to see him likened to Joey Jones. It's nice to see story after story about his journey from footballing rags to riches, as if the pinnacle was his performance against Porto.
Klopp said at his press conference ahead of the Newcastle win: "He has stepped up and improved a lot in a fantastic way… The last two games were really good especially. He's young enough to develop still." And that's true, of course.
But fundamentally, this is a player with more pedigree than people are recognising. When Klopp talks that way, he's talking the way he tends to about young players — he's similar with Trent Alexander-Arnold. But these two kids (and Robertson is still a kid — he's 23) really could offer something special in Klopp's system over the best part of the next decade.
When he was on the brink of signing last summer, I wrote an article explaining why, in the face of disinterest from many supporters and commentators, I was sure he'd cement his position in the side. Players new to Klopp's system often take a while to adapt to the collective movements and habits the side needs to function effectively, and unsurprisingly, after a couple of encouraging early displays, he ceded to a resurgent Alberto Moreno in the pecking order, James Milner ostensibly having returned to his erstwhile central midfield role.
Moreno is a fine player at his best and the competition seemed to spur him on. But for all his strengths, Moreno is, as we say up this way, a "daft laddie". Robertson on the other hand…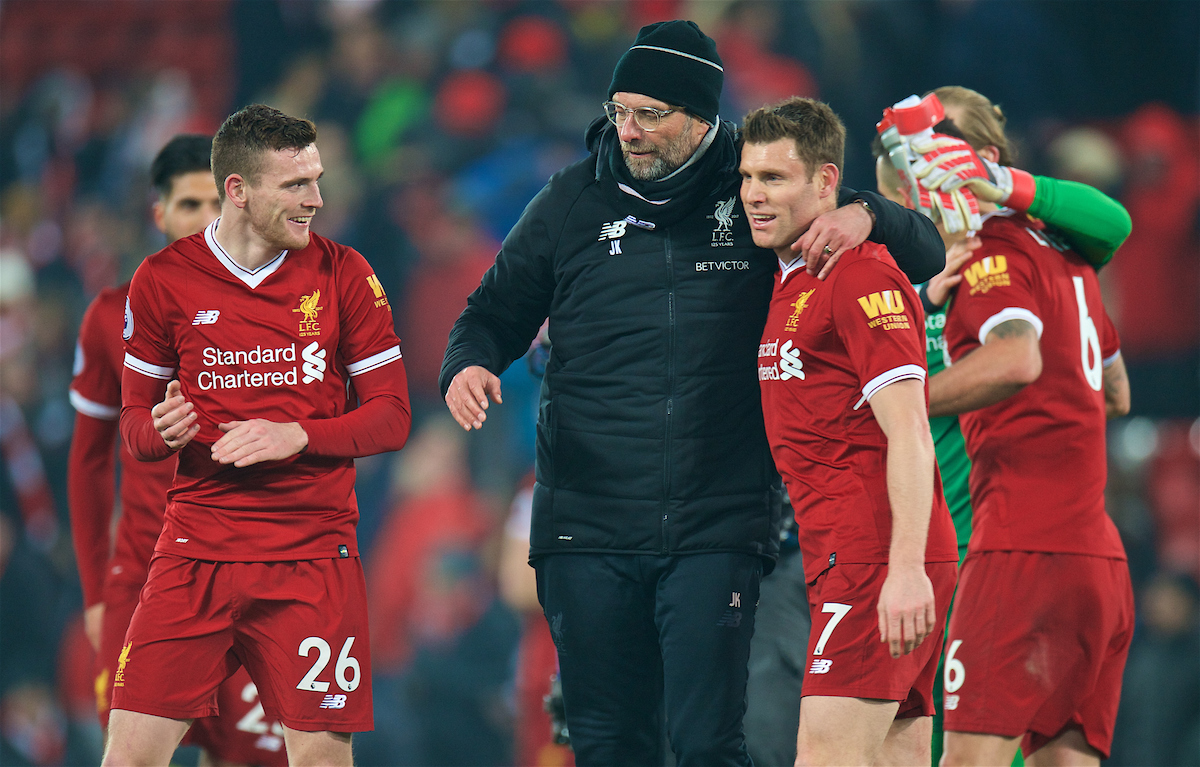 It emerged that, during this period, he knocked on Klopp's door and asked him how he could improve and stake a better claim. And stake the claim he did. Even if you weren't familiar with Robertson's history as a player, your heart would have soared seeing him hound Raheem Sterling out of the game at Anfield, not to mention that press.
David Squires memorably paid tribute to him in his weekly comic strip for The Guardian. The Kop started singing his name. Michael Nevin of this parish hailed him a potential future captain of the club, only half in jest, and it seemed maybe, just maybe, people would see more in him than the "dog chasing a ball" tag that was affectionately floating around when his name was mentioned.
In the Graham Hunter interview, Robertson revealed that a big part of Klopp's response to his question on how to improve related to the need for calmness when contributing to the attack. I smiled when I heard that. If he'd spoken to Klopp and asked him how to improve, and if Klopp was telling him to calm down when contributing to the attack, it meant two things: firstly, that Jürgen knows what the kid can do and, secondly, that the kid's only real problem was one of self belief — belief in himself and his right to be there in that kind of footballing company.
Klopp, we know full well, demands two things of his players above all else — effort, and a promise to express themselves and their talents fully. He'll tolerate mistakes and he'll tolerate mishaps, but he finds it far harder to forgive compromise on either of those two fronts.
Robertson, though, is Scottish. We go one of two ways, us lot — we're either loud mouthed and brash, or we're riddled with parochial self doubt. Robertson, it seemed to me, was the latter — doing a good, functional job, but not yet showing what many of us up here had grown to expect from him — exactly the qualities Klopp was encouraging more of from him.
Cue the Porto display… And then the West Ham display.
It's funny. The day Klopp took the reins at Anfield, I made a little vow to stop writing and just enjoy the ride. This was a manager who people could enjoy without the need for comment or reassurance from people like me who pretend they know things or can see patterns about football. If Klopp was in charge, surely it was so much hot air.
It took the club being linked with Andy Robertson to cajole me out of that. He's a player I had a soft spot for from the moment I saw him and, as I wrote in the summer, it was exactly the qualities that Klopp was asking him for that I'd grown to love in him as a nipper.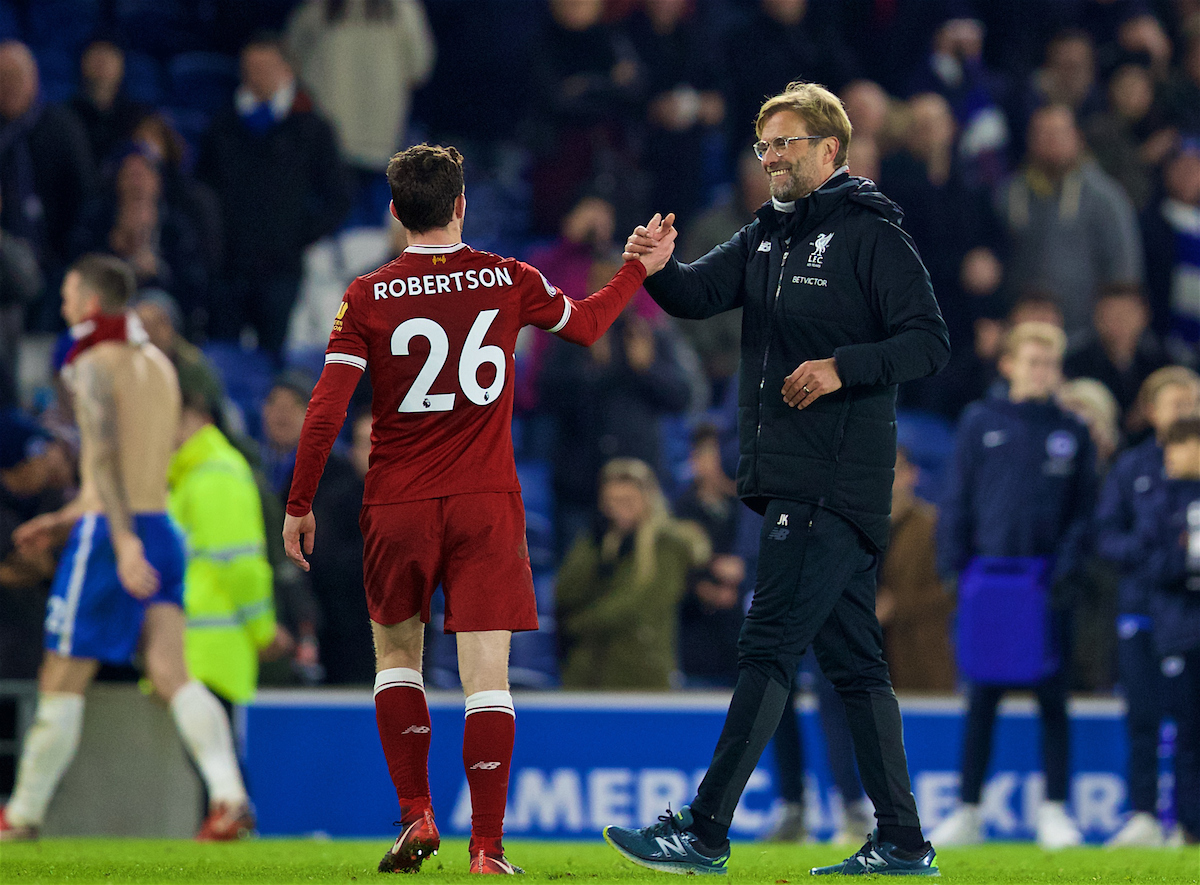 He played for a young Dundee United side that was maybe at the level of the Liverpool Under 23s, I'd argue. In terms of footballing capacity, it was the club's high watermark in recent years, but being a tiny provincial club, the side saw itself systematically dismantled in a sequence of what, in Scottish terms, were big-money moves. Recalling that season in the summer, I wrote: "Robertson really took me by surprise. A slip of a lad, he was quick, earnest, and positive. He did the simple things well, and was defensively sound. All good as far as things go for a teenage debutant."
Fast forward a few years and many would have been thinking the same of Robertson as he first took the field for Liverpool. A player finding his feet, looking a good, honest journeyman…
But during that season, quite quickly in fact, well — back to me in the summer: "Gradually it dawned on you that this kid was able to run a game from left back. Yes, this was the Scottish Premier League, but at 19, that wasn't half bad. What do I mean by run a game? Well, think of full backs who can run games. What do they do? What are they capable of? This kid could read when something was on, and take the initiative, drive his side up the park, and make the kind of incisive decisions on and off the ball that would cut defences to ribbons."
Now, it's important to note that the Dundee United side he played in quickly became quite a darling of the footballing hipsters. It played at high tempo, one and two touch and, with players like Stuart Armstrong and Ryan Gauld, was capable of moments that would really delight you.
In that context, Robertson looked a full back along the lines of a Danny McGrain — a Scottish legend whose ability going forward set him aside from his peers in the late '70s. He had genuine, raw pace and, a few games in, grew more comfortable after his jump from a lower level. He had balance. He played with his head up, and with both feet. He could beat a man with pace, or with a trick. He could cut inside and angle into the box, or he could hold his position wide. And he could deliver a ball low, or high, or hang it up as if it was floating, or whip it in with "suazz", to use Anfield Wrap contributor Andy Heaton's term.
But, most of all, he seemed to favour none of these — he'd do whatever the situation dictated was most useful. It seemed uncoached — he accommodated to the movement around him in a side with several clever, intelligent players, and so we became treated to a feast of one-two passes, the ball pinging round like a pinball, with Robertson often somehow ending up in front of the 'keeper himself or squaring to a teammate with an open goal in front of him.
Fast forward… This was Alan Shearer's assessment of his performance for Liverpool against West Ham:
Shearer remarked, "I thought he was the best player on the pitch… Pace, energy, provided great quality, and defended up and down that left-hand side." He laid on two clear-cut chances — the second time he'd done so this season — and the second saw Sadio Mane, much like Robertson's Dundee United teammates a few seasons before, on the end of a square ball with the 'keeper out of the game and an open goal gaping in front of him.
Rewind again to the autumn of 2013. Again, no point rewording it — here's what I said in the summer: "As the season progressed, during games when the young side were struggling, it emerged that Robertson had more in the locker. He'd inject the extra gear the side needed. Urgency can be sparked from anywhere on the park, and he'd up the tempo, sparking the quick, incisive passing his teammates had been coached through their youth system to play. When the air of stalemate set in, Robertson would take possession in a little space, and you'd see that little moment of pause, the shouldering of the bridle, and he'd set off and initiate the kind of penetrative one-two, ping-pong passing move that became the distinctive characteristic of that team.
"…Robertson, routinely on the end of what he'd started, would often find himself in on the 'keeper on the apex of the six-yard box, or squaring to an open man for a clear shot on goal."
The last sentence pretty much describes the move that led to the Mane goal in the West Ham game, and again, it made me smile a little more than was maybe reasonable. I'll come back to it again and again and, as I said, Robertson's the one who's pulled me back into writing such things, but Klopp is a manager with utopian ideals in mind. He wants playmakers all across the park, ideally in every role within his system.
On the right he has Trent. My God, what a talent? The last scouser who took the field in his European debut and rattled in an audacious freekick to open the scoring was one Wayne Rooney, and the career that followed didn't unfold too badly for him. On the left? Could Robertson, in his own way, be just as significant?
Klopp's system depends on a multiplicity of controllers, if you subscribe to the notion that Klopp is headed for his own brand of utopian Total Football. Each controller needs to be able to create fresh doubts in the defending side's minds, and in doing so, to explode the range of attacking possibilities. This is what makes a side truly unpredictable.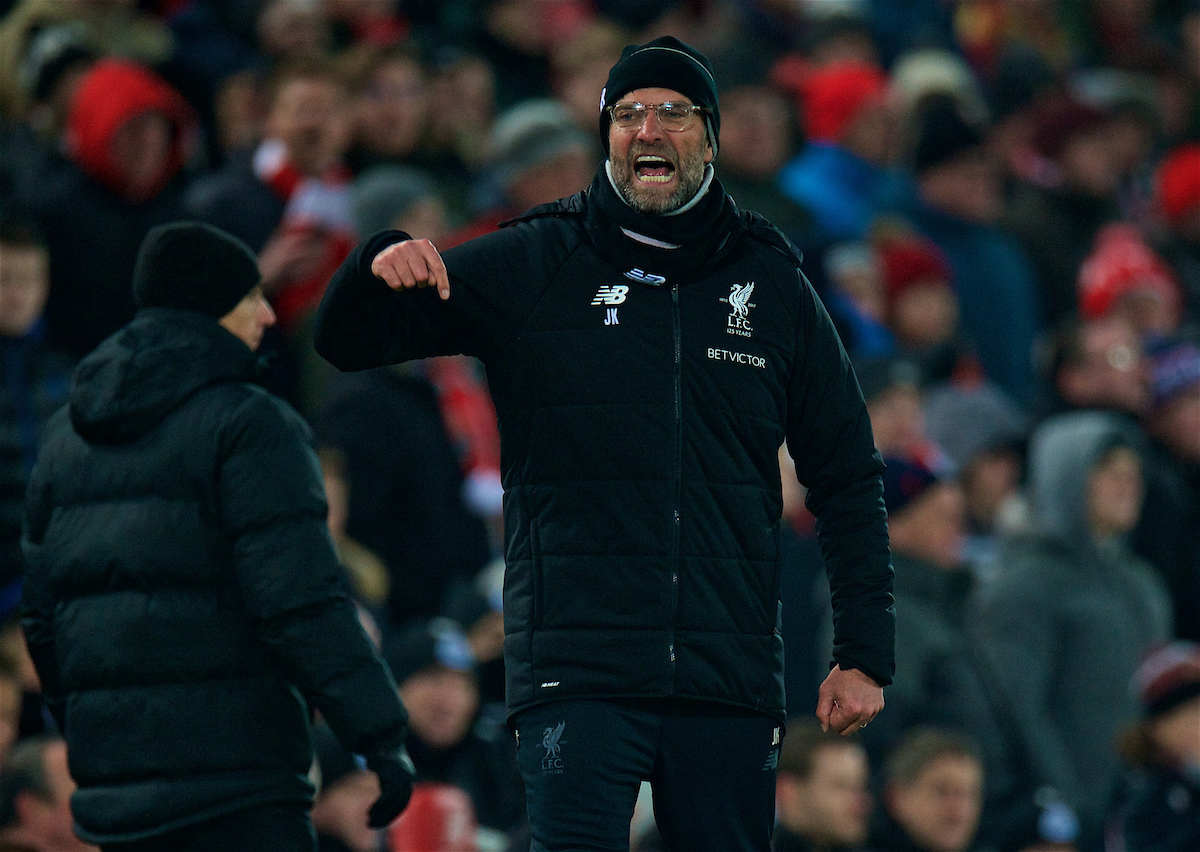 Yes, Gegenpressing kills the sides who come at you all guns blazing, but footballing capacity and unpredictability are the qualities this side will build and build from here. If a player gets upgraded, the replacement will add to that capacity, and in doing so, reduce the chance of the side conceding goals as much as they increase the chance of scoring them, no matter the block they face in front of them.
These players don't have to be flashy — they just need to be capable of understanding the system as it grows, and of naturally varying things and accommodating to the spontaneous decisions and movements around them in the way that hurts the opposing side most effectively.
Robertson will grow into that role, and continue to grow with the side as it develops. It's his key strength. As a result, it's possible that on top of the spine he's assembling, Klopp could boast two genuinely complete players on either flank — the perfect full backs for the system he's trying to implement.
Robertson at Dundee United jumped a level, was initially reserved, and steadily grew into his own skin at the new level, eventually being propelled to unexpected heights. His spell at Dundee United saw him capped for the first time, being singled out for praise on his international debut for his bravery with the ball. He went onto establish himself in the Scotland side as arguably Scotland's best and most consistent performer.
There have been flashes of what he can do — when his inner chimp grabs a hold of the situation and says: "I'm changing things here". His goal against England at Celtic Park was a flash of genuine breathtaking brilliance, and maybe gave a hint at the ceiling he's capable of.
🎂 | Happy Birthday to Scotland left-back, Andy Robertson! pic.twitter.com/7gzeDkN1uW

— Scottish FA (@ScottishFA) 11 March 2017
At Hull he still showed flashes of it — this one in the cup against no less than Manchester City.
@andrewrobertso5 goal for Hull v Man City https://t.co/eeT3BXI9fR

— Roy Henderson (@royhendo) 24 February 2018
And then there's the goal for Scotland against Lithuania. He starts it. He finishes it. And how.
@andrewrobertso5 goal v Lithuania https://t.co/Vx5BoXH5JJ

— Roy Henderson (@royhendo) 24 February 2018
He's already at the elite level in terms of clear-cut chances created — that after missing a good-sized chunk of the season. Just pull your chair up — there's far more to come from this kid's game. He'll start making a big difference in the big moments soon enough.
"Liverpool never even got out of first gear." ✊️

🗣 Subscribe to #TAWPlayer and listen to our immediate post-match reaction show here 👉 https://t.co/UqnoxWIzVf pic.twitter.com/8VgMZe904Q

— The Anfield Wrap (@TheAnfieldWrap) 3 March 2018
Recent Posts:
[rpfc_recent_posts_from_category meta="true"]
Pics: David Rawcliffe-Propaganda Photo
Like The Anfield Wrap on Facebook