FOLLOWING The Reds across Europe isn't a new proposition for the Scouse contingent, writes STEPHEN WALMSLEY.
It's a sacred practice steeped in tradition, from the icy roads of Reykjavik in the '60s to the sunny shores of the Mediterranean and beyond ever since. Liverpool and Europe were meant to be together. It suits us. We're at our most comfortable descending on mass to new cities, taking over the bars, the roads, the rails, creating friendships and memories with a little help from a bevvy or 12. We know what we're doing.
What rang true under Bill Shankly in 1965 still rings true today — Liverpool Football Club and its supporters are pioneers. We break new ground and tread the unknown path, paving the way for those who follow. If the Redmen are playing a game of football, we'll be there. The decision has been made by those before us. By hook or by crook, we find a way to drink, sing and dance our way across the world to watch the boys in red.
This year may seem like a different world to those in which these journeys began, but the message remains. As Jürgen Klopp's men rampaged their way past a host of the world's best — putting the ball in the net more times than we could count — we found ourselves in Germany, Russia, Slovenia, Spain, Portugal, and even down the East Lancs road for a local twist.
The reward was another European Cup final, another iconic match for the boys in red against a team in all white. The way it's meant to be. Life has a funny way of repeating itself, and against the odds, we set up a repeat of our 1981 glamour tie with the King's team of Spain, the royals of Madrid, in Europe's showpiece event. Where to this time? Kyiv, Ukraine.
While previous generations tell stories of St Etienne, Rome, Wembley, and Paris, my generation have worked a little further afield. Turkey's Istanbul, Greece's Athens and now Ukraine's Kyiv have become our turf for European adventures in the East, and you can't help but feel it was meant to be this way.
The playing field has been levelled — the world is a much more accessible place in the 21st century, so the universe has made it harder for us by aligning our European runs with cities that are notoriously difficult to get to. Here you go Reds, have a go at getting here… Paris is a bit of a doddle really, isn't it?
UEFA and the rest of the big wigs played their usual game and disregarded the people who make the game what it is. You know the story by now — low ticket allocation, increased prices for flights and hotels, stadiums and cities that don't have the infrastructure to deal with a European Cup final.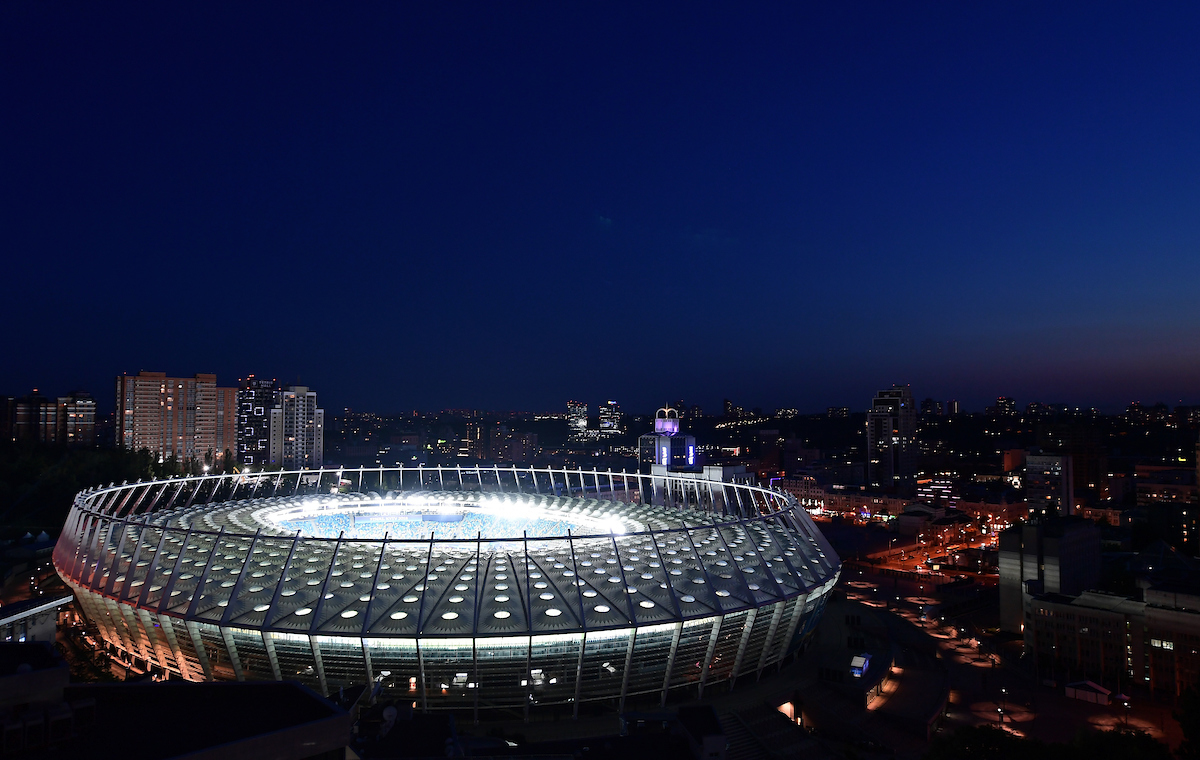 While the stage was set in Kyiv, getting to that stage seemed more and more of an impossible feat as time passed by. For most sets of fans, the white flag would have been raised sharpish, but we don't operate that way. It's not in our DNA. What followed became the stories that we tell our grandchildren about.
Following our progression from the Vatican to the final, the tales and folklore began to unfold. Grown fellas getting in cars and coaches 10 to 20 strong and driving from Liverpool to Kiev. From the north west of England to a country that borders with Russia, smelling each other's farts. Think of the bogs on an away coach… Now make your away trip span seven or eight countries over the course of a week. Grim.
Trains through Poland and Lithuania, Romania and Moldova, Bulgaria and Austria. Flights across continents, from Abu Dhabi to Minsk, Dubai to Cairo, Cape Town to Doha. We've sung about conquering Europe but the reality is — just like Shanks prophesied himself — we've conquered the bloody world.
Sitting in a boozer in the Belarusian capital of Minsk on the Thursday before the game, me and my dad encountered a 61-year-old fella singing Mo Salah songs. He'd lost two and a half toes of his foot from gangrene and had type two diabetes, discharged himself from hospital without the nurses knowing. He'd hobbled his way onto six flights, 10 trains, and a 23-hour bus journey to get to Kyiv and back. Fella didn't even have a ticket but, with an Adidas trainee on his good foot and a hospital boot on his other, he'd be there.
With prices out of touch and nowhere to stay, the 21st century delivered and showed us why the world is a good place and The Reds are boss. The locals of Kyiv, disgusted by the blatant ripping off of supporters, decided to host people in their own homes at no expense, mobilizing a movement on Facebook and social media that may be the precedent for major sporting events in the future.
Thousands of Reds now didn't have to worry about sky-high prices, and instead only had to think of how to express our gratitude and generosity to strangers who had opened up their homes to fellow strangers. I don't quite have the words to describe the hospitality shown towards us and I've yet to hear a story of someone who wasn't overwhelmingly humbled by what they experienced.
Our host had her fridge filled with ale for us and guided us around the Ukrainian capital, from the monuments in Maidan and Independence Square to the banks of the Dnipro river, past the cathedrals of St Sophia and St Andrew, and beyond. As we talked with her on the Friday evening before Saturday's game and tried to explain our obsession with following this football team, she smiled and laughed at us: "I like your enthusiasm, but I don't quite get it. It's nice, but I don't understand it."
Saturday began with Scousers and Spaniards mixing on the wide, cobbled streets, exchanging scarfs and pleasantries. Despite the language barrier, it was almost an instinctive feeling that we understood each other. You know how yer da reckons he can communicate better with a foreigner when he's had a few? Times that by a hundred. For every "vamos a ganar," we replied with a smile: "Not tonight lad, you haven't played us yet". Scouse bravado at its finest.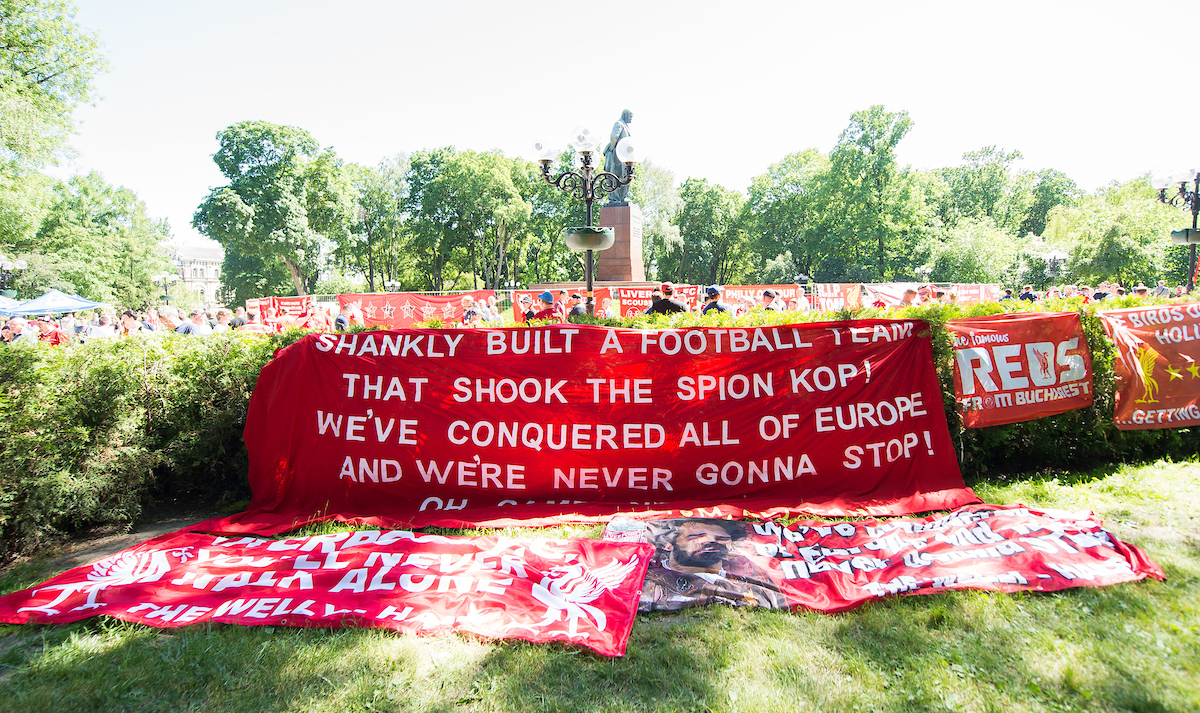 Thousands of Reds began to filter into Shevchenko Park, a pristine garden in front of the iconic red-brick backdrop of the National University of Kyiv. Scouse singers and performers adorned the stage singing our anthems, a sea of red plastering the greenery in a whirlwind of bevvies, flares and emotion. Soon, it was no longer pristine, but glorious and righteous in its role as our battleground. This was our home. A public park in Eastern Europe. Miles and miles away. Ours.
We marched down to the Olimpiyskiy Stadium and the party atmosphere followed us from Shevchenko Park. If I could relive anything in my life, it would be those two hours before kick off in the ground. Bury me there. Scatter my ashes. Right there behind the goal. European Cup final, standing with my dad, brother, cousins and mates. Boss. Allez, Allez, Allez. We're never gonna stop. And we didn't stop. What I'd give to be a Liverpool player running out in front us, playing for us, representing us.
Then madness ensued. I was strongly against this new-age Super Bowl business of an opening ceremony with a pop artist, but my God, the scenes. Dua Lipa waltzed out to One Kiss, and every single one of us, thousands of us, belted it out with her. It was Carnival and Mardi Gras all in one, tied together with a Scouse bow. Young kids, lovely ladies, yer da, yer da's da, the ket wigs, throwing shapes, dancing on seats and having the time of their lives. Think I'd forgotten about the game at this stage. If I could bottle up that feeling and sell it, I'd be a rich man.
Unfortunately for The Reds, the game came and went. Passed us by. We had our moments and they had theirs. They made the most of theirs and we didn't. The ecstasy of scoring, the pain of conceding. One of our lads had the worst night of his life, making mistakes on the biggest stage. It didn't stop us. The whistle brought an end to the game but it didn't signal the end of our journey. Despite the disappointment, there was an unspoken ambiance that this journey was only just beginning. It'll be alright, lads. We'll be back soon.
Klopp wasn't gonna let the football get in the way of a European trip, and he said it best in his drunken state at 6am the following morning, belting out a tune with his German mates. The lyrics sum up perfectly what we witnessed during that 90 minutes of football: We saw the European cup; Madrid had all the fucking luck; we swear we'll keep on being cool; we'll bring it back to Liverpool.
As many of our tribe started their descent back home after the game, many of us stayed in town and lingered in the city where our big-eared dreams were shattered the night before. After a spot of exploring, we posted up in a beer garden on Khreschatyk Street next to the Champions Festival that UEFA had put on. We met up with our host and with my dad's mate from Crocky who he hadn't seen in 30 years, enjoying the reconnections that only football can bring.
What started as a quiet afternoon soirée soon became a small snippet of Shevchenko Park behaviour. The live band was overtaken by a group of Reds, dismantling each and every tune and replacing it with lyrics to fit the Redmen. Knockin' On Heaven's Door became an ode to Salah, while intervals and transitions were filled with renditions of Klopp's Live Is Life.
I've never lost a game of football and felt like I'd won, but for some reason, here we were, the day after losing the European Cup final, still going as mental as the day before. It transpired to me that we hadn't really lost that final — we just didn't win it. What we did win was the hearts of a city and a country that will no doubt now adopt Liverpool as their second, or maybe even their first team to support.
The best ever pic.twitter.com/W8vthwxCEV

— Shaun Walsh (@swalsh95) 29 May 2018
Our Ukrainian host sang along with us, buzzing that she knew the words to Allez, Allez, Allez after hearing it so many times, toasting to us in Ukrainian. She asked about the number seven shirts we wore and learned about King Kenny. She was bombarded with Scouse humour and lingo and took it all on board. We sat for hours and talked all things Liverpool; the identity of our city and how we're shaped by its values, the music scene, the international exchange of ideas born through the docks, the tragedies and the triumphs.
During a lull in conversation, she looked me in the eye and said it: "I get it now. I didn't, but now I understand". Goosebumps. Two days ago, a friendly cynic with no interest in football. Now singing along with The Reds, strangers in the street, understanding it all. The feeling. The mindset. "This is crazy, it's like Liverpool have won", she remarked. And we had won. Without kicking a ball, we'd already won.
In an age where instant satisfaction and result-based conclusions reign supreme, it's easy to discard what went before if the final outcome doesn't suit. Just as it's easy to be positive when things are going well, our natural human default is to protect ourselves when things go wrong. The hardest thing to do is visualise and breed positivity and optimism when things are looking bleak — and believe me, things have been a lot bleaker than they are today.
Porto. Manchester. Rome. We've got to open ourselves up and risk the criticism and disappointment that comes our way if we don't reach the stars, because we know the rewards are worth it when they come — and they will. We've dared to dream before, and look what it's done for us. The joys of Dortmund, Istanbul and Cardiff have been followed by the despair of Athens, Basel and Kiev, yet we still flock in numbers when the time comes. Our spirit isn't dampened. If the results were all that mattered then nobody would have bothered.
The sheer glee from other teams' supporters at our defeat may be a bit of jealousy or hatred or a fear of our success. Maybe it's just the harmless fun we have in laughing at our rivals expense, which we all do. It seems a little over the top though, doesn't it? I like it, me. We're relevant and it winds them up. Deep down, it's the acknowledgement that they'll never have what we have. No matter how hard they try, they can't create what we have — nobody comes close.
Nobody can take away the feelings we have and the memories we hold from our Ukrainian adventure. So if you're still nursing a Kyiv hangover or have returned to your usual crying-arse self, dust yourself off and get back on the optimism horse. Keep on being cool. We need you.
Whether it's an early kick off against the Brightons of the world or a night against Europe's elite, we need you. Wherever you are in the world, you're a part of this and there's a responsibility to represent us for what we are. And we're boss. Absolutely fucking boss.
What an adventure we've had. What adventures are yet to come. These are the days, my friend.
Allez, allez, allez.
"Do you all think we are going to buy a first choice goalkeeper?" 🗣

"Yes, i think we have to." ✅

✍🏻Subscribe to listen to our transfer shows, immediate new signing reaction specials and more this summer: https://t.co/sAYhSu6Qag pic.twitter.com/KXwBpV89gd

— The Anfield Wrap (@TheAnfieldWrap) 30 May 2018
Recent Posts:
[rpfc_recent_posts_from_category meta="true"]
Pics: David Rawcliffe-Propaganda Photo
Like The Anfield Wrap on Facebook