I'M somewhere in Western Ukraine.
The arid flatlands, with their pallid yellow grass, stretch beyond the horizon. The belt of tarmac we've been tumbling along for 12 hours is the sole sign that civilisation has made its mark on this part of the planet.
Periodically, we pass the kind of service station you'd only willingly pull into if you were open to the idea of becoming a murder victim, being dumped in a river by a lorry driver, and subsequently being played by a jobbing novice actor on a Soviet version of Crimewatch.
Inside the bus, where the air conditioning broke back in Belgium, the humid musk of 14 moist men has cemented itself to my nostrils. My legs are contorted below the table — among the luggage and empty Cyrillic-labelled vodka bottles — like strands of spaghetti twisted around a fork. My ankles are swollen solid and sleep deprivation has rendered me delirious.
I'm here because I'm driving back home after seeing my football team lose the Champions League final.
And there's nowhere else I'd rather be.
Bill Shankly once said: "Liverpool Football Club exists to win trophies." I think he's wrong.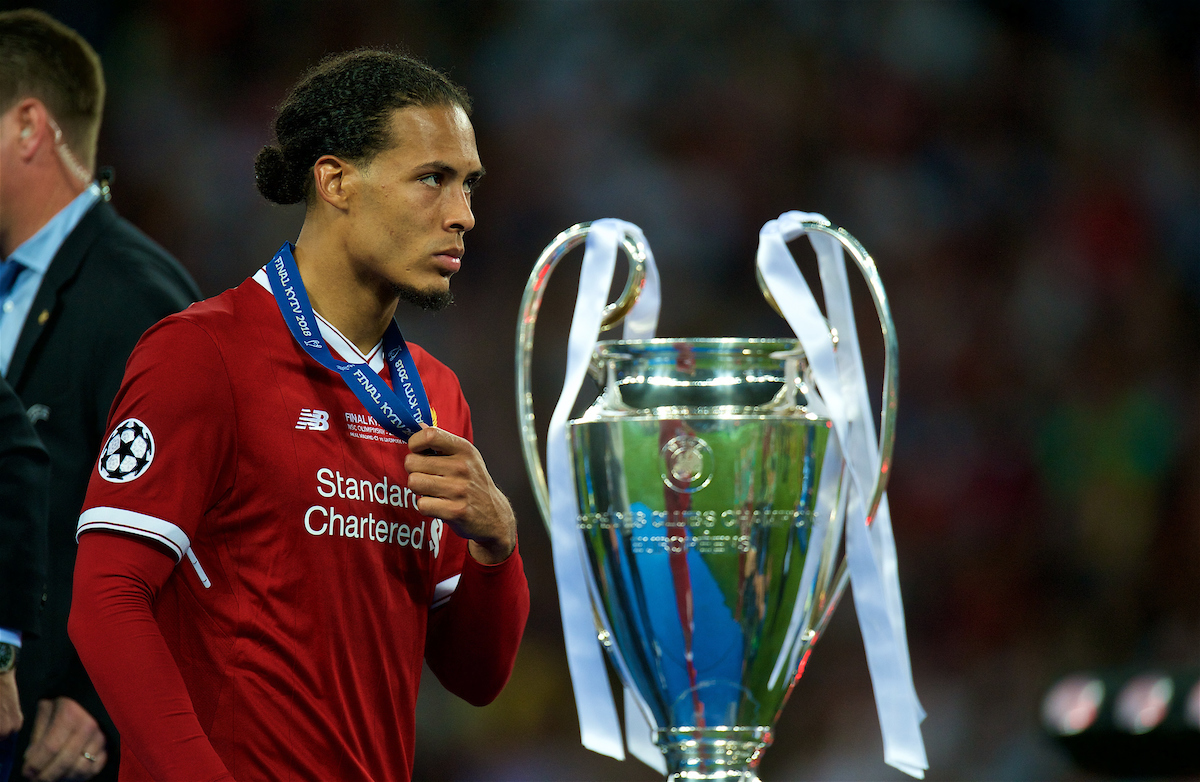 To me, Liverpool Football Club exists as an adventure. An escape. A release from the tedium of day-to-day existence. A vehicle for the unique kind of fun you don't experience in any other aspect of your adult.
And there's no bigger adventure than getting on a bus for five days, stocking it full to the brim with ale, and driving to the other end of the continent with your mates for a game of footy.
Yes, The Reds don't get to bring that big shiny silver feller home, and history will show that this Liverpool side finished fourth in the league and didn't win a pot. But the euphoric experiences we've all lived throughout this season, in Porto, Manchester and Rome, and the exhilarating jubilation we've felt during so many incredible football matches at Anfield too, can never be taken away.
The full-time whistle went in the Olimpiyskiy on Saturday night and the Real Madrid end could barely have looked more nonplussed. Some didn't even stay for the trophy lift. Sweeping up every title going has left them numb. There is no adventure in it for them, the boring white gobshites.
I'd take the atmosphere in Shevchenko Park over their joyless trinket collecting any day of the week.
There's something so perfectly special about congregating together in one place, wearing the same colours, bumping into friends who have travelled by other means, in a country that you'd otherwise have absolutely no reason to ever go to, and revelling in it all together.
I've always baulked at sycophantic phrases like the "football family". To me they're just marketing phrases created to ingratiate people into a brand. But the sense of unity and togetherness that has prevailed throughout this European Cup has been such a privilege to be a part of.
Here's @TheAnfieldWrap's slot at the fan park yesterday – Show Me Love going off. pic.twitter.com/l8peJAIwpb

— Craig Hannan (@C_Hannan7) 27 May 2018
There are so many people who I've developed abnormal relationships with this season. I don't know their names, I don't know where they're from, I only know their faces.
I know them because we bounced together in the aisles of the Main Stand after Mo Salah's opener against Manchester City. I know them because we shook each other senseless in the Stadio Olimpico after Sadio Mane's opener. I know them because we danced together in a park in Kyiv as Show Me Love blared out of the speakers.
We acknowledge each other with a nod of the head. A quick "alright, lad". Nothing more. This is our bond. And that bond can only built by following this wonderful, insane football club to far-flung foreign lands.
So yes, it would have been much more preferable to have all of the adventure, and also to win European Cup too. But if you're giving me the choice of just one, I'm picking the former every single time.
I'm in Western Ukraine. And I'm absolutely certain I'll be on another mad adventure to another Champions League final in the not-too-distant future.
Till we meet again, Big Ears. You big silver prick.
— The Anfield Wrap (@TheAnfieldWrap) 26 May 2018
Recent Posts:
[rpfc_recent_posts_from_category meta="true"]
Pics: David Rawcliffe-Propaganda Photo
Like The Anfield Wrap on Facebook