FOOTBALL can be so cruel.
I'm finding it hard to be disappointed in any member of this Liverpool side after last night. These lads were the best team in the Champions League this season, but come away from the final without the trophy to show for it.
For a team that have inspired such belief this season, a first-half injury to Mohamed Salah seemed to take so much of it out of the players and the crowd. It's hard to escape the thought that what follows is a result of dropped heads.
Liverpool did what they needed to, in getting in at half time with the score still level, but started the second half in the worst possible fashion. If there's ever a time to keep your cool and ensure that individual mistakes don't make a telling difference in the game, it's in the Champions League final against a team that have now won it three times in a row.
What this result shouldn't do, though, is take away from what this Liverpool side have achieved this season, and the scenes of appreciation between players and supporters after the game show that this run won't be forgotten despite the outcome of the final.
This season has displayed Liverpool Football Club at its best. The supporters giving everything, the players giving everything back and the people at the club striving to do what's best for both parties.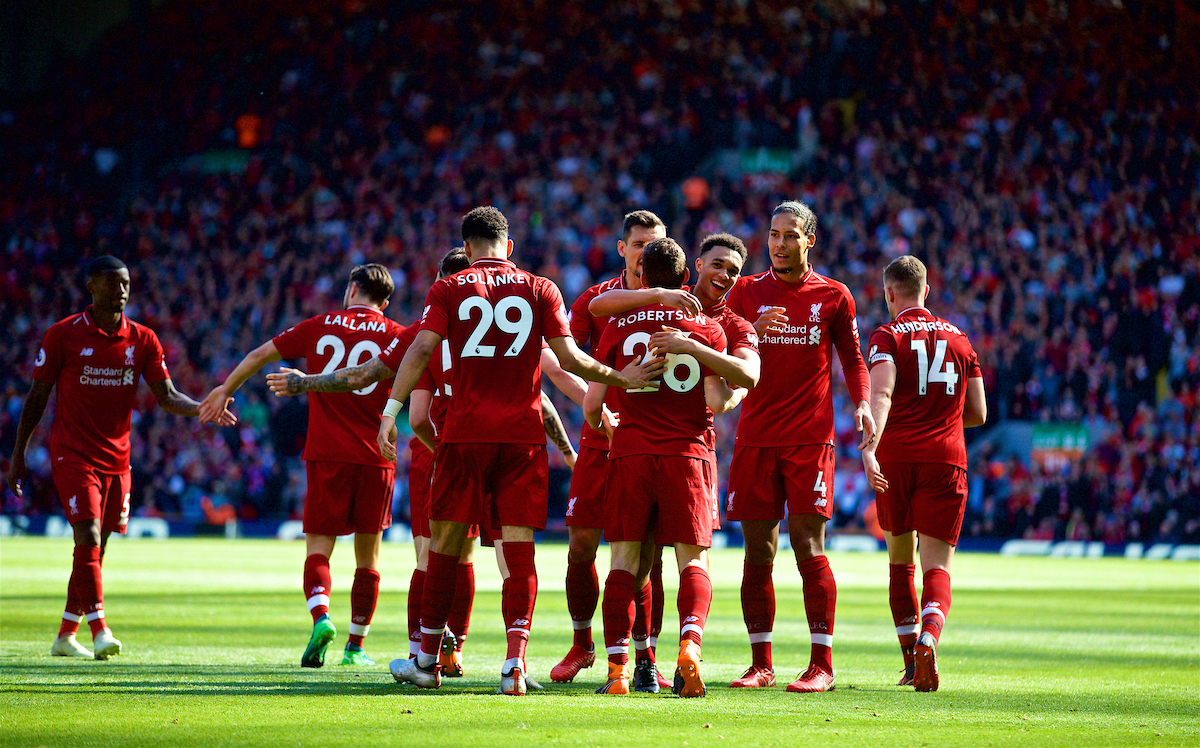 It hasn't always been this way, not by a long stretch. During the dark days of Tom Hicks and George Gillett's ownership, the void between club and supporters had never been bigger.
Rafa Benitez, once a rare beacon of light where off-field matters were concerned, was one man who understood the supporters and what it was to be a part of Liverpool Football Club, and yet he was being forced out the door.
Benitez was fighting a battle he couldn't possibly win. He was the man tasked with keeping supporters on side, with a squad not deep enough to compete with the ridiculous depth of Manchester United and resources dwarfed by the riches of Roman Abramovich's Chelsea.
To those who understood the war Benitez was fighting internally at the club, felt the understanding he had with the supporters and the love he and his wife Montse had for the city of Liverpool, his work wasn't going unnoticed. To others, he became the scapegoat when the malignant mood started to trickle down to the team.
Javier Mascherano, who left the club in the summer of 2010, said: "When I left Liverpool it wasn't good for me, and I didn't like it. I didn't like having the feeling that I could go back to Liverpool and there was still something toxic there."
Fernando Torres, who revealed the reasons behind his departure in Simon Hughes' book Ring Of Fire, similarly spoke of how the trust had gone with all that was going on behind the scenes. His departure came after New England Sports Ventures had acquired the club, but the mess that led to his exit was the remains of what Rafa had spent so long holding together — almost single handedly at times.
NESV became FSG and they had the task of cleaning up the mess. John Henry promised to listen to the concerns of supporters when he purchased the club, but it didn't stop the ownership making several mistakes coming out the gate.
The straw which threatened to break the camel's back came after the appointment of Jürgen Klopp. After the club announced that the highest price of a match ticket was to rise from £59 to £77, while the most expensive season ticket was to become £1,000, enough was enough. Supporters protested by waving black flags on The Kop ahead of a clash with Sunderland at Anfield and walking out once the game reached the 77th minute.
It clearly affected the team as they relinquished a two-goal lead. However, more importantly than the two dropped points, the message was heeded.
Klopp, who was missing from the game due to being in hospital, said of the protests: "This club is a really big club that has faced a few difficult situations in the history of Liverpool FC. These other problems were bigger than the problem we have in this moment but supporters never, ever lost their love of the club and that will not happen now."
Therein lies FSG's reasoning behind appointing Klopp as manager. The reappointment of Kenny Dalglish, whose name had been sung on The Kop during poor performance after poor performance under Roy Hodgson, showed they were determined to win supporters over. But Kenny's performance in the league would do for him. They needed somebody who could get results as much as they needed to repair a fractured supporter base.
It has been harshly levelled at Klopp in the past that he acts as a mouthpiece for the ownership. There is no disputing he has charisma, is honest when the moment requires and knows how to communicate with the supporters. That surely played a part in his appointment. He is a leader in every sense of the word.
Frank Lampard, after watching Klopp's side reach the 2018 Champions League final with a 7-6 aggregate win over AS Roma, said: "His personality rubs off on these players, because these young boys need to look up to someone, they need to follow. At the clubs he manages, everybody follows him, he brings everybody into it; the fans, the behind the scenes, all the players."
FSG's mistake may have been in thinking that Klopp could single handedly bridge that gap between the club and the supporters. What Lampard says is true, but the German isn't a miracle worker. He needed foundations to be laid behind the scenes. So the owners did just that.
The club appointed Tony Barrett as head of club and supporter liaison. Tony is a respected journalist on Merseyside but also a person who understands more than anybody what the supporters want from the club, being a huge supporter himself.
While he received a load of stick for the issues supporters were having in trying to get to Kiev for the final, he has definitely helped bridge the gap, making the club's business become more of the supporters' business.
I know it didn't end well but I don't think I've seen supporters have a better day at a cup final than yesterday. Anyone who saw Jamie Webster perform at the fan park will have brilliant memories that last a lifetime.

— Tony Barrett (@TonyBarrett) May 27, 2018
The owners may not show their faces at Anfield as much as people like but that's because they have done what many successful business owners do: hired people with the expertise to do what they themselves couldn't — giving the job of communicating with supporters to those who it comes more naturally to.
Klopp has also had a massive impact on and off the pitch. This group of players showing such a willingness to interact with the supporters isn't a happy accident. These players have been chosen because they have certain attributes, which is as much about what they do off the pitch as it is about what they do on it.
What sticks out about this group is that they are good people, as the actions of Alex Oxlade-Chamberlain in particular have shown since he signed from Arsenal. They get what it means to play for Liverpool, as the willingness and desire of Andy Robertson in particular has shown.
Perhaps most importantly though, they are a group who would rather let positive actions do the talking. Luis Suarez was a supremely talented footballer, but his Liverpool career was littered with incident. He did things which divided Liverpool supporters and put the club in an awkward position.
Our new goalscoring hero Mo Salah can do only good, as his work back in his homeland shows. Jordan Henderson asking for the Sean Cox banner so the team could stand behind it in front of the away end in Rome will be an abiding memory of this European Cup run. A united front.
Any threats to upset the harmony have been dealt with decisively by Klopp. The German did well to keep a lid on the Philippe Coutinho saga from the back end of summer until January, but when Barcelona came in for a second time, with even more intent than the first, Klopp was absolutely right to let the Brazilian follow his dream before further disruption was caused.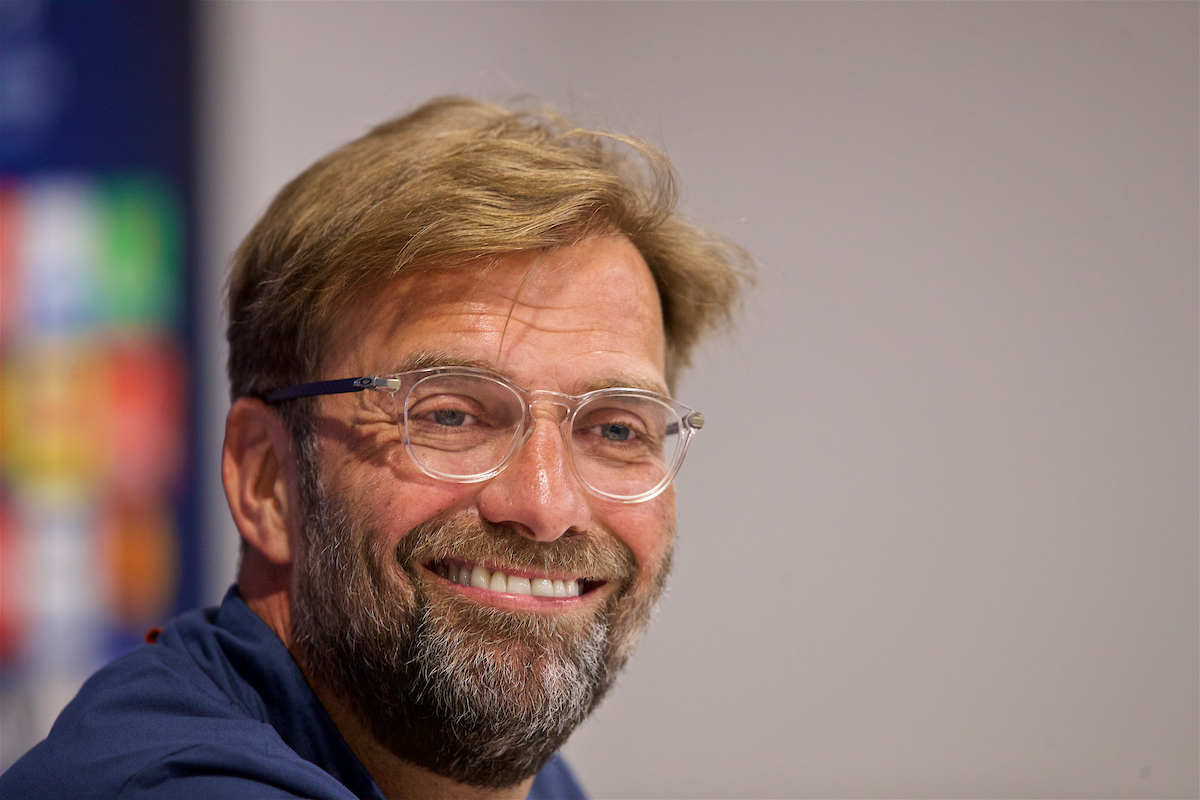 As Melissa Reddy highlighted brilliantly in her column on how has Klopp has battled adversity to maintain the good mood at the club, all eyes were on the club after Coutinho's departure. It would have been easy for the players to let it affect them. But Klopp didn't allow it. Instead, he ensured the squad became even more united than before.
That positivity shows in every one of the players. In their social media interactions between each other. In their interactions with the supporters. They want to give back to those who follow them so religiously, and the supporters have shown their appreciation in return. In modern football it's so often a one-way street.
After Liverpool's 2-1 loss at Old Trafford, I wrote about the mood in the away end once the game had finished. The positive feeling at the club was such that supporters weren't going to let one bad result dampen the faith they had in their team. It was the same after last night's result. Instead, they stood defiant and belted out their new European anthem. "Supporters never, ever lost their love of the club and that will not happen now." Jürgen was right. We're never going to stop.
Supporters up and down the country have come to Anfield in recent years, all too keen to sing about social issues on Merseyside, or about how our former captain fell over when we were the best team in the country but had nothing to show for it after 38 games. That will probably never stop. But do you think that has a positive effect on the players of those teams they claim to support? Does the misfortune of Steven Gerrard in 2014 motivate elite-level footballers to put that extra yard in at Anfield? Surely they'd rather it was their own names being sung, rather than being made to question whether they are playing football in a library.
The atmosphere at Anfield has been a talking point for as long as memory serves, but it's barely reared its head at all since the turn of the year. Football supporters are always quick to point out a "sing when you're winning" mentality, and it's true that your team doing well can feed a good atmosphere. But, as the reaction to the results at Old Trafford and in the final showed, it's about so much more than that.
Success provides the memories which songs are tied around. Liverpool's song are weighed heavily upon the club's history because that is when they were most successful as a club. But there has to be a collective sense that the club is looking to bring those good times back — otherwise you're stuck being Everton. Positivity and unity are the key ingredients in all of this.
I have never felt so close to a Liverpool team in my lifetime. I have never felt as though the club is trying so hard to do the things we as supporters want it to do — on and off the pitch.
The scenes after the semi final second leg in Rome were unlike anything I've seen in my Liverpool-supporting life. It showed a team who are so in tune with what we want as supporters. It isn't forced, it's not a "say something like this…" tweet forced upon the players by some PR company. It's a group of lads who that sort of thing comes naturally to. It's a manager who only knows how to be that way. It's not an accident.
For now it's the ultimate disappointment, but the good times are coming back to Anfield. Forgetting the result for a minute, occasions such as these will only become more frequent in number for this Liverpool side. The trajectory is still upwards.
For these young lads, the night of their lives still lies in waiting. Those nights aren't as far away as they can seem after such disappointment.
Now we go again. With hope in our hearts. We've conquered all of Europe. That will never stop.
— The Anfield Wrap (@TheAnfieldWrap) 26 May 2018
Recent Posts:
[rpfc_recent_posts_from_category meta="true"]
Pics: David Rawcliffe-Propaganda Photo
Like The Anfield Wrap on Facebook