THE hardest thing to take about the final was that it seems to be a wasted opportunity.
We'll never know if our starting 11 would be good enough to claim the European crown. We'll never know what we could have done had the game ended at 1-1 and gone into extra time. A twisted arm, a moment of madness and a kerfuffle of hands took that all away from us. Now, Madrid have the cup and we have the unsatisfying solace of what ifs. Talk about frustration.
A few days later, the emotions don't seem to be any clearer. There's the overwhelming sense of pride that we got there in the first place, along with the sadness at the result, combined with the hope that it should kick us on to better years. All those different feelings still mingle in the aftermath of that one game. If there's a quantum state of a glorious yet somehow downbeat optimism, then this is it.
There's emotion in the way Loris Karius has been treated too. First fury then perspective.
The blood was already up when Gareth Bale pulled back his foot with the score at 2-1. Their first goal was such a nonsense that there was already a thick sense of injustice in the air. Then they scored an impossible one. That seemed too much.
At 2-1, Madrid had begun to slow the game down and take the ball as deep into the Liverpool half as possible. With few options available to him, as well as a sense of "well, I've already scored one brilliant goal so you never know," Gareth Bale made the Liverpool 'keeper's night even worse. The German didn't know whether to punch it, catch it or pat it down to safety. In the end, he performed some sort of Kung Fu move with his hands in front of his face and the tournament was over. It ended an awful night for both him and The Reds.
I remained silent in disbelief for his first rick. Sometimes you just have to stare and wonder if everyone else has witnessed what you have. I mutely watched the bizarre protest from a handful of players and, realising that it was fruitless, hoped the referee would disallow it purely on the grounds that it was just so mad, so stupid. I was much more vocal on the third goal.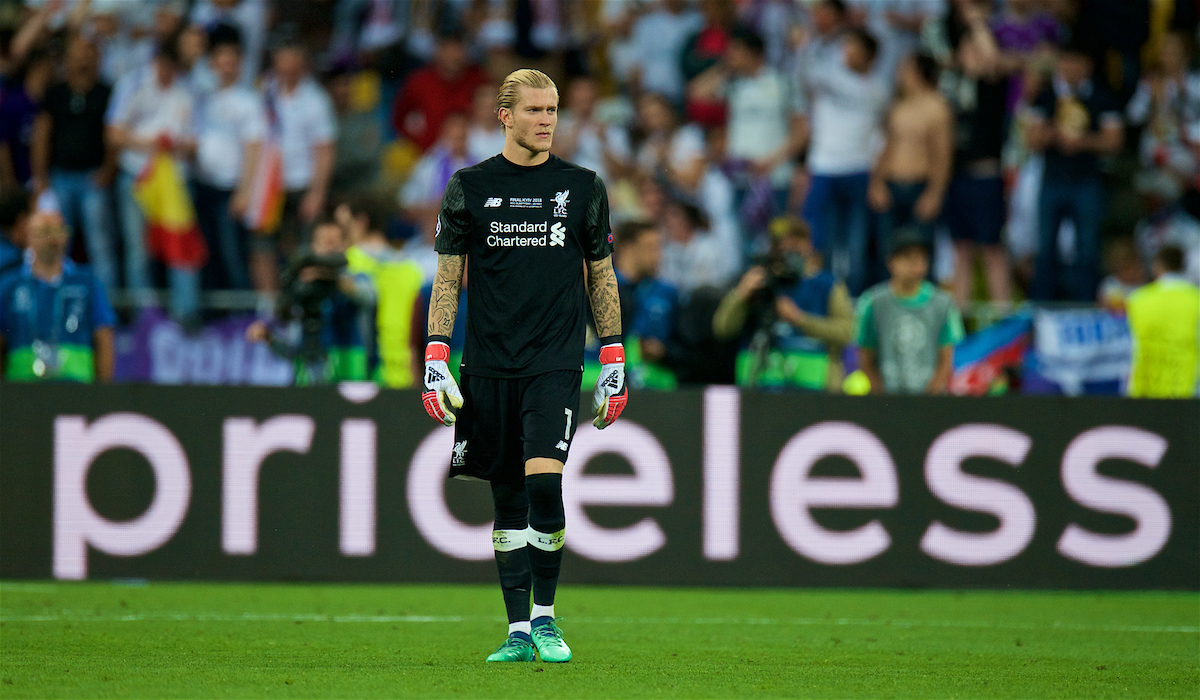 I can't recall it word for word, but my invective involved Karius's future at the club, his intellect, parentage, lack of "minerals" and, I think, his silly hair – all of which was delivered in about a quarter of a second. I've no doubt that yours was the same, unless it too was characterised by silence in the face of seeing lightning strike twice.
But in the heat of that battle there were other things to be angry about. Seriously, where to begin? There was Sergio Ramos's wrestling challenge on Mo Salah, Sergio Ramos's attack on Karius, Sergio Ramos's dive to get Sadio Mane booked or Sergio Ramos's smug, winking and arrogant satisfaction at his own gobshitery. If only there was a common theme.
Opinion is divided on Ramos now that the game is done and dusted. Liverpool had enough players versed in the darks arts in our heyday, so it seems hypocritical to point a finger now. Older readers may remember Steve McMahon elbowing Paul Gascoigne in the face at White Hart Lane and then winking at the bench. Gascoigne was Spurs' best player by a mile and didn't make a peep for the rest of the game. At the time, I thought that was the greatest thing I'd ever seen. We're all hypocrites.
Maybe it's our niceness which stops us from getting over the line at finals and we should follow example. I'm not sure. I just hope that Ramos gets wellied all over the place at the World Cup, and not necessarily just on the pitch.
Come full time, our lads were on their haunches all over the pitch. None of them deserved to lose a final like that, not after the heroics they'd performed over the past few months. This is still a thin squad and to go so close through a fug of physical and mental strain was unfair. Had they had even a little bit of luck go their way then we might be talking about a whole new chapter in our history.
Of course, all eyes were on the 'keeper. He knew what he'd done. He couldn't point the finger anywhere other than at his own chest. Not the referee, not the opposition, not the lads in front of him. It was all on him. He'd given them the game and it hurt.
I'm not a Karius fan. I think, like Simon Mignolet, he can be alright at times. That's it. Nothing special, nothing spectacular. Just alright. But not terrible either. The sort of goalkeeper who can help Liverpool get to the European Cup final, but always liable to balls it up. Not bad, but nothing like good enough for the club.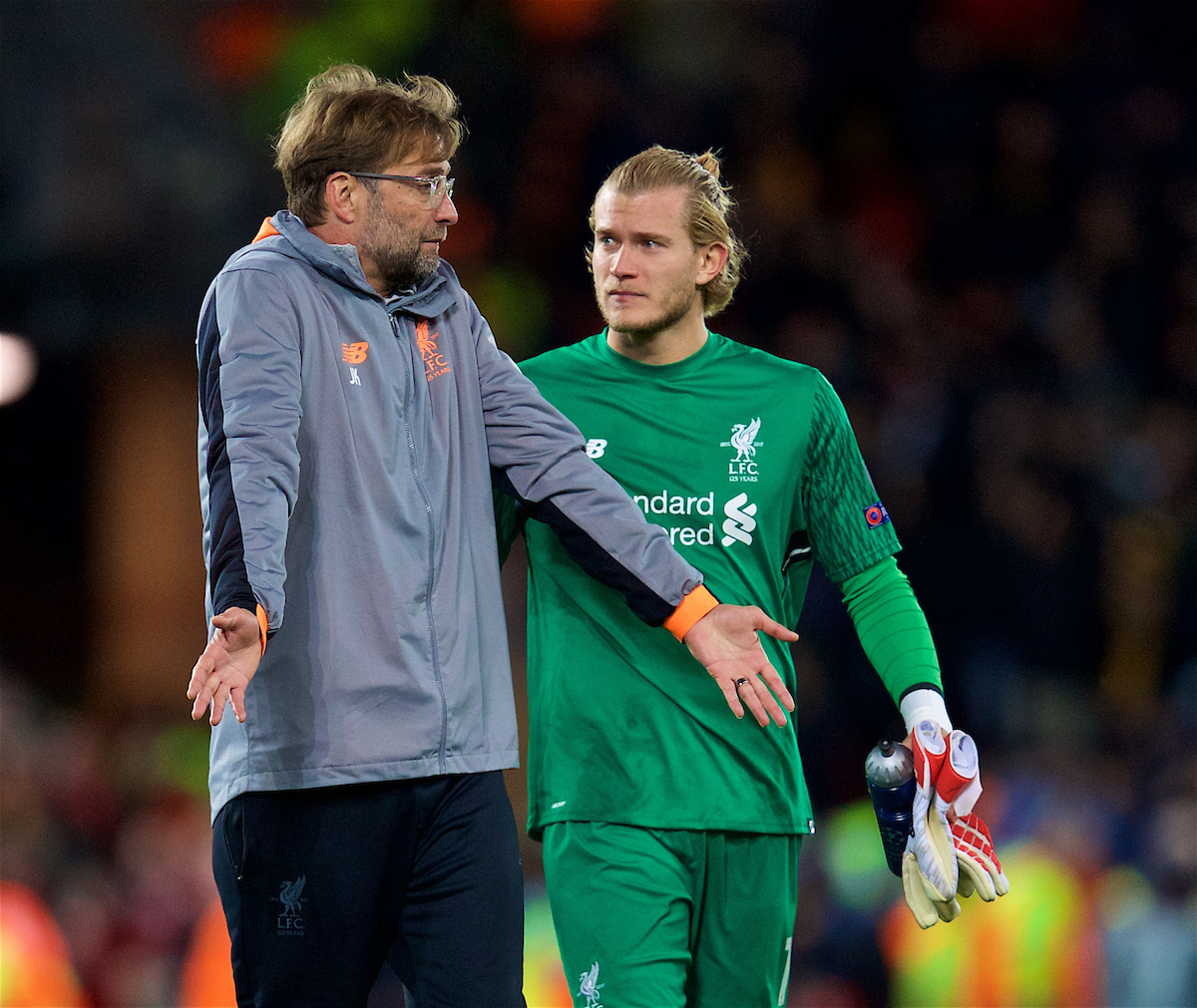 His manager clearly thinks otherwise. He believes in him and it was telling that those who abused Karius on various social media were keen to point out their love of his boss. "In Jürgen Klopp we trust." Indeed we do. Klopp also trusts Karius. He picks him regularly. If you love one you have to accept his judgment on the other.
Karius may well have shat it in the second half, but I'm not sure I could do the same and then face the very people he let down. When I make a mistake at work (a twice-weekly occurrence), I do it in front of a team of four. I send an email and apologise, safe in the knowledge that they know I mean well and am a bit thick. We accept it and move on.
For Karius it was different. He made two mistakes in front of an audience of roughly half a billion, including his own supporters who had spent huge amounts of money to get to the ground. Many would have run to the dressing room or covered their head with a towel. He didn't do that. He walked to the fans gathered behind the goal, tears streaming down his face and offered the palms of his hands in a conciliatory and apologetic gesture. I'm not sure I could have done the same.
That doesn't make things any better or easier, obviously, but I respect that. There's a difference between apologising – which is what that was – and seeking sympathy – which it wasn't.
Many think that that will be the end of Karius's Liverpool career but I wouldn't be so sure. Klopp constantly reminds us that his squad are human and therefore capable of human errors. Karius was in the side that got us through those rounds and no one doubted that he would play in the final. Klopp believes in redemption and giving the individual the chance to make amends. Even Mamadou Sakho had three strikes.
With Mignolet looking at options it seems likely that Karius will be here next season, though probably down the pecking order. Maybe he'll play in League Cup and FA Cup games.
No one wants to see a man's career in ruins. Sure, at the time, but not when things are calmer. After all, Karius was one of those lads who got us there in the first place. Let's remember that.
Liverpool have announced the signing of AS Monaco midfielder Fabinho 🇧🇷

🗣 Subscribe and listen to our immediate reaction, live from our bus home from Kiev 👉 https://t.co/QwVfvyKvME pic.twitter.com/imP42qudty

— The Anfield Wrap (@TheAnfieldWrap) 28 May 2018
Recent Posts:
[rpfc_recent_posts_from_category meta="true"]
Pics: David Rawcliffe-Propaganda Photo
Like The Anfield Wrap on Facebook