ANOTHER day, another name, another dash to search for YouTube footage. Transfer speculation is the fuel for the internet's fire, especially in the summer months. And already it feels like Jürgen Klopp has been linked to most of the Bundesliga, writes JOSH SEXTON.
Joel Matip, Marko Grujic and Loris Karius are already on board to boost Liverpool's squad next season but still speculation continues as to how many more will make the move to Anfield before the transfer window closes at the end of August.
So how many is too many? And how many is the norm based on past years? We looked up the summer signings going back to 1995 — the successes, the failures and the rumoured world beaters who never quite lived up to expectations.
1995 / 1996 Season Summer Transfers 
Player Name | Signed From | Transfer Fee | Date Signed
Stan Collymore | Nottingham Forest | £8.5m | 1st July '95
Stephen Pears | Middlesbrough | Free | 14th August '95
Jason McAteer | Bolton Wanderers | £4.5m | 7th September '95
Stan Collymore is a name which divides opinion among football fans to this day, although in the social media age most would have a clear, and mainly poor, opinion of him. He moved to Anfield with a big reputation in English football, having scored 41 league goals in 65 appearances for Nottingham Forest — signing for an English record fee of £8.5 million.
Despite a winning goal on his debut vs Sheffield Wednesday at Anfield, a good partnership with Robbie Fowler and decent returns of 19 goals and 16 goals in his two seasons with the club — Collymore ultimately blew it at Liverpool, refusing to move to Merseyside and often missing training, according to manager Roy Evans.
Goalkeeper Stephen Pears never made it past the bench for the Reds, bought as a short-term solution after Michael Stensgaard infamously dislocated his shoulder while ironing.
Boyhood Red Jason McAteer would go on to make 100 league appearances for the club, and was relatively consistent during his three and half year stint. Though he wasn't the greatest in terms of defending, he was dangerous going forward, making energetic runs and delivering dangerous crosses.
The Birkenhead-born defender always gave his all for the club and he was a regular in the side between 1995-7 but a broken leg, and Roy Evans' exit, would signal the end at Anfield for the Republic of Ireland international.
1996 / 1997 Season Summer Transfers
Player Name | Signed From | Transfer Fee | Date Signed
Patrik Berger | Borussia Dortmund | £3.25m | 1st August '96
Nicky Rizzo | Sydney Olympic | Free | 1st September '96
Patrik Berger arrived at the club off the back of an appearance in the Euro '96 final, scoring a penalty despite eventually losing to a golden goal to Germany. His time at Dortmund was relatively unsuccessful, despite winning a league title during his only season at the club, as he mainly appeared off the bench in a defensive midfield role, a position that he didn't take to.
Roy Evans saw enough in the Czech to bring him to Anfield, and he repaid this faith by making a flying start to his Liverpool career. He scored four goals in his first three league appearances and picked up the Premier League Player of the Month award for September.
After a fall out with Roy Evans, it looked like his time at the club was over, but Gerard Houllier gave the Czech a second chance and he repaid this faith, taking to his new role behind the strikers. However, he would play a bit part over the next few seasons and his seven years at the club came to an end in 2003 when he signed for Portsmouth after making nearly 200 appearances for the Reds.
Nicky Rizzo was an Australian youngster who never met his potential at the club, and departed after just one season, having not made a single first-team appearance.
1997 / 1998 Season Summer Transfers
Player Name | Signed From | Transfer Fee | Date Signed
Oyvind Leonhardsen | Wimbledon | £3.5m | 2nd June '97
Paul Ince | Inter Milan | £4,2m | 10th July '97
Danny Murphy | Crewe | £1.5m | 15th July '97
Karl-Heinz Riedle | Borussia Dortmund | £1.8m | 30th July '97
Jorgen Nielsen | Hvidovre | £400,000| 1st August '97
Norwegian midfielder Oyvind Leonhardsen came to Anfield having been twice named Wimbledon's Player of the Year, signing for a fee of around £3.5 million. Evans was said to admire the work rate of the Scandinavians, with Stig Inge Bjornebye and Bjorn Tore Kvarme already at the club.
Leonhardsen made a relatively bright start to his Liverpool career, scoring six times in 36 appearances. However, his game time became limited upon Houllier's arrival at the club, and he failed to convince the Frenchman that his future belonged on Merseyside, and he was sold to Spurs at the climax of the 1998/99 season.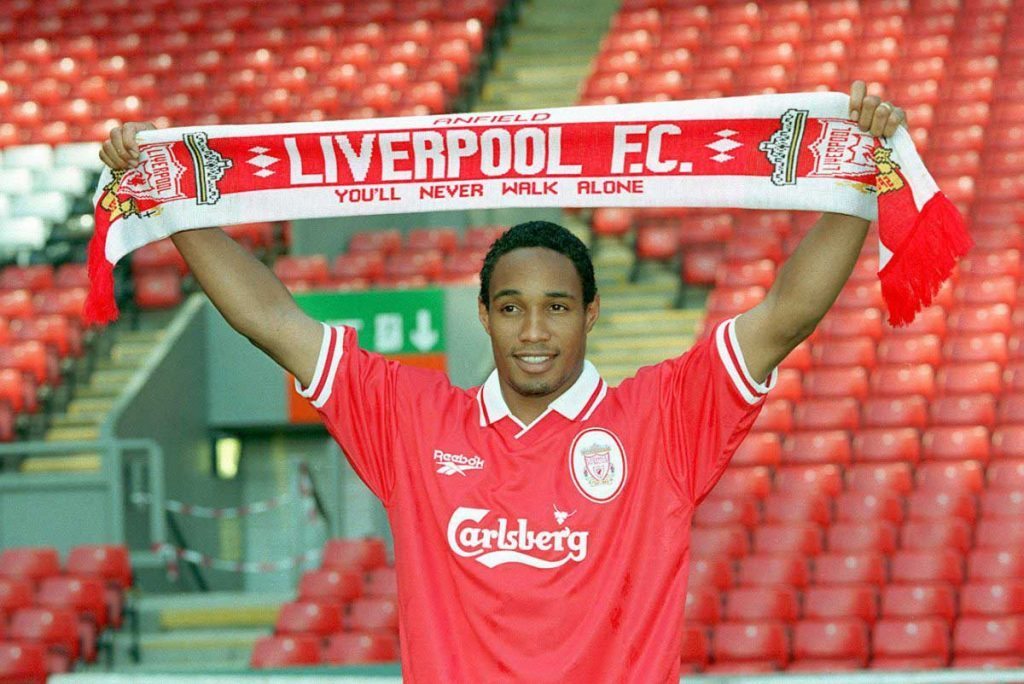 Paul Ince was a transfer that got people talking, not least because he had previously plied his trade with the enemy over at Old Trafford. The midfielder returned to England after a two-year spell in Italy with Inter Milan, and was believed to be the fabled "missing piece in the jigsaw" that the Reds needed.
Perhaps his crowning moment in a Red shirt was scoring the equaliser against the Mancs at Anfield in the 89th minute, having been 2-0 down, and being abused by the away support for the majority of the game. However, it never quite worked out for the Englishman and, after his relationship with Houllier went sour, he was shown the door after two seasons at the club having made 65 league appearances, scoring 14 goals.
Having initially struggled at Anfield, you could've been mistaken for thinking that Danny Murphy's days were numbered. However, after a short loan spell at his former club Crewe, he began to find his feet in 1999, before coming into his own during the treble winning season, scoring 10 times in 47 apps.
Murphy was a relatively consistent player for the Reds during his 249 appearances and, while he never set the world alight, he rarely let anybody down. He also scored a great free-kick to see off United at Old Trafford during the famous 2000/01 season. He loved an Old Trafford goal, famously scoring the winner three times there.
The signing of Karl Heinz Riedle was met with excitement. A star on the international stage, as a part of the World Cup-winning Germany in 1990, he became one of Europe's most expensive players singing for Lazio that same summer.
Riedle arrived at Anfield as a Champions League winner, scoring a brace in the final to secure a 3-1 victory over Juventus. However, at 32 years old his best days were behind him, which was apparent given he only went on to start 34 games for the Reds.
Jorgen Nielsen is a name most fans probably aren't overly familiar with. He sat on the bench over 50 times but never made a single first-team appearance although his shirt did. After Sander Westerveld was sent off for fighting Francis Jeffers in the Derby, and having used all substitutions, Steve Staunton had to go between the sticks wearing the Dane's goalie strip.
1998 / 1999 Season Summer Transfers
Player Name | Signed From | Transfer Fee | Date Signed
Sean Dundee | Karlsruher SC | £1.8m | 5th June '98
Steve Staunton | Free Transfer | Free | 3rd July '98
Vegard Heggem | Rosenborg | £3.5m | 21st July '98
Sean Dundee will go down in history as one of the worst strikers to ever pull on the Red shirt, and only ever made five appearances for the club. Less said the better really.
Republic of Ireland international Steve Staunton had two separate spells at the club, during the first he made 65 league appearances, but was later deemed surplus to requirements, upon the introduction of the rule restricting the number of non-English players at each club, and he went on to become one of the best left backs in the league.
He was brought back to Anfield by Roy Evans in 1998, after a successful seven-year spell at Aston Villa, though he had perhaps left his best years at the Midlands club. He would make another 44 league appearances, being used sparsely under Houllier, before returning to Villa Park in 2000.
Vegard Heggem was another who made a bright start to his Liverpool career. As a full back who liked to get forward, he brought another dimension to the side, scoring his first goal in a Boxing Day clash with Middlesbrough.
He was well liked and his fondly remembered, not least for the goal below. However, a series of hamstring injuries meant he couldn't hold down a consistent role in the starting line-up and, upon the expiry of his contract, he hung up his boots just prior to his 28th birthday.
1999 / 2000 Season Summer Transfers
Player Name | Signed From | Transfer Fee | Date Signed
Sami Hyypia | Willem 11 | £2.5m | 19th May '99
Vladimir Smicer | Lens | £3.75m | 24th May '99
Titi Camara | Marseille | £2.6m | 1st June '99
Stephane Henchoz | Blackburn Rovers | £3m | 2nd June '99
Sander Westerveld | Vitesse Arnhem | £4m | 15th June '99
Erik Meijer | Free Transfer | Free | 1st July '99
Didi Hamann | Newcastle | £8m | 22nd July '99
The big Finn Sami Hyypia, arrived at Anfield as a relative unknown and there was little fanfare about his signing. However, his partnership with Stephane Henchoz, and later Jamie Carragher, became the bane of many Premier League attackers and he was soon established as a firm fan favourite. He was solid as a rock at the back, he could pass the ball, head the ball and could chip in with the odd goal — qualities which have often been missing in recent times.
He signed for around £2.5m — in hindsight one of the best bargains in Liverpool history given what he gave to the club over the next 10 years. Hyypia made 464 appearances for the Reds, and is an undisputed legend on Merseyside, reflected by the emotional scenes which followed his last game at the club when he left the Anfield pitch in tears.
Vladimir Smicer was one of the brightest talents to come out of the Czech Republic, and arrived at the club having recently helped Lens secure the French league title, a season in which he scored seven goals in 28 appearances. In six years at Liverpool he made 184 appearances, a sign perhaps of the injury problems which plagued his time at the club.
However, it wasn't just injuries that halted his progress, in truth he lacked the consistency to take the next step up at Anfield and, towards the end of Houllier's reign, his career was in danger of stagnating. He got given a second chance to impress when Rafa arrived, but another big injury setback meant he couldn't take this opportunity. Nevertheless, he left the club on a high having scored the second goal and a penalty in the shootout in Liverpool's comeback against AC Milan in the 2005 Champions League final.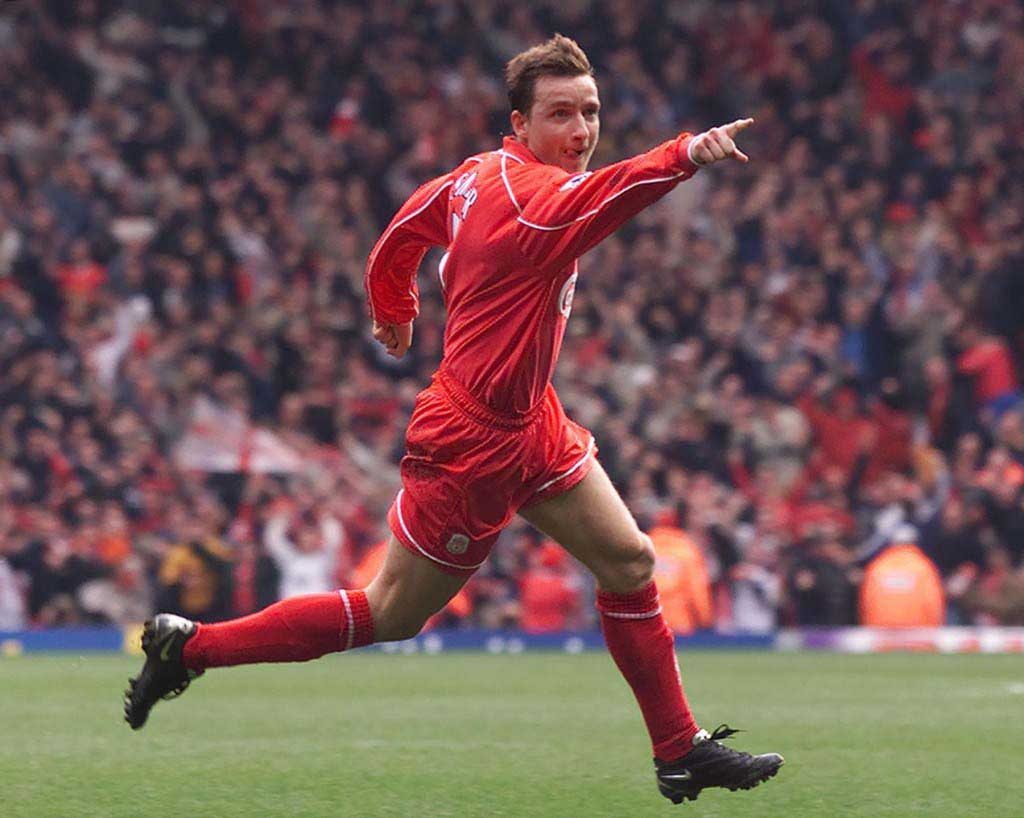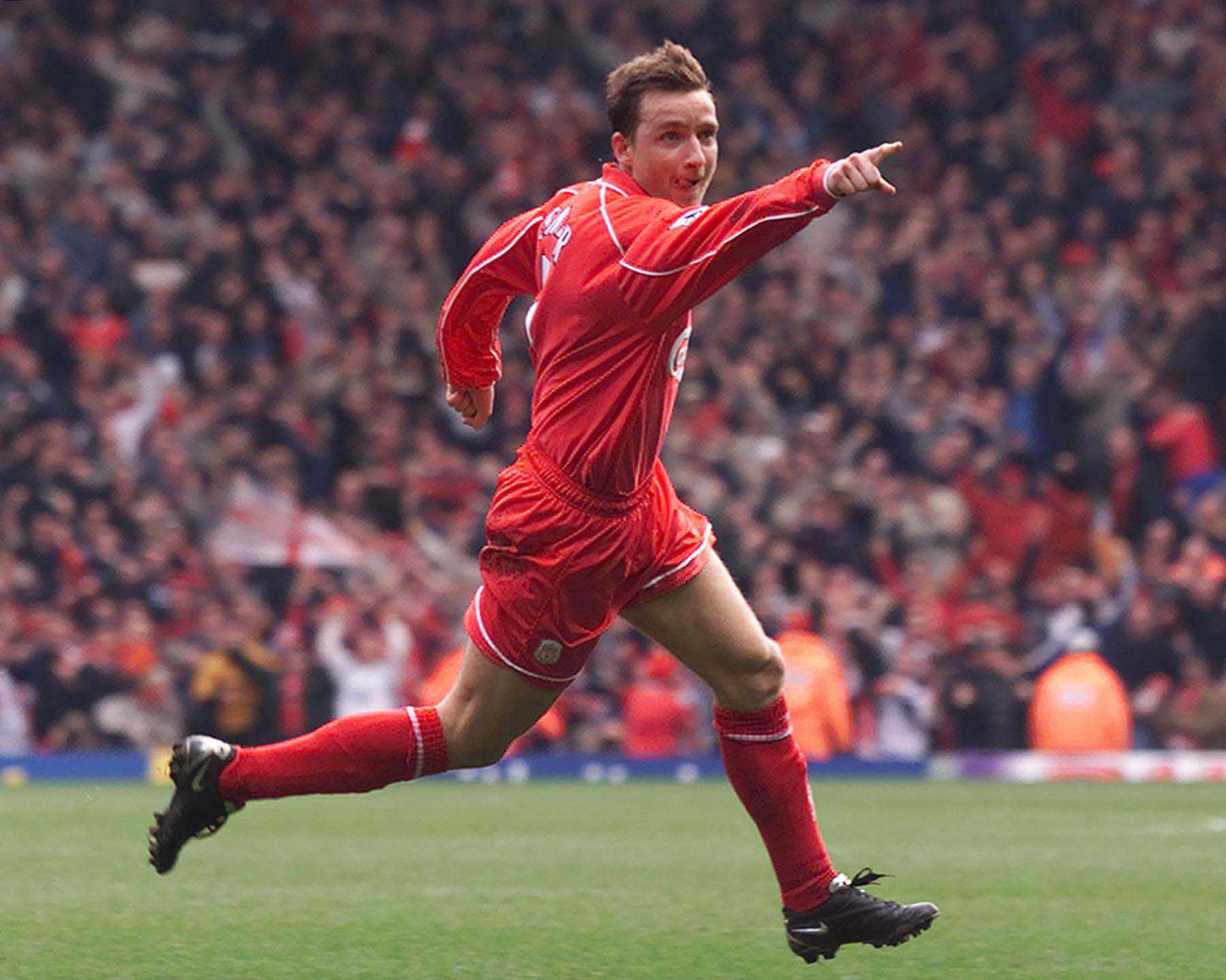 Guinean Titi Camara will be remembered as something of a cult hero on the Kop, a player who was capable of showing flashes of brilliance but whose time on Merseyside ended abruptly after a fall out with Houllier.
He scored on his debut against Sheffield Wednesday and followed this up with a further eight league goals during his 18 months at Liverpool. Perhaps his most memorable moment came in a game against West Ham, scoring the winning goal just hours after finding out about the death of his father, a testament to his character.
Stephane Henchoz made over 200 appearances for the Reds, establishing himself as a fan favourite alongside Hyypia despite looking permanently knackered. He never managed a competitive goal for Liverpool but,his crucial handball against Arsenal in the 2000/1 FA Cup final stopped an almost certain goal from Thierry Henry, and helped the Reds on their way to the 2001 treble cup win.
He eventually made an unsuccessful move to Celtic in the January window of 2005.
Dutchman Sander Westerveld showed great consistency during his first year at the club, after becoming the most expensive 'keeper in England, and his impressive kicking ability endeared himself to the Anfield faithful.
Westerveld went slightly off the boil in his second season, though the Reds still managed to complete a famous treble, despite his worst efforts against Alaves in the UEFA Cup final. His howler against Bolton gave Houllier the excuse to go out and sign both Jerzy Dudek and Chris Kirkland, bringing to an end his time at the club.
Erik Meijer is a name that provokes a fond smile from most Liverpool fans and he was affectionately known as "Mad Erik". He never scored a league goal for the Reds, and his only goals came in a League Cup tie against Hull, but you couldn't fault his infectious never-say-die attitude. Once Emile Heskey arrived, Meijer's time at the club was all but over.
Didi Hamann came to the club with a big reputation, signing for around £8million from Newcastle and, despite picking up an early injury, his career flourished as a defensive midfielder who had the occasional worldie goal in his locker. There was no-one better at drawing a foul and taking the pressure off.
2000 / 2001 Season Summer Transfers 
Player Name | Signed From | Transfer Fee | Date Signed
Bernard Diomede | Auxerre | £3m | 7th June '00
Gary McAllister | Coventry City | Free | 1st July '00
Pegguy Arphexad | Free Transfer | Free | 1st July '00
Markus Babbel | Free Transfer | Free | 1st July '00
Nick Barmby | Everton | £6m | 18th July '00
Christian Ziege | Middlesbrough | £5.5m | 25th August '00
Bernard Diomede would only last two seasons at before being loaned out to Ajaccio, who eventually signed him after his contract expired. He only ever made five appearances for the club without scoring a single goal, although he had a completely legitimate overhead kick ruled out, as it was wrongly judged to not have crossed the line.
Eyebrows were raised when Houllier brought in a 35-year-old Gary McAllister but by the end of his first season at the club, everybody was convinced it was an inspired move. The Scotsman had been a revelation as part of Leeds' league winning side of '92, but it was firmly believed his best days were behind him.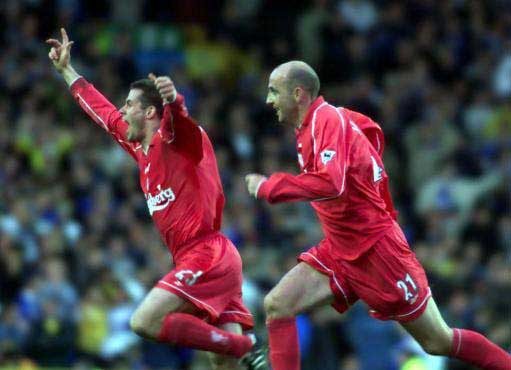 He didn't become a regular starter until the second half of the season, but he was essential in the Reds' treble win, and will forever be remembered for his incredible 40-yard free kick against Everton, as the game looked to heading for a draw. The Gary Mac song still rings around the Kop, and around boozers, from time to time — a fitting tribute to his key role in the 2000/1 season.
Pegguy Arphexad won four trophies during his time at Liverpool, despite mainly being an unused substitute. Brought in as cover for Sander Westerveld, in three years at the club he would only make six appearances before moving to Coventry. He later denied being a porn star.
One of Germany's most decorated players Markus Babbel arrived at the club and added to his impressive winners' medals collection as part of the treble-winning side. Very much the cliched 'Rolls-Royce of a player', it seemed that the Reds had the right full-back position shored up for the next few years.
After an impressive first season at the club, the German struggled in a couple of games at the start of the second season, being taken off at half time due to being short of breath. He was later diagnosed with Guillain-Barre syndrome, a rare condition which affects the nervous system.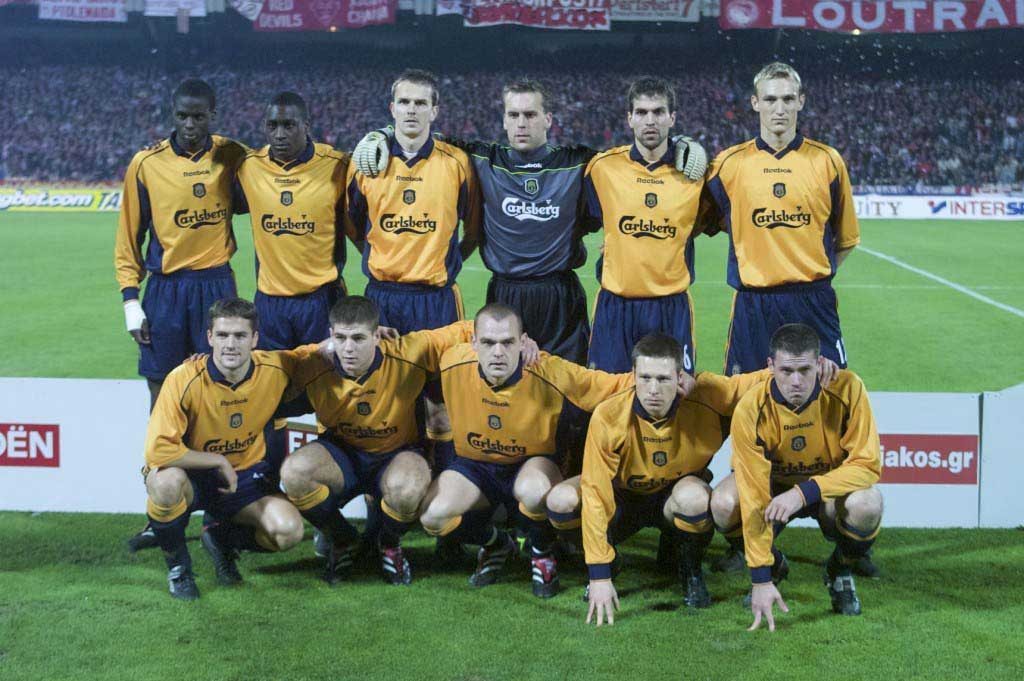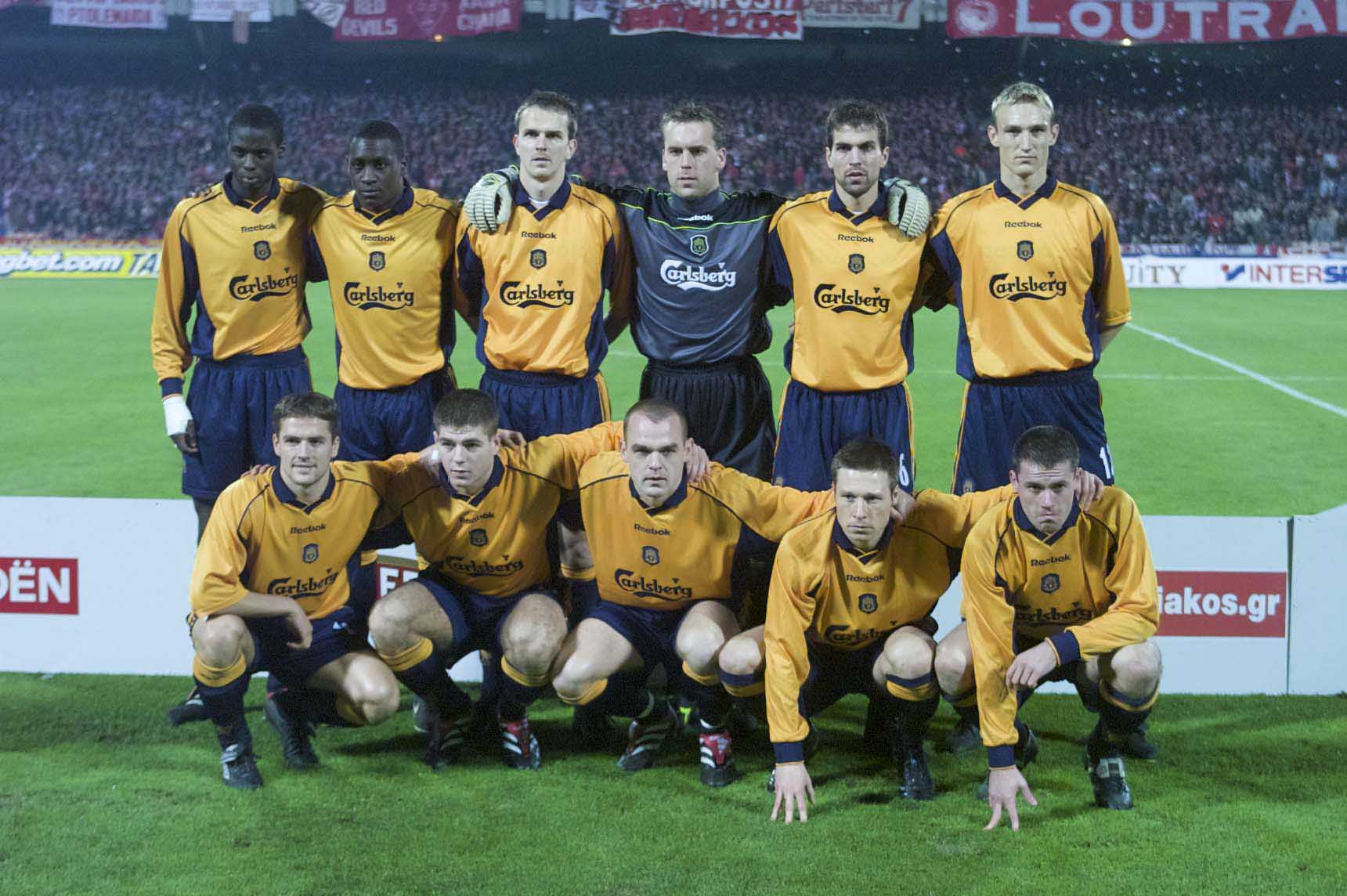 Babbel never made a full recovery and ended his time at the club with a disappointing performance against Aston Villa, in which he was hauled off after 39 minutes, leaving him frustrated. He was loaned to Blackburn before moving permanently to Stuttgart, but is still fondly remembered for his time at Anfield.
Nick Barmby may be seen as one of the more controversial signings of the last few decades, given that he had made a shock move across Stanley Park from rivals Everton, one of very few players to do so. He further angered Blues' fans by scoring against his former club at Anfield, making himself a hero on the Kop.
However, injuries towards the back end of the season meant he would only appear in one of the three cup finals, and he rarely featured in his second season. He had turned down a January move to Sunderland, opting to stay and fight for his place, but would move to Leeds at the end of the season.
Another controversial transfer, for completely separate reasons, was Christian Ziege's move from Middlesbrough. The Riverside club had accused the Reds of making an illegal approach for the player, and they were later fined £20,000 by the FA.
Things never quite worked out for the German, despite his experience and crossing ability, and he would move to Spurs just a year later. Probably not worth all the trouble.
2001 / 2002 Season Summer Transfers
Player Name | Signed From | Transfer Fee | Date Signed
John Arne Riise | AS Monaco | £4m | 20th June '01
Milan Baros | Banick Ostrava | £3.2m | 26th July '01
Chris Kirkland | Coventry City | £6m | 31st August '01
Jerzy Dudek | Feyenoord | £4.85m | 31st August '01
John Arne Riise was signed from AS Monaco after Liverpool had hijacked a deal to take the Norwegian to Fulham. He will mostly be remembered for his thunderous left-foot, perhaps less so for his reliable defending. He ran half the length of the pitch to score in just his second game for the club, in a 3-1 win over Everton.
While he showed his capabilities going forward, he flattered to deceive on the defensive end, and could be something of a liability, and he became a huge own goal threat in his last few seasons. He was responsible for the only miss of the 2005 Champions League final penalty shootout, though he had got an impressive assist for Steven Gerrard's goal, which started the fightback for the Reds. In seven years at the club he made 348 appearances, scoring 31 goals.
Czech striker Milan Baros arrived at Anfield with great potential, but could never truly live up to the billing. He failed to score in a disappointing first season at the club, however he displayed his hunger by returning for the 2002/3 season look in much better shape.
His debut goals came in the form of a brace, in a 3-2 win over Bolton, and he would score a further 10 goals in 42 matches. A broken ankle at the start of the 2003/4 season forced him to sit out for five months of action, and his Liverpool career seemed all but over after being dropped by Houllier. After finishing as top scorer at Euro 2004, he was given a second chance by Rafa and he scored 11 goals in the first half of the season, but struggled for the remainder and was sold to Aston Villa for £6.5million.
Chris Kirkland would initially find himself as backup to fellow new singing Dudek, making only four starts in his debut season. He was given a chance after a howler by the Big Pole, but would suffer a knee injury towards the end of the season, allowing his colleague a way back into the side. This was the story of Kirkland's Anfield career, getting a chance before getting injured, and he was eventually replaced by Scott Carson, after 45 appearances for the club.
The previously mentioned Jerzy Dudek had a very up and down time on Merseyside, making some big errors, and dipping in and out of the side with fierce competition from teammate Kirkland.
However, what came before would be forgotten by the heroics of that night in Istanbul. Dudek made a terrific double save to deny Andriy Shevchenko, before pulling out his best Bruce Grobbelaar impression to make himself the hero of the shootout.
2002 / 2003 Season Summer Transfer
Player Name | Signed From | Transfer Fee | Date Signed
Bruno Cheyrou | Lille | £3.7m | 16th May '02
El Hadji Diouf | Lens | £10m | 1st June '02
Alou Diarra | Bayern Munich | Free | 9th July '02
Patrice Luzi | Free Transfer | Free | 29th July '02
Salif Diao | Sedan | £4.7m | 6th August '02
The first signing of the 2002 summer window was a player touted as 'the new Zinedine Zidane'. Bruno Cheyrou never hit the heights, with his only highlights coming in the form of an excellent winner against Chelsea, and an FA Cup brace against Newcastle.
El Hadji Diouf is a name reviled by supporters of Liverpool. He arrived at the club having starred in Senegal's impressive World Cup run but, despite scoring twice on his Anfield debut, he dug his own grave after spitting on a Celtic fan after a UEFA Cup tie. Since his departure, the controversial "striker" has struggled to keep his mouth shut, taking public jabs at both Gerrard and Carragher.
Alou Diarra never managed to make a competitive appearance at the club, spending nearly every moment of his three-year stint out on loan before moving permanently to Lens in 2005.
Patrice Luzi would only make one appearance in a Red shirt, when he replaced the injured Jerzy Dudek in a 1-0 win against Chelsea.
Senegal's Salif Diao would arrive in similar circumstances to fellow countryman Diouf, having played a role in his nation's World Cup campaign. Despite settling better than the other signings of this window, he never had the ability to fully settle in at Anfield, and would make a good chunk of his appearances off the bench. The arrival of Rafa sealed Diao's fate, and he was loaned out several times before moving to Stoke in 2007.
2003 / 2004 Season Summer Transfers
Player Name | Signed From | Transfer Fee | Date Signed
Anthony Le Tallec | Le Havre | £1.5m | 1st July '03
Florent Sinama-Pongolle | Le Havre | £1.5m | 1st July '03
Steve Finnan | Fulham | £3.5m| 1st July '03
Harry Kewell | Leeds United | £5m | 9th July '03
Carl Medjani | St Etienne | Free | 8th August '03
Anthony Le Tallec arrived at the club with much promise, regarded as one of France's hottest prospects. First-team opportunities were limited for the French youngster, and he began to grow frustrated, with loan moves proving his only salvation, before a permanent move to Le Mans in 2008.
Similarly Florent Sinama Pongolle arrived with great potential, though he was more successful in his bid for first-team football than his compatriot. Injuries to Michael Owen and Baros saw the French starlet given a chance in Houllier's last season in charge.
Rafa was also a keen admirer, however he never managed to make a huge impression, but he will always be remembered for the part he played in the Reds comeback against Olympiakos.
Steve Finnan was 'Mr. Consistent' during his time at Liverpool, despite struggling in his first season, but he was much more impressive after Rafa's appointment, being the Spaniard's first choice for several seasons, his position only threatened by the arrival of Alvaro Arbeloa.
He made 217 appearances for the club, scoring his only goal in 3-0 win over West Brom, and picked up two winners' medals, even though he was hooked off at half time in the 2005 Champions League final — an inspired change which he could hardly dispute.
Australian winger Harry Kewell signed after a successful eight-year spell at Leeds, who were forced to sell amid financial turmoil. He made a bright start to his Liverpool career, finding the net 11 times in 49 appearances.
After Rafa arrived, injuries and poor form halted Kewell's progress, though he did hit form towards the end of the 2005/6 season. His injury problems plagued his time at Anfield, though he did show some flashes of his ability, and he was substituted in three consecutive cup finals.
Carl Medjani never made a first-team appearance in a red shirt and spent most of his time on loan, before signing for Ajaccio on a permanent deal in 2008.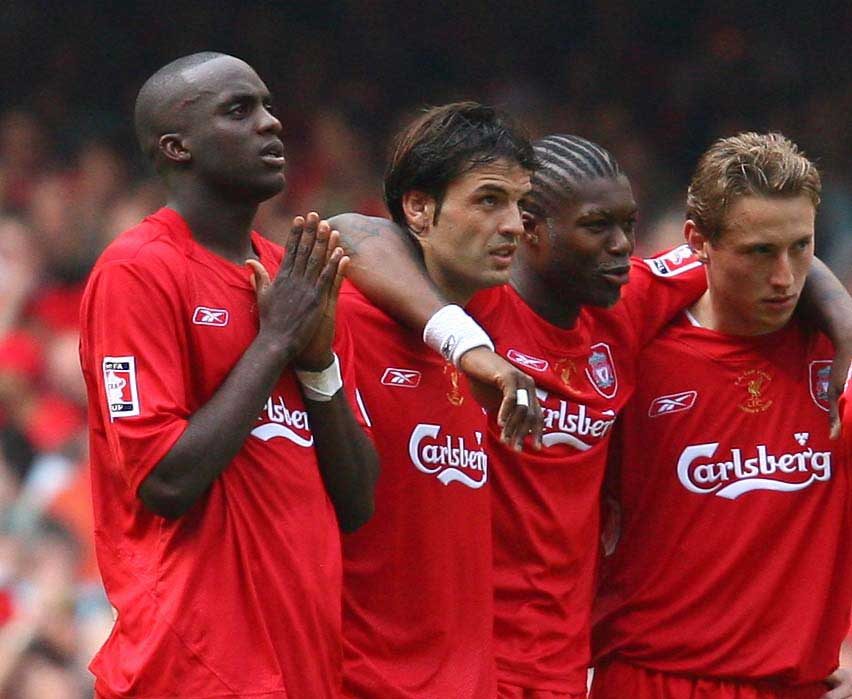 2004 / 2005 Season Summer Transfers
Player Name | Signed From | Transfer Fee | Date Signed
Djibril Cisse | Auxerre | £14m | 1st July '04
Josemi | Malaga | £2m | 26th July '04
Antonio Nunez | Real Madrid | £1.5m | 17th August '04
Xabi Alonso | Real Sociedad | £10.7m | 20th August '04
Luis Garcia | Barcelona | £6m | 20th August '04
Striker Djibril Cisse was actually signed by Houllier, but his departure meant the Frenchman had to try and impress a new manager in Rafa. His previous season in France saw him finish a top scorer but he struggled to adapt to the English game (and, seemingly, the offside rule).
After just 15 games he suffered a horrendous double leg break and, upon his return, would mainly feature as a substitute, including in the Champions League final where he scored the second penalty on route to the famous win. Cisse never really kicked on and was eventually loaned to Marseille, before signing permanently a year later.
Josemi was the first signing of the 'Rafa Revolution', and was probably one of the more forgettable. Injuries and poor form saw Finnan become the first choice, and he left the club after a season and a half.
Similarly Antonio Nunez never got going at Liverpool, after arriving as part of the deal that took Owen to Madrid.
Xabi Alonso was the third, and arguably most successful, signing of the Benitez era, and he instantly became a crucial player in the side. His absence was sorely felt after he broke his ankle on New Year's Day in a match against Chelsea.
His technique on the ball and his passing range, and ability, made him one of the best Liverpool players of recent times. He scored the rebound from his missed penalty to equalise against Milan in 2005, and became a big scoring threat from long distance, twice scoring from his own half against Luton and Newcastle.
He became part of the 'best midfield in the world' alongside Gerrard, Javier Mascherano and Momo Sissoko, but doubts were raised about his future after speculation that Rafa had been lining up Gareth Barry to replace him. The speculation didn't die down and a year later Alonso was sold to Real Madrid for around £30million.
Sangria-drinking Luis Garcia is fondly remembered by Liverpool fans for being a scorer of crucial goals, including strikes against Juventus, Leverkusen and Chelsea.
Despite these performances he wasn't able to build up any real consistency in Rafa's side, and his second season didn't follow what had come in his maiden year, though he still managed 11 goals. After rupturing his ACL in a game against Arsenal, he would miss the second half of his last season at the club, moving to Atletico Madrid in the summer of 2007.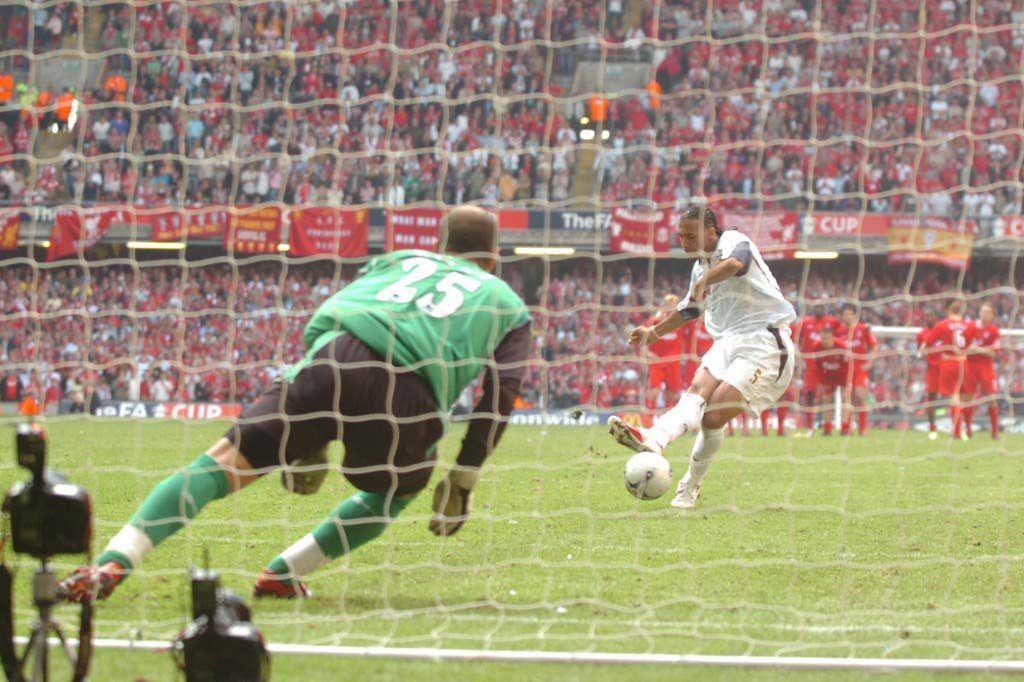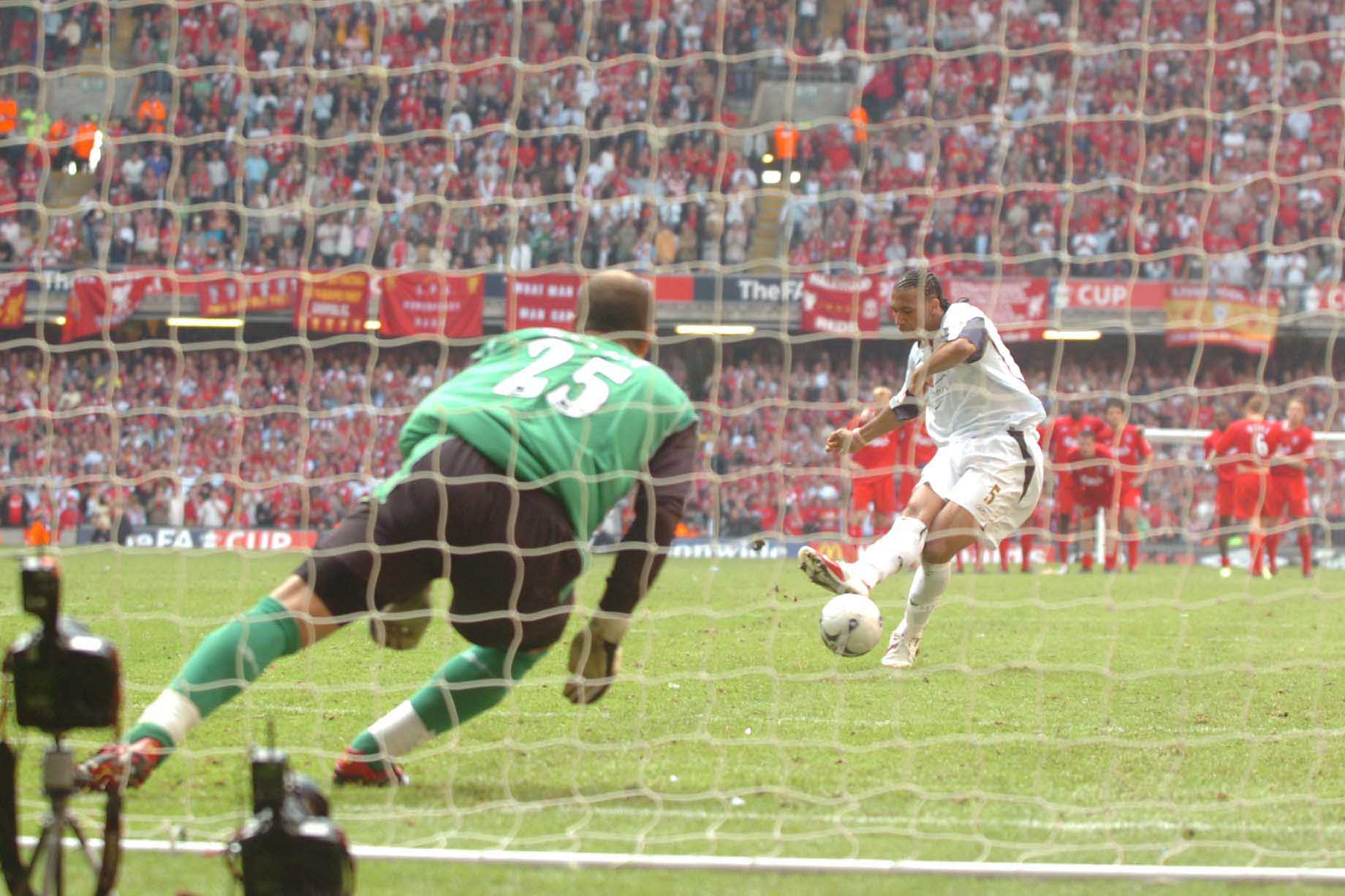 2005 / 2006 Season Summer Transfers
Player Name | Signed From | Transfer Fee | Date Signed
Antonio Barragan | Sevilla | £240,000 | 4th July '05
Bolo Zenden | Free Transfer | Free | 4th July '05
Pepe Reina | Villareal | £6m | 4th July '05
Momo Sissoko | Valencia | £5.6m | 14th July '05
Peter Crouch | Southampton | £7m | 20th July '05
Miki Roque | Lledia | Unknown | 15th August '05
Jack Hobbs | Lincoln City | £750,000 | 18th August '05
Besian Idrizaj | LASK Linz | £190,000 | 22nd August '05
Antonio Barragan arrived with high hopes but was surprisingly sold after just one season, and just one appearance, coming as a 79th-minute substitute in a Champions League qualifying game against CSKA Sofia.
Former Chelsea man Bolo Zenden didn't make much of a splash during his first season at the club, only appearing in seven league games. His only goals in a red shirt came in this season, against West Ham and Portsmouth. He made his final appearance in the 2007 Champions League final in Athens before moving to Marseille.
Pepe Reina signed for the Reds at the age of just 22, and he made his first big impression in the 2006 FA Cup final, saving three penalties to help secure the silverware. Despite a poor start to the 2006 season, Rafa kept faith in the Spaniard, and the faith paid off.
Reina received the golden glove on three successive occasions, as well as breaking Ray Clemence's record of achieving 50 clean sheets in the fewest league matches, achieving this feat in just 92 games. The stopper won both the European Championships and the World Cup during his time at Anfield, but after the 2010 World Cup it seemed his best years were behind him.
He still featured in every match of the 2010/11 season, but was mostly poor during 2011/12 with lowlights including getting sent off against Newcastle following an altercation with James Perch. He redeemed himself in the 2012/13 season but Brendan Rodgers had signed Mignolet prior to the 2013/14 season and Reina was sent on loan to Napoli before permanently moving to Bayern Munich the year after.
Malian international Momo Sissoko is another member of 'the best midfield in the world'. An ideal anchor man with good tackling ability and decent strength, he was a regular for the Reds during his first season but suffered a nasty eye injury in February.
Though he finished the season strongly he didn't recover the sort of form which endeared him to fans in the previous season. Rafa no longer saw him as a key player, particularly after the arrival of Mascherano. He signed for Juventus in January 2008, making his last appearance in a League Cup tie against Chelsea.
Peter Crouch was something of an unorthodox signing for Liverpool, given that he was mainly seen as being a target man standing at 6ft 7ins. At first it seemed that he wouldn't fit in at Anfield, given that it took him over four months to score his first goal.
Despite being a regular in his first season, Crouch found first-team opportunities more limited, despite beginning to find his goalscoring touch, and after a season of speculation about his future Fernando Torres was brought in as first choice, with Crouch moving to Spurs. He's well remembered for some magic moments in red though, not least annoying Ferguson with an FA Cup winner at Anfield.
Miki Roque made only one appearance as a substitute for Liverpool. In 2011 he was diagnosed with pelvic cancer and tragically lost his fight for life at the age of just 23 years old.
Former youth team captain Jack Hobbs got a brief taste of first-team action when Daniel Agger was injured, featuring in games against Reading and Cardiff, but the arrival of Martin Skrtel put an end to those chances and he was loaned out before a permanent departure to Leicester City.
Besian Idrizaj never got a chance at competitive first team action at Anfield, and eventually returned to his home country. He also lost his life in tragic circumstances, after reportedly suffering a heart attack in his sleep at the age of just 22.