ANOTHER day, another name, another dash to search for YouTube footage. Transfer speculation is the fuel for the internet's fire, especially in the summer months. And already it feels like Jürgen Klopp has been linked to most of the Bundesliga, writes JOSH SEXTON.
Joël Matip, Marko Grujic, Loris Karius and Sadio Mane are already on board to boost Liverpool's squad next season but still speculation continues as to how many more will make the move to Anfield before the transfer window closes at the end of August.
So how many is too many? And how many is the norm based on past years? Here is the second part of our look back at the Reds' summer signings going back to 1995 — the successes, the failures and the rumoured world beaters who never quite lived up to expectations.
To read part one click here.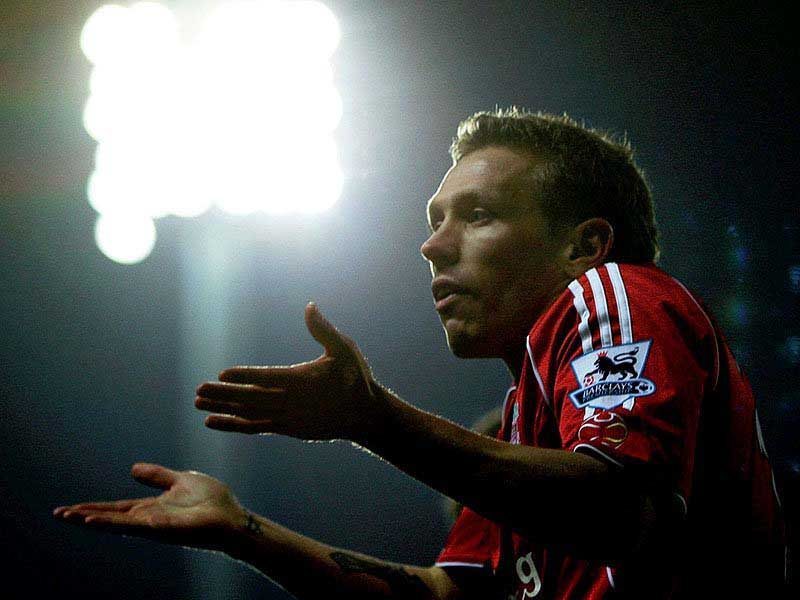 2006/7
Name | Signed From | Cost | Date Signed
Craig Bellamy | Blackburn Rovers | £6m | 1st July '06
Gabriel Paletta | Club Atletico Banfield | £2m | 4th July '06
Fabio Aurelio | Valencia | Free | 5th July '06
Jermaine Pennant | Birmingham City | £6.7m | 26th July '06
Dirk Kuyt | Feyenoord | £9m | 18th August '06
Nabil El Zhar | Saint-Etienne | £200,000 | 21st August '06
Lifelong Red Craig Bellamy wasn't all that Rafa had hoped for his first spell at Liverpool. The Welshman joined after Benitez activated his release clause to bring him to Anfield from Blackburn Rovers. He made 27 league appearances, scoring seven times, with his biggest highlight being his golf swing celebration in light of an alleged confrontation with teammate Riise.
Gabriel Paletta arrived with promise but never quite made the grade at Anfield. He appeared eight times for the Reds, mostly in the League Cup, scoring on one occasion before being shipped off back to Argentina. He made an appearance for Italy against England in the 2012 World Cup.
Dead-ball maestro Fábio Aurélio will mainly be remembered for the calibre of the free-kicks he scored in red. The classy full back excelled when attacking, and even briefly played in midfield. He was dogged by injuries but his set piece prowess is well remembered…
As well as the above, he also proved his quick thinking in the second leg of the Champions League quarter finals against Chelsea, outfoxing Petr Cech, who was expecting the cross, by finding the near corner.

Fabio Aurelio Free Kick Goal vs Chelsea CL by f100001908895530
Jermaine Pennant arrived at Liverpool after Rafa Benitez turned his attentions to the man who wore a tag in a Premier League match after being priced out of a move for Dani Alves.
He arrived billed as a king of the cross and a wizard of the assist but it never really turned out that way with the numbers never stacking up despite 81 appearances for Liverpool. He managed just three goals for the Reds, including this one.
Widely regarded as one of Liverpool's best players in the defeat to Milan in the 2007 Champions League final, he was later loaned to Portsmouth after first-team opportunities became limited, before eventually moving to Real Zaragoza on a free transfer.
The name Dirk Kuyt evokes memories of derby goals, United goals and workmanlike performances. The Dutchman wasn't dissimilar to the Energiser bunny in his performances, running for the whole 90 minutes, leaving everything out on the pitch.
A cult figure at Anfield, he made over 200 league appearances, scoring just over 50 goals. His impressive first season was marked by a consolation goal in the 2007 Champions League final in Athens and he finished with 14 goals for the season.
Kuyt really came into his own when shifted out to the right wing, as it allowed him to get up and down the pitch, making an impact at both ends of the pitch. He left for Fenerbahce after six years at the club.
Nabil El Zhar won Player of the Tournament at the Youth World Championships in 2005 but he never made an impact in Red and after 32 appearances he was released in 2011.
2007/8
Name | Signed From | Cost | Date Signed
Lucas Leiva | Gremio | £5m | 11th May '07
Krisztian Nemeth | MTK Hungaria | Undisclosed | 25th May '07
Mikel Domínguez | Athletic Bilbao | £270,000 | 28th June '07
Sebastian Leto | Club Aletico Lanus | £1.8m | 1st July '07
Dani Pacheco | Barcelona | Free | 1st July '07
Fernando Torres | Atletico Madrid | £20.2m | 4th July '07
Andriy Voronin | Free Transfer | Free | 6th July '07
Yossi Benayoun | West Ham United | £5m | 12th July '07
Ryan Babel | Ajax | £11.5m | 13th July '07
Charles Itandje | Lens | Undisclosed | 9th August '07
Emiliano Insúa | Boca Juniors | £1.6m | 26th August '07
Lucas Leiva is the only survivor of the Rafa Benitez era — although there have been rumours over the last few years that his days at the club may be numbered. Initially brought in as a more attacking box-to-box midfielder, it took the Brazilian a while to settle in, and he had some less-than-impressive performances during this time.
With a new haircut, and a new position, Lucas looked a completely different man. Now plying his trade as a defensive midfielder he quickly won over the fans, showing his ability to break up play with his tackling, and he became a very consistent performer. Despite the speculation, he remains at the club, and remains a favourite among fans and players.
Hungarian Krisztian Nemeth never made any great strides at the club, though it could be argued injuries held him back. He eventually signed for Olympiakos in 2010 after several loan spells away from the club.
Mikel Dominguez (more commonly known as Mikel San Jose) was a key player in the reserves team managed by the late Gary Ablett, and showed great composure, strength and passing ability. He eventually returned to Bilbao having not made a single first team appearance. He had a great season at the club in 2015-16, being rewarded with a place in Spain's Euros squad.
Sebastian Leto made a handful of first team appearances in his first season at Liverpool, but a refused work permit at the beginning of his second season all but ended his time on Merseyside.
Spaniard Dani Pacheco was believed to be something of a wonderkid. The youngster made a great impression at youth level and was widely considered as the next big thing. However, it wasn't to be and, after a succession of loan spells, he moved back to his home country with Alcorcon.
Fernando Torres is right up there with the best players to have graced the hallowed Anfield turf. He signed for £21million from Atletico Madrid. The Spaniard had all the attributes of a world-class striker, and would frequently tie defenders in knots — just ask Vidic.
He hit the ground running in his first season, breaking a record held by Ruud Van Nistelrooy for most goals scored in a debut Premier League season, and was second in the league's Player of the Year nominations. After a stop-start 2008-9 season, he was back firing in 2009-10 with his best goals to games ratio of 18 in 22.
https://www.youtube.com/watch?v=pobbwioAIO8
From then on Torres never looked quite the same and he eventually left for a cool £50m to Chelsea. It hurt at the time, but since leaving Chelsea a lot of fans have forgiven the Spaniard, who has since appeared in a dream strike force with Luis Suarez in a charity match at Anfield.
Striker Andriy Voronin was a player who caught the eye when playing against Liverpool in a Champions League tie for Leverkusen back in 2005. He had an average first season at the club, but did show some flashes of his goalscoring ability. However, after just one season Rafa had seen enough and he was loaned out to Hertha Berlin before signing for Dinamo Moscow in January 2010.
Yossi Benayoun was a player who clearly possessed great technique, and he was a success at Liverpool in his first few seasons after signing from West Ham. However, he was rarely seen as a starting player, being considered as an impact sub — a role he didn't enjoy or accept, though it didn't halt his goalscoring.
Perhaps his best, and most consistent, season in a red shirt came in the 2009-10 season, after which he was ironically sold to Chelsea. The Israeli cited Rafa as his main reason for leaving, having grown increasingly frustrated with his bit-part role.
The mercurial talent of Ryan Babel arrived at Anfield for £11.5m. With the expectations high, the Dutch winger made 30 league appearances in his first season, giving the Reds a different dimension on the left wing.
He scored 10 goals in his first season, and notched some assists in his maiden year, creating a good platform to kick on. However, he didn't meet expectations in the following season, often drifting in and out of games, while frustrating fans with his poor decision-making. As performances declined, so did the chances of a long-term future at the club and he was eventually shipped out to Hoffenheim.
Charles Itandje is sadly best remembered for his childish antics during the 20th anniversary of the Hillsborough disaster. He was rightfully disciplined and sold soon after.
Left back has frequently been a problem position for Liverpool over the years but many believed Emiliano Insua was the solution to all problems. He made a promising start during his initial loan spell at the club before making the move permanent, and became a regular in the side.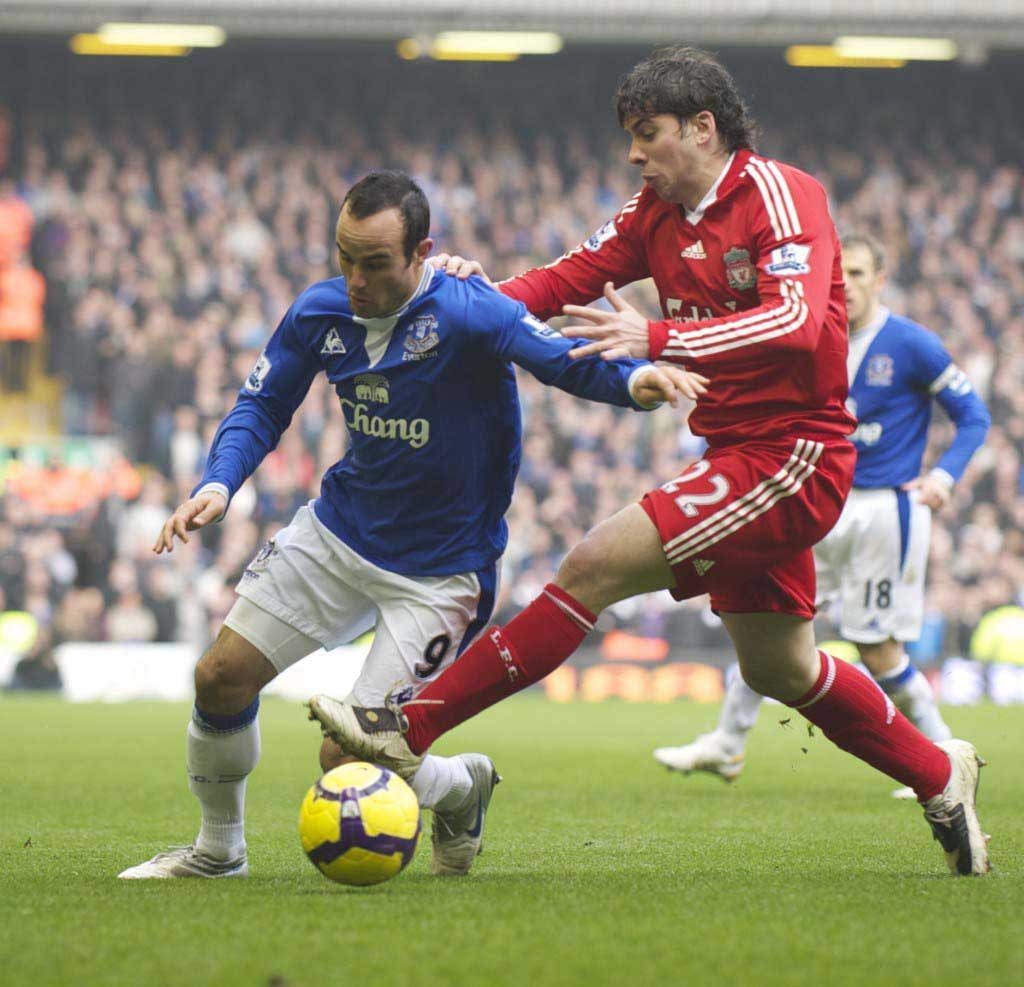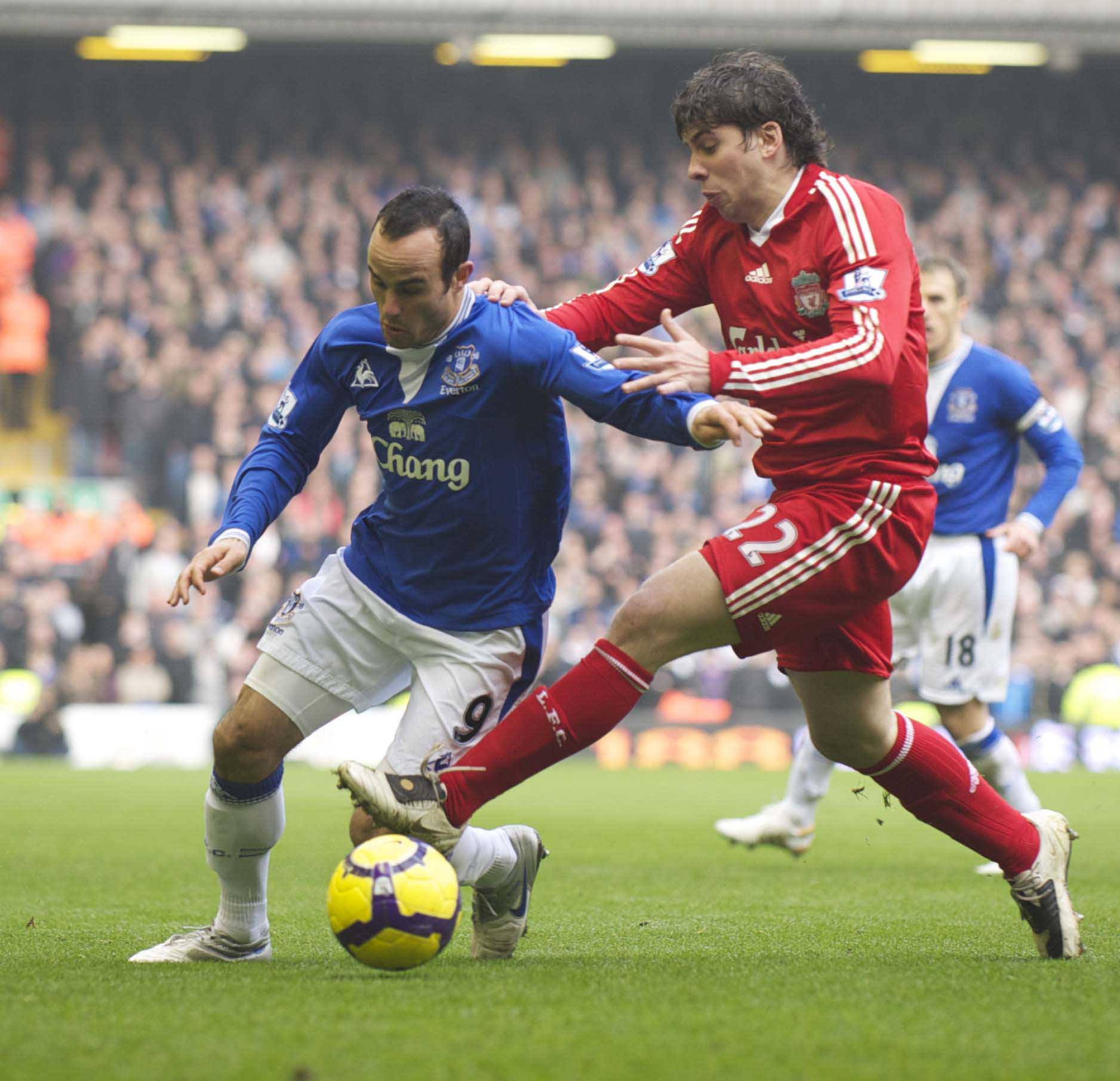 However, there were signs that things were starting to go wrong for the Argentinian, being sidelined with torn quadriceps, and his form had started to take a down turn prior to the injury. Despite these setbacks he was still judged to have a future at the club, given that he was only 21. But Christian Purslow didn't see it this way and wanted him out, so he was loaned to Galatasaray before signing for Sporting permanently. Paul Konchesky was brought in as his replacement. Sound.
2008/9
Name | Signed From | Cost | Date Signed
Philipp Degen | Borussia Dortmund | Free | 3rd July '08
Andrea Dossena | Udinese | £7m | 4th July '08
Diego Cavalieri | Palmeiras | £3.5m | 11th July '08
David N'Gog | PSG | £1.5m | 24th July '08
Robbie Keane | Tottenham | £19m | 28th July '08
Albert Riera | Espanyol | £8m | 31st August '08
Philipp Degen could barely step on the pitch without picking up an injury in the initial stages of his Liverpool career and when he did he was hardly pulling up any trees. He seemed to fancy himself as an attacker despite being deployed as a defender and he left on loan after two unsuccessful seasons, before his contract was cancelled by mutual consent leaving him free to resign for Basel.
The Italian left back Andrea Dossena will be fondly remembered for lobbing Edwin Van Der Sar, to round off the scoring in the 4-1 rout of United at Old Trafford. He was on target in the mauling of Madrid, too. And that was about it, really.
Diego Cavalieri had a huge task to try and dislodge Reina from his starting berth, and never made a league appearance for the club, though he did play ten games in cup competition.
French striker David N'Gog arrived from Paris St. Germain, as a back up to Torres. He made just five starts in his debut season, mostly being brought on as a sub, scoring three times. Despite playing second fiddle to the Reds' number nine, he still made nearly 100 appearances before being sold to Bolton for £4m.
Robbie Keane was a signing met with excitement, given his goalscoring record and the fact Liverpool was one of his many boyhood clubs. After initially going 688 minutes without scoring, and not hitting the heights that had been hoped, he was sold back to Spurs, for much less than he was bought for just a few months before.
Former Manchester City man Albert Riera enjoyed a good first season at the club, being a regular starter for much of it, though he frustrated fans with his inconsistency. However, having found himself a bit-part player towards the end of the 2009-10 season, the Spaniard publicly criticised his manager, earning himself a two-week suspension. A knee injury meant he never got the chance to impress Roy Hodgson in pre-season, and he moved to Olympiakos shortly after.
2009/10
Name | Signed From | Cost | Date Signed
Glen Johnson | Portsmouth | £17.5m | 26th June '09
Alberto Aquilani | AS Roma | £17.1m | 7th August '09
Sotirios Kyrgiakos | AEK Athens | £2m | 21th August '09
Glen Johnson was perhaps one of the most hit-and-miss Liverpool players of recent times. His time at Anfield began at a steady pace and though he featured relatively frequently, he never made any great strides. In the following season he was often used as a left back, with the promising Jon Flanagan breaking into the first team at the time.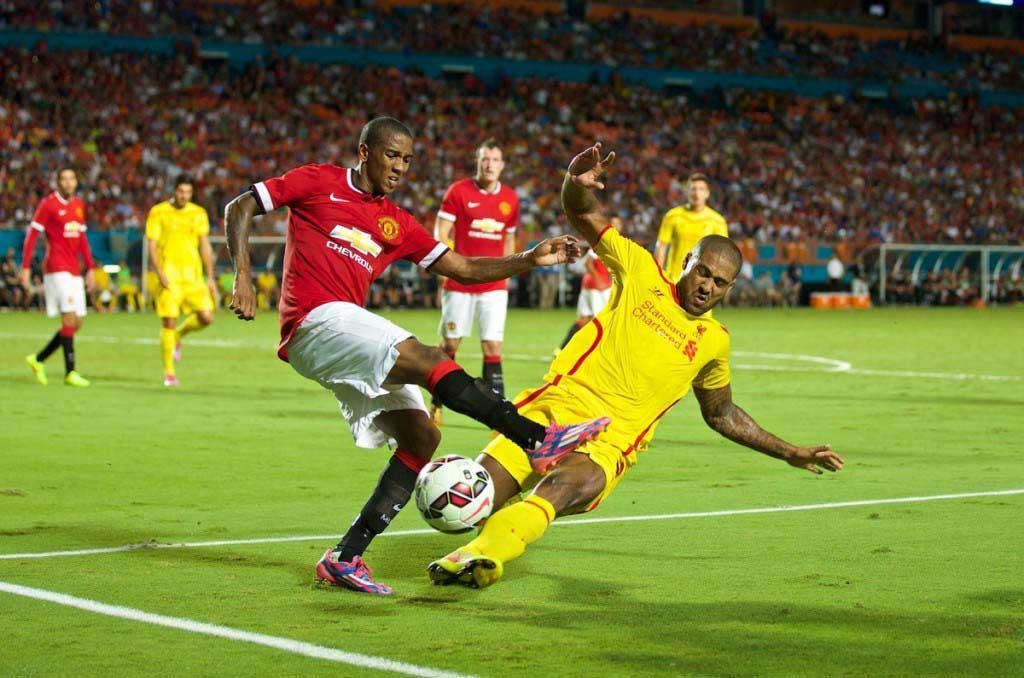 It was the arrival of Brendan Rodgers that saw Johnson's form take an upward turn. He became one of the first names on the team sheet, with his attacking qualities proving important to the team, though his defending left a lot to be desired. In his last couple of seasons on Merseyside, his form was rapidly declining, and he was often identified as the weak link in the side. Many were glad to see his contract expire in 2015.
Brought in as the replacement for Alonso, Alberto Aquilani had big shoes to fill in the eyes of Liverpool fans. He never even got close, making just 18 league appearances, after having to wait over two months for his first game. He spent two seasons on loan before making a permanent switch back to Italy with Fiorentina.
Cult defender Sotirios Kyrgiakos is best loved for his role as substitute striker, with his towering physique giving the Reds a plan B when chasing a game. He proved a nuisance in the air, grabbing three goals and was rewarded with the song: "We thought his days were numbered, now he plays here every week, we can't pronounce his surname so we call him Nick the Greek." However, he was never able to properly threaten the positions of Carragher, Skrtel or Agger, and would make 30 league appearances in two seasons before moving to Wolfsburg.
2010/11
Name | Signed From | Cost | Date Signed
Jonjo Shelvey | Charlton Athletic | £1.7m | 10th May '10
Milan Jovanović | Standard Liege | Free | 8th July '10
Joe Cole | Chelsea | Free | 21st July '10
Danny Wilson | Rangers | £2m | 31st July '10
Fábio Aurélio | Free Transfer | Free | 31st July '10
Christian Poulsen | Juventus | £4.55m | 11th August '10
Brad Jones | Middlesbrough | £2.3m | 18th August '10
Raul Meireles | Porto | £11m | 29th August '10
Paul Koncheskey | Fulham | £3.5m | 31st August '10
Suso | Cadiz | Unknown | 31st August '10
Promising midfielder Jonjo Shelvey appeared to have the attributes to succeed at Anfield, a tenacious midfielder with an eye for goal, good passing range and not afraid of a tackle. However, his frustrations often got the better of him in games, the most notable when he brilliantly called Alex Ferguson a "grass" after being sent off against United. He never managed to nail down a starting spot and moved to Swansea for £5m in the summer of 2013.
Milan Jovanovic had agreed to sign for the club before Rafa left, arriving after the Spaniard's departure and he flattered to deceive at Anfield. In one season at the club he made 18 appearances, scoring twice, before moving to Anderlecht. One to forget.
With over 50 caps for England, and considerable Premier League pedigree, you could be forgiven for thinking Joe Cole could prove to be a revelation after signing on a free transfer from Chelsea. A lot was made of his wages prior to his arrival, and he was sent off after 45 minutes on his debut. A disastrous start and a sign of things to come for a player who looked knackered after his first sprint. He was loaned out to Lille before making a permanent move to West Ham.
Danny Wilson was tipped to have a big future, and the Liverpool fans bought into this upon his arrival, but he never got close to the sort of game time needed to progress, mainly being used as an unnatural left back when he did feature. Several unsuccessful loan spells followed before Hearts made his loan permanent in June 2013.
After being released Fabio Aurelio was re-signed by Hodgson, as the Reds needed cover for the left-back position. But injuries (not surprisingly) would almost completely disrupt his, technically second, spell at the club. Once Jose Enrique was brought in, the Brazilian was deemed surplus to requirements and moved back to his native land with Gremio.
Christian Poulsen will go down as one of the worst signings of the last two decades. Well in, Roy.
Australian stopper Brad Jones was another doomed to sit on the bench, deputising for Reina, and later Simon Mignolet, though he would make several appearances due to suspensions, and the patchy form of Mignolet. Was never good enough to be the No.1 at the club.
Raul Meireles was reasonably successful, notching five goals, including a great strike in the Merseyside Derby, as well as a screamer against Wolves. Not really one for a tackle, the hipster eventually make a surprise switch to Chelsea.
Paul Konchesky was crap. Not much else to say.
Suso is another of the great mysteries in terms of development at the club. Widely believed to be a future star, he made an impression on Rodgers once he took over at the club. In his most successful season he made 20 appearances, though he only started in 12 of those. He was never able to hold down a starting spot, and the arrival of Philippe Coutinho made opportunities all the more limited. He moved to AC Milan on a free transfer in 2015.
2011/12
Name | Signed From | Cost | Date Signed
Jordan Henderson | Sunderland | £16m | 9th June '11
Charlie Adam | Blackpool | £6.75m | 7th July '11
Alexander Doni | AS Roma | Free | 15th July '11
Stewart Downing | Aston Villa | £18.5m | 15th July '11
Jose Enrique | Newcastle | £6m | 12th August '11
Sebastian Coates | Nacional | £4.9m | 30th August '11
Craig Bellamy | Manchester City | Free | 31st August '11
Current captain Jordan Henderson arrived at the club as one of England's hottest prospects, but having signed for such a big fee many questioned the signing. At first it seemed the doubters would be right about the former Sunderland man and it was unclear where he would fit into the team, with the Mackem often being shunted to the wing to get a start.
This was compounded by Rodgers' attempts to move him on to Fulham, in a bid to attract Clint Dempsey to Anfield. However, Henderson chose to stay and showed great determination to progress. He was crucial for the Reds in their successful 2013/14 campaign, which led to him being appointed vice captain, and eventually captain after Steven Gerrard left the club.
Charlie Adam was probably one of the most uncharacteristic signings in recent years. Billed as a good passer with corner kicks to die for, he struggled for energy in games with many questioning his physical condition and he was prone to giving away dangerous free kicks.
Will be remembered for skying his penalty in the 2012 League Cup final shootout with Cardiff. Many say the ball still hasn't been found.
Adding to the long list of 'keepers signed as cover, Alexander Doni tasted his only game time after Reina's sending off at Newcastle. Doni was himself sent off against Blackburn just two games into Reina's suspension, and was replaced by Jones. Since leaving Liverpool he has had to retire due to cardiovascular disease.
Stewart Downing was primarily brought in as a renowned crosser of the ball, to aid the progress of Andy Carroll. He hit the bar on his debut and many wonder if his Anfield career would have been different had the ball dropped an inch lower. He quickly regressed into his shell and was soon a target for the boo boys — a situation that eventually led to him "shushing" the Kop. He did enjoy some success after Rodgers joined the club, being utilised on the left and right, as well as in an unfamiliar left back role. Moved on to West Ham in summer 2013 then slagged off Liverpool at every given opportunity.
Playstation ace José Enrique became more known for his social media towards the end of his time at the club, but he was actually a decent player for the Reds at one point. In his first two seasons at Anfield, he proved that he was a reliable option, who could defend as well as attack, albeit with a bull-in-china-shop style.
However, during the 2013-14 season, Enrique was plagued by injuries, making only made eight first-team appearances and he never regained his first-team slot, apart from being brought out of cold storage to face Exeter. Eventually released early from his deal, the 30-year-old is currently without a club.
Sebastian Coates arrived on Merseyside with a blossoming reputation, having recently achieved Copa America success with Uruguay, being named Young Player of the Tournament. With high-profile clubs chasing his signature, its said that fellow countryman Suarez helped convince him to come to Liverpool. However, despite all that promise, Coates never made his mark on the first team, making just 12 appearances in the league, though he will always have that overhead kick against QPR.
The second coming of Craig Bellamy was a somewhat surprising move, but a successful one nonetheless. He appeared in over three quarters of the Reds games, despite his physical condition not allowing him to appear more than twice in a week, and scored some important goals, most notably the goal against Manchester City that secured safe passage to the League Cup final.
2012/13
Name | Signed From | Cost | Date Signed
Fabio Borini | AS Roma | £10.4m | 13th July '12
Joe Allen | Swansea | £15m | 10th August '12
Oussama Assaidi | Heerenveen | £3m | 17th August '12
Nuri Şahin | Real Madrid | On Loan | 25th August '12
Samed Yeşil | Leverkusen | £1m | 30th August '12
Fabio Borini was a player who couldn't be faulted for effort but it was rarely backed up with quality. He twice turned down moves away to fight for his place but he eventually moved to Sunderland last summer.
The Welsh Pirlo, or the Welsh Xavi depending which you'd rather, Joe Allen is now a cult fan favourite, and appears to be a favourite of his team mates, too, according to Ashley Williams. His never say die attitude has endeared himself to the Anfield faithful and, though his goal and assist returns aren't what they should be, many admire the effect he has on the team when he's on the pitch.
It didn't click for Allen initially, with Rodgers opting to play him as a deep lying playmaker to bring out his passing ability, however he appears to be more suited going box to box. His qualities are admired by Klopp too, who claimed he told his side to play "Joe Allen football" in their win over Watford. Despite this, he looks likely to move on this summer.
Oussama Assaidi was one of the only transfers of recent years to not be the result of weeks or months of rumours, instead everybody found out once the move had been confirmed. However, that's about as good as it got with the Moroccan not managing a single goal in 12 appearances.
Perhaps one of the signings that Liverpool fans would welcome back, Nuri Şahin claimed after his departure that Rodgers hadn't played him in his natural position. Despite this, he still scored three times in 12 games, leaving supporters wondering what if.
Samed Yeşil arrived at the club with high hopes but, as with so many of the youngsters brought into the club, he never met expectations. His goalscoring record at youth level had many excited but he only made two first team appearances for the Reds prior to being released this summer.
2013/14
Name | Signed From | Cost | Date Signed
Luis Alberto | Sevilla | £6.8m | 22nd June '13
Iago Aspas | Celta Vigo | £7m | 23rd June '13
Simon Mignolet | Sunderland | £9m | 25th June '13
Kolo Toure | Manchester City | Free | 2nd July '13
Aly Cissokho | Valencia | On Loan | 20th August '13
Mamadou Sakho | PSG | £15m | 2nd September '13
Tiago Ilori | Sporting Lisbon | £7m | 2nd September '13
Victor Moses | Chelsea | On Loan | 2nd September '13
Spanish youngster Luis Alberto arrived from Sevilla, having spent a successful season on loan at Barcelona B. However, his lack of pace made adapting to the speed of the English game particularly tough, and he has since spent the last two seasons on loan back in his native country. Back in the fold now but will he get another chance to shine?
Iago Aspas had enjoyed a great season in La Liga prior to his move to Anfield, helping his Celta Vigo side avoid relegation. However, his time at the club was wholly unsuccessful, compounded by his contribution to the worst corner in the world in the 2-0 loss to Chelsea at Anfield.
Simon Mignolet almost single-handedly defines the last few seasons at Liverpool. At times he looks a perfectly capable shot stopper, with the ability to pull off magnificent reflex saves, however other times he struggles to command his area, makes silly mistakes and his kicking is average at best.
Kolo Toure might just be the nicest man in football, but he was also a solid option when called upon by Rodgers, or Klopp in more recent times. From standing in against City in the League Cup final, to pulling out some Brazilian footwork against Real Madrid, Kolo has always kept the fans entertained and it was a shame to see him leave the club.
Brought in as a genuine competitor for Enrique, Aly Cissokho proved a relatively solid, if unexciting, back up. However, injuries problems prevented him from nailing down the left back spot in the Spaniard's absence, with Rodgers occasionally choosing Flanagan and Johnson as his full back pairing.
Mamadou Sakho had established himself as fan favourite up until his recent failed drugs test, which has left his future hanging in the balance.
His infectious personality added to his most recent form won over the majority of Reds' fans, rounded off by his performances against Manchester United and Borussia Dortmund in the Europa League.
British-born Tiago Ilori has yet to make any great strides at the club, having only made three appearances in the first team. Prior to his arrival there were stories that he had beaten Cristiano Ronaldo's sprint record, set while at Sporting Lisbon.
Victor Moses made a promising start to his career at Anfield, scoring against Swansea on his debut. However he would only feature as a bit-part player after that. A surprise loan deal from Chelsea, Moses appeared in exactly half of the Reds' Premier League matches, starting on only six of those occasions.
2014/15
Name | Signed From | Cost | Date Signed
Rickie Lambert | Southampton | £4.5m | 2nd June '14
Adam Lallana | Southampton | £25m | 1st July '14
Emre Can | Leverkusen | £9.75m | 3rd July '14
Kevin Stewart | Tottenham | Free | 3rd July '14
Lazar Marković | Benfica | £19.8m | 15th July '14
Dejan Lovren | Southampton | £20m | 27th July '14
Divock Origi | Lille | £9.8m | 29th July '14
Javier Manquillo | Atletico Madrid | On Loan | 6th August '14
Alberto Moreno | Sevilla | £12m | 16th August '14
Mario Balotelli | AC Milan | £16m | 25th August '14
Kirkby-born Rickie Lambert was let go by the Reds when he was 15, and realised his dream when he signed for the club in summer 2014. Most people saw it as a transfer of sentiment, rather than a signing with genuine first-team quality and so it proved in the end.
Adam Lallana was a signing that raised eyebrows purely because of the fee paid. Nobody doubted him as a player, having come off the back of a great season with Southampton, which saw him named in the PFA Team of the Season, but the eventual sum paid for services was seen as steep. However, he has shown during his time at Liverpool that he is very capable, and has become a favourite of Klopp's due to his pressing style, though he could definitely contribute more in terms of goals.
Described by Rodgers as a "Rolls Royce of a footballer", Emre Can has shown great potential and has established himself as one of the first names on the team sheet under Klopp. Given license to roam he has proven that he can carry the ball well, and can pick a pass which is crucial to unlock defences, or create the space for the attacking players. It could be argued that consistency is still an issue for Can but he is definitely a huge talent in the making.
Kevin Stewart initially spent some time out on loan but was recalled among others after the manager had expressed his dislike for the loan system. It paid off for Stewart as he featured in 11 games for the Reds last season.
Serbian Lazar Markovic is a player who's future is currently up in the air. Having spent last season on loan at Fenerbahce, he returns this summer to be assessed by Klopp, however there are rumours that other clubs are interested in him.
Dejan Lovren endured an awful first season at the club, though in hindsight not many excelled in what was generally a below par year for the club. However, he has since turned it around. In partnership with Sakho, the Croatian has proven he has great aerial ability and is willing to put his body on the line. He wrote himself into Anfield folklore after scoring the winner in injury time against Dortmund at Anfield, rounding off what has been an impressive season for the centre back.
Having been loaned straight back to Lille, Divock Origi would have to wait an extra year to pull on the famous red shirt. And after an unfortunate season in France, where he came under heavy scrutiny, he could have been forgiven for lacking in confidence. It is perhaps that lack of confidence which caused the slow start to his time on Merseyside. His first goals came as part of a surprise hat trick against Southampton and since then he has looked bigger, stronger and supremely confident, causing defenders problems and scoring all types of goals.
Javier Manquillo was a regular starter initially but after limitations in his game began to show, his two-year loan was cut short after a season. He enjoyed a decent spell on loan at Marseille last season.
Best described as a Jekyll and Hyde player, Alberto Moreno is a player who continuously divides opinion amongst Liverpool fans. While there is no doubt he is a threat going forward, his defending is suspect at the best of times (see the Europa League final).
Mario Balotelli is perhaps one of the most controversial signings of the last two decades. His bad-boy reputation proved well founded and he scored just one league goal for Liverpool. He is now the unwanted player of the group and will surely move on before the start of the new campaign,
2015/16
Name | Signed From | Cost | Date Signed
Joe Gomez | Charlton Athletic | £6m | 20th June '15
Adam Bogdan | Bolton Wanderers | Free | 1st July '15
Danny Ings | Burnley | £6.5m (plus £1.5m add ons) | 1st July '15
James Milner | Manchester City | Free | 1st July '15
Nathaniel Clyne | Southampton | £12.5m | 1st July '15
Roberto Firmino | Hoffenheim | £29m | 6th July '15
Christian Benteke | Aston Villa | £32.5m | 22nd July '15
Allan Rodrigues de Souza | Internacional | £500,000 | 2nd September '15
England Under-21 international Joe Gomez made a flying start having been drafted in at the unfamiliar role of left back. His maturity was impressive and Klopp is said to be a big fan with only an injury preventing him building on his impressive start at Liverpool.
Adam Bogdan was brought in as a surprise backup to Mignolet on a free transfer. Most believed Rodgers should've been looking for genuine competition for the Belgian, rather than a player from the Championship, but with there being no fee involved it was deemed a low-risk move. It didn't pay off with Bogdan having a series of howlers and eventually being replaced as number two by Danny Ward.
Energetic striker Danny Ings seems like a player tailor-made for Klopp's style of play. He was in good form prior to his injury, which saw him ruled out for almost the whole season, but his attitude during his rehab has impressed the fans, and many are excited to see him return.
James Milner was brought in on a free transfer and was tipped to be one of the best signings of the window. Despite getting off to a relatively slow start, the England international really came into his own during the second half of the season. He finished the season with five goals and 11 assists.
Liverpool needed to replace Glen Johnson by going a step up, and they definitely did with Nathaniel Clyne. The right back has arguably been one of the Reds' most consistent performers and has proven he can be relied upon both defensively and in attack. His pace has been an asset to the team and he has barely put a foot wrong.
Roberto Firmino is another player that Klopp appeared to restore the confidence of. After the new year he was in red-hot form, shown by his tally for the season of 10 league goals and seven assists.
Having arrived with an impressive goal tally from Aston Villa, it was a surprise how many objected to Christian Benteke's signing. Most believed he wouldn't fit the style, and that the price tag was too hefty. In the end it seems they were right. He still scored nine league goals, but his lack of intelligence in terms of movement and his lack of pace hindered him. Should a club cough up a decent fee, he will move on this summer.
Allan Rodriguez de Souza is yet to obtain a work permit and has spent all his time out on loan, where he has certainly caught the eye with his performances. Klopp is said to be a huge admirer of the Brazilian youngster, and will be hoping he can gain the experience necessary to launch an appeal for a work permit.
For podcasts right through the summer on Liverpool past and present, transfer gossip, The Euros, the lowdown on new signings and more, subscribe to TAW Player for just £5 per month. Minimum sign up is just one month. More information here
Never listened to an Anfield Wrap podcast? The latest free show is here. Just press play on the button below.