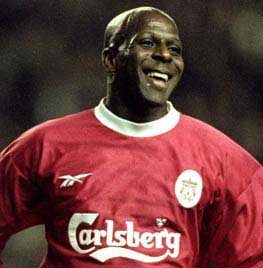 IF you're unfortunate enough to work in a customer-focused job, you've probably heard a beaut in a suit talking about "going the extra mile".
It's cringeworthy corporate speak for a pencil pusher making an extra phone call or working through their dinner hour. Heroic stuff. For Titi Camara, "going the extra mile" was playing for Liverpool Football Club hours after finding out his father had died.
Not only that, he scored the winner that day in 1999, sinking to his knees with tears in his eyes after sinking West Ham with the only goal of the game at the Anfield Road end. I wouldn't mind betting there was a few on the Liverpool staff with "something in their eye" that day. It was only later everyone else who had been in the ground realised what had gone on when Gerard Houllier told the press.
It's easy to get cynical about modern-day footballers. In fact, it's compulsory. Too many in recent years have been happy to pull on the red shirt, go through the motions, then drive back to the mansion in the gas guzzler knowing their bank account has been swelled by another chunk of their phone number salary.
But Titi Camara – in that one moment – guaranteed himself a place in many a Red heart, proven by his 91st position in the 2006 LFC website poll 100 Players Who Shook The Kop. That's not bad for a player who was only at the club for 18 months and played 30-odd games.
Camara was a £2.6m buy from Olympique Marseille in June 1999. Back then – before the internet became omnipresent – players could be branded "an unknown". No YouTube clips. No Tweets. No journalist from the player's country squeezed for knowledge. No-one had heard of Titi. Some said he'd been shit in the UEFA Cup Final and that was about it.
Early speculative reports suggested he'd be little more than a bench player. And let's be honest, he looked more like a boxer. But the man from Guinea with the infectious smile clearly had no plans to twiddle his thumbs as a sub.
Most footballers need a settling-in period when they first pass through The Shankly Gates. They might take the easy option and get a few 6 out of 10 performances under their belts before trying the fancy stuff.
Not Titi. It was overhead kicks, Cruyff turns, backheels, outrageous flicks and tricks and cannonball shots from the get go.
On the flip side, there was plenty of moments of squandered possession and wasted chances. As time ticked on it became more the latter than the former and Houllier increasingly used him on the wing rather than up front before later signing Emile Heskey – the beginning of the end for Camara.
Jamie Carragher perfectly summed up Titi's up-and-down Reds career: "When he first came, the first three or four months, we all thought what have we got here – Pele? Every time you gave him the ball he was flicking it over someone's head or scoring some great goals. Unfortunately it went a bit pear shaped for him towards the end."
It did. But let's start with the good bit.
It was the first day of the season. Away at Sheffield Wednesday. Liverpool – fielding six new players including Titi (Sander Westerveld, Erik Meijer, Vladimir Smicer, Dietmar Hamann and Sami Hyypia were the others) – had looked disjointed at times but had been the better side.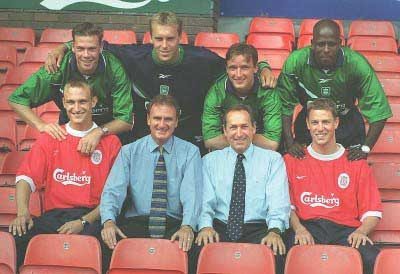 Gerard Houllier had said before the match it was a game that would be more about character. It was quickly clear Camara was one of them. He was pacy, strong and unpredictable.
Chances had come and gone for both Camara and Robbie Fowler before Robbie put the Reds ahead on 75 minutes. Nine minutes later another effort from the Toxteth Terror was parried into the path of Titi and he stuck in the rebound with his left foot as Liverpool went on to win 2-1. Not bad for starters.
At Anfield the love-in quickly began. Camara clearly took great joy from taking the piss out of defenders, his combination of mad tricks and brute strength proving tough to tackle.
The fans were onside – more so when he developed a habit of acknowledging every time his song was sang by The Kop (even during a game). But it was on his travels, in Yorkshire again, where Titi notched his second for the club – a cracker against Leeds. After an attempted pass to Patrik Berger had been cut out by Lucas Radebe on the edge of the box the ball fell back to Camara who thumped a curling shot past Nigel Martyn. If you don't remember it or haven't seen it, Google it. It's well worth a look.
So too, is his wonderful turn, burst of pace and finish against Bradford at Anfield in November 99, or his turn and top corner 20 yarder a month later at home to Coventry. He also nicked the winner against Arsenal at Highbury, coolly lifting his finish over David Seaman after a great ball from Steven Gerrard
Camara ended the season with 10 goals under his belt after starting 24 games and coming on as a substitute in 13. Stats not to be sniffed at. And stats, unfortunately, that were never to be improved upon.
It seemed Camara and Houllier hadn't been seeing eye to eye for a while (not uncommon for Houllier and his players it has to be said). Titi appeared on the bench in a UEFA Cup game against Slovan Liberec in October 2000 but despite being told to warm up a few times he never got the nod for a cameo appearance.
And that was that. In went the transfer request and Houllier fumed at length about Camara before he left: "Titi got injured at half-time in the pre-season friendly with Parma on August 12th. He is the only player I know who has got injured without playing.
"The injury was so bad that he could only come back seven weeks later. I don't know what kind of injury he had. So his first game for us was on October 2nd against Manchester United reserves and then he went away to play an international match in Guinea.
"He came back on October 11th and then we played three games against Derby, Leicester, and Slovan Liberec. He was not involved in the first two but was on the bench for the game with Liberec. The following day he came to see me and said that he did not want to play for Liverpool and that he wanted to leave. If he doesn't want to play for Liverpool and wear the red shirt, then that's it."
It was. Camara left for West Ham where he flopped spectacularly, failing to find the net in 14 games.
In 2003 he took his box of tricks to Saudi Arabia. A hat-trick in his second game saw him rewarded by three luxury cars and a bed in the presidential suite at Jeddah Meridien Hotel where he had servants, drivers and security staff on call 24 hours a day.
Titi told the Sunday Mirror: "It was a fantastic opportunity for me to play football but I never imagined it would prove so lucrative. Some of my West Ham team-mates have had a few laughs at my expense but I"m living like a king out here.
"They would be pig-sick if they could see me out here. Every time I feel sorry for myself I just take a look at my standard of living and count my money. I"m playing football and I"m loaded."
After a spell in Qatar, Titi finished his football career back in France with Amiens. These days, aged 39, he's the Sports Minister of Guinea. A suitably mad fact for a mad player.