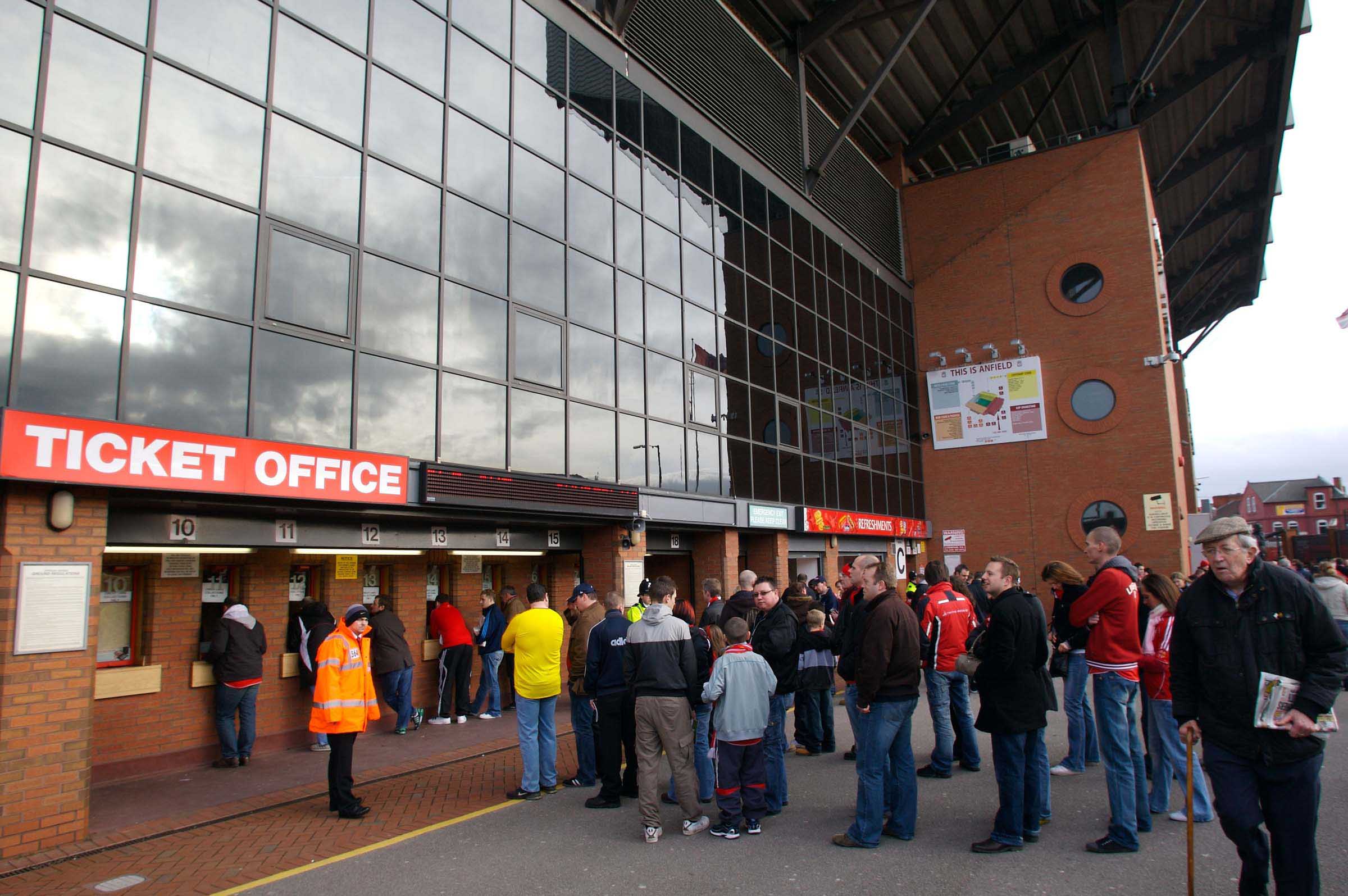 ROBBO has been on, cracking the whip. This time he wanted us to get our stubs out for the lads. The problem is, I have never thought of myself as a big collector and I didn't know if I had much of note. But, because I'm a team player, and I'm a a bit scared of Robbo, I had a rummage round and I found I had more knocking about than I thought. In fact I had to leave a couple of belters out (Auto Windscreens Shield Final 1997!). These are the five that made the cut, in chronological order.

LEAGUE CUP FINAL 1994: LIVERPOOL V BOLTON WANDERERS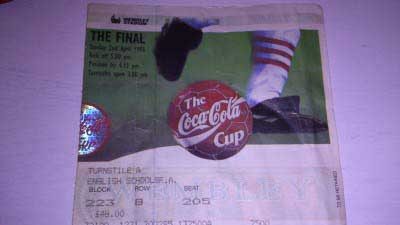 First trip to Wembley Stadium, which was terribly exciting. I was young and impressionable. So much so that me and Ben McCausland had made a Neil Ruddock banner for the occasion. Yeah. I remember being very impressed with the FA gents in their suits and badges. I remember thinking it was very weird that the front section was all benches. Steve McManaman was great. David James too. They had some good players but the Reds prevailed 2-1 and my first trip to Wembley became the first trophy I saw us lift. Go ed, the Reds.
EUROPEAN CHAMPIONSHIP 1996: ITALY V RUSSIA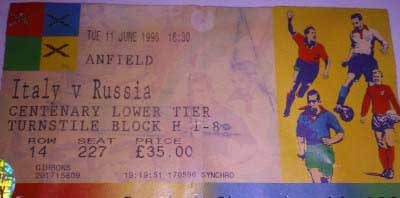 Euro 96 is looked back on by football fans with a mixture of emotions now. For many it is seen as the time football changed. When Shearer and Gazza and Baddiel and Skinner turned the game away from the working man and towards the corporate client.
At the time it was just great though. When the Premier League started four years previously there were just 11 players who weren't British or Irish who started on the opening day and European football wasn't as prevalent on the TV either. So players were exotic and largely unknown. Exciting faces on stickers in albums coming over to play football.
We knew the Italians though. Maldini and Zola and that. We'd seen them on Channel 4 and it was exciting to think of them strutting round Liverpool. Maybe staying in the Feathers and going to Pleasure Island after training.
I remember Italy were a bit disappointing on the day but Casiraghi scored twice and they won. I've just watched the highlights and it doesn't look sold out, but I am pretty sure all the local allocation went., although I think the tickets were seen as a bit expensive at the time.
Only 21,000 went to Anfield a week later when Russia played the Czech Republic and we all missed a cracker. Apparently the Czechs were training up the road from where I lived but we never went to see Paddy Berger and his mates. Probably because we hadn't heard of them, yet. We knew who they were by the end of the tournament though.

1996 (June 11) Italy 2-Russia 1 (European… by sp1873
THE TREBLE: 2001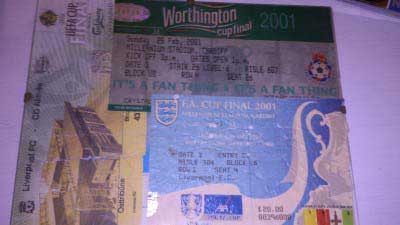 Massive cheat this one, but the Treble 2001 tickets are in a glass frame all together in ours, so that is how I am presenting them. The League Cup final I went with my dad. Robbie was great and Carra slotted the best pen you've ever seen. The FA Cup final I went with my mates. I've written about that before so I won't bore you again.
The UEFA Cup final I travelled on my own as my mates were going on the bus, but my mum made me fly in and out because I had exams. I was quickly adopted by a couple of older fellas on the way though and managed to see plenty of people I knew once I got there. We recently banged on about the Treble in a four part series so I'll leave that one there. But what a season, hey? We got so excited we were singing songs to the Baha Men and no-one cared.
CHAMPIONS LEAGUE SEMI FINAL: LIVERPOOL v CHELSEA 2005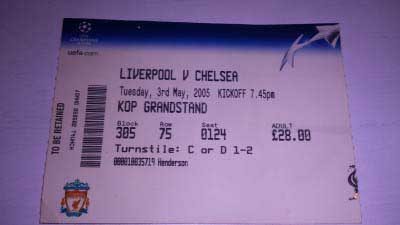 Still the big one at Anfield for me, despite what came before or after. An occasion and a succession of events and circumstances that led to the most incredible atmosphere I think I'll ever experience.
But until the morning of the game I didn't actually have a ticket. I shared a season ticket with my sister at the time, and I'd been to Juventus so she got Chelsea. But my dad had a word with someone at school who knew someone who etc…. and somehow one turned up. Right at the back of the Kop. I've no idea who 'Henderson' is, but John Gibbons loves you more than you will know.
The game though. And the crowd. I stood at the back of the Kop a mixture of dumbfounded and delirious. At half time I found my mates and asked to stand with them, feeling I needed their support to get through it, only to be told, quite rightly, that I had to go back to my own seat so I didn't 'fucking jinx it'. I found them at the end though. We hugged and told each other we were going to win the European Cup.
CHAMPIONS LEAGUE FINAL: LIVERPOOL V ISTANBUL 2005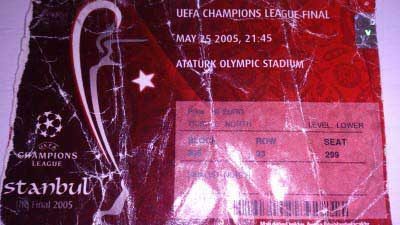 I feel like I shouldn't pick two games so close together, but, you know. Istanbul. My dad had made a rash promise to my sister that he would pay for her to go to the final if we got there, thinking that it was a fairly safe bet we wouldn't. Once I'd got wind of that there was no way he wasn't paying for me — I had only just started working and I was skint. So my dad had to drop us both off at John Lennon Airport on the morning of May 25, 2005 and then go to work £1,200 worse off and probably wishing he'd had the snip.
Ticket prices are mad though aren't they? That says 50 Euros on that ticket. More than I paid for the League Cup final in 1995. Well I say paid. I was 13 then, so I'm pretty sure I would have stung my dad for that, too. Still though. I'm sure they just make these numbers up.
I drank too much that day, truth be told. It was a LONG day and we didn't eat anything and we drank all the Efes. At half time I sobered up and realised we were 3-0 down. Turned out alright though. For some reason I watched the game in about four different places.
The people I was stood by in the first half probably think we were some of the fans who got off. I watched the pens with a mate I found from primary school. That was nice: 3,000 miles away from the playground where we would pretend to be Liverpool players, we watched the Reds lift the European Cup.
Read: Steven Scragg's Just The Ticket
Read: Sachin Nakrani's Just The Ticket
Read: Mike Nevin's Just The Ticket
[rpfc_recent_posts_from_category meta="true"]
Pic: David Rawcliffe-Propaganda-Photo.
Like The Anfield Wrap on Facebook