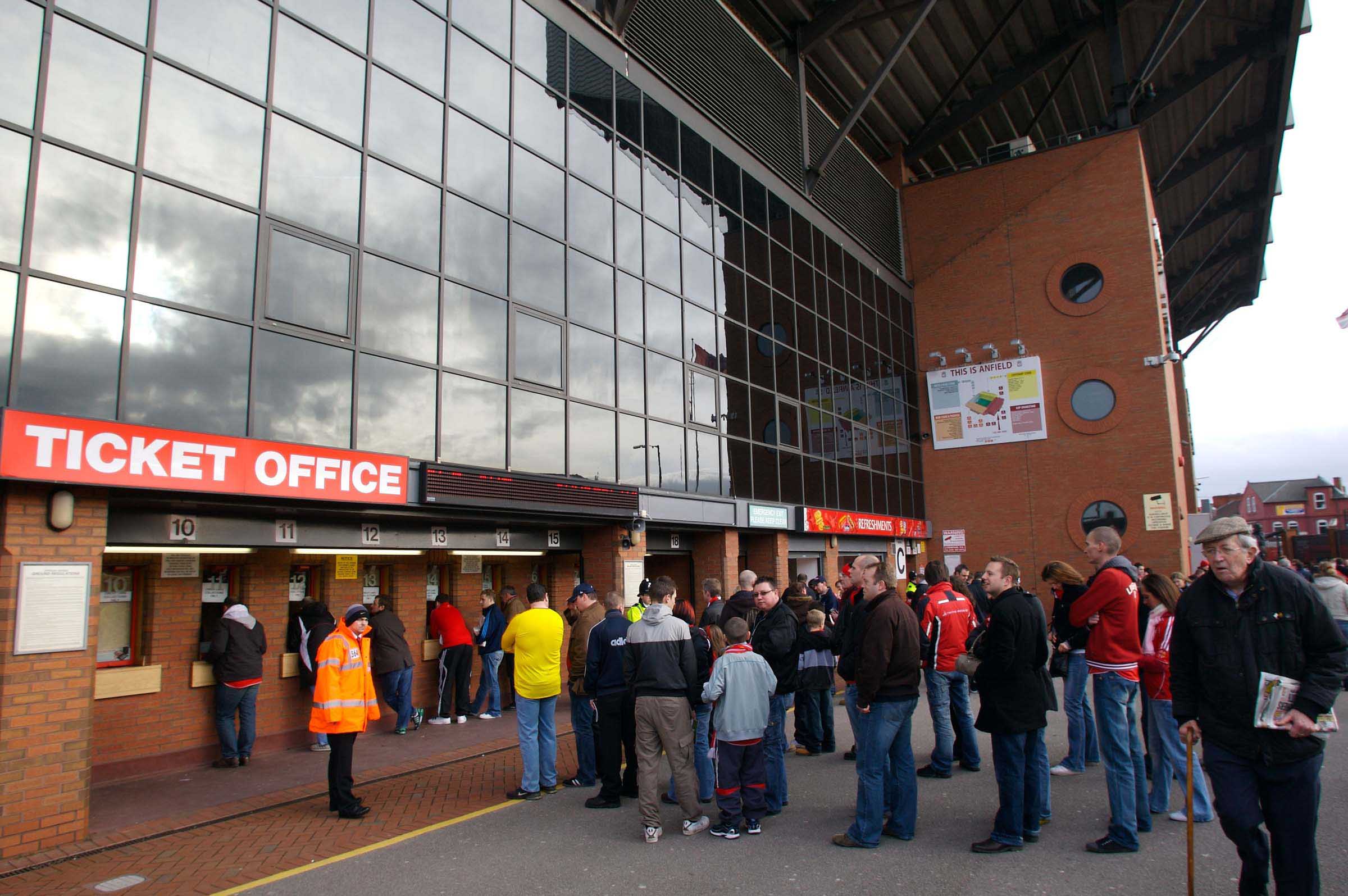 WE'VE asked some of The Anfield Wrap's regular contributors to crawl around the loft and look under the bed to dig out some of their most treasured ticket stubs and tell us the tales behind them. First with his favourite five is MIKE NEVIN.
FA CUP FINAL 1974: LIVERPOOL v NEWCASTLE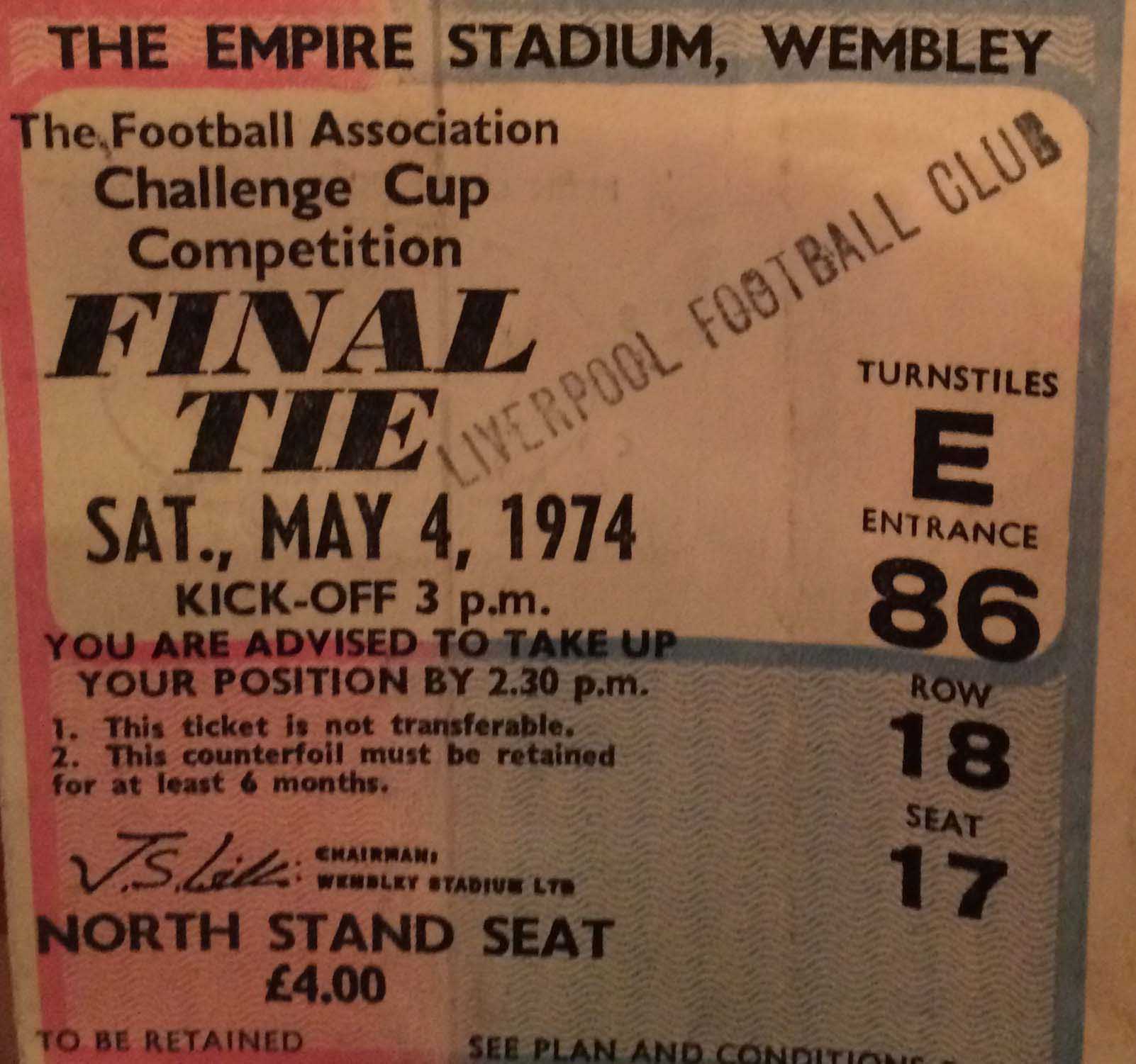 What a massive glory-hunter I was at the age of 6! This was my first game — two stand tickets for me and my dad, courtesy of a well connected Evertonian uncle. See, they weren't all bitter morons back in the day. Cheers Tommy, I'm drinking your Guinness these days. RIP.
So, not for me the gentle intro of the reserve matches or a League Cup tie, testimonial or friendly in front of a half-filled Anfield. Instead, a lifetime of guilt at denying some deserving poor soul of his well-earned ticket for the cup final. At least I can remember it though.
The stand-out recollections are of Brendan Foster, Britain's foremost distance runner of the era, winning an exhibition race on the Wembley perimeter track pre-match. Weird things stick in the heads of kids.
As for the match itself, I remember being heartbroken at my hero Alec Lindsay's spectacular disallowed goal. Alec and I had a left foot in common; and just like our gallivanting full back I wore a simple red shirt with a number 3 lovingly sewn onto its back; though I would never grow his moustache.
Strangely, what I remember about the goals – "Keegan two, Heighway one, Liverpool three, Newcastle none" is that the fella in front, addled by drink, missed at least two, if not all three on his frequent trips to the bog. That'll be me at Wembley this May.
Oh, and I can say I watched Liverpool under Shankly; which makes me sound older than I am. Like really old.
EUROPEAN CUP 1981: LIVERPOOL v OULUN PALLOSEURA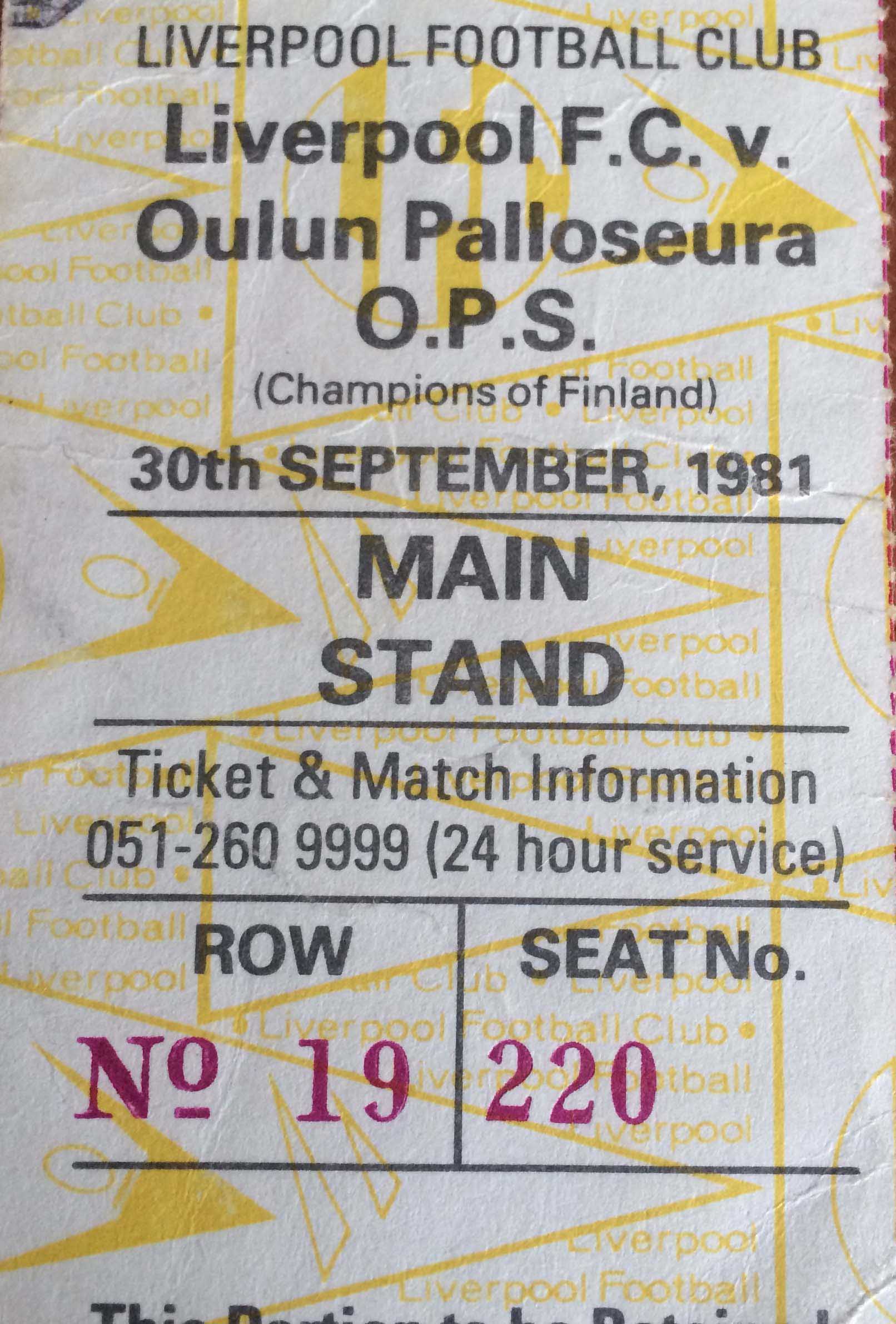 Growing up as a Red in the 1970s, you were just aware of Shankly. Like you were aware of Lennon and the Beatles. I remember the shock on my dad's face, and him calling his mate to tell him Lennon had been shot dead in New York. That was in 1980. One of Liverpool's icons wiped out in the blink of an eye.
One year on, and it happens again. This time it's Shankly, taken suddenly, albeit at a more advanced age and in less tragic circumstances. But he's immortal. This can't be happening. Shankly dead? No f***ing way, I'm not having it.
The next night at Anfield when Oulun Palloseura of Finland are the visitors, the hush confirms it in your mind. Forget your stage-managed minute silences that are 10-a-penny these days (Hillsborough apart) with the faux grief of players linking arms and bell-end customers holding up camera phones. This was real grief from fans who idolised this man, and players who knew and loved him. He was gone.
The Kop sang an incredible lament. Shank-ly, Shank-ly to Amazing Grace – one of his favourite songs. It breaks your heart.
I started out as a match-goer in his last competitive game. Now, I'm 13 and watching this tribute from the Main Stand from the eeriest Anfield I can remember pre-1989. Liverpool won 7-0 and it barely raised a cheer.
DIVISION ONE 1983: STOKE CITY v LIVERPOOL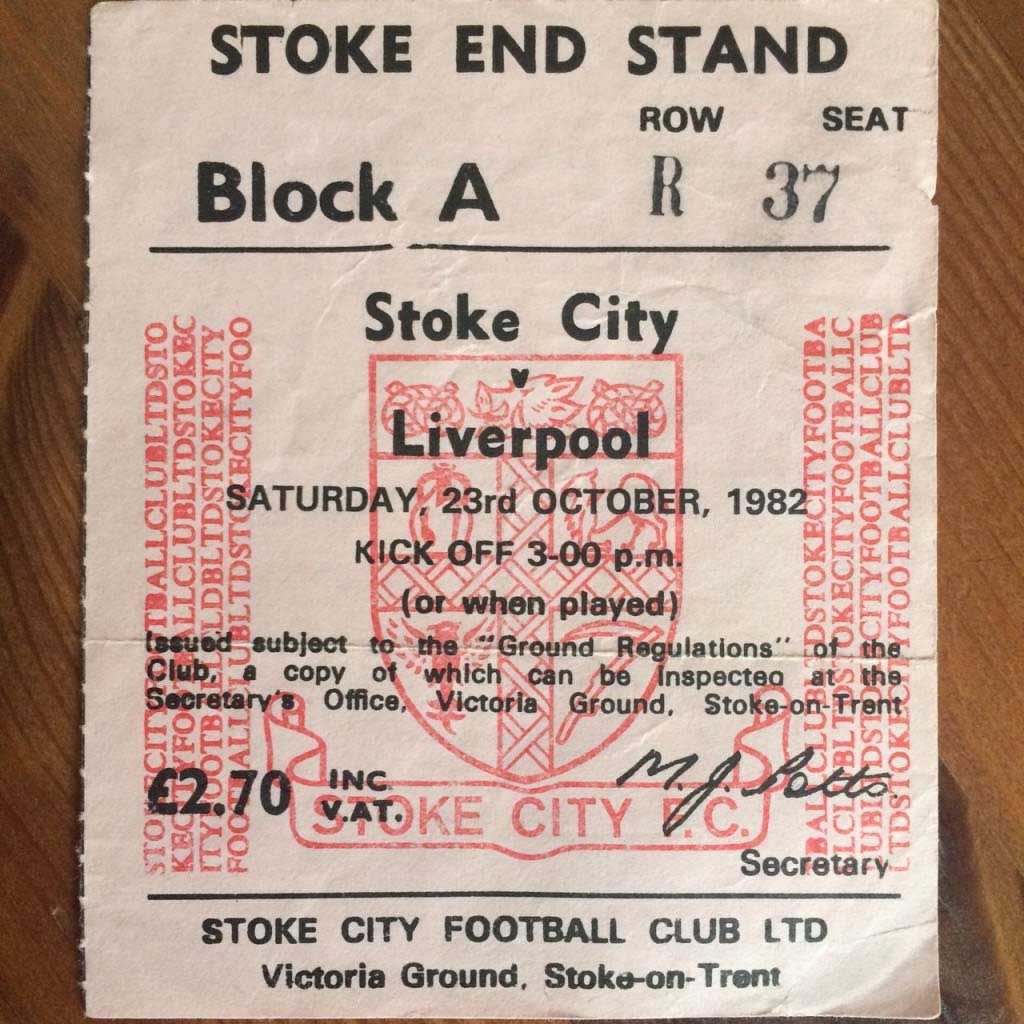 My first league away game, aged 15. I don't remember loads about it except being behind the goal in the stand above the terracing. I wanted to be down there but it's a great view from the higher vantage point of the "Stoke End Stand" (which bizarrely is at the Liverpool end).
Liverpool are in the yellow that we're wearing this season, which is still a novelty in the early 80s when our traditional away colours are white-black-white. I'm campaigning for the permanent return of traditional away colours for all clubs; Newcastle in yellow-green stripes, The Ev in blue and yellow, City in black & red stripes. I'm coming at you aggressively on this in the none too distant….. Watch out if you're wearing shite away kits.
Pre-pyjamas, and bad-pun Lawro puts Liverpool one-up. Stoke equalise through Mickey Thomas, a dodgy ex-Man U Welshman, who ends up in clink for forging banknotes, but not before a rasping goal down our end to ruin my big day.
We still win the League though; we always do.
FA CUP 5TH ROUND 1988: EVERTON v LIVERPOOL
John Barnes did the City of Liverpool and Liverpool supporters proud. It's fair to say that Britain in the 1970s and 1980s was, at times, a terribly racist place. Black footballers were subject to the most abhorrent abuse, and Anfield was no exception. We joined in. Like thick f***ing sheep, we joined in.
John Barnes educated us. He used his supreme natural gifts; his football — the one thing that unites — and his eloquence off the pitch to change attitudes once and for all. I've never heard a racist chant at Anfield since Barnesy arrived, but I'd heard plenty before.
This was the game of the iconic image of Barnes back-heeling a banana into touch. He's almost literally flicking racism into the bin.
Later, his artistry creates a goal for Ray Houghton; an arcing cross delivered perfectly onto the bonce of the in-rushing diminutive little Celt. The old wooden Park End Stand behind the goal — and half of the rest of Goodison — was in raptures. 20,000 Reds going ape shit in a crowd of 50,000. Liverpool win 1-0.
It was a beautiful team that class of 1987/88 and it featured the greatest player I ever saw: John Barnes.
FA CUP 4TH ROUND 1989: MILLWALL v LIVERPOOL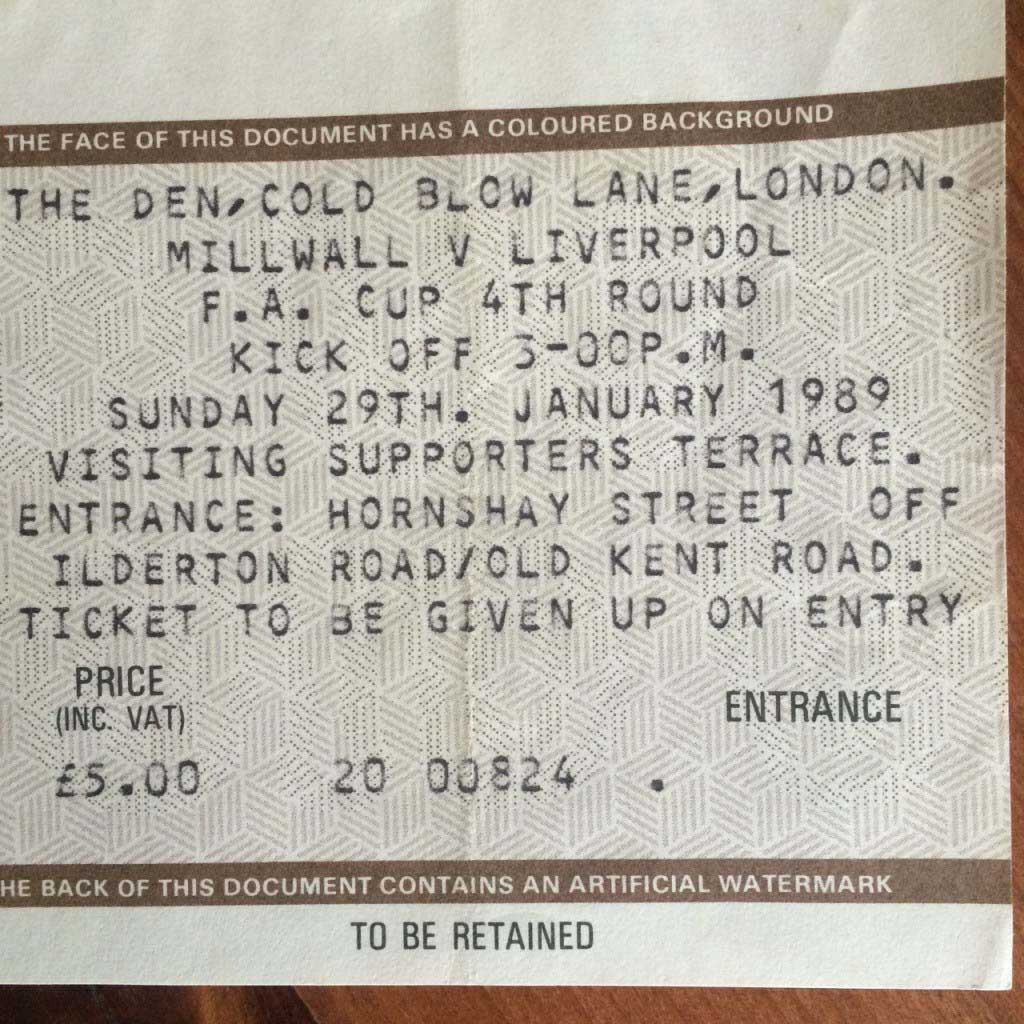 At the age of 21, we all like to think we're a bit of a lad, don't we? I'd braved the terrors of the early Stamford Bridge in 86 (I'm talking the cup game not the league here) but I don't mind admitting I was shitting bricks at the prospect of Millwall away.
Their reputation went before them. "No one likes us, We don't care" was their signature tune. The Old Den was an ugly football "stadium" — all twisted concrete and steel with enough alleyways in the surrounds to accommodate a thousand murders. A terrifying place inhabited by the looniest fans in the country back in 1989.
We had about 4,000 tickets — terracing to one side and a bit of the stand to the other. I'm in the stand. The atmosphere is poisonous outside but we manage to get in unscathed. In the seats we're just across the divide from Millwall nutters. What I hadn't reckoned on was that Liverpool's top boys are all out for this one. They're all around me. The faces.
Liverpool score through Rush and it goes off. Punches traded, good looks being put on the line as Millwall come over the divide. Adrenaline. Liverpool stand and Millwall back off. I might have thrown a punch or two, or I might not. It doesn't last long but it is sheer adrenaline and all part of growing up. Liverpool score again through Aldridge and that's more or less it. A facile 2-0 win, on and off the pitch.
I'm 47 now and the notion of fighting is ridiculous. Most of the crowd are the same age as me. I'm not condoning crowd violence but the modern crowd demographic is one of the reasons footy has gone a bit shit.
[rpfc_recent_posts_from_category meta="true"]
Ticket office pic: David Rawcliffe-Propaganda
Like The Anfield Wrap on Facebook