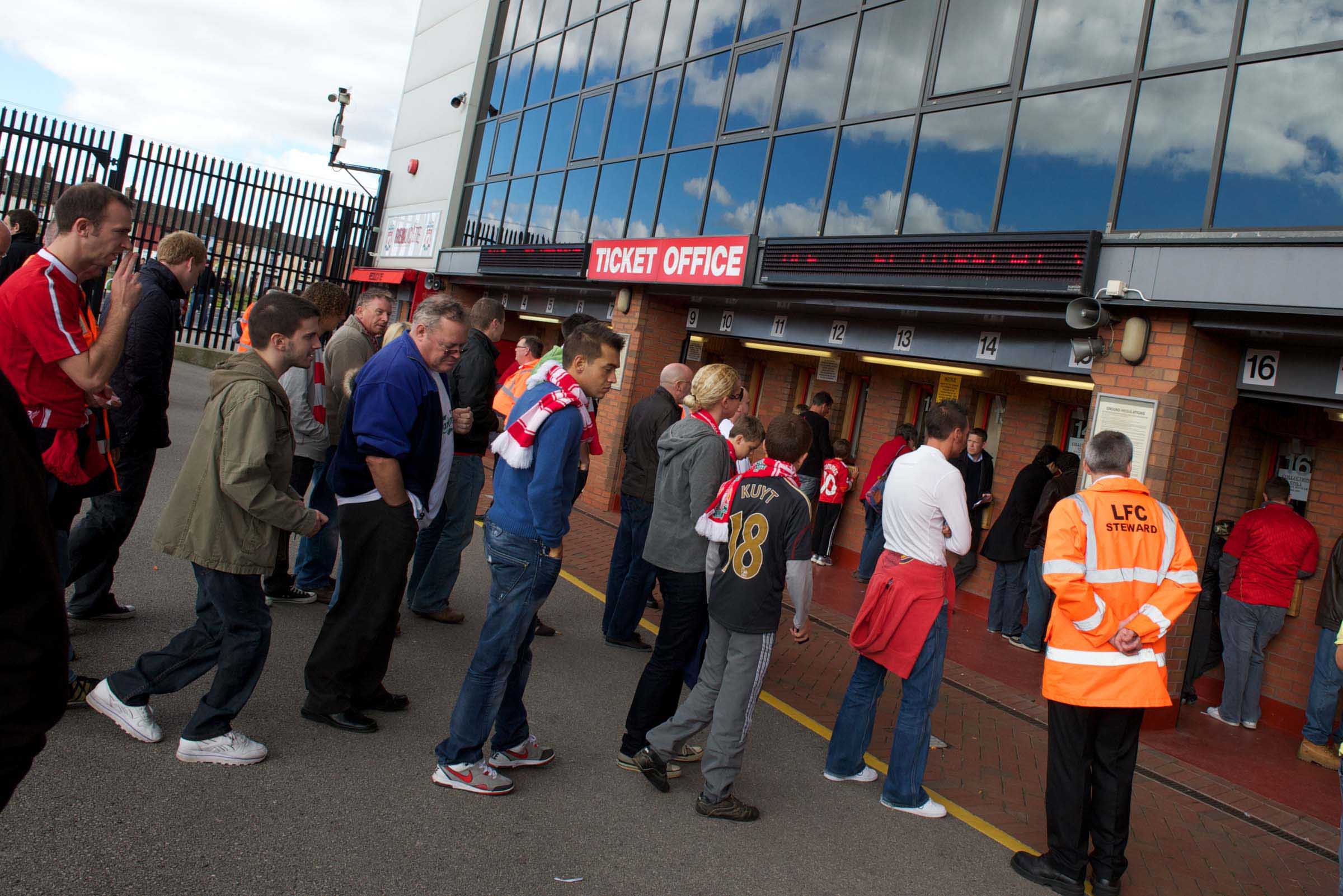 WE'VE asked some of The Anfield Wrap's regular contributors to crawl around the loft and look under the bed to dig out some of their most treasured ticket stubs and tell us the tales behind them. Third with his favourite five is STEVEN SCRAGG.
My Liverpool-watching history more or less falls into two distinct categories: the pay on the gate era and the season ticket era. It's sadly left me with a distinct lack of iconic title-winning ticket stubs, much to my annoyance. So here are some of the most memorable games I've tipped up at while armed with a paper ticket and then had the presence of mind to keep hold of them.

PREMIERSHIP 1998: LIVERPOOL v BLACKBURN ROVERS.
It was pretty grim at Anfield for much of 1998-99. Roy Evans marriage of convenience with Gerard Houllier fell by the wayside after just 12 league games, the final straw coming with a defeat at home to Tottenham Hotspur in the League Cup — a loss that came just days after losing in the league at Anfield to Derby County, inclusive of one goal gifted via a free header, six yards from goal to the 3ft 7" Kevin Harper.
The following weekend Houllier's first game in sole-control of the club ended in another home defeat, this time to David O'Leary's bright young Leeds United. That made it an unprecedented three home defeats in just eight days. It had taken me 14 years of trips to Anfield before I saw us lose for the first time (Wimbledon sometime in the early 1990s). I went on a reasonably regular basis, but had a knack of not being present on the rare occasions we lost at home. I thought I'd never see us lose at Anfield, but we really did deteriorate as a force very quickly.
The next time we played at Anfield, Blackburn came to town. This scrawny and borderline light-weight little kid was given a run out for two or three minutes at the end of a no longer routine 2-0 win. Steven Gerrard was his name, and I can remember thinking he wasn't going to be as good as David Thompson. I was at White Hart Lane a week later to see his first start, having ambitiously crowbarred a heavily pregnant friend through the turnstiles. We lost 1-2 and Gerrard was replaced by Thompson 10 minutes into the second half much to my relief. I've always had an eye for talent.

UEFA CUP 2001: LIVERPOOL v BARCELONA.
In the blizzard of 2005, with Istanbul, AC Milan, those nights against Chelsea, Juventus and Olympiakos, along with each and every memory the run to European Cup number five summons up, our 2001 UEFA Cup success has been widely neglected over the last decade or so.
The semi-final 2nd leg at Anfield against Barcelona for me is way up there on my list of favourite European nights. It doesn't get the credit it deserves.
I was on the Kop that night, pretty much in the middle, and two thirds of the way back. The ground literally shook for much of it. You could feel the bounce in the concrete as the celebrations went wild. This was the night that Liverpool felt like Liverpool again, that we really could climb from the canvas and conquer the bloody world once more.
It was Gary McAllister time, and a Pepe Reina with hair was in goal for a Barcelona we'd bored senseless during the first leg. We'd taken a slagging off for the way we played at the Camp Nou, a performance that in hindsight hinted at Houllier's eventual limitations. At that time though there were twirling scarves as far as the eye could see. Houllier woke this football club up with nights like these. Anfield was electric.

LEAGUE CUP 2004: TOTTENHAM HOTSPUR v LIVERPOOL.
There's something life affirming about doing a long distance midweek away, climbing into bed around 3am and rolling back out again three hours later to drag yourself into work.
Spurs away in December 2004 was the very best night like that. Tipping up in North London to find the home side had a full strength team out, against the expected collection of kids and misfits that Rafa Benitez had suggested he was going to field: David Raven, Zak Whitbread, Stephen Warnock, Darren Potter, Neil Mellor, Jon Welsh, Richie Partridge and Mark Smyth all took part. The discarded Jerzy Dudek, Stephane Henchoz, Salif Diao and Florent Sinama Pongolle were asked to be the experienced heads.
Spurs had Robinson, Pamarot, Gardner, King, Atouba, Ricketts, Brown, Carrick, Ziegler, Kanoute and Keane. It really should have been men against boys and rejects. What followed was 120 minutes of monumental effort from those in red both on the pitch and in the South Stand at White Hart Lane.
The travelling reds went nuts that night. It was the night the Rafa 'La Bamba' song really took off. It was like a local Spanish fiesta had been transported to North London for the night. Spurs fans after the game commented on how they'd never seen anything like it before from a set of away fans. It went to penalties and of course we won. When I rolled out of bed at 6am to go to work my ears were still ringing. This was quite probably my favourite away ever.

CHAMPIONS LEAGUE 2005: CHELSEA v LIVERPOOL.
I could easily have gone for the second leg with this one, but the first leg at Stamford Bridge remains an understated night. It was the night that we really got into Jose Mourinho's head — the night when we started to give him some nightmares.
Everything went right. A West London taxi driver wished us all the best. We got a brilliant parking spec. Former Everton striker Tomasz Radzinski was in the away section supporting us. Igor Biscan put in 86 majestic minutes of football. We lulled them into a sense of uncertain security by not scoring an away goal. I won a cuddly toy from the claw machine at Watford Gap services on the way home, and startled a bemused Philippe Senderos by doing the celebratory lap of the surrounding area, as he just happened to amble past us.
We just knew it was destiny by now.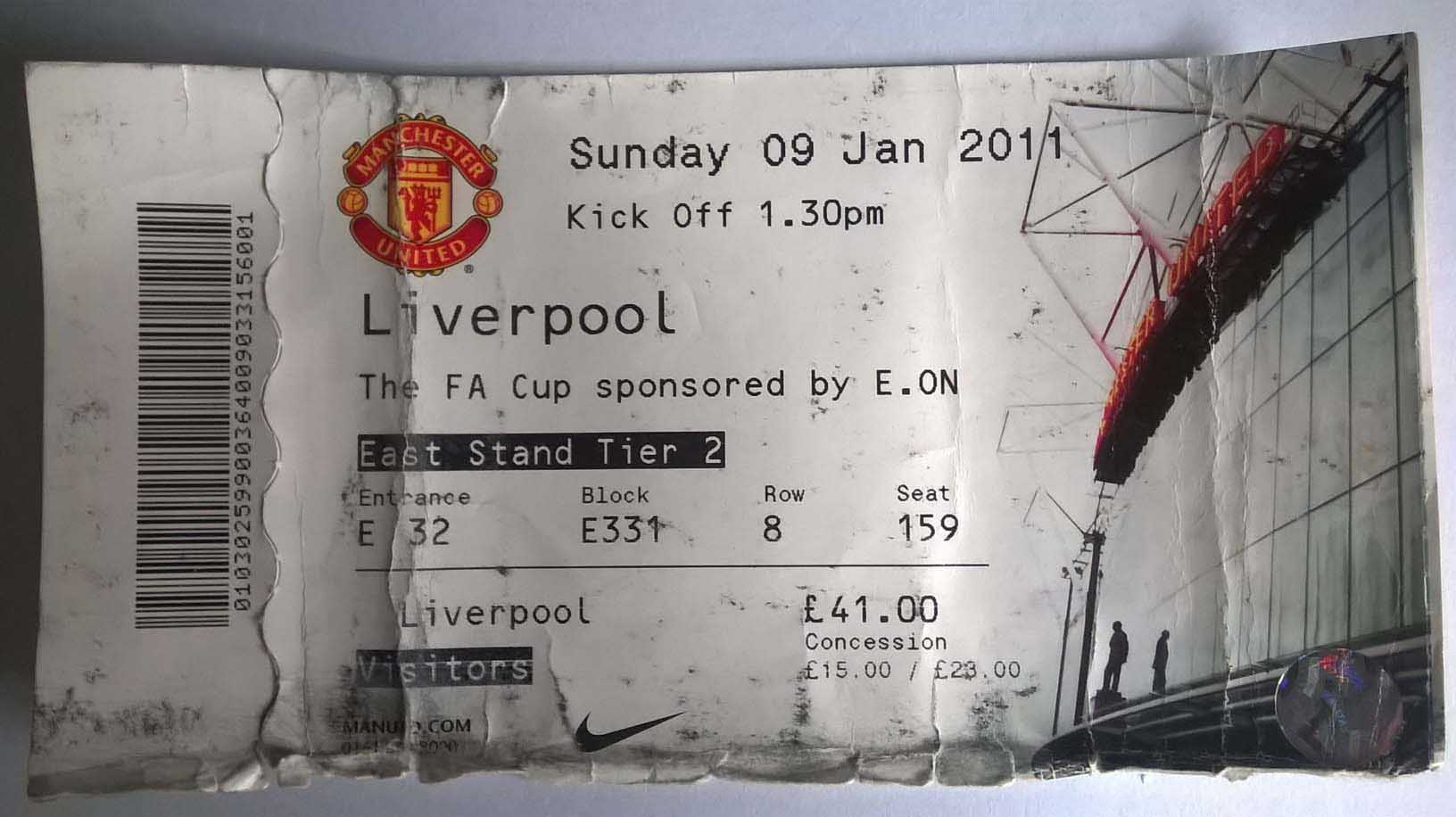 FA CUP 2011: MANCHESTER UNITED v LIVERPOOL.
Hicks and Gillett had gone. Outside the High Court in London, Martin Broughton and Christian Purslow had — for a split second — stopped looking like twats. FSG had assumed control of the club and then, well then Roy Hodgson was gone too. Everything had changed.
Kenny was back. Kenny was back to lead Liverpool into FA Cup combat with Manchester United at Old Trafford. Kenny was back and he was wearing a big LFC promo coat. All was well with the world. It was like we'd just hit 88mph in Doc Brown's DeLorean and we were mowing down old man Peabody's scarecrow, before coming to a rest in his now totalled barn. This was time travel and I felt like I was 17 again. There was a general feeling of "it's ok, Kenny is here to fix everything".
The game was settled by a dodgy penalty for Manchester United and a red card for Steven Gerrard, (like most encounters with Manchester United seem to pan out) but there was an aura of unity in the air among the fans that day that had been missing for some time.
Kenny brought back the love. At least for a short while.
Read: Mike Nevin's Just The Ticket
Read: Sachin Nakrani's Just The Ticket
[rpfc_recent_posts_from_category meta="true"]
Pic: Propaganda-Photo.
Like The Anfield Wrap on Facebook