WE'VE asked some of The Anfield Wrap's regular contributors to crawl around the loft and look under the bed to dig out some of their most treasured ticket stubs and tell us the tales behind them. Second up with his favourite five is SACHIN NAKRANI.

PREMIER LEAGUE 1992: LIVERPOOL v BLACKBURN
MY first Liverpool match and so, not surprisingly, this stub is one of my most cherished possessions, even if it is essentially a flimsy bit of paper with 'OBSCURED VIEW' plastered across one side in ugly dark letters. As it turned out, my view that day wasn't obscured; we were in the Annie Road End and could see everything perfectly, including the old standing Kop, which was a magnificent sight.
My late uncle took me and his son to this game and it remains a surprise to this day that he was able to get three tickets together, firstly because none of us were Anfield regulars and secondly because it was such a big deal – Kenny's first return to Anfield since he had resigned as Liverpool manager the previous year. To be honest, I was more bothered about simply being at the ground. Aged 11, I'd fallen in love.
The match itself was pretty memorable, too. After a so-so first half, Mark Walters gave us the lead at the Kop end on 77 minutes. Alan Shearer equalised with an excellent volley soon after before Walters scored the winner five minutes from time. A perfect start to my match-going life, then, made all the better by the fact Mike Hooper was on the front of the programme. For younger readers, he was like Brad Jones, but a bit less shit.
https://www.youtube.com/watch?v=pfzWLwFo_U8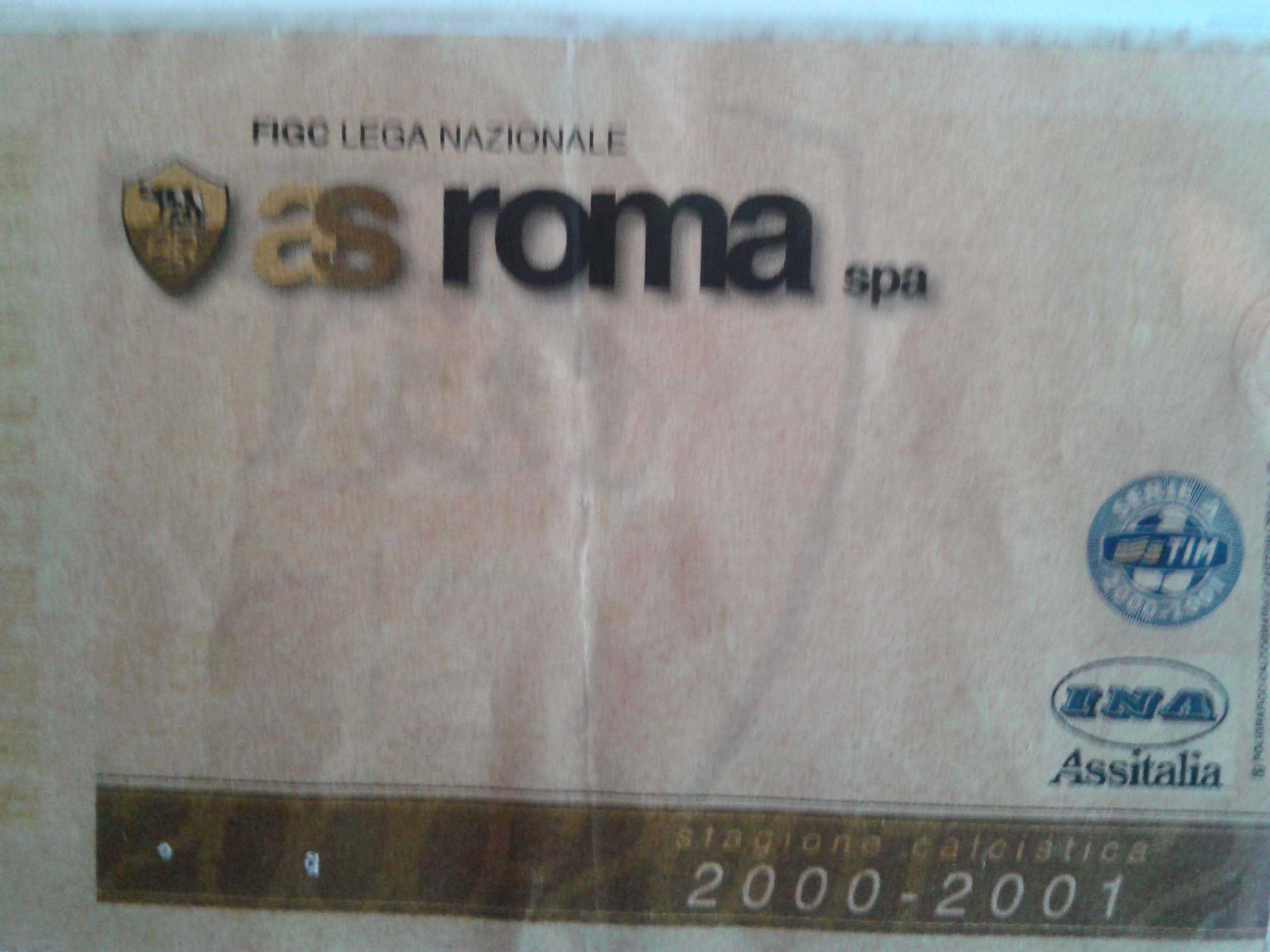 UEFA CUP 2001: ROMA V LIVERPOOL
The stub may have faded but the memories of my first European away trip live strong. This was a wild and wonderful night. At the scene of two of Liverpool's European Cup triumphs, bottles flying in from the angry-as-fuck home supporters and our lot singing their hearts out. Oh, and Liverpool won thanks to two second-half goals from Michael Owen. I quite liked him back then.
Getting the ticket proved far easier than expected. My mate Seth and I sent out a postal application soon after the draw was made the previous December with neither expecting to be successful given we had no European credits and this was the last-16 of the UEFA Cup and a match against a team flying in Serie A. We're talking Montella, Tomassi, Samuel and Batistuta here. Cue much surprise, then, when we found out our application had been successful. Flights and hotels were quickly booked and we were all set — only for Seth to realise his passport was out of date and, being an inherently lazy so-and-so, he failed to sort a new one before the trip.
So I went out on my own and met another mate, Tariq, at the airport in Rome. My flight was delayed so we got to the Stadio Olimpico around 10 minutes before kick-off. It was all a bit panicked but that was forgotten the moment I entered the ground. It was magnificent — a smokey, noisy, intense behemoth, with that running track only adding to the sense of occasion. What a shame the Roma fans decided to act like a bunch of dickheads.
Anyway, we won, and deservedly so. And to cap it off, they showed our 1-0 win at Old Trafford from four months earlier on the big screen while we were kept in after the final whistle. Christ we were good in that gold and blue kit.

CHAMPIONS LEAGUE 2005: LIVERPOOL V JUVENTUS
When Gareth sent out the email asking people to get involved in this series he politely asked that we didn't all chuck in our Istanbul stub. Quite right, too, but ultimately I felt I had to make some reference to that mad and magical night and so decided to select one of the games that featured in run-in. In the end I plumped for the home quarter-final tie with Juventus.
Firstly, the ticket — a white and blue number that instantly smacked of 'Champions League'. Then there was my seat — Block 104, Row 32. I was basically smack bang in the middle of the Kop, with the noise that became the soundtrack of that season swarming around me from inside the greatest stand on earth. And then there was the game itself — Sami's opener, Luis Garcia's volley, the win, the sense that something very special was happening here.
There is another standout memory from that match. Having got back to London in the early hours of Wednesday morning, Mehb — a member of the supporters' club I travel to the match with — asked if I wanted a lift to my house. He knew that I normally caught a bus from our drop-off point but was going past where I lived so was more than happy to drive me back. I didn't know him that well but hugely appreciated the gesture so said yes. I saw him again for the Chelsea semi-final and for some of the remaining league matches that season, but not in Istanbul. No matter, I thought, we'll catch up again at the start of next season and share stories about the greatest night of our lives.
I never got the chance, though, as Mehb died in a car crash that summer. He is gone but never forgotten.

liverpool v juve 2005 by dahom303

FA CUP 2007: LIVERPOOL V ARSENAL
We lost this game and, for the only time so far in my match-going life, I really wasn't that bothered. If you were at Anfield then you possibly weren't either. This, after all, was the night that the ground reverberated to the sound of 'Justice for the 96' for six minutes straight after kick-off, creating one of the strangest and most powerful sporting atmospheres I have ever experienced.
I was lucky enough to be in the Kop, where a mosaic spelling out 'The Truth' was also visible, with the entire protest a reaction to yet more muck-racking from that filthiest of liars, Kelvin Mackenzie. It was an almighty fightback and one the whole world absorbed given the match was shown live on BBC One.
I genuinely can't remember much about the game such were the emotions I felt that evening. I'm not from the city, I didn't lose anyone at Hillsborough, but I genuinely felt connected to the cause. A sense of belonging born out of loss and injustice that, I'm sure, will never leave me.
For the record, Tomas Rosicky got Arsenal's opening two goals before Dirk Kuyt pulled one back for us. Hope of a comeback for the FA Cup holders was snuffed out, however, by Thierry Henry's late strike. But as said, I really wasn't bothered.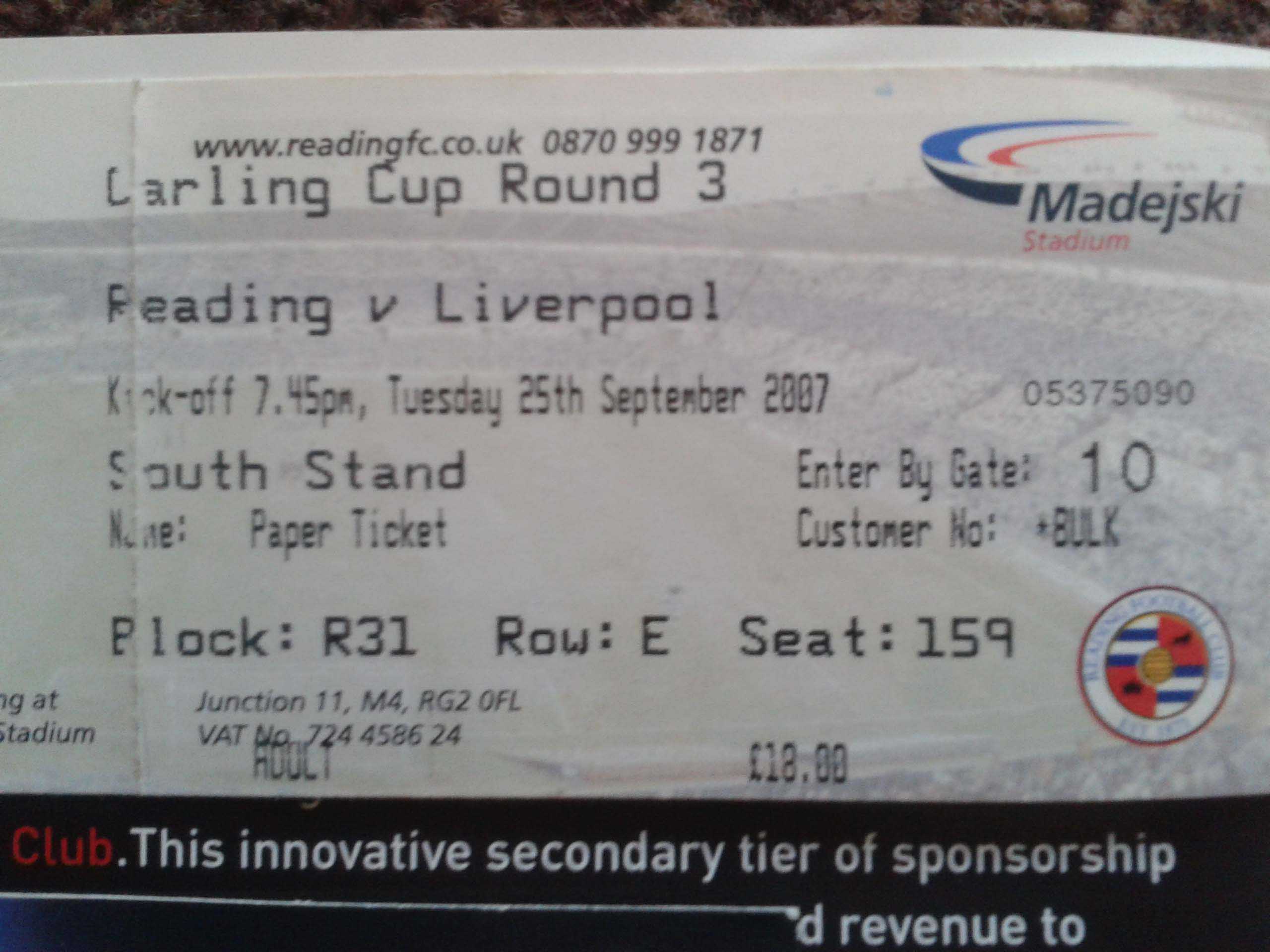 CARLING CUP 2007: READING V LIVERPOOL
It was a warm autumn evening and as I left work and headed to the Madjeski Stadium, my expectations were pretty low. A league cup tie against a mediocre side, with Rafa having made clear prior to kick-off that he was going to make changes to the team. Lo and behold, Charles Itandje and Sebastian Leto were playing. The pulse was far from racing.
By full-time, however, I and most of the away support were buzzing. The Reds had won an exciting game 4-2 and, most memorably, we'd see total confirmation that there was a bona fide star in our midst. His name was Fernando Torres and he was Liverpool's No.9.
Having arrived from Atletico Madrid in the summer, Torres announced himself with that goal against Chelsea in mid-August before scoring twice in a 6-0 victory over Derby a couple of weeks later. Even so, there remained the possibility that he would prove a flash-in-the-pan; El Hadji Diouf without the phlegm.
But that perception died a death after this match. Torres was superb, scoring a devastating hat-tick and, just as importantly, standing up to some rather agricultural defending from Reading's back four, no one more so than Michael Duberry. He kicked Torres at every opportunity and every time the Spaniard picked himself up, dusted himself off and took the piss.
A match of relatively little significance had culminated with an explosion of great hope and expectation, which Torres lived up to for the remainder of that season and beyond. He may ultimately have broken our hearts but on that night in Berkshire he was a joy to behold, and this stub is a reminder that even the most mundane-looking of fixtures can be the start of something glorious.
Read: Mike Nevin's Just The Ticket
[rpfc_recent_posts_from_category meta="true"]
Athens ticket pic: Propaganda-Photo.
Like The Anfield Wrap on Facebook