AT least we had the sense to get out of it before Christmas, we could see what was coming — Madrid had already shown us. R.I.P English Football, we'll be back down to three qualification spots before you know it, writes BEN McCAUSLAND.
With the  hand-wringing, inquests and naval gazing that have taken place due to one club expectedly getting beat and two other clubs not-quite-as-expectedly getting beat, I thought I would take a look back at our inaugural Champions League campaign.
*Fade to flashback*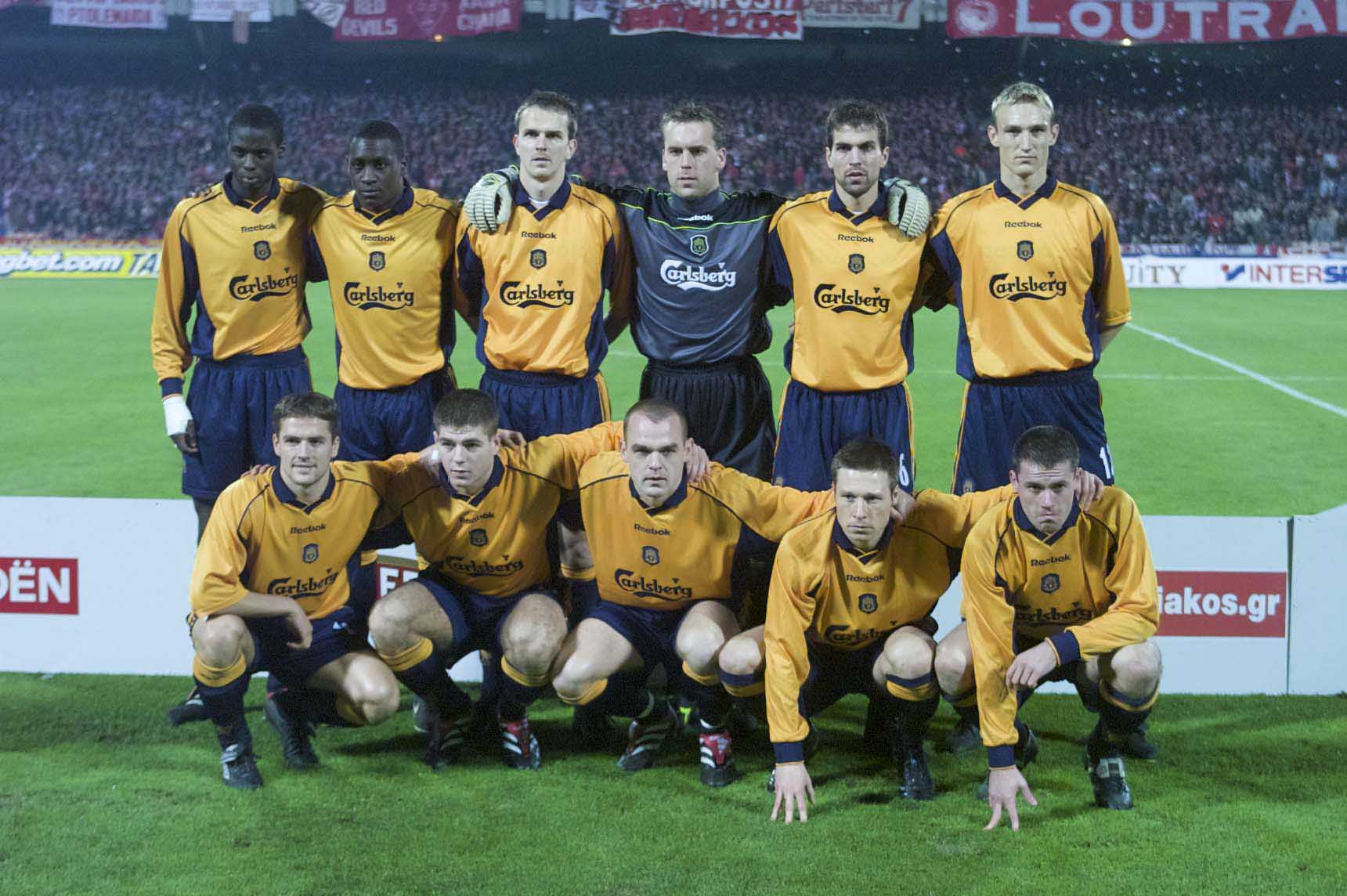 Ah, 2001, what a time to be alive. I had finished college (an A and 2 Bs, in case you wondered), I had passed my driving test AND had my own car and I was getting a good 8-10 hours of Championship Manager in every day.
The 2001-02 version of Champ Man is quite simply, without doubt, end of conversation, the most complete computer game that has ever been produced, and it is fair to say that I was (am?) addicted to it. But not for me was the admirable struggle of getting Rushden and Diamonds to the Premier League, and I wasn't interested in securing back-to-back European Cup titles for Grimsby with Tonton Moukoko Zola the heartbeat of my team. No, there was only one team for me and that was Gerard Houllier's side of 2001 — The Liverpool of Hyypia, Hamman, Owen and Partridge. (Seriously, give him a year in the reserves and then he'll be flying – save you millions that lad).
In Champ Man, with the right signings blended into my team and the occasional repair bill relating to my laptop being hurled against the wall, I could turn Liverpool into an all consuming trophy-guzzling winning machine.
In real life, Gerard Houllier had turned us into a solid, workmanlike treble winning team, and to cap one of the greatest seasons in our club's history Robbie Fowler scored one of the most Robbie Fowler goals ever as we put Charlton to the sword at The Valley.
And we were back.
Back in the Big Time, sitting at the Big Table, looking towards Old Big Ears.
It was going to be big.
Finishing third in 2001 meant a qualifying round, but drawing Finnish champions FC Haka essentially meant that our pre-season friendlies had been extended by a couple of games as we sailed through 9-1 on aggregate. A Finnish team is hardly going to knock out a team containing Sami Hyypia and Jari Litmanen now are they? Hell, they even let Sami score.
Our draw for the first Champions League group stage could be filed under "Tricky but do-able" — reigning Portuguese and Ukrainian champions Boavista and Dynamo Kiev respectively, alongside Borussia Dortmund, who had just finished third in the Bundesliga but were recent winners of the Champions League themselves. Go 'ed, Karl-Heinz.
Our first game in the group stages, at home to Boavista, was played on September 11, 2001. I can vividly remember walking into The Sandon and it was as busy as ever, but you could hear a pin drop. Every television in there had the news on, and we all stood open-mouthed, silently watching the terrible images being played over and over again.
After that, nobody was much in the mood for creating an atmosphere and quite fittingly the teams played out a drab 1-1 draw.
In 2001 I had made the misguided decision to go to Leeds for University. I thought it would be all glamorous nights out with Lee Bowyer and Jonathan Woodgate in Majestyk, but it wasn't, it was much worse than that. I should have ripped up my application form the day Mark Fucking Viduka scored four past us, but I didn't. I went, and it was crap.
However, there was one upside of going to Leeds and that was the free money that the nice people at the Student Loans company gave me. So it was with a grand burning a hole in my brand new Lacoste trackie pockets that we booked our flights to Dortmund.
Now, forgive me if I am misremembering here, but as I recall Dortmund weren't a "thing" in 2001. Quite when they did become the Hipsters' Choice, I don't know (it must be Klopp induced, surely?), but I know that if we drew them now we would take 10,000 there. I don't think we had 900 there in 2001.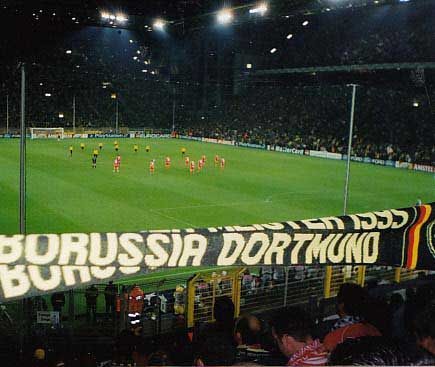 And this "Yellow Wall", when did this start? There was certainly no evidence of it on this night, and the atmosphere was not one that stuck in the mind. In fairness though, it was an absolute dog of a game played out under even worse weather conditions. We had been in this stadium just four months earlier and we must have used up our quota of goals and excitement that night as we absorbed any Dortmund pressure and came away with a solid point. The older, more cynical, thirstier me would have probably got off at half-time and headed back to the Irish bar, but the young, idealistic me stayed the entire game and got piss-wet through instead.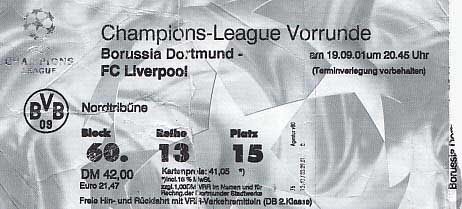 Up next was a double header against Dynamo Kiev. Six points in the bag, because let's face it only a really, really bad team, a team facing almost certain relegation, a team so inept and lacking in leadership and direction both on and off the pitch that they could only muster eight league wins all season, would get beat by Dynamo Kiev.
And so it was. A routine 1-0 home win was followed up by a very impressive Phil Thompson-led away victory, with Houllier having been taken ill just a few days earlier. Unbeaten in four games, eight points in the bag, qualification was looking good.
I really wish I had gone on that Kiev trip – partly for the backs-to-wall, "Do it for Gerard" atmosphere that surrounded it, but also because everyone I know that went on it said it was fucking wild.
Another solid enough away performance saw us take a point at Boavista and left the group finely poised going into the last game — sorry, Matchday 6.
Another draw would have done us, but as it was we breezed past Dortmund 2-0 (Stephen Wright scored!) to top the group with a pretty impressive 12 points and zero defeats and head into the now defunct second Group Stage.
Introduced a year earlier, the second group stage was a curious affair that guaranteed qualifying teams another six games, but meant that any team that had designs on winning the trophy had four extra games to contend with when compared with the previous format, or two extra games when compared to the current format.
Chairmen must have loved it.
I don't know who did the draw for the second Group Stage, but if I had to guess I would say Hodgson and Platini. Barcelona, Roma, Galatasaray and us made up a legitimate Group of Death.
Fuck off Hodgson.
Barcelona had just steamrollered through their group with five wins (losing only to some German minnows, Bayer Lever-something), Roma were the current Italian champions with a squad full of genuine world-class players and Galatasaray, well, no-one wants to play Galatasaray do they?
It didn't start well either. Barcelona — not a vintage Barcelona by any stretch, but Barcelona all the same — came and gave us a footballing lesson in the opening game, the third goal an absolute masterpiece of possession football finished off by Marc Overmars at the Kop end.
A credible away goalless draw at Roma in the second game was followed by a frustrating goalless home draw against Galatasaray, with their keeper Mondragon in fine form, and after three games we stood on two points with trips to the Ali Sami Yen and Nou Camp to come.
Big Emile rescued a late draw for us in Istanbul — a game which is remembered more now for the legendary "Welcome to Hell My Arse" banner — and although we were propping up the group with three points from four games we were still in with a shout as Roma, the group leaders, were only on six.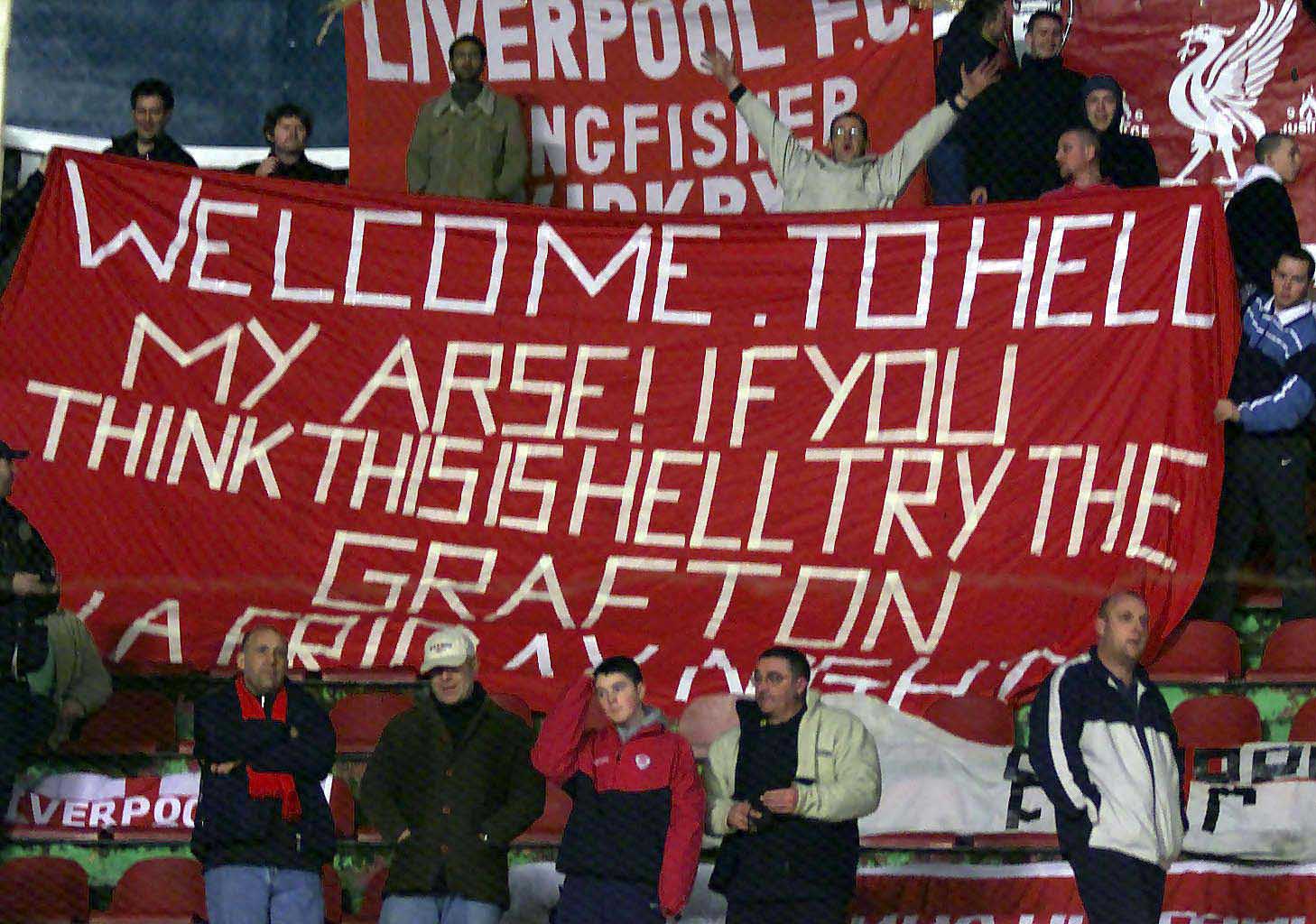 Next up was Barca. They, like us, had failed to win any of their group games since we last met and in La Liga they were in the shadow of the Galacticos of Madrid and even some fat Spanish waiter's lot down at Valencia. However, as they showed at Anfield, they could still be a formidable force with Rivaldo, Kluivert and Saviola running riot ahead of Overmars and Luis Enrique. Hell, Barca even had a defence back then with Cocu and De Boer doing what Pique and Mascherano don't have to bother to do now.
As with a lot of our big results from this period the game itself was absolute dirge. We frustrated Barcelona to the extent that by full-time Los Cules had their white hankies out, whistling their displeasure. The manner of our draw even drove mild mannered, man of few opinions, Johan Cruyff to pipe up and describe our style of play as "horrible". We must have been bad to watch, because everyone knows it is quite something when a Dutchman feels the need to let people know what they think.
As the final whistle blew confusion reigned in our end as we awaited confirmation of the result from the other game. Finally we found someone with a mobile and they got a call from home to let them and the rest of us know that Roma had been held at home to Galatasaray — we were still in with a shout! For the first time in the night our end had something to celebrate.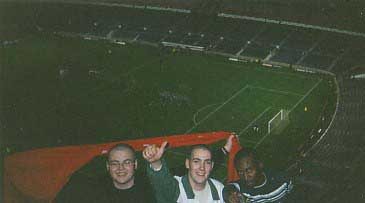 All we had to do was beat Roma by two goals in the final game.
Roma, the Italian champions.
Roma, with a pre-Englanded Fabio Capello
Roma, with a front four of Batistuta, Totti, Montella and Delvecchio.
Nothing to it then, come on, Reds — these are shite.
The rumour had already gone round town in the day that Houllier would be making his return to the dugout for the Roma game, and with stage-managed timing just as a ferocious YNWA finished, our visibly frailer manager emerged from the tunnel straight into a Fabio Capello bear-hug and the fucking roof almost came off Anfield.
Swept on by this partisan atmosphere the Reds were ahead after six minutes, Jari (Oh Jari, Jari) cooly slotting a pen away after Murphy was fouled. The only other memories I have from this game are Heskey heading a ball harder than I could kick it to make it 2-0 and Kevin making me wait until the 90th minute before he would let me unfurl my CIAO ROMA banner.
More recent Champions League nights against Chelsea, Arsenal and Olympiakos seem to get more attention than this night but make no bones about it; this was an all-time Anfield classic. I don't understand how we qualified that night, and I don't mean in the sense of "Wow, we were such underdogs against a team as good as Roma", I mean I am looking at the final standings for Group B right now and I still don't get why we went through ahead of them. Same points, same amount of wins, Roma scored more and thus had a better goal difference. Maybe it was a clerical error that sent us through?
Anyway for whatever reason we were through and other than maybe Panathinaikos I would have guessed most Liverpool fans would have chosen Bayer Leverkusen as our opponents in the quarter finals. The Germans, although possessing a squad packed with talent, were somewhat of an unknown quantity to most.
I'm not sure if it was the game or whether I just got to The Globe super-early that day, but I can remember NOTHING of the first leg at Anfield. According to the archived match report: "Central defender Sami Hyypia scored the only goal of a tense, tight quarter-final first leg following excellent work by Michael Owen."
So there you go.
I can remember that for the second leg we were doing it on the cheap — flying Jarg Airways from Stansted to Brussels for about 49p, then jumping on a coach someone had organised and straight after the match we were going to somehow blag a lift to Dusseldorf airport for an early flight back to Stansted.
Unbeaten away from home in this European campaign, we must have been confident going into this game. Granted, we weren't winning many (one) but we weren't losing them either. As far as the game went… bloody hell. We were through, we were out, we were through, we were out. In, out, in, out, the tie was in some doubt. The closest recent comparison I could give would be the Chelsea 4-4 at Stamford Bridge a few years ago, as the tie swung back and forth and ultimately out of our hands.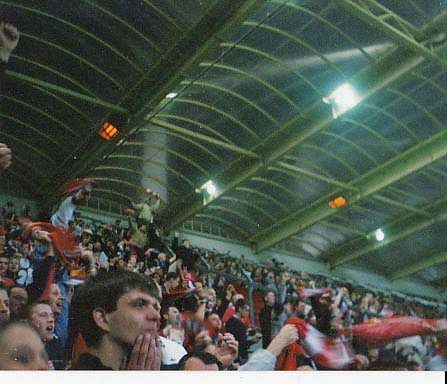 This picture sums up that night quite well I think – some people are climbing the fences, swinging their scarves around their heads celebrating, at the same time someone else has got their head in their hands wondering what on earth is going on.
It was all going so well for an hour too…
God only knows what was going through Houllier's head on the hour mark when he told Vlad to get stripped, and I doubt God even knows what he was thinking when he told the UEFA fella to put number 15 up on the board. But, he did it, and it happened. Our boss, usually so pragmatic and sensible, had just replaced our one true defensive midfielder with a player that could, at roll-your-sleeves-up-and-dig-right-in times like this, be described as "a luxury". And five minutes later Leverkusen had scored two more.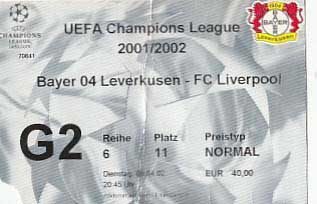 As the clock ticked to 80 mins we were back in it, Litmanen with a typically lovely Litmanen goal put us back ahead on away goals and our tiny little away end went suitably bananas. The draw for the semis had already been made, and with Manchester United having beaten Deportivo La Coruna 2-0 away we could start dreaming of a semi final showdown against that shower.
Well, for five minutes we could. Leverkusen cut a swathe through our non-existent midfield and Lucio smashed home at Dudek's near post. And with that our great adventure in the Champions League was over.

2002 (April 9) Bayer Leverkusen (Germany) 4… by sp1873
Houllier never really recovered from that night. Diouf and Cheyrou arriving as Anelka left along with Houllier's clarity of thought and decision making, and although we picked up some silverware the following season it couldn't really mask a hugely disappointing season both domestically and in Europe (John Hartson!).
And as for What If? What if Lucio has sliced his shot at the end and we had got through on away goals? Well, we had beaten United in our last five games straight, and we would have made it seven in a row, no problem. We well and truly had their number at that point, and we would have breezed to the final.
Then we would have decamped to Glasgow for a couple of days, 100,000 reds would have travelled and together we would have summoned the spirit of '81 and Paisley. With Dalglish watching from the stands in his home-town, YNWA would ring around Hampden Park, a sea of red scarves held aloft as our heroes took to the pitch and Madrid would be shaking in their Galactico boots.
And Zidane still would have done this:
Listen: What We Call History: A comprehensive four-part review of 2000/01
[rpfc_recent_posts_from_category meta="true"]
Pics: David Rawcliffe/Propaganda, PA Images & Ben McCausland
Like The Anfield Wrap on Facebook