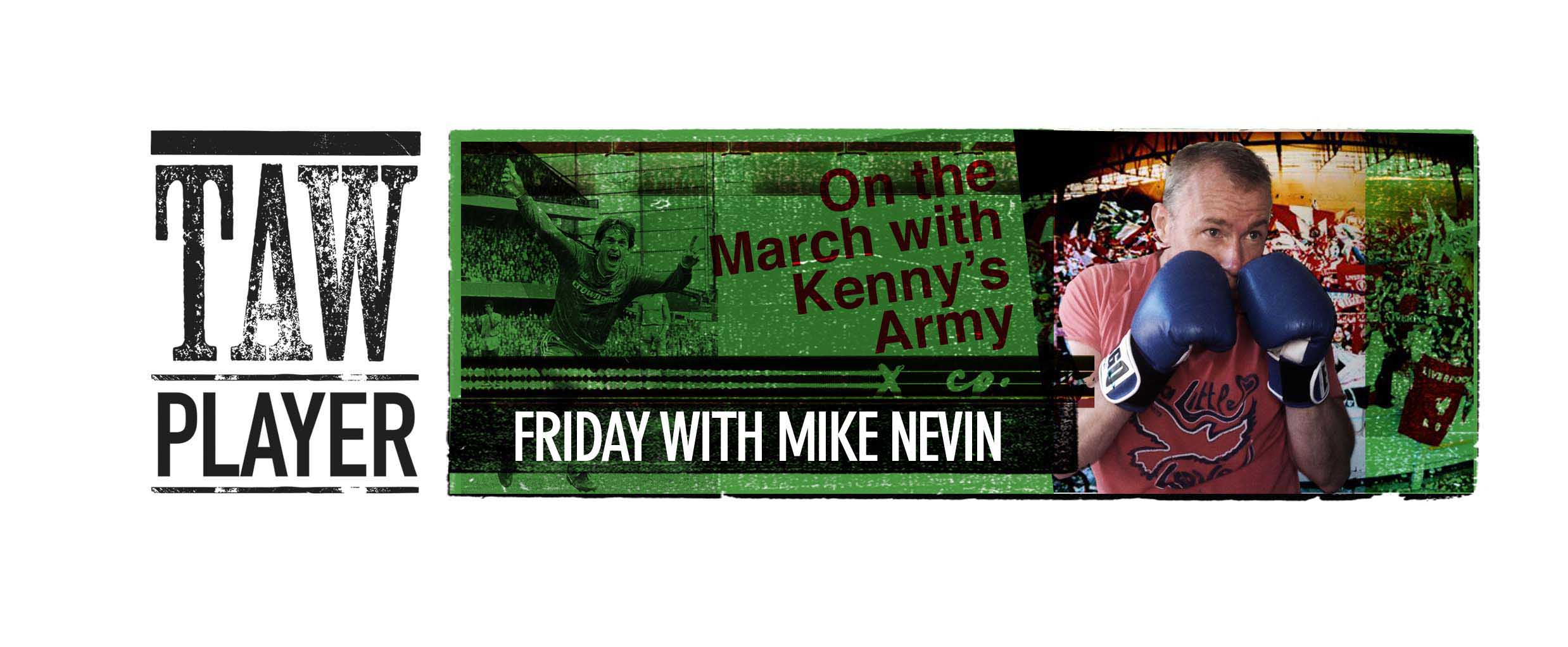 LAST week I wrote about the excitement and anticipation of an FA Cup semi-final. While there were traditional nerves, I don't think any of us envisaged such an insipid Liverpool performance; an absolute dog of show.
I've had a funny feeling for a while — based purely on the fact that I know and have been speaking to a few Villa fans including one guy who was as Wembley last Sunday and when they last won it in 1957 — that their name is on the cup. However, if they were going to pip us, I dreaded it would be by cruel virtue of the woodwork, a dubious referee's decision, or Villa's defence calling on the spirit of Rorke's drift to defend a spawny lead.
What I didn't expect was that they would outplay us; tactically and motivationally superior throughout with Brendan Rodgers looking pygmy-esque, a rabbit caught in Tim Sherwood's headlights; a small man at a loss in the face of a knobhead adversary with a penchant for donning a fucking gilet.
All week there has been predictable, yet understandable bloodletting. The written press and broadcast media are having a field day, and on the forums and social media the names Klopp, and to a lesser extent Benitez, have reared their ugly heads. Soz Jurgen, soz Rafa.
Liverpool were beyond shite last week, on the pitch, from the touchline and inside the dressing room. In the modern football era, press and public will jump all over a performance like that. Rightly so.
I'm not going to go into all the ins and outs of where we went wrong at Wembley — it's been debated long and hard elsewhere — but I'll give it a go. It's difficult to know where to start. For me, if there is a starting point it has to be with the manager and his decision to play an underprepared Steven Gerrard.
I thought it was obvious that Gerrard shouldn't play, if only because he hadn't started for over 10 weeks and hadn't kicked a ball for three. As a substitute his enduring quality means he can slot in from 65 and add some thrust up front, a bit of vision from attacking midfield, shore things up at the base (like at Swansea) or just unnerve quaking opposition by his sheer presence off the bench. For 90 minutes though, plus possible extra time? No way. No fucking way. Once he starts he's the hardest man in the world to take off; the prospect of a piercing set-piece delivery or something miraculous always a possibility, but in reality, have we seen anything remotely like that from him of late?
The accommodation of Gerrard compromises our best players. Sterling shifted out wide, Coutinho marginalised and Henderson deferring (not entirely Steven's fault) or some may say shrinking in the long shadow cast by the skipper. That was the story in the first half. When Gerrard retreats into a deep-lying midfield role after we change things at half-time, the gaps I predicted last week appear if Lucas is supplanted by Gerrard and Villa run right through us at will. Like they did at Anfield in the last three seasons with Gerrard apparently chasing ghosts.
Compounding the reshuffle that Steven's inclusion brought, was the introduction of Balotelli in a 4-1-4-1 set up in the second half. Rodgers is often accused of repeating errors, something I think is generally harsh for a manager who is always looking to tinker, to adapt and find new solutions. But here he repeated a grave error; sending us back into a dimly lit room and the turgid, slow-paced, inertia of autumn. Balotelli didn't actually have a bad game, but the rigidity of our set up in the last 45 minutes meant no vibrancy, no verve and no victory. Just like at Anfield in September, against the same opponents, with the same formation we never looked like scoring. I remember leaving that game on 79 minutes because I knew we wouldn't score. I felt like doing the same at the weekend.
All that said, it's time to keep a cool head. We as fans need to calm down a bit. Equally, Rodgers and his players need to take stock and rediscover what is left of a mojo that reappeared before Christmas and made it a relatively happy New Year.
There were mitigating circumstances in the semi-final. Whatever the merits of each player, Rodgers was denied Lucas, Sakho, Sturridge (an entire spine) plus Lallana and Ibe who might well also have played. With the late absence of Lucas Leiva through injury some would argue the manager had to play Gerrard. Personally I'd have avoided that like the plague, played Can in midfield, sparing him the unvisited terrors of right-back and brought Johnson in. Nonetheless we were hardly at full strength and had Lucas been available, we'd most probably have adopted tactics that suited us and played on the front foot with purpose. What if? If only….ifithadnerbeenfor…… — aarrgghh, I'm beginning to sound like an Evertonian here. It's gone. Get over it.
So why keep a cool head? I know loads haven't. There's still a lot to play for and in eight days' time things might just look considerably rosier. Within a week we've got West Brom, Hull and QPR. We need to get off the floor, show some gumption and look for those nine points.
After that there are three more winnable games — Chelsea (who might just be on the beach by the time we go there), Palace and QPR. Mojos need rediscovering, yes, but if we can start playing some bloody football we can take 18 points and still finish in the top four. Above us we should still be shooting at both United and City. United are at Goodison on Sunday (I know, I know) and still have to face Arsenal and visit Hull and Swansea. The blue half of Manchester will forever be prone to bouts of City-itis and are nominally only four points ahead with six games to go. Resurgent Villa go to the Etihad tomorrow. If we were fighting for the title, as opposed to the financial holy grail of the Champions League, would we have given up at this stage? No. At least you would bloody hope not.
Our crowd have a big part to play in this. Wembley was a massive eye-opener in more ways than one. Our end was terrible; a complete contrast to the buoyant Villains enjoying their day of days. Instead the Liverpool support was a collection of passionless beauts bordering on the neutral teamed with an army of angry Scousers with the words "I'm a miserable bastard" stamped on their foreheads. As John Gibbons of this parish tweeted this week, it appears there's a trophy on offer for some of our fans for who can make a case for the being the most angry.
Those who went to Wembley with the sole intention of backing the team and manager without agenda were in a startlingly small minority. The 12th man you say? Fuck off. All I heard at Wembley were brickbats aimed at Rodgers and the pariah that is "contract rebel" Raheem Sterling. Those who want to sing and support are found only in pockets; deep divisions exist along lines of age, geography, even class. Our following, and there are a myriad of reasons why so, home and away is diabolical. It is a sad state of affairs and one that the football club, if you can still call it so, seem either unaware of or simply not arsed to rectify.
The biggest concern for Rodgers is that he's lost the faith of fans that still care and is simultaneously at the mercy of the Twitter knee-jerkers who see only change as a means to move forward. With the emergence of the available Klopp as such an obvious candidate to fill a potential managerial vacuum, the pressure is mounting on Brendan Rodgers. Our recent history, and in particular the sacking by FSG of Kenny Dalglish for reaching not one but two cup finals but missing out on Europe's riches, should sound the loudest of alarm bells for a man who took us within two measly points of title nirvana just 12 months ago.
It's on a knife edge before we go to the Hawthorns tomorrow. A mate of mine said this week, "Lose there on Saturday and our end will be toxic". He's right, but such is the shallow nature of the modern fan — and we're all guilty to an extent — a win tomorrow followed by two more against rank poor opposition could see some smiles return to our faces and something to play for as the season draws to an end.
If it's not exactly time to circle the wagons (given that too many have already made up their minds), it is time to keep a cool head. That applies to you if you're going to watch the Reds over the next few weeks but more pertinently it needs to be the mantra and the message coming out of that Liverpool dressing room.
Listen: TAW Unwrapped: The Manager Question
[yop_poll id="-2″]
[rpfc_recent_posts_from_category meta="true"]
Pics: David Rawcliffe-Propaganda-Photo/PA Images
Like The Anfield Wrap on Facebook