EIGHTEEN months ago, I wrote a piece titled the The Elephant in Midfield, focussing on Steven Gerrard's lack of suitability to play a defensive midfield role, writes HAL COHEN. His performances in a deep role, defensively at least, were largely covered up by Liverpool's attacking craziness and an ability to score bags and bags of goals.
Liverpool leapt from seventh to second in the league and Gerrard chalked up 13 goals and 13 assists. Now, with only six games left in a red shirt for our captain, it seems a good time to take a look at how things stand this season.
Shorn of an attacking verve through the departure of Luis Suarez and the injuries to Daniel Sturridge, Gerrard's weaknesses have been exposed by Liverpool's failure to rip teams apart during this campaign, combined with the effects of another year on the clock and the emotional drain of last year's so-near-yet-so-far title challenge.
Sunday's semi-final vs Villa provided a microcosm of Gerrard in 2015. Had Lucas Leiva stayed injury free there was a strong case to argue that Brendan Rodgers might have played four at the back, with Gerrard starting on the bench. Then the skipper would have been fresh to influence the game; ready to come on after 60 minutes in a forward role with the opportunity to be a hero, or just to enjoy the moment in a game already won.
Last time, I questioned whether Rodgers had the courage to regularly set out a side that doesn't include Steven Gerrard. He answered that question eventually in the affirmative. But there was a sense that, Lucas injury or not, Gerrard was always starting at Wembley on Sunday. Leave him out, and lose, and Rodgers could quite easily be taking more flak than he is now for defeat to Aston Villa. It would have been another stick for fans — and the media — to beat the boss with. Frankly, he doesn't need that.
I argued in my previous piece that Gerrard should be used in a forward role only, and we've seen limited success when this approach has been employed (see AFC Wimbledon and Swansea aways as examples). For Villa, Rodgers initially opted for this, with Gerrard not having to focus exclusively on protecting his defence but no doubt with a detail to contribute to a collective high press.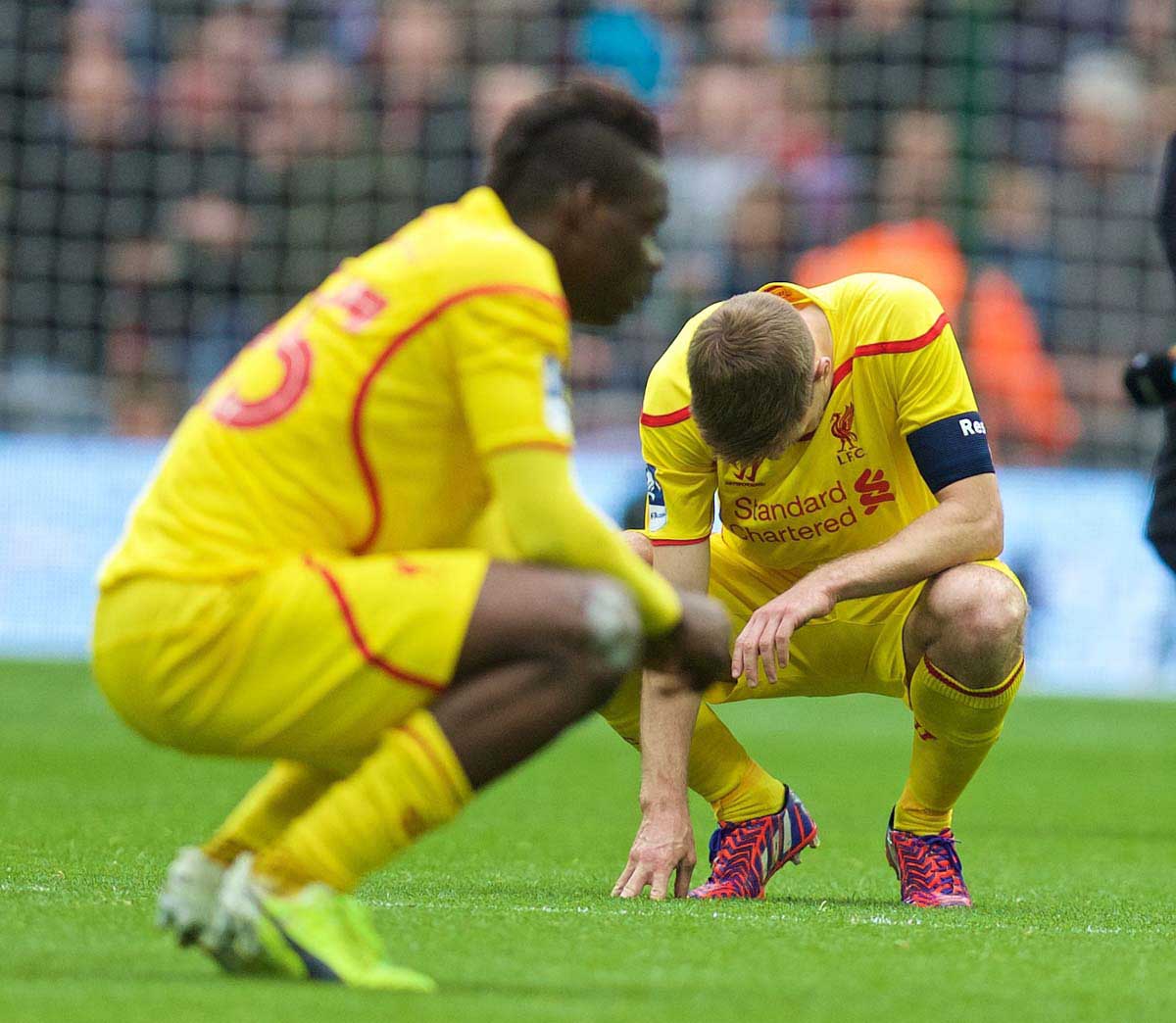 Sadly, he contributed little in London, possibly the least of all the Liverpool players in a depressing first half.
A brave Rodgers takes Gerrard off for the second half, instead of the unlucky Lazar Markovic. Again though, who can blame the manager for leaving him on? In a team lacking in big-game experience, and in goals, Gerrard could have been the one to get it functioning again and building upon a brief showing for a 10-minute period in the first half.
He also has an impressive goals record against Villa, and then there was the fairytale narrative around his last season at Liverpool and the final being played on his birthday. Do those factors influence the manager's thinking?
Maybe. He must also have been aware of the stat regarding Gerrard's Premier League showings this season. The captain has played in 24 league games and Liverpool have won just 10 — a win percentage of just 41.06. In the eight league games he hasn't taken part in, the Reds have won seven. It's different opposition and circumstances and all the usual disclaimers, but nevertheless…
What was clearly a mistake was putting Gerrard back in a defensive midfield position. It didn't work 18 months ago, it didn't work during the bad run at the start of the season and it definitely didn't work on Sunday.
An energised Villa had already shown the ability to walk through our team, which seemed at times reluctant to tackle (or foul). Gerrard for all his will to press and harry didn't have the extra yard needed to get him there.
https://www.youtube.com/watch?v=czf6sXjmmVg
It looked poor judgement shown from Rodgers, who was clearly desperate to right the wrongs of the first 45 minutes.
Gerrard's only real moments of significant contribution in the second half were a header cleared off the line and a weak free kick hit straight at Shay Given in the Aston Villa goal. Given the poor atmosphere among Liverpool fans and the skipper's demeanour, it didn't really feel like either supporters or the player truly believed that a moment of magic was again going to arrive from the No.8. Very simply: Steven Gerrard can't single-handedly rescue us any more. He needs others, and no-one else on the Wembley pitch in the yellow away kit was either willing or able.
Gerrard's diminishing attacking contribution and inability to graduate to a defensive role late in his career demonstrates that, despite the hysteria when the decision was announced, Rodgers made the right call to tell Gerrard he was no longer a first choice player and Stevie the right decision to choose to move to the US for something different and guaranteed football.
Many were annoyed that the manager heaped praise on Gerrard for having an "excellent" game on Sunday. I thought it was great. Not truthful, but absolutely the right thing to do to protect the captain. He's had enough heartbreak and mocking to last a lifetime. And maybe it will.
Stevie is certainly still capable of some great football at times and we can still hope he can bring something special in the next six games. We should hope but we shouldn't expect.
If Gerrard leaves with a whisper rather than going out with a bang it shouldn't really matter. His reputation as one of Liverpool's greatest ever players will remain intact.
[rpfc_recent_posts_from_category meta="true"]
Pics: David Rawcliffe-Propaganda-Photo
Like The Anfield Wrap on Facebook