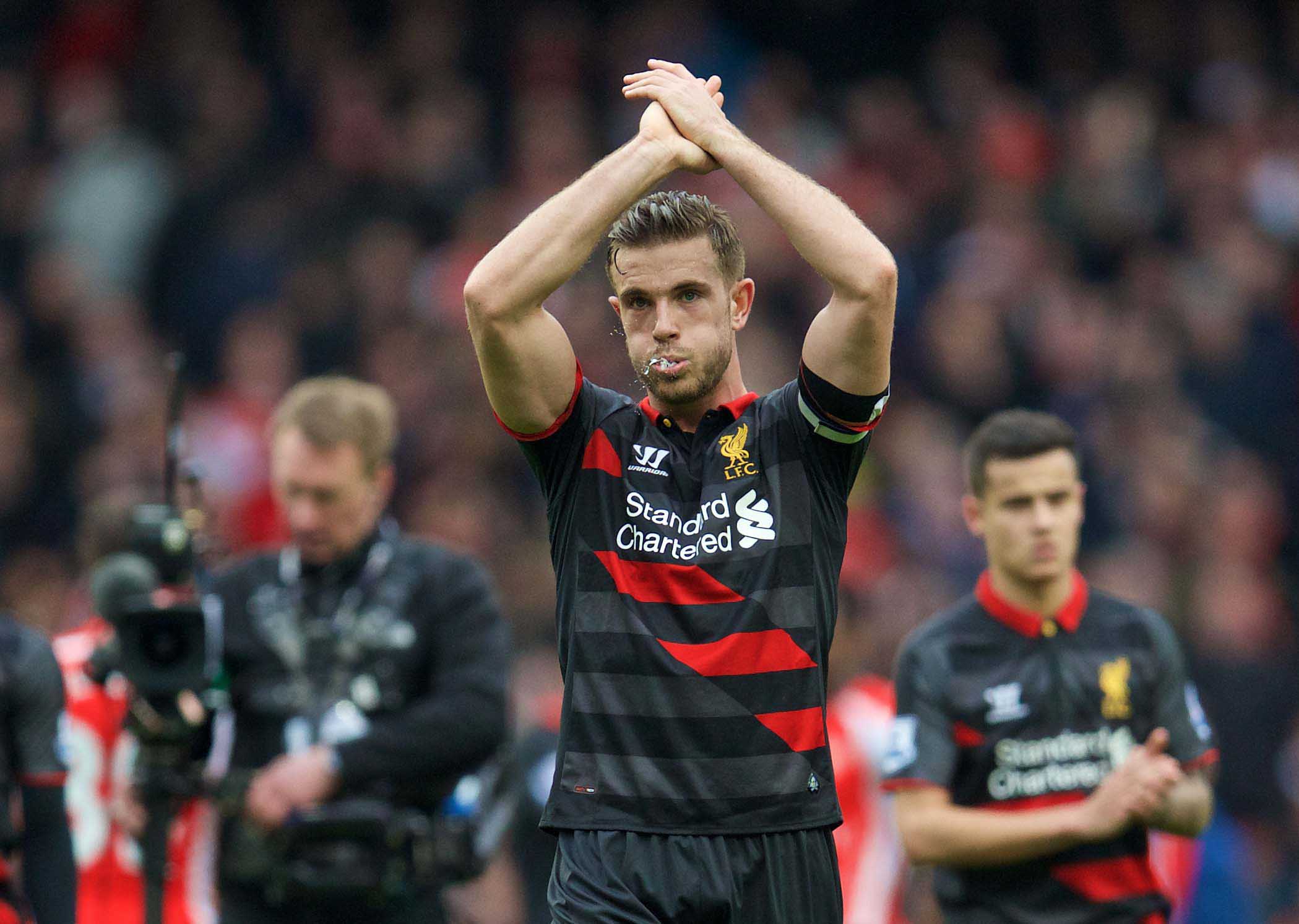 "NEVER write angry. Always leave it a day to get your argument straight." I was told that a few years ago. As an argument it has merit. Nobody wants to read spit, so it's best to relax, gather your thoughts and throw them out to anyone who wants to listen. The trouble is, 23 hours on from an absolutely appalling result and a performance that has more or less confined us to a Europa League place, I'm somehow angrier.
My waking thought was Alberto Moreno performing Riverdance in our box. So, sod it to balanced. Sometimes you just have to go with how you feel.
Firstly, I'll admit to being a terrible loser. Seeing people smiling and laughing with their mates after we've lost a game sends me into a silent fury. Worse still, seeing Liverpool players come over to accept applause after a meek performance makes me want to hurl stewards around the terrace. I made eye contact with Riise once after an awful goalless draw with Birmingham. He played his usual game of lashing ball after ball into the Kop when he had runners in better positions but he was ever the one for the Match of the Day showreel so just went for glory whenever he could.
When he trotted over to take his bow he became confronted with a purple-faced man screaming: "You! Pass the ball! It's not about you all the fucking time!" He dug his heels in and gave me an extra 10 seconds of applause, thinking I'd be made up. I was still shaking on the motorway an hour later.
There's nothing wrong with applauding a side that went close but didn't have enough or were just beaten by a better side but adding 'YNWA' on Twitter after we've been walloped or the stern-faced 'We go again' mantra from last season just drives me mad. I don't want to prove what a big fan I am. If we've lost due to our own ineptitude I want to get on the team coach and find people.
I respect Brendan for his post-match interview yesterday. It's never easy to say, 'We were just shite' and he seemed as pissed off as me when the BT reporter twisted the knife. It's not always the best policy to say 'We're locking Kolo in the bogs on the way home' — which was my policy — but he's not allowed to vent spleen in front of a sponsor's board. I'd have been holding that reporter up against the wall like Darth Vader.
https://www.youtube.com/watch?v=ZKayu9unyCI
You can't slate your players in public but I hope to God he didn't go for the arm around the shoulder last night. They should be told, not cajoled. We can do that in training in Monday. I'll go further. He got a lot of stick, from me included, for the Madrid away line up, but I'd love it if he'd said 'They were shite at Newcastle on Saturday so they don't deserve this trip.' I'd have been more than happy with that. That's carrot and the stick.
It's not been easy for him this season. The hangover from May, the players not bedding in, the Balotelli issue, the Ricky Lambert issue, the Champions League campaign but he has a broad back and should get through it. The 13-game run was great as there's nothing better than taking points when there are problems all over the pitch but we've had a holiday since. He has a history of turning it around but it seems a bit late now.
Right, that's the nice bit done.
I'm furious with this side. Arse-clenchingly furious. I'm incandescent about the last three games. Three in defence. A lad who isn't a centre back and is targeted constantly, the world's slowest midfield and half a pitch between them and the lads up front. Swansea should have been a massive signal to the coaching team that we've been worked out but we still go with the same shape against Man U, whose manager knows a hell of a lot about 3-4-3.
You need a tempo statement in games like these. Look at the City game last year. It was obvious what we were going to do. Go for the jugular the second the whistle blew and keep at them until they yielded. City aren't soft. They knew full well what the plan was and they still couldn't live with us. Raheem puts us one up and we decided it wasn't enough. If anything we up the pace further to get the second. Then we play the next hour like it's a chess match. I loved that game. Dominant at first and then clever when we needed to be.
https://www.youtube.com/watch?v=YwQOK6GEDsE
You would think that maybe we would do the same a fortnight ago against Manchester United. Nope. We walked out like we were going to apologise to them for getting in their way. Time and again they attacked the space between Sterling and Can with Fellani. Time and again we ceded possession and couldn't get out. No maraudering this time. We sat and sat and sat with limp shoulders and shambling gaits. Not an ounce of chutzpah between them.
So what happens when we crawl off the pitch with our lessons learned? We do exactly the same again against Arsenal, who don't target Can. They target the entire system and press and press and press until we give them the game. Bullied by Arsenal. It's like being beaten up by Warwick Davis.
Don't get me wrong. Arsenal and United are good sides who are at their best when their blood's up. But we are, too. Or at least we should be. The lack of testicular fortitude in that side was a disgrace. When the going got tough, the tough bent over and whimpered.
You have to look to the manager for this. System aside (and playing Henderson on the wing to cover a square peg in a round hole) are we doing enough to remember who we play for? Are these lads walking on to the pitch, heads held high and shouting 'Fuck you, I play for Liverpool Football Club'? Why not? We should be. Going to press us, are you? Fuck you, I play for Liverpool Football Club. Going to stick Fellani on me, are you? Fuck you, I play for Liverpool Football Club.
But what do we get? A shrug, an apology and a 'we go again' a few days later. Simon Mignolet wished us all 'Happy Easter' on Twitter this morning.
We're to blame in some of this. The whole cult of Kolo thing, the deification of Emre Can and those fucking Rodgers and Shankly pictures from last season. I'm all for a laugh and a bit of rabble-rousing but, know what? Show me your medals, lads. Show me what you can do first, then you can have all the memes you want.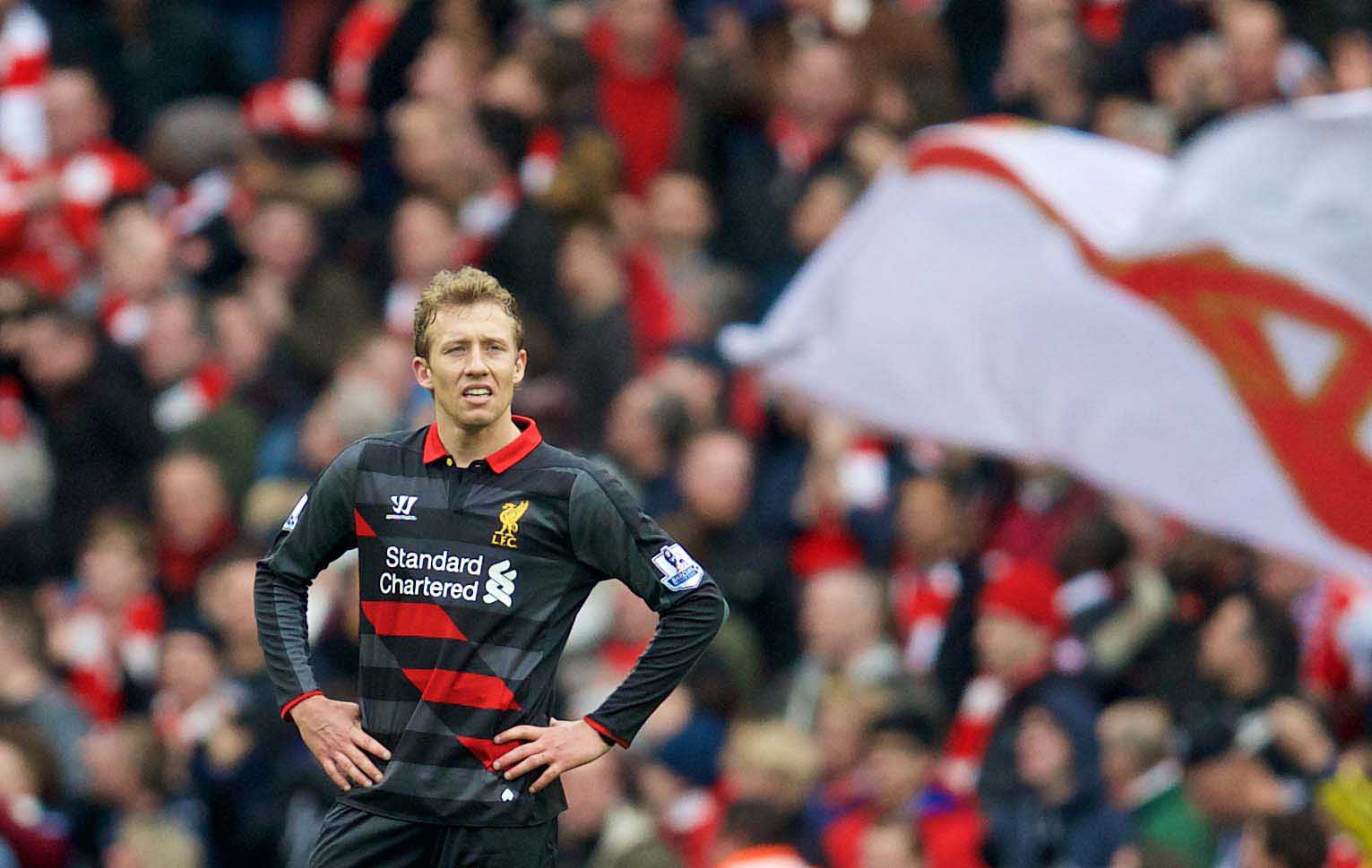 You've come to the most difficult club in the world and you have to work very, very hard to do well, so do it. Here's your chance now. If you're here to move somewhere else, prove yourself here first. Liverpool isn't a retirement home. You don't get a day off here but time and again we put them on plinths and talk about them as if they've done something.
Yes, last year was different. We came close to showing medals but the mentality of that side has gone to Barcelona. Now, right now, standing around with our hands on our hips looking each other isn't getting the job done. Yes, it's a tricky season. So make a name. Yes, there are no goals now as Neil correctly points out but there are also no tackles. We're the world's best side at standing in front of the opposition and not jumping in. Arsenal didn't need shin pads yesterday. We were nice. Always nice.
We're lucky too. We've had four bad games on the bounce, one won, drawn one and lost two, but we get to put it right in the next game and go to Wembley. Give us that. This is the perfect opportunity to make a statement about what we can be rather than what this season has been. None of this cat and mouse nonsense either. Get in there and get what we come for. Play like we're Liverpool Football Club, not a side with an upset in them.
This side is capable of great things but it isn't firing yet. Nowadays we have to work very, very hard to play alright. The second we stop doing that we sink.
Forget who you think you are and aspire to be worthy of that shirt. Twitter discussions about your day out at Knowsley Safari Park, your tours of Melwood and your excellent groomed scalps are all well and good.
Show us your mettle first.
LISTEN: Post-match reaction from The Anfield Wrap
[yop_poll id="41″]
[rpfc_recent_posts_from_category meta="true"]
Pics: David Rawcliffe-Propaganda
Like The Anfield Wrap on Facebook