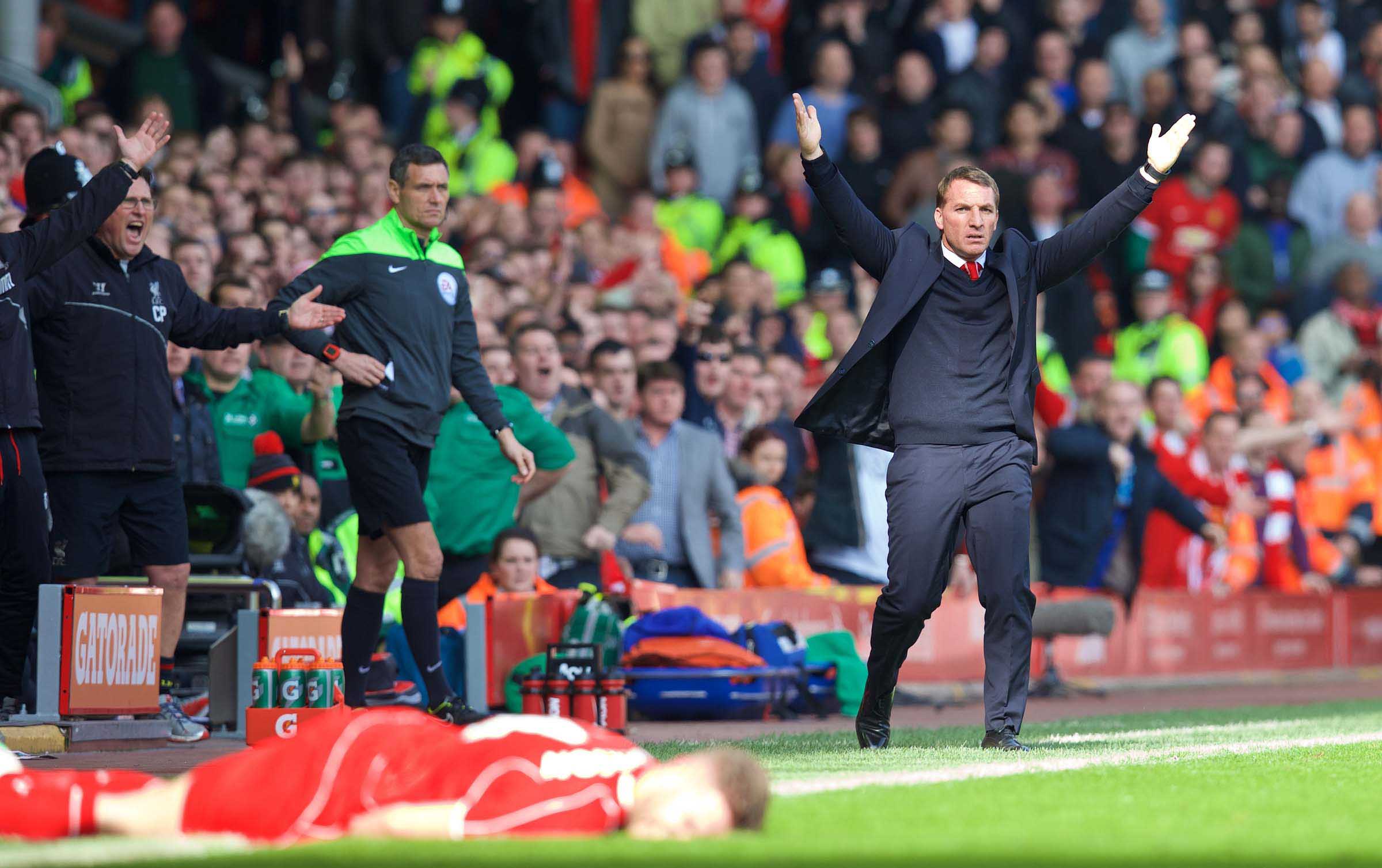 THERE'S a Mancunian contingent with us today in the boozer. Good lads. Head the ground before us. They are eager about the post match. Trying to impress upon them this one thing — you'll have a better night if The Reds win. If The Reds win it will be joy unconfined. It will be Excelsis Deo via Ls4 & 2. If The Reds win we sing and dance and talk talk talk in their honour. If The Reds win, well you can guess the rest.
If The Reds don't win, prematch, watching Phil Thompson pump his fist going down the Main Stand touchline, if The Reds don't win then what do you do? What do you say? How do you go out from there? You find a way. You always find a way. But nonetheless. Nights, days, weeks and months, yes, months sit on this one from where I am. A defeat creates a gap which will require perfection to surmount. A draw can be rationalised.
The sun shines, the ground buzzes. It feels  wrigglyarms. 13:25 and it feels very, very wrigglyarms. My wrigglyarms sense is tingling. Jordan Henderson leads them out.
George does some jiggery pokery with You'll Never Walk Alone before kick off. The crowd responds brilliantly. These two things are the best Liverpool manage for the following 26 minutes for the side are abject and the crowd sinks to their level. Absolutely abject.
United have done their homework. The questions they are asking The Reds is not unlike Swansea. Different shape and better players, but similar questions. For instance:
1. Who should pick him up?
2. When do we press?
3. How do we deal with a long ball when a man drops off?
Ok. Swansea didn't ask number three. But they did ask the other two. Van Gaal's set United up brilliantly, playing in between the lines that Liverpool play in between. More and more lines broken, asking the question as to whether you stick or twist in the press.
Fellaini's constantly dangerous, constantly getting United up the pitch and taking men out. What's staggering about United is they are committing so many Liverpool players with only four men ahead of the ball. The back four, Carrick and Herrara are constantly in support. They show and show but don't break forward.
Off the ball, United rarely press Liverpool's back three. They let them have it but deal with Allen, deal with Henderson. The Reds don't get going for 26 minutes. They don't play at all well, Moreno especially toiling and United deserve their lead.
Then something changes. United's energy level? Rodgers getting a message on the pitch? It still isn't great from Liverpool but it stops being great from United. Finally Liverpool get a foothold in the game and their first decent five minutes results in Lallana missing when he really should score, the goal gaping. These are the chances he has to take. It is these which justify his place and position in the side ahead of others.
Henderson is suddenly far more involved. He's higher, pushing on. The crowd responds and the place is in furnace. It's suddenly the minimum requirement of a performance. Liverpool rattling into challenges. United get it up the pitch and the half peters out, Sterling now toiling. Rodgers gets them in one goal behind. Liverpool should have parity. Liverpool should be further behind. Pele arrives on the pitch with United's supporters contemplating what is probably their best half of the season. Rodgers gets them in and Lord knows he needed to.
He gets them in. He changes it. Brings the talismanic captain on. Looks like he has changed the shape. Hard to tell because we only have 48 seconds of data. 48 seconds. 48 seconds where Gerrard looks imperious, wins a big tackle, gets it and gives it and is nothing but brilliant insofar as you can sitting in and then that.
That's outrageous. Outrageous and stupid. I'm writing this in the taxi on the way back from match and we're heading in town and we've just been told he'd apologised unreservedly and taken responsibility. Takes the sting out of me ranting and raving. But still. But come on, just outrageous.
The grief Sterling is getting is outrageous as well. Every mistake greeted by a howl of "one hundred and fifty grand a week, lad!" And then some form of expletive. He's trying his best, completely out of the game on a flank while Lallana is ineffective. He gets moved forward, Gerrard gets sent, Balotelli comes on, he dutifully trots to the other flank where he works hard as well. Final third players get one hundred and fifty grand a week, but final third players need to be allowed to get into the final third.
Still, Liverpool score and Liverpool work. Rodgers does what he can from the sidelines but by this point Liverpool's ship has sailed. Mata scores a cracker with United's second shot on target but they deserve it, deserve the cushion.
Liverpool deserve nothing. A night, a week, a month collapses around us. We'll need to find a way. We always find a way.
Let's hope.
[yop_poll id="40″]
[rpfc_recent_posts_from_category meta="true"]
Pics: David Rawcliffe-Propaganda
Like The Anfield Wrap on Facebook