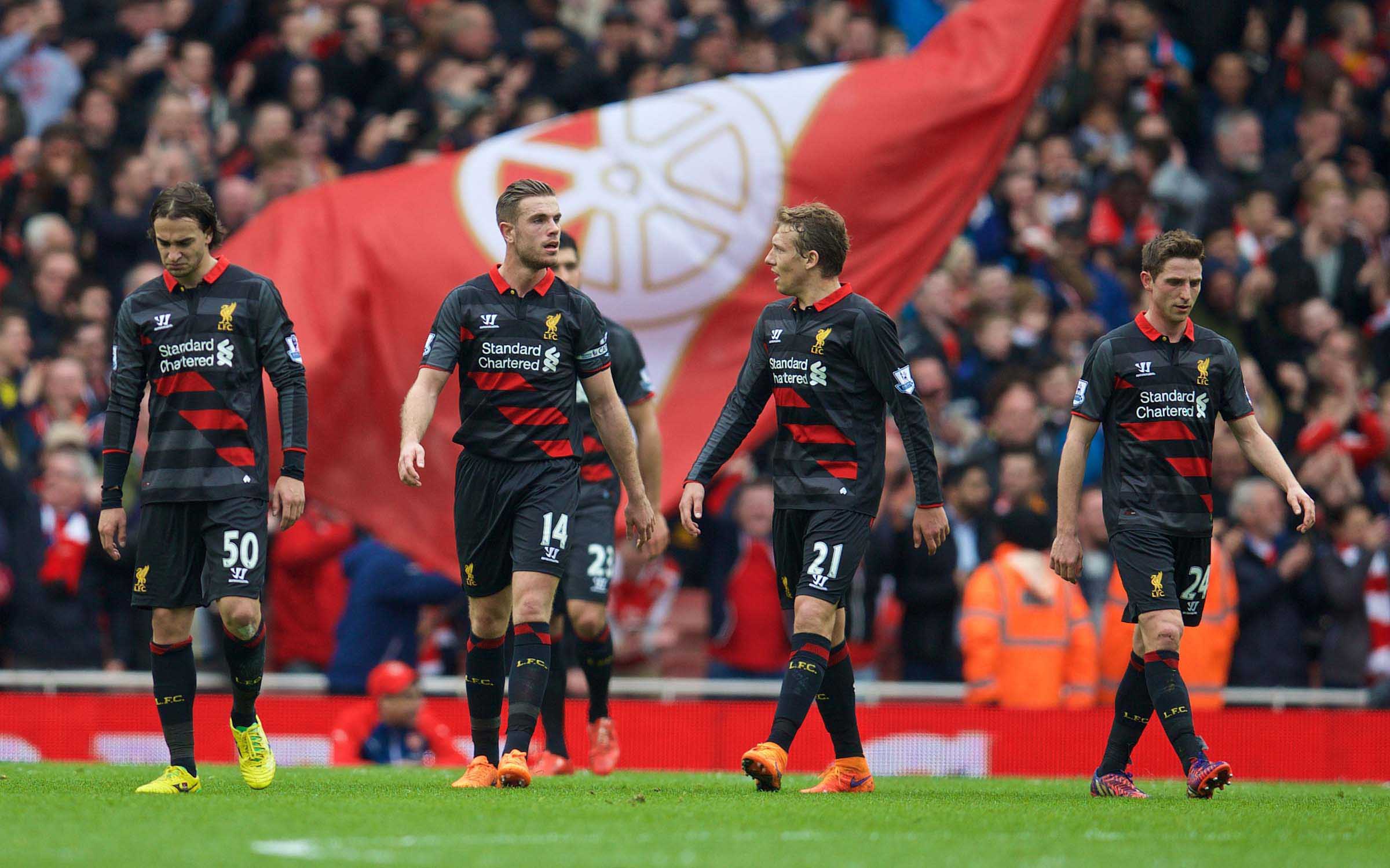 THEY look like they'd given up. Heads had gone. Fate was accepted.
The tactics, the choices, the set up and the changes — all that will be assessed here, there and elsewhere in the hours and days to come. The manager, the owner and the transfer policy; you can bet your bottom dollar they will all be back under the spotlight again, too.
And Blackburn Rovers away on Wednesday — a fixture that did for Roy Hodgson — now looks like a game that is huge for Brendan Rodgers. His own words about spending over £100m and expecting to challenge for the league — aimed at Spurs — are now coming back to haunt him again as fifth place starts to look like the best Liverpool can hope for.
Fail to make top four after a record transfer spend and lose to a Championship side in the FA Cup? There would be a lot more to the story should that unpalatable scenario become reality but those bare facts wouldn't sit well with many fans — especially those that have clearly never warmed to Rodgers, of which there are a significant minority.
It would also lead to the inevitable public analysis via the media. Transfers, the record in Europe, all will be laid bare. And Rodgers will know all too well that once people load the chamber with bullets FSG have history for pulling the trigger. Make no mistake, the FA Cup match at Ewood Park is massive.
The worry now — beyond who can play at the back now that Emre Can has joined Martin Skrtel on the suspended list and Kolo Toure is clearly way off the pace — is that players turn down their performances a notch, even subconsciously. Have they lost faith in what they're doing? Because among the many concerns about Liverpool's last two performances is the mentality of the side. More, who is there to change it? To demand a difference? To make it happen by sheer force of will.
Right now, we're not seeing a side backing itself. We're not seeing a side clenching a first, snapping into challenges and playing like it was in a cup final. We're seeing basic mistakes and a lack of leadership. A team letting it happen. In seven games against the four teams above Liverpool, the Reds have won once this season. There's a nous issue, a cutting edge issue and a goals issue. There's an issue in a lack of players that put their arms around the rest — literally and metaphorically — and force performances to up a notch when the going gets tough.
Those same players use their experience to take time out when things are going wrong. They stop opposition momentum, recognise things are going wrong, manage the situation on the pitch without necessarily looking to the sidelines. There hasn't been enough of that from Liverpool all season, and in the last two games in particular.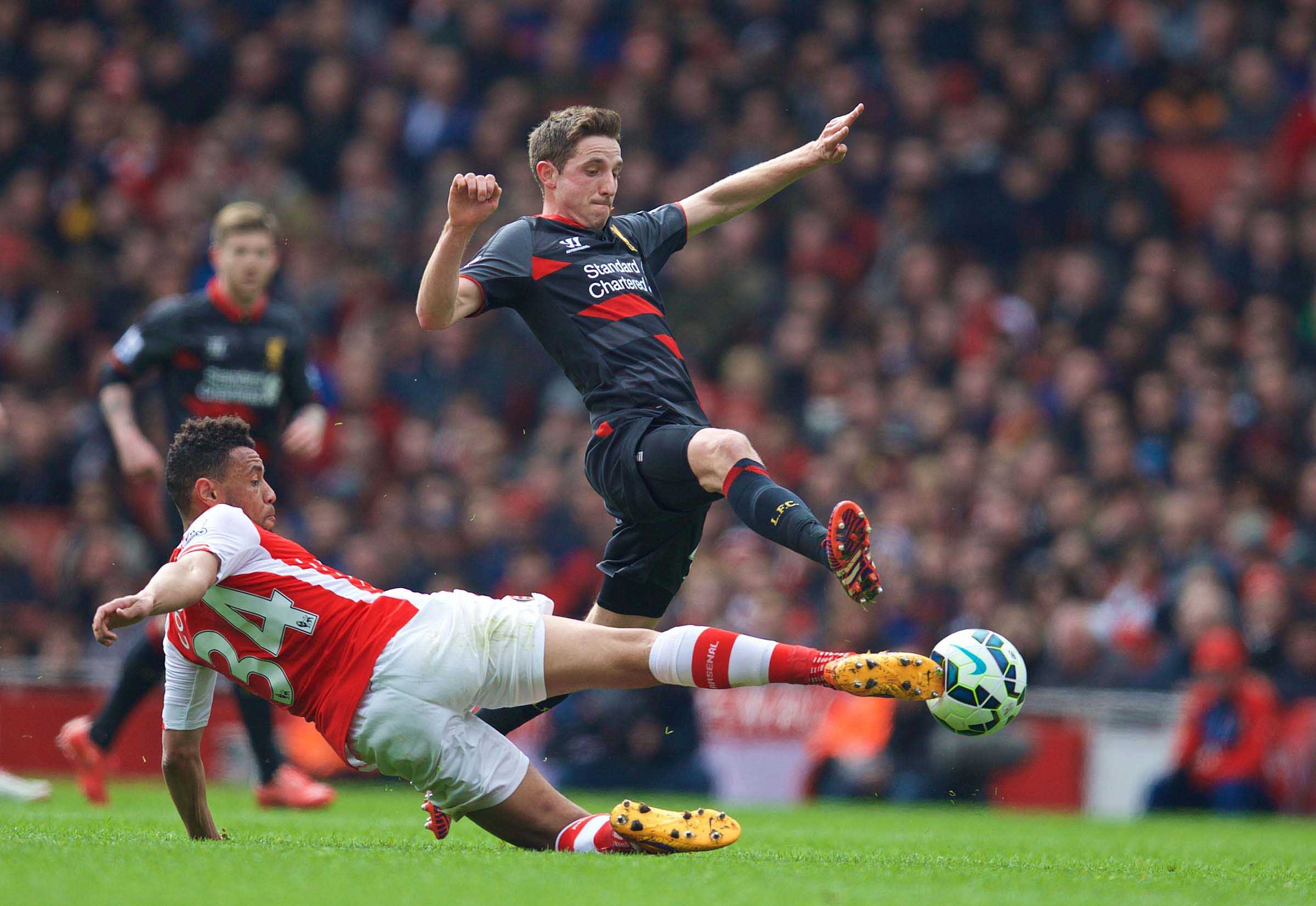 Against United, it took Steven Gerrard to throw in a big tackle and add to his stamp collection to lift Liverpool into something approaching a performance. By then it was too late. You still can't excuse what the captain did, but the frustration that led to it is easy to understand. He's watching a team that he's poured his heart and soul into for over two decades lie down and think of England at home to our arch rivals. How would you feel? Chances are, had Steven been on the bench today and come on at half time, he would have done exactly the same thing again. I know I wanted to smash into something after watching that.
Today was a cup final — modern football says so. Massive for Champions League qualification. That embarrassing 4-1 defeat means that top four – barring a sporting collapse of Devon Loch proportions from those above – has gone. The bookies say 5-1 now for the Reds to gatecrash the party. Those above are all odds-on. Meanwhile, Chelsea away still sits ominously on the fixture list for Liverpool.
It would be lovely to spin the fairytale story of the Mighty Reds pulling their socks up one last time and making it happen from now on in but is that really a realistic prospect based on the last two performances?
Everyone at Liverpool will have recognised the importance of today's game. The same goes for Arsenal. And this time it seems the lads with the Liver Birds upon their chest couldn't deal with the pressure while Arsene Wenger's side very much could.
A mistake from Joe Allen presented Arsenal with a chance after 23 seconds. Within three minutes Lucas Leiva had given the ball away and Simon Mignolet had to save from Santi Cazorla. Then the goalkeeper is called into action again, saving from Aaron Ramsey after a Kolo Toure mistake. Liverpool were napping, Arsenal awake.
We must recognise Arsenal's quality. Hail their recent form, their best at The Emirates since they moved there. And note their tactics, too, the high pressing that has repeatedly done for Liverpool in recent games carried out to the letter.
But many of the problems today are basics and of Liverpool's own making, on and off the pitch. The team looks like a bag of nerves, not a side champing at the bit, not a team ready to smash and grab a top four place and make an up and down season a surprising success. The confidence that coursed through the side in that uplifting 13-game run has evaporated. Problems are being heaped upon problems.
Like the Anfield game against Manchester United, you willed Liverpool to fly out of the traps today, to get on the front foot, to get in faces and fight for a platform to play. Instead, it was the déjà vu of a collective showing bordering on indifference at times. Manchester United and Arsenal are good sides with quality players. That very fact seems to have given Liverpool the jitters when it matters. Last season's 'we don't give a fuck' attitude is long gone.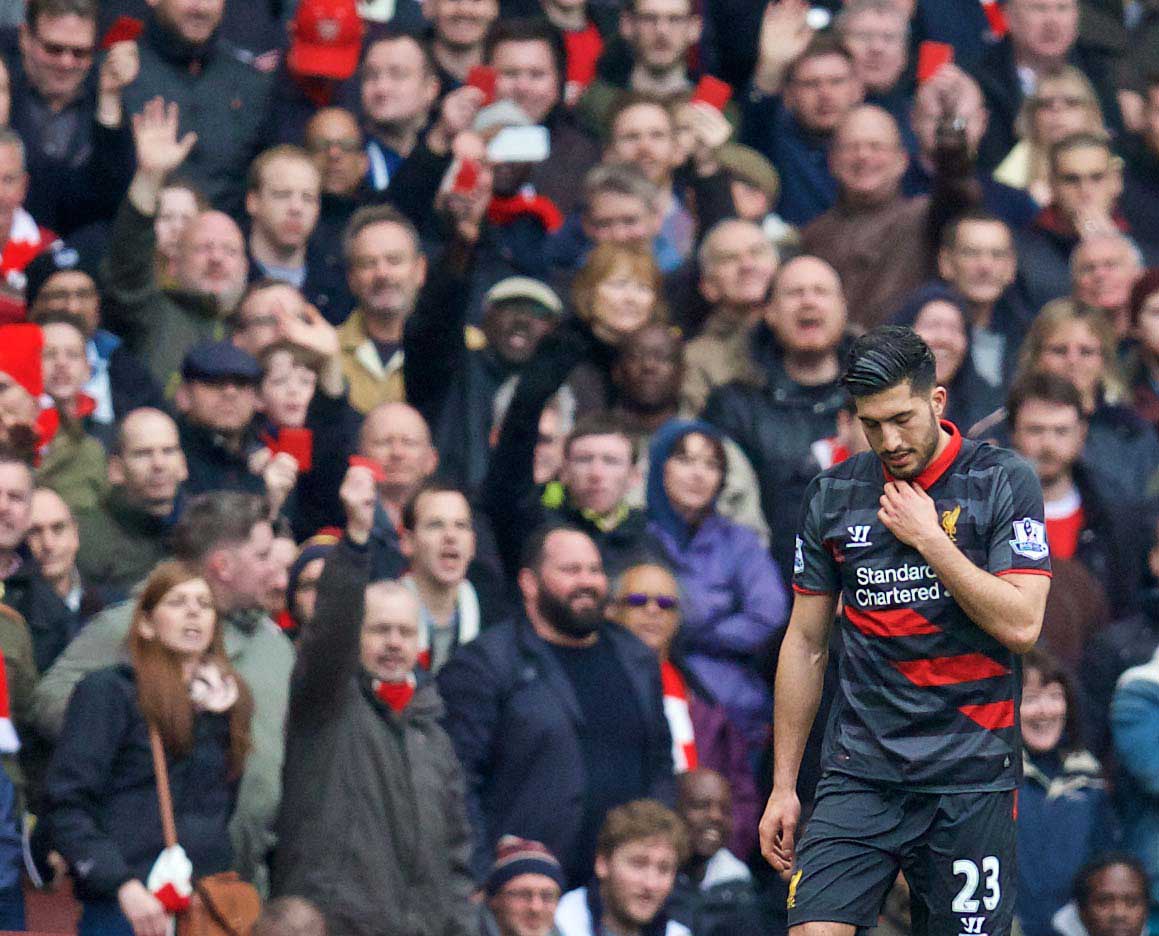 Before today's game began, Brendan Rodgers spoke of the "bitter disappointment" of not just the result against United but the performance.
He surely asked for better, demanded more. What he got was a group of players that couldn't work out how to get out of their own half for six minutes. A side that, nine minutes in, had managed just 26% of possession.
The Reds were deep, reactive, fighting fires. How a goal didn't come in that early spell was largely down to Mignolet's reactions. In front of him was chaos.
Against United, it was 34 minutes before Liverpool laid a glove on the opposition, Adam Lallana steering the ball wide after the best move of the match for the Reds.
So maybe we can take some consolation from the fact that Liverpool showed something a little earlier in London today. A better spell for the Reds around 15 minutes saw Liverpool finally string some passes together, with Coutinho and Sterling at last giving Arsenal something to think about.
Sterling had a shot blocked and then came Markovic's nightmare one-on-one moment.
What was telling in that time was how much Arsenal dropped. Liverpool forced them back. The Gunners were worried for a time. They *could* be breached. It's within the power of these players to force a game so why aren't they doing it more?
The team move on half an hour, when Coutinho found Sterling but his cross was overhit for Henderson, was a great passage of play with only the final ball — again — missing.
Eight minutes of madness followed — poor defending, stupid fouls, questionable goalkeeping — and the game was over. Arsenal dug deep and willed a change. Liverpool watched on and let it happen.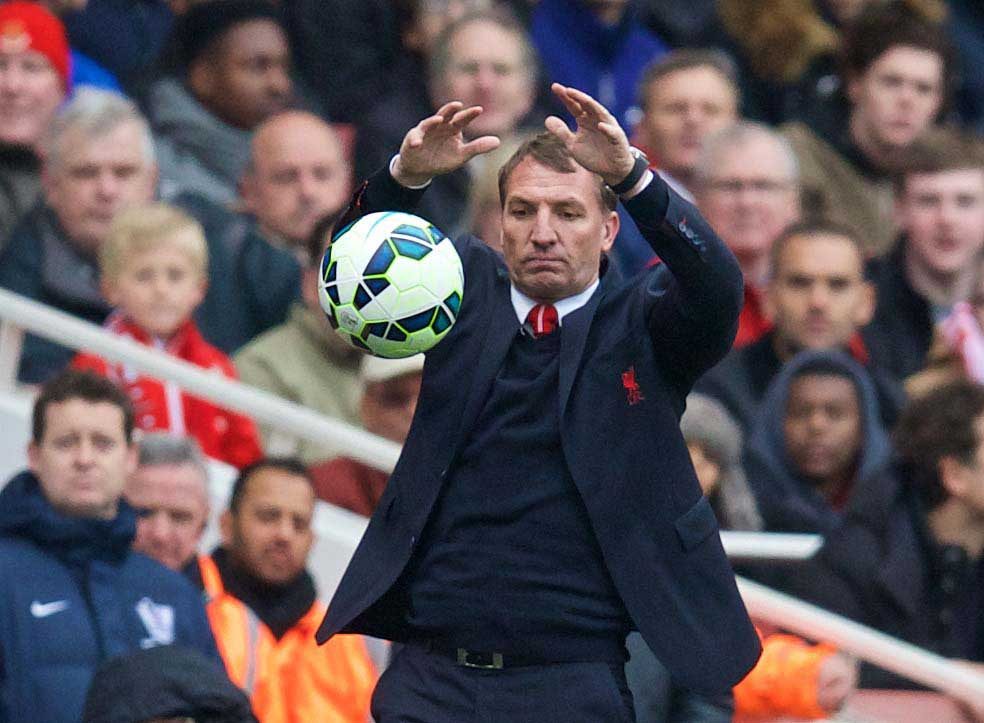 It's harder to be critical about the second half – the game was over after all. And yet it still managed to royally piss me off. Ah yes, conserving energy for the last seven aren't they? Saving themselves for Blackburn?
Sorry, what? I want Liverpool to have an identity as a team that fights. That scraps for every ball, strangles the life out of other teams and the game before them.
Three-nil down at half time in front of the watching world? You should be running through the dressing room wall to get back out there and show what you're made of. And yet come the second half whistle Liverpool were very much *in* the traps. Again. Where's the spirit? Where's the itch to say 'we're Liverpool, this doesn't happen to us'?
What happened in the second half of note that made you jump up and shout 'YES!', that's the Liverpool I know and love? All I witnessed was a few half-arsed efforts from distance, mostly delivered with poor technique. Shrug of the shoulders stuff. We've been bossed, lads. See you in the Europa.
For the all the talk of the last week or so, Sterling led by example this time. He kept going, kept trying and won the penalty that was just about converted by Henderson.
But it wasn't enough. Nowhere near enough. It lacked bollocks. It was too easy. Arsenal were great. They nailed it. But we handed them the hammer and put ourselves in a vice. Emre Can was the cherry on the shit cake. Ridiculous.
Carry on like this between now and May and the next thing getting nailed will be the managerial coffin of Brendan Rodgers at Liverpool Football Club.
The questions are back and answers need to be found. Fast.
[yop_poll id="41″]
[rpfc_recent_posts_from_category meta="true"]
Pics: David Rawcliffe-Propaganda
Like The Anfield Wrap on Facebook