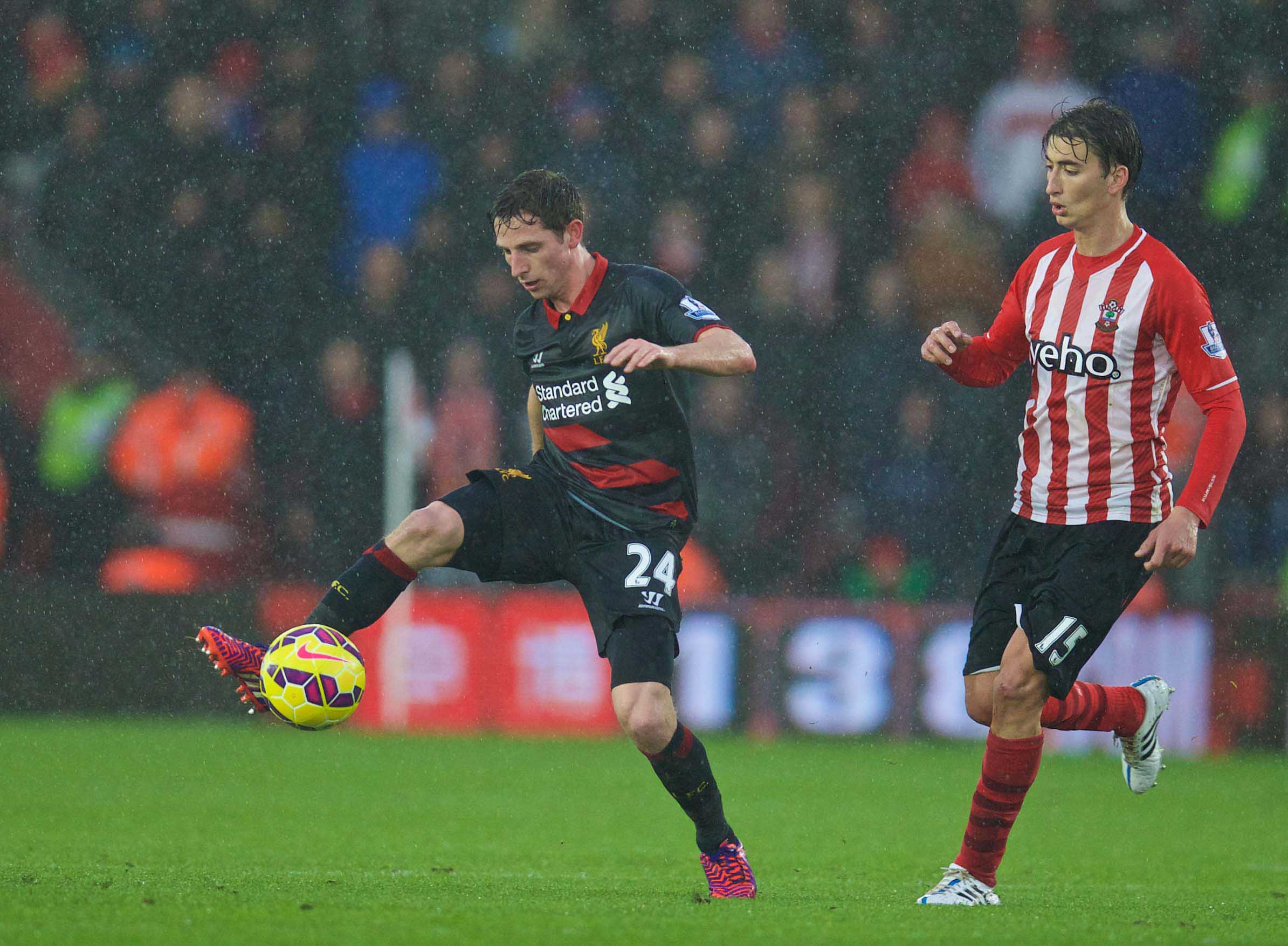 ON one of our shows recently, after the Crystal Palace cup game, Steve Graves said that Joe Allen 'couldn't Joe Allen himself out of being lightly thought of by many at Anfield'.
If Mignolet or Balotelli have a run of nine out of 10 games there will be more saves, better goalkeeping; more goals and better touches. But Allen is stuck in a situation where if he does what he does very well, he should, in a sense become more invisible. Winning it back economically, shifting it on economically, being your eighth most demonstrative outfield player with the ball (behind Emre Can — and possibly even Mamadou Sakho — at centre back) especially in the final third means he can't 'impress' with a neon arrow above him.
I thought, yeah, Steve's talking a ton of sense there. Then we played against Southampton and Allen was Liverpool's outstanding performer in a first half where they looked like they might get blown away while winning 1-0.
It was Allen, not Jordan Henderson, who wrested control of the game back from Southampton from about the 16th minute until the 40th. It was Allen who covered and chased, Allen who found the right areas when Liverpool did or didn't have the ball, Allen who got us playing diagonals forward and relieved the pressure. That the demonstrative players ahead and around him then failed to capitalise emphasised how well he was doing. He was being very, very Joe Allen. We could all see it and we could see how much we needed it.
And so at half time I thought, God, Joe Allen's had Steve Graves right off here. He's Joe Allened this brilliantly. Everyone will be on to this. Then I read John Gibbons's match ratings. SIX. Bloody six out of 10.
Game of opinions.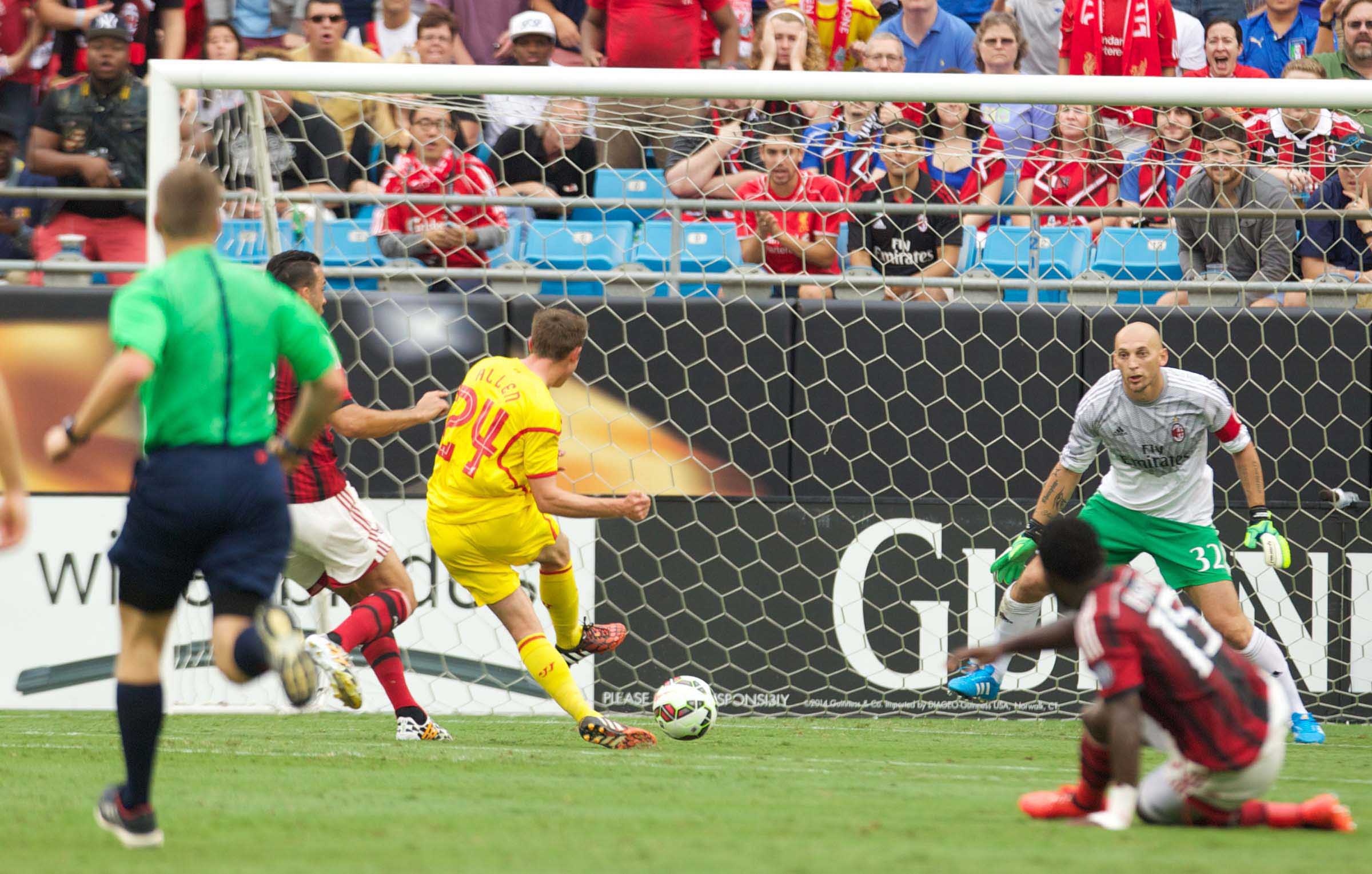 That's just the thing. Every now and again a player comes along at Anfield who splits the crowd. There's a cliché we need to dodge here which is the idea that there is a cognoscenti who can see something others can't, maybe use some diagrams as well to emphasise that. People who'd give Joe Allen 6/10 for his performance at Southampton aren't stupid; they themselves can find diagrams and statistics to buttress their case, I'm sure. The point of view isn't invalid, just because I happen to vehemently disagree with it specifically in the case of Southampton away and slightly vehemently in general.
During his two and two third seasons at Anfield, Allen has amassed 84 appearances. For his first six to 10 games he looked very good. Then he went off the boil and we saw what a bad Joe Allen game looks like. He recovered towards the end of 2012-13 before getting an injury at the start of the 2013-14 season. His game at Goodison in late November was only his second start of the campaign and he was playing brilliantly before missing from six yards at 1-2. Then his head fell off and he had to be substituted due to lacking a head. However he then started against Norwich, West Ham, Tottenham and Cardiff City in succession and then he got another niggling injury after the arduous Christmas programme.
He's on the bench when The Reds decimate Arsenal as the start of the big run and starts nine of the remaining games that season, coming off the bench in most of those he doesn't start. He wins a penalty at Old Trafford and scorers the opener in Liverpool's 0-6 win at Selhurst Park which he barely celebrates. That he played such a key role in the run-in has found itself slightly glossed over by Suarez's level (which was on the decline, though from a very high point), Gerrard's rejuvenation and Sterling blossoming. Yet Allen was on the pitch far more often than not and even his substitute appearances bear recollection. He changed the game when he came on against Swansea, offering Liverpool a modicum of control which really had been lacking.
This season things haven't been as rosy for Allen, just as they haven't been for Liverpool. There's a desire to see a player play really well when the side aren't. If you are primarily facilitating others then you suffer if they don't perform. Regardless though, it would be good for everyone if Allen could find a way to make himself a little more obviously impacting on the pitch and when you are featuring in a run of defeats as Allen did this season, it'd be nice for everyone to be able to walk away and feel as though Joe Allen did everything he could to stop that from happening — as you are able to feel about, say, Lucas Leiva.
Further, it'd give the opposition a bit more to worry about. You can't cover everything on a football pitch but Allen may well often find himself with a little more space than, say Henderson, because he isn't as likely to drive into it. Him being short I don't think helps either.
Another problem Allen's had is he was signed for £15m as per a clause in his deal combined with Brendan Rodgers breaking a promise he made to Swansea City about not buying any of their lads. Manager in breaks promise shocker. If we wanted him, £15m was the fee. Brendan Rodgers wanted him very much and so it was £15m. Rodgers then spent a lot of time talking him up in the first half of 2012-13 and Allen became synonymous with Rodgers's perceived or actual shortcomings. (Mostly perceived if you ask me, but that's a discussion for another time).
It's not dissimilar to Kenny Dalglish and Charlie Adam if not for the fact that there was (rightly) so much goodwill for Kenny it extended itself to Charlie and that Charlie Adam and Joe Allen are about as chalk and cheese as two midfielders, two footballers and, you suspect, two humans can be.
In the binary nature of transfer successes and failures, Allen tends to be lumped in with the failures. All that money on a midfielder, very few goals. However, there's every chance he remains a Liverpool squad player for the next five seasons; every chance he gets himself 20 league starts in those seasons and five to 10 telling substitute appearances.
I very much hope he does. He's Liverpool's most pleasing bits and pieces player in years — one who plays the game in front of him and around him, not his own game. A player very effective when sides are penned in, a player who reads the game well and has a good touch. He needs to be surround by lads who score the goals he doesn't, but he isn't a problem that needs to be solved. It suits he is the eighth most obtrusive of 10. Consistently improve the other eight and we can argue about Allen while we win far more games than we lose.
Transfers aren't binary. This season is fast becoming testament to that. A summer which looked great then looked a disaster and now looks on the healthier side of alright again. Football isn't binary. You don't just have great games or poor ones. Joe Allen's greatest strength as a footballer may well be that he doesn't succeed or fail every time he gets on the pitch. He's there, Joe Allening, splitting opinion more often than he splits defences. Getting it, giving it, keeping it ticking over. Getting people playing.
Here, now, that will do far more often than it will not.
[rpfc_recent_posts_from_category meta="true"]
Pics: David Rawcliffe-Propaganda
Like The Anfield Wrap on Facebook