I HAVEN'T read Neil's match report yet. If you haven't either, I'll warn you that he went down there with Rob Gutmann, which probably meant setting off about Thursday and drinking heavily throughout. So no doubt it will be even more romantic and nonsensical than normal. Anyway, we've decided to have a crack at match ratings now too. Please let me know if I have got them wrong below. I'll be really, really interested. All out of ten.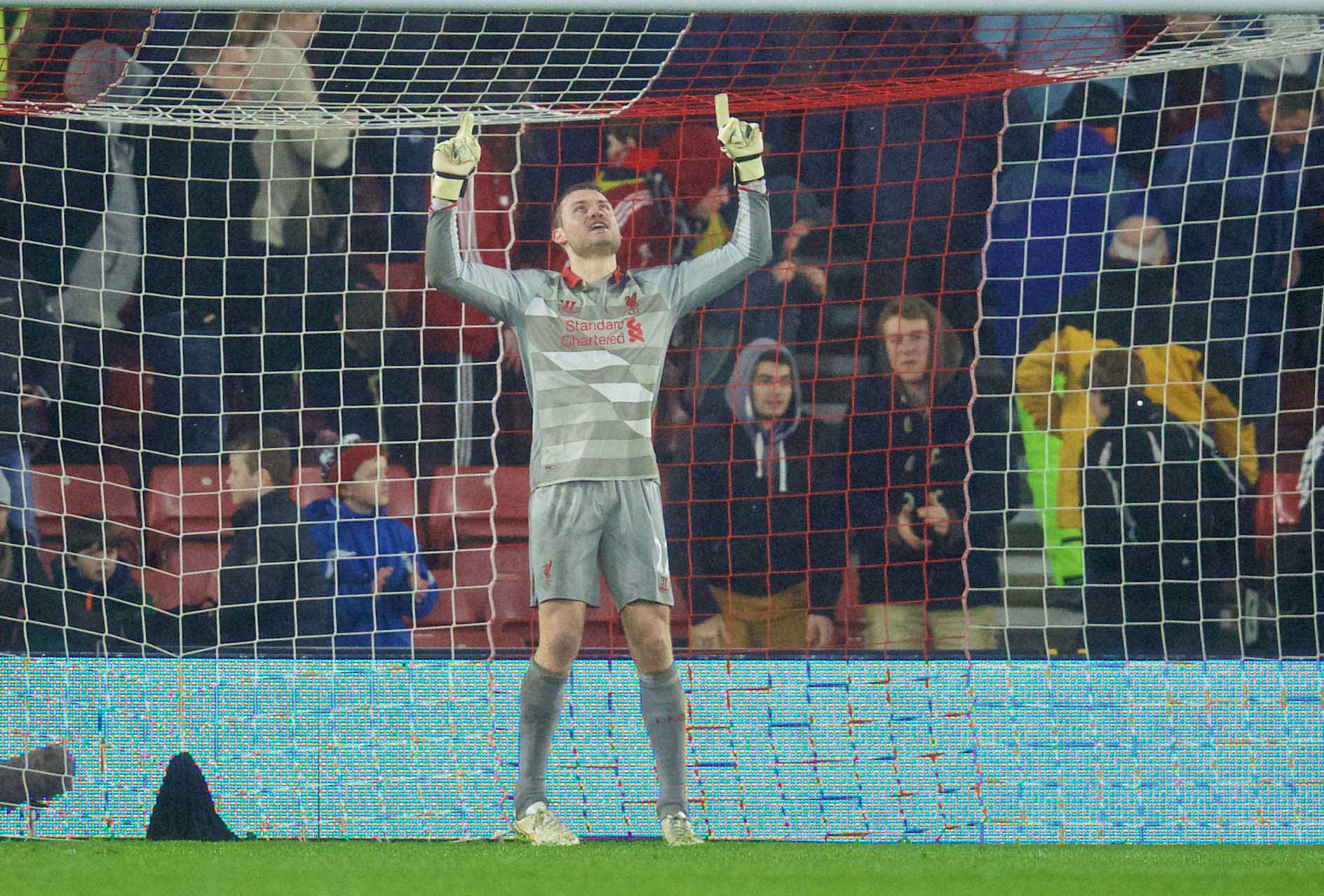 SIMON MIGNOLET: 8
https://twitter.com/Andrew_Heaton/status/569563729500741634
LAD!!!!!!!!! Good save among all the melee of the one that was a pen and nice hands off that free kick too. Punching and kicking weren't always the best, but coming for them isn't he?

DEJAN LOVREN: 4.74
Yeah. He recovered well second half, I suppose. In that he didn't get sent off and I assumed he would. Fell over and won a tackle. Which is better than falling over and not. Can't have been easy getting booed at work like. Gareth Roberts is booing me as I type and I'm producing THIS as a result.
MARTIN SKRTEL: 9
He had to contend with Lovren to the right and Emre Can's face to the left and he still managed to remain focussed. Won a ton of headers and looked calm throughout. Excellent top button up work in the post match interview as well. Was WEARING that third kit. Man of the match.
EMRE CAN: 6.5
Did alright didn't he? He was probably dreading days like this when he was asked to play centre half, so he comes out with credit. Couldn't decide between a 6 or a 7, so gave him a 6.5. Because that's in the middle #maths

JORDON IBE: 7
Statistics show it is 80% more likely to rain in the Championship than the Premier League, so it should be no surprise he took to the rain like a duck to, er, rain. Impresses every week, and should improve even more now everyone has learned to spell (and say) his name.

LAZAR MARKOVIC: 4
Me and the wife stayed in Shropshire last night. This morning we went to a place called Ludlow. It seemed very nice but it was raining so we basically just trundled round for 10 minutes, looked at each other, and drove home. Then five hours later I watcher Markovic do the same. Fair play, lad. Crap the rain isn't it? Got the most meaningless assist since whoever passed to Maradona in 1986.
JOE ALLEN: 6
Should have given a penalty away. Gave away a few kicks. But did some good stuff, too. Oh I don't know, I'm bored writing this already, Joe.

JORDAN HENDERSON: 6
Was a bit too keen to find the killer ball from midfield at times when we could have done with keeping hold of it. But there were a few of them knocking about. His record as captain must be phenomenal, it must be said. Someone will be tweeting it somewhere.
Jordan Henderson as a captain. 9 games. 7 wins. 2 draws.

— SH (@Sennesation) February 22, 2015

ADAM LALLANA: 3
Had a bit of a cry in the week about how hard it was all going to be and then didn't turn up. Sound, mate. Just let us know when you are ready to play down there and until then we'll drop you at Alton Towers on the way down and pick you up on the way back.

PHILIPPE COUTINHO: 8
Wellied the ball in the goal. Actually he didn't. It was with his instep which makes it even more remarkable. Found some good spaces after that but couldn't always get his passing going. But he's great isn't he?

RAHEEM STERLING: 6.2
Found it hard to get in the game but it's a bit of a thankless task playing up front on your own when the opposition have much more of the ball. Especially when you don't exactly have a target man build. Looked far happier when Sturridge came on. But then didn't we all? Was rewarded for his work for the team with a goal
SUBS
ALBERTO MORENO: 6
Came on at half time and made us look much more solid. Did well, and then a bit rubbish for the goal.
DANIEL STURRIDGE: 5
Reminds of when you watch Forrest Gump and he's just had his leg braces took off. You know he is going to be boss at running soon, but for a while you have to watch him stumbling about like he's forgotten what to do. This is that bit. Next week, Touchdown.
GLEN JOHNSON: 5
Came on and got injured. But then came back on again. Warrior.
#WTRWWAW
[yop_poll id="32″]
[rpfc_recent_posts_from_category meta="true"]
Pics: David Rawcliffe-Propaganda
Like The Anfield Wrap on Facebook