Many feared a lack of squad depth would cost Liverpool dear this season, but LEANNE PRESCOTT is enjoying The Reds' fringe benefits…
THERE are themes to this season, some expected, some less so. Mohamed Salah breaking records week after week is one of the former. Trent Alexander-Arnold's scintillating form is another.
Yet, as Liverpool dive deeper into the busy festive period, the work of Liverpool's 'fringe players' deserves its own highlight reel already. For many that will be in the latter catergory.
One of the biggest criticisms levelled at the club in the summer was the apparent lack of squad depth. The starting 11 is as good as any in the Premier League, but would the rest of the supporting cast be able to play a part?
In the last week alone, that question has emphatically been answered, with the stars in the shadows contributing in key moments to make it six wins from six games since defeat to West Ham just over a month ago.
Divock Origi is the leading light of those emerging from the darkness. Never a regular starter, but one with a catalogue of iconic moments that would make any footballer jealous. Has there ever been a player quite like him?
Origi, still somehow only 26, is the second longest-serving player but one who rarely finds himself in the team. A cult hero, but one unlike any other. Being Liverpool's fifth-choice forward isn't any easy task in that it's undeniably easy for Jurgen Klopp to omit Origi from his lineup given the club's wealth of attacking riches.
Most players in Origi's circumstances would push for a move as minutes dry up and opportunities dwindle yet Divock doesn't sulk. He remains utterly committed and priceless to the cause.
Just as Saturday's trip to Molineux looked in danger of becoming another key stumbling block in the title race, the £10million man bought from Lille in 2014 ensured it turned into this season's version of Aston Villa away in 2019.
Origi slotted into the game, imposed himself on it and he offered a new threat that Wolves' tiring defence struggled to contain. An iconic, often under appreciated, understudy turning one point into three in the blink of an eye. His value to Liverpool suddenly looks immeasurable.
Before Tuesday night, the Belgian had only scored three goals in the Champions League – two in the semi-final against Barcelona in 2019 and one in the final to top it off against Tottenham in Madrid. He is a man for when it matters most, and it was perhaps fitting that he was the one to preserve our 100 percent Champions League record in Milan on Tuesday.
There are times that Origi can frustrate, but he is doing everything you could ask of him this season, coming off the bench and making an impact with two winners in two games. It's taken his tally for the season to five. That ability to come in from the cold and make a difference is precisely what Liverpool and Klopp need, and the hope will be that he can continue to produce similar as AFCON approaches.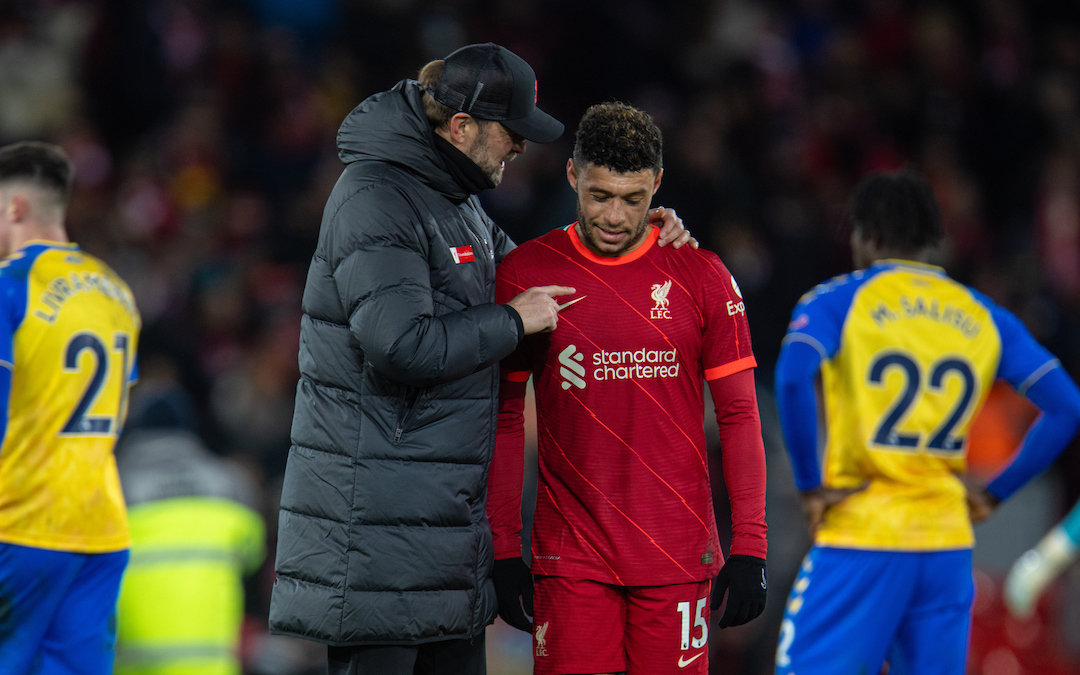 While Origi is the standout case so far this season, he's far from the only player who's made a difference when called on. Alex Oxlade-Chamberlain has hit his stride at the perfect time just when some feared his Liverpool race was run. His energy in the press and ability to drive forward and commit defenders has added another dimension to midfield and he could play a big role this season, while Ibrahima Konate was particularly impressive at the San Siro on a night where lion Zlatan Ibrahimovic was tamed.
Elsewhere, Kostas Tsimikas now looks every bit a Liverpool left-back and is providing fierce competition for Andy Robertson, Neco Williams has impressed on occasion despite being written off in the summer, and Tyler Morton oozes class every time you seem him play.
No matter how many personnel changes Klopp makes, Liverpool continue to look every bit like Liverpool. They have made a mockery of the supposed 'Group of Death' and are just one point off the Premier League summit with a League Cup quarter-final to look forward to. As AFCON looms larger, there will be a greater need for the entire squad to contribute in the absence of key players. So far this season, they have done just that, stepping up to the plate and making a difference when it matters.
They say the sum is greater than the parts and each member of this squad will have a say in this trophy hunt.
---
https://twitter.com/TheAnfieldWrap/status/1468900176974827529?s=20
–
Recent Posts: