Neil Atkinson's post-match review after Wolves 0 Liverpool 1 in the Premier League at Molineux…Saturday night and I like the way you move, DIVOCK ORIGI!
I DON'T believe in an interventionist God. But I do believe in Liverpool getting football miracles on a weekly basis season after season.
There haven't actually been many football miracles so far this season. There has been emphatic, relentless football reality from Liverpool at Old Trafford and Goodison Park. Liverpool hadn't yet needed a miracle.
Suddenly though, after Sadio Mane missed on about 87 minutes, after five minutes were added, when a miracle was required, one man yet again put himself forward to provide.
It's the most spectacular Liverpool career and it most definitely isn't over yet. Divock Origi is unique. He isn't even a throwback – folk heroes like him don't exist anymore but did they ever truly ever? It's the longevity of these performances. They go back to 2016.
Normally by now something has given, a player has moved on, the goals have dried up, but not for Divock. Not for him in this incarnation and with this side when it is in the mood for silverware.
He plays well from the second he arrives. He imposes himself and exists almost solely between the posts. He offers a new challenge.
He doesn't supply the miracle in isolation. Liverpool collectively believe in the miracle, believe the moment hasn't gone, believe someone will emerge. Just look at the 15 seconds before Origi arrives. Liverpool are patient and then van Dijk sends a glorious searching ball out to Mo Salah and Salah accelerates and then pauses and then finds.
Then bedlam ensues. A miracle and then bedlam. I end up sprawled and when I clamber up there is Thiago Alcantara going spare in front of us, his teammates off to the right congratulating the likeliest unlikely man again.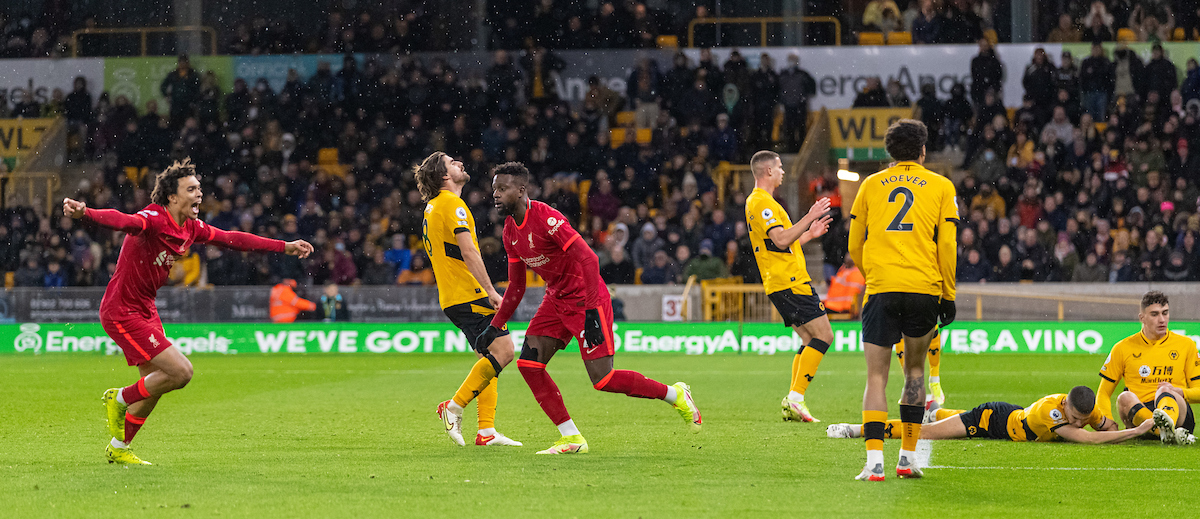 They come over minutes later after the final whistle, after they have had to win 20 headers, spread along that odd horizontal away allocation and everyone is giving it the big one. Andy Robertson growling. They know the miracle. They know the significance. They know what we are all in it for in May.
Before then the miracle had been inverted. Whatever the word is for the miraculous miss we had seen it from Diogo Jota. The phrase "should score" is bandied about a bit too much in football. But Diogo Jota should score x 100; the most "should score" thing I have seen missed in ages.
Liverpool finished both halves much the better side. From around 60 minutes it is crystal clear that Wolverhampton Wanderers' win has become 0-0. They carry a threat on the break but they are giving everything to ensure Liverpool don't score. If it wasn't their everything when we kick off, it is by 75 minutes and that is true of the crowd too.
The Wolves shape is compact and they don't press but occupy space brilliantly. They aren't quite passive. The idea that sides are either active or passive, are either proactive or reactive is increasingly redundant. Those dichotomies don't define sides. Wolves occupying the passing lanes in a way to force Liverpool into mistakes. They want to get the ball up the pitch.
Their biggest asset in that respect is Adama Traore. Traore skews football matches profoundly. He needs to be dealt with by the very best teams but he isn't one of the very best players. Everything is more difficult when he is on the pitch but one Virgil van Dijk mistake and one outside of the foot pass aside it never really feels like the goal is involved.
These are the positives for Wolves. The main negative is the repeated time wasting through players staying down. It gets ridiculous and creates a real sense of bad faith. I am all for what it takes to succeed but we are here to play football.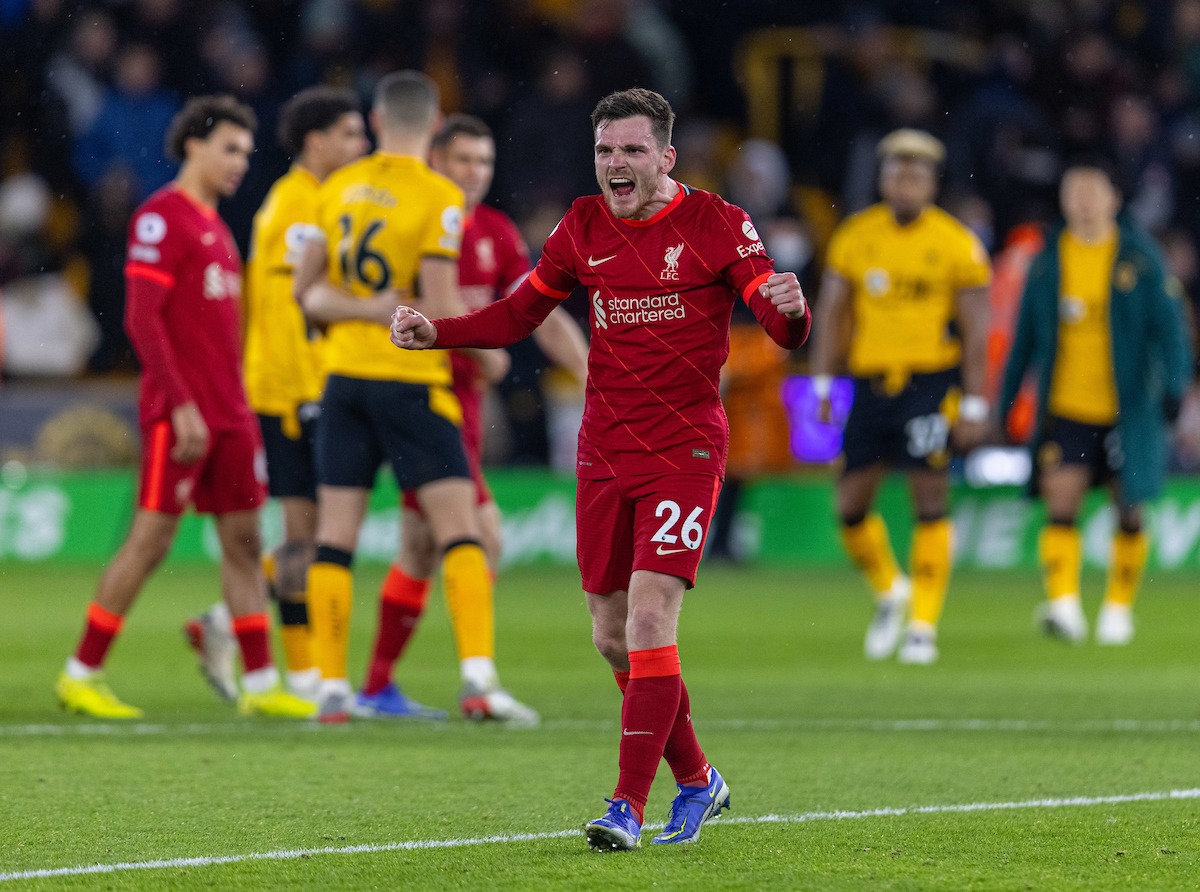 Thiago Alcantara is here to play football. He plays it in all the phases. He recovers it brilliantly, keeps it ticking and is a massive part of Liverpool turning the screw. He must be a pleasure to pass to and to receive the ball from.
Alex Oxlade-Chamberlain makes a difference off the bench. Trent Alexander Arnold shows over and over. Wolves collapse back on themselves.
And there is Divock Origi. Choosing his arrow from his quiver of moments. Irresistibly Divock Origi. Endlessly Divock Origi. Let it never end. Let his wonders never cease. I don't believe in the existence of angels. But looking at Divock I wonder if that's true.
Football miracles, football trophies, into our arms. Grace and love on a rainy Saturday in Wolverhampton when almost all hope had been extinguished.
That'll do.
Recent Posts: