Neil Atkinson's post-match review after AC Milan 1 Liverpool 2 in the Champions League at The San Siro…
IT was a game some wanted to shrug shoulders at. Liverpool do the opposite. You've never seen fringe players like it.
"Fringe players." The manager would hate that. He won't think like that. He won't have that thinking near him, or near them.
But we're not him. Or them. We can use our language until it truly becomes redundant. We can say Liverpool made eight changes and looked splendidly like Liverpool. They were The Reds, the better side, our boys.
Our boys. Part of what frames the game as being about our boys is the selection of Sadio Mane and Mo Salah. They keep the shape and they keep AC Milan honest while they are on the pitch. Intensity is our identity. They are our identity.
They offer Divock Origi a structure and a sense of purpose. They offer an outlet. One goes wide for space – Salah; the other comes narrow for a scrap – Mane. You can send and send and send and there they are.
Knowing how to send it can't hurt. It offers confidence. Drop it here and see what we do.
But then Origi, Oxlade-Chamberlain and Konate are excellent all game through the middle of the pitch. They win their battles and win them on the front foot. They show an intensity that is wholly committed to Liverpool winning, not them looking pretty for the manager.
In many ways the strangest thing or least likely thing about the Liverpool squad is its selflessness when given an opportunity. Chamberlain is delighted that Salah scores the rebound from his attempt. Origi and Konate see themselves as parts of units they have to give it all for.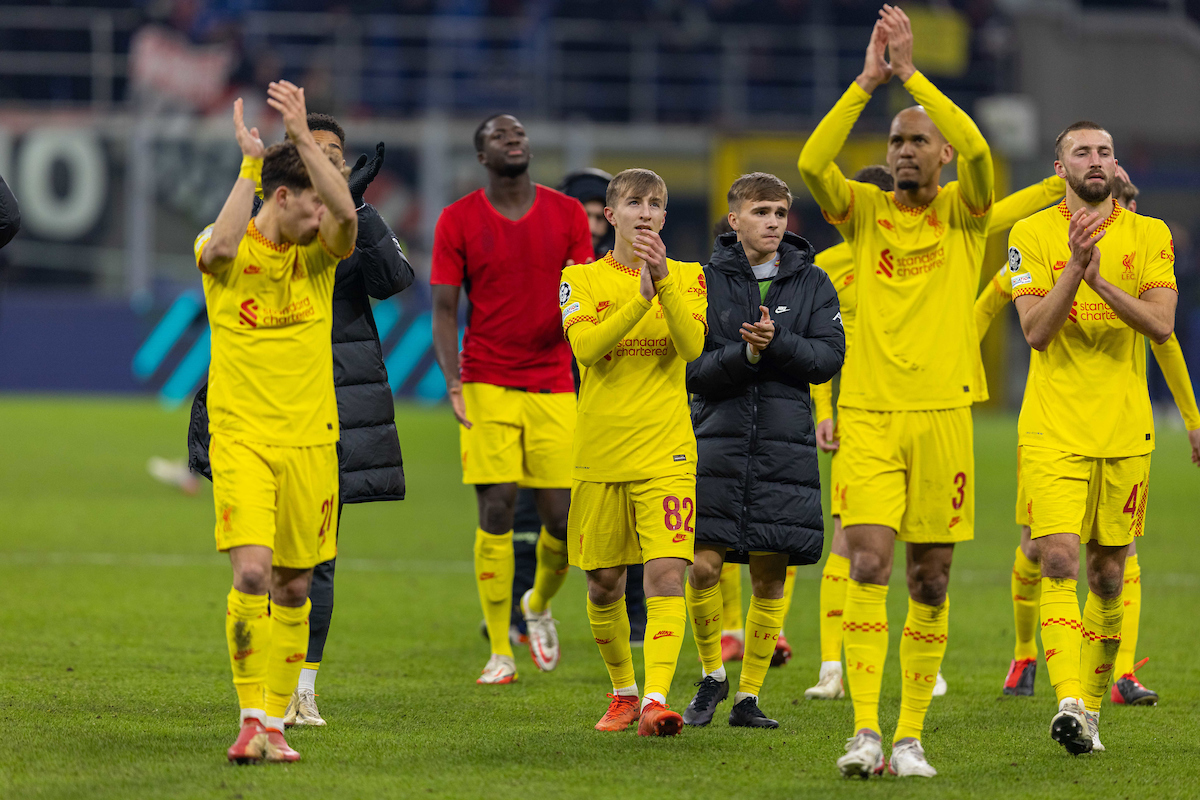 Yet again Tyler Morton is so very neat and tidy while Neco Williams is all a tangle in the best possible way. Neco will never be easy on the eye but he'll be glorious in the analysis.
Nat Phillips got his run out in the San Siro and showed staggering composure over and over. He also showed a direct pass through midfield. He showed the value of coaching and of belief, both self and collective. He's a pleasure to have beheld and a testament to everyone around him but most of all to himself.
It felt like a clean sheet. The set-piece goal is an anomaly. AC Milan couldn't hurt Liverpool, one brilliant save from Alisson Becker aside.
They should be ashamed, if I am honest. Everything was on the line for them from kick off but they never matched the intensity of the side who already had 15 points. They should have been first to everything; there were some things they were third to, Liverpool players running away in pairs.
I expected tonight to feel like nothing, to be a shrug, but they make you proud. In a similar way to the wins at Old Trafford and Goodison Park, this is a victory that makes clear how much Liverpool are getting right not just when the referee blows his whistle for kick off but every single moment, on and off the pitch.
The gulf should not be this great and let's be clear – Liverpool's wage bill explains much of that gulf. But culturally across the board, from front to back, from tea room to CEO to manager, Liverpool are in such shape.
You can't shrug at Liverpool in the Champions League. You can't shrug at Liverpool under Jurgen Klopp. You can't shrug at these lads. Because while you are shrugging they are taking the ball off you and carrying it towards the goal.
Eighteen points. Six out of six. A squad you can love. A December they are ready for. Into these Liverpool. All these trophies? They aren't going to win themselves. But have a look at you. Capable of everything. I mean that. Capable of everything all at once. Into these. They don't love it like you love it.
https://twitter.com/TheAnfieldWrap/status/1468342025900769282?s=20
Recent Posts: