Despite only playing a handful of minutes so far this season Takumi Minamino has made his mark, so what more can he do to get himself games?
IF you wanted to see Takumi Minamino in a Liverpool kit before this week, you didn't have to look very far.
Liverpool's social media accounts boast plentiful images of Japan's Premier League poster boy, however if you were after any on-pitch competitive action you'd have been found wanting.
Reds could be forgiven for questioning the whereabouts of Taki, until his first minutes of the season came in the form of a midweek Carabao Cup match against Norwich City. While Carrow Road against The Canaries is usually happy hunting ground for The Reds, a much-changed line-up added uncertainty. Having not seen him in competitive action in Liverpool colours for the best part of a year, the nerves were only heightened.
The nerves were quickly quelled, though, as Minamino opened the scoring two minutes in, before bookending an industrious performance with a late second — Liverpool's third — to give him twice the number of goals as he has appearances for the season.
Despite an impressive pre-season and a solid loan spell at Southampton, Jurgen Klopp's reason for allowing Minamino to temporarily depart in the first place may have filled some fans with fear that he may be waving goodbye for good, particularly as the boss seemed to at least partially cite his height as the reason he wasn't getting his chance.
"Sometimes it was just the size because of our problems in defence and we were not tall enough — and then Takumi on the pitch and I think 'how can we do that?' Defending set-pieces is very important and for the player it is not too interesting and for journalists it's probably not interesting, but in some moments these things make the difference why one player is playing and another not."
While Taki didn't get taller over the past nine months, the return of Virgil van Dijk, Joel Matip and Joe Gomez, along with the arrival of Ibrahima Konate, takes the squad's average height up a considerable amount (and we won't comment on Xherdan Shaqiri's exit contributing to that) so could the luxury of another smaller forward now be afforded?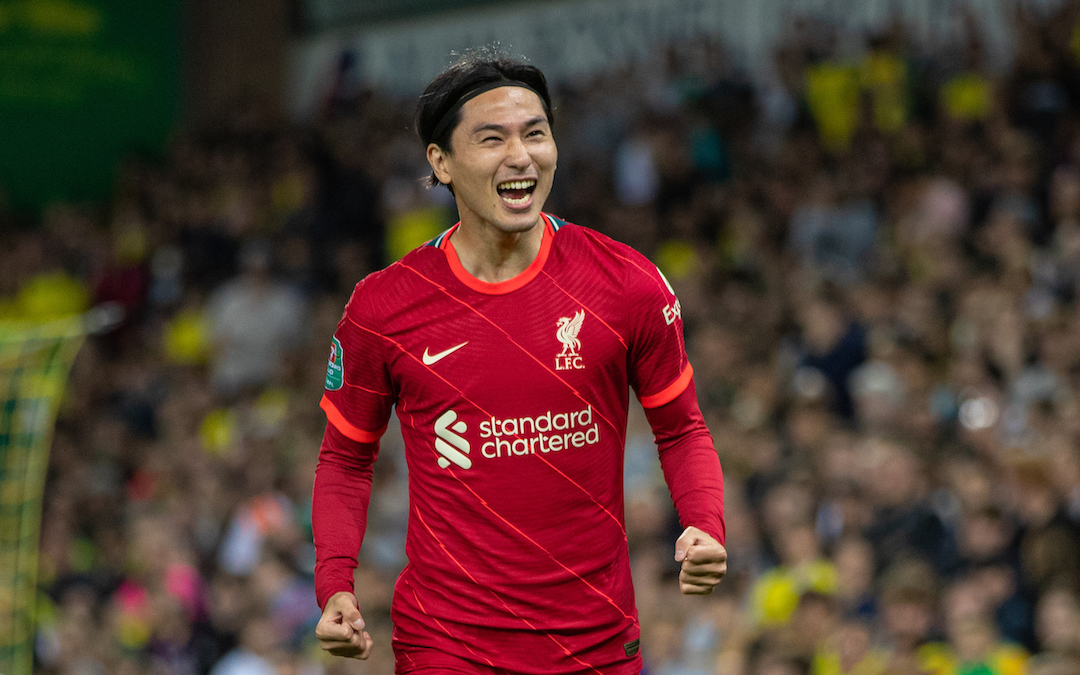 Three Premier League matches as an unused substitute were followed by a minor injury being suffered during training on international duty, and it seemed like another major setback might see Taki struggle to break through.
The main frustration lies with the idea of throwing Minamino in cold if needed, when his minutes on the pitch could be being built up now to test him out, but it seems like Klopp was willing to be more patient than most would be for the right time to introduce Taki to the team. That said, we may need to strike while the iron is hot and let him build momentum, so he's in the best place possible when he becomes a necessity rather than an option — for example, when Mo Salah and Sadio Mane both depart for the African Cup of Nations.
While scoring a brace is never to be sniffed at, what made the Norwich performance even more delightful was that it came from the very position we want to see Taki thrive in. Now, I'm not here to plead the case that he start ahead of Salah, Mane, Firmino or Diogo Jota any time soon, nor be the first name on the teamsheet. It's important to be realistic. However, with Firmino and Jota's injury niggles and Harvey Elliott making a transition to midfield before his tragic injury, he could expect to be seeing more minutes even from the bench.
When he joined from Salzburg at the turn of 2020, no-one expected Minamino to displace Mo, Firmino or Mane, not many players on the planet could, but the 26-year-old's versatility seemed to be his strength. Of course, the arrival of Jota was always likely to knock any player outside of our starting frontline down the pecking order, and a loan move was less surprising than it otherwise would have been before the Portuguese forward got off to a flyer.
Much like another fellow former Salzburg star gracing Anfield in Naby Keita, who will likely join Mo and Sadio in January, the number 18 has shown glimpses of greatness — but no more than glimpses. However, you could argue, and even his boss has admitted, his chances have been sparse. Of course, it is still early in the season and anything can happen, but a blistering performance against Norwich definitely doesn't hurt after a transfer window barren of attacking additions.
So where do Minamino's minutes come from now? Well, the obvious answer is the Carabao Cup but even that may not be enough, especially if The Reds fall to another early exit. The FA Cup will come with similar concerns. The honest answer is that game time in this Liverpool side is not easy to find, as quality players like Shaqiri have found out, but Jurgen Klopp will want to find a way if it helps the team in the long term.
Taki has shown he can influence a game and that he's capable of taking chances — both literal chances in front of goal, and more figuratively taking the one chance he was given to impress this season. He'll have to keep that up if he's to make a splash in this side.
---
Recent Posts: