An analysis of the man behind Mo Salah, as Liverpool's trailblazing talisman adds more big moments to his already rich catalogue at Anfield…
'YOU, the fans, keep me going. You give me more strength than I think you'll ever know.'
The words of Mohamed Salah on social media after Liverpool's victory against Crystal Palace a fortnight ago. Those words were enough to push me over the edge and attempt to write something about him even before Sunday's events. But this is as much about the man as it is the footballer.
These last few weeks I've felt like Mo Salah has been constantly on my mind. Almost god-like in his omnipresence. It was triggered in particular by a little period after he missed the penalty against AC Milan back in mid September, in which The Kop sang his song with more intensity than I can remember it being sung before.
He would have felt that and felt in that moment especially that we are all his people. That we are the people he wants to showcase his desire and talent to. Don't get me wrong, he would've felt all of this before in the dozens of other moments where he has delivered big time, but it's starting to feel different now. His presence has reached a new plane.
There seems to be a thing around Mo Salah where he can be portrayed as someone who doesn't have the same passion for the club as others. That he may not have the same loyalty and affinity to the club. Part of it stems from the mystique around the man. Someone who doesn't do many interviews and clearly wants to maintain privacy in his life.
Those doubts should now be put to rest. He has unequivocally shown his passion, his personality and his identity. He has an unbreakable affection to us and to Liverpool Football Club, and we him.
You, the fans, keep me going. You give me more strength than I think you'll ever know. pic.twitter.com/HgNx8YbTtS

— Mohamed Salah (@MoSalah) September 18, 2021
I'd say that we are his people, but few world superstars have more people that could feel as close to their idol as fans of Mohamed Salah. While I am neither Egyptian or Arab, Salah seems to transcend both of these facets of his identity.
Those of us lucky enough to have been at the 2019 Club World Cup know that this is a figure worshipped by a huge part of this planet. A part of the planet that many of us probably don't really know much about and has been misunderstood, both recently and historically. This is not to say that he is defined by his cultural significance, but that he embraces it and projects it how he wants to. That is something that can be very challenging for someone from that part of the world and has to deal with all the pressures that come with it.
While in Qatar back in December 2019, we met an Ethiopian man living in Doha who supports Arsenal, but has a son back home who worships Mo Salah. He was telling us how he scraped together everything he could to bring his son over, so that he could experience his idol play live in the flesh. The kid was having the time of his life in the fan park, running around playing footie in his Mo Salah top.
These stories are usually associated with Cristiano Ronaldo and Lionel Messi, but for many now it's all about Mo Salah. He has reached people who may not have had a natural route into becoming a football fan. You wouldn't be surprised if the name 'Mo Salah' is mentioned as an inspiration by future generations of professional football players, especially from non-traditional footballing nations.
The significance of having someone with the name 'Mohamed' reaching the very top of this sport can never be downplayed. As someone with a Muslim and Eastern background, it fills me with immense joy to consistently experience 50,000 people of different origins worship this man at the peak of his powers. It's given me a strange sense of pride that I don't think I've ever really felt before around football. A man I can identify with in a lot of ways, playing at the highest level in world football.
Of course, he is not only defined by his faith, but his status has provided much of the Muslim world with the same sense of pride and, most importantly, a positive figure that embodies progression. Cultural barriers can be broken by Salah just being himself.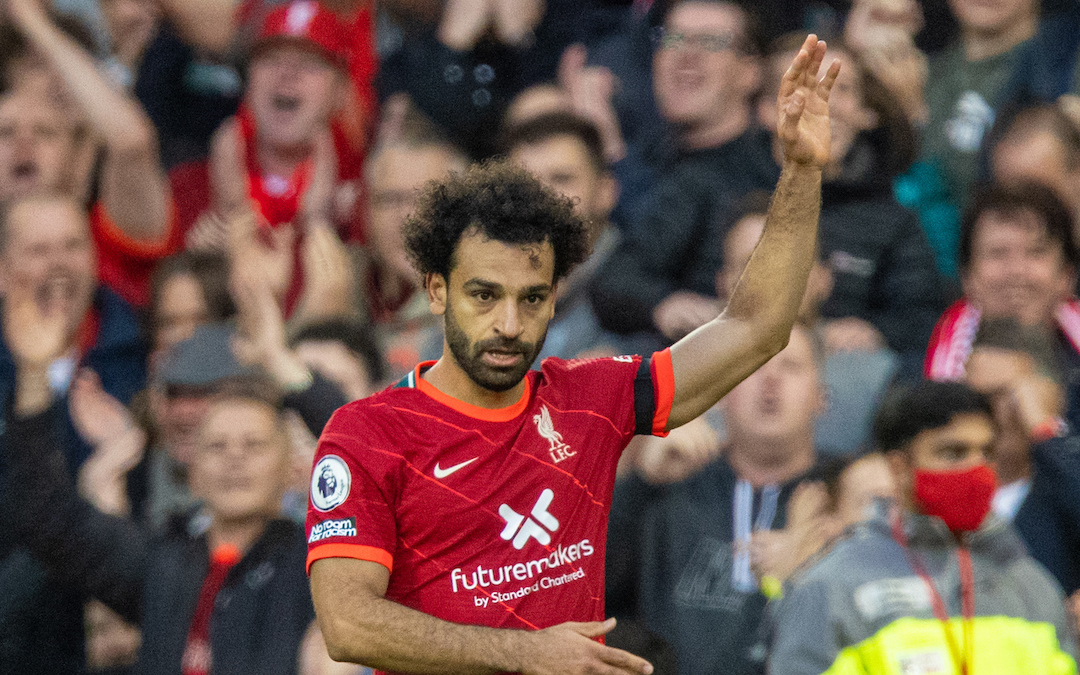 We've seen him deliver us so many big moments, but this past fortnight has really brought back this feeling of pride for me. The response to his goal against Manchester City was just perfect. Every row of every stand he passed metaphorically bowed to him and paid homage to this fella who feels like your god for 90 minutes.
While the let off for his goal was wild, there were a number of people around me in The Kop, including myself, who just stood in awe of him. Unable to celebrate, unable to comprehend the sheer brilliance of what he had just done.
His footballing ability is totally beyond question. His peak could go on for another five or six years because of how he looks after himself. The ground he covers is second to no other forward in the world. From the wing, to full back, to centre forward; he contributes so much to every mechanism of this football team and what it does so well.
Ultimately, this is a man who is totally committed to delivering big. For himself, yes. But do not for one second doubt that, above all, it is for all of us.
We should never stop talking about Mohamed Salah. As a footballer, as a man, and as an icon. He is a trailblazer.
---
"We're now talking about Salah at the level of Liverpool's greatest ever players."

🎙️ Liverpool 2 Man City 2 | The Anfield Wrap Podcast

🗣️ @Knox_Harrington hosts @Ian1892T, @emiliabona & @jsexton24…

Listen for free 👉 https://t.co/WILWYA6oy8 pic.twitter.com/8rKJu7VmY6

— The Anfield Wrap (@TheAnfieldWrap) October 4, 2021
Recent Posts: