After six years at Liverpool, Jurgen Klopp has managed to achieve what his predecessors couldn't – in more ways than one…
SIX years is a long time for any manager to be in place. Not many make it that far.
In our recent history, only Rafa (2004-2010) and Kenny before him (1985-1991) have survived that long. The Spaniard was on borrowed time for his final year given an average season and the boardroom shenanigans behind the scenes. Kenny's departure in February 1991 came as a shock as no one really knew how bad his health suffered post Hillsborough. Thank God he stepped down when he did.
For Jurgen Klopp, though, things are much different. Say what you will about the owners, but his job has never been under threat. The only risk is if he himself feels he isn't backed financially in the market and, as yet there's been no murmurs of complaint from his camp. Jurgen is a man who seldom fears the microphone so he either accepts the situation of a post-Covid world or likes to pick his targets slowly and methodically. It's probably a bit of both.
It's easy to see the tangible changes since he arrived in 2015. The League title has finally arrived after three tortuous decades without, as well as three European finals and one European Cup. Last season aside, Liverpool are now a team fighting in the highest echelon of European football — quite an accolade when three of the top four are strong contenders to win the European Cup. There's no filler at this level. No surprise package.
But arguably his biggest success is us — the fans. He has brought us together in a way not seen since Kenny's return in January 2011. Go back six years before he was appointed and Liverpool was a very different world. Rafa nearly delivered the title in 2009 with just two league defeats while Torres, Gerrard, Benayoun, Alonso and Mascherano ran riot, but in the stands, there was seldom any agreement.
Rafa In v Rafa Out factions developed with the same strength as the FSG variant does today and pretty much every home game came with rumours that Rafa had finally walked. His contact with the owners was minimal at best and there was only so much he could take despite the success on the pitch.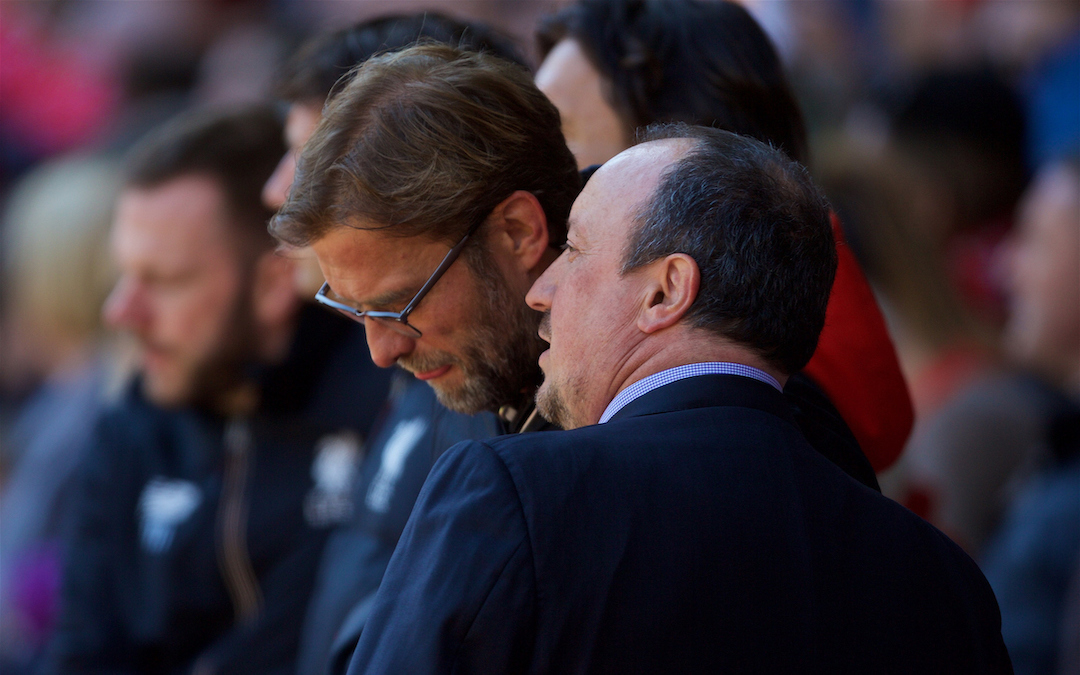 It may seem strange to younger or newer Reds given Istanbul and the Gerrard final, but many fans wanted him gone by 2009 — tired of the debilitating home draws against the likes of West Ham and Fulham and his reliance on defensive formations. Others, me included, sang his praises from every quarter, but the love-in was far from universal. 
His replacement did in fact unite the entire fanbase but not in the right way. Hard to imagine that his time was just five years before Jurgen's arrival.
Kenny came and went with joy and then sorrow. The day he was dismissed was one of my lowest as a Red. He deserved better treatment given what he went through for the club. He stepped in when Hodgson ran us into the relegation places but was treated in an insulting manner by the board and sections of the crowd. Come the end he was summoned to Boston to receive his punishment like a headteacher sending for an errant pupil.
Yes, the league form suffered as he competed for the two domestic cups but he delivered the first silverware since 2006 and had Anfield smiling when only a year earlier we were facing extinction. Many dislike John Henry for his perceived lack of investment. I don't. I dislike him because of 'that' photo of them at Wembley. The club's greatest living legend sacked by a company man in an ivory tower. 
Brendan Rodgers' relationship with the fans went either way. From being so close in 2013-14 to the absolute nadir of Wembley 2015 he ran the whole gamut of labels from 'legend' to 'fraud' in such a small timeframe.
But Jurgen got everyone on board so quickly. I won't lie. He's annoyed me at times with his occasional 'if you really love this club' remarks as I don't need to be told about my level of support, but he is a man who has the gift of bringing everyone together.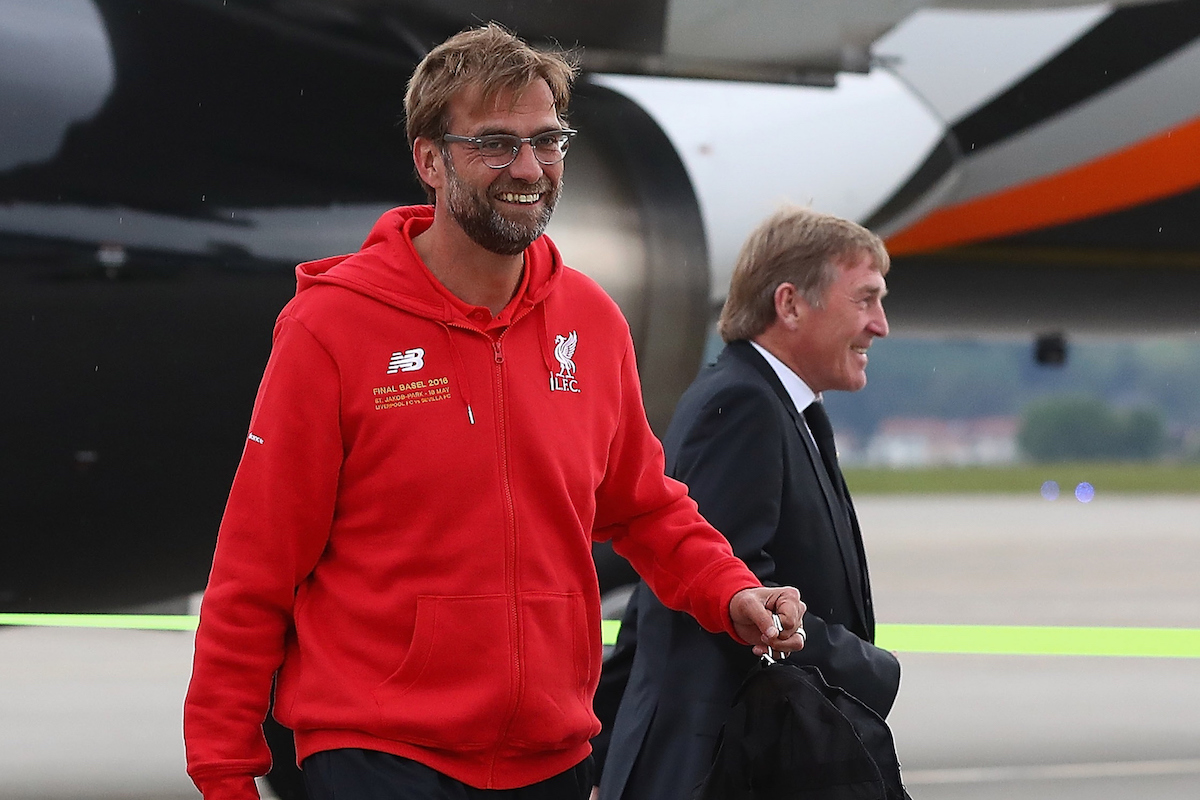 Jocular when he needs to be but brutal at other times — telling the fans trying to slap hands with their heroes in midst of Covid to 'put your hands away, you fucking idiots' — he's adopted the ethos of this club and used it to generate success on the pitch. He made us a legion where others put up a wall between the club and its stakeholders. That's such a hard thing to do when you consider that we're at each other's throats most of the time.
And the best thing about his time here is that he still has so much to do. There's no sense that this will come to an end any time soon. His contract expires in 2024 and even if he fancies another sabbatical to recharge his batteries, there's always Pep Lijnders to come in as the next stage of a sort of German-Benelux Boot Room.
And I really hope that Pep takes over at some point. There's a feeling with all this that Liverpool will somehow sink if and when Jurgen calls it a day, but the changes he's made, both physical and attitudinally, should be used as a template for the future. Who better than his right-hand man to carry on his work? Hopefully though, that will be years away.
The future won't be easy. As of last week, a fresh moneyed challenger entered the arena to make the task even more difficult. It's not enough to have two of the richest clubs in the world biting at your heels before a third one steps in. As Slim Charles tells Cutty in The Wire: "The game the same, just got more fierce."
Here's to more years of Jurgen, of mad nights at Anfield, of celebration and hope and joy. He's won the two biggest prizes in the game but he needs to win multiples before he can join the pantheon of managerial Liverpool greats. He can do it too.
I just wish he'd lose the baseball cap.
---
"Klopp and Liverpool are a perfect marriage. He's brought everyone together over the last 6 years."

🗣 @robbohuyton, @johngibbonsblog, @Knox_Harrington & @C_Hannan7

🎙 Listen to our TAW Special on 6 years of Jurgen Klopp 👉 https://t.co/RZ5ckXvRKw pic.twitter.com/cwND9aPbcW

— The Anfield Wrap (@TheAnfieldWrap) October 8, 2021
Recent Posts: