Despite another convincing win and display on Saturday, Liverpool remain third favourites for the title. Yet we, the fans, like it this way…
KEEP talking about Manchester City. Keep talking about Chelsea. Make everything about Manchester United, Ronaldo and Varane. Buy a gallon of ink and fill a bible about Newcastle. Leave Liverpool out of it.
There are so many times when one side gains a healthy half time score against a lesser team and don't go for the throat. On Saturday I considered the importance of the Atleti match on Tuesday, the risk of injuries — the vapours of last season still congregate around a wary Reds side — and felt sure that Jurgen Klopp, pragmatic when he needs to be, would do the sensible thing and tell the lads to just keep the ball and the points.
I was delighted when he apparently did the exact opposite. The Reds sensed blood as they saw the scared boys in yellow line up for the restart and just went for them. It took just nine second-half minutes for 2-0 to become 4-0. Hungry in the stands, ruthless on the pitch.
A crowd will always know when there's a drubbing in the offing. I was lucky enough to be on The Kop when we led 3-0 against Palace at half time in September 1989. The game was already won but there was something else to be played for. Everyone in the ground knew that this was going to be a big one. The players did too. A crowd can sense that. A 4-0 win would not have been enough that night. We settled for nine.
Of course, you only get the same points as any other winner on the day, but sometimes you want to leave your mark. We were on the wrong end of that last season. Liverpool didn't just lose 7-2 at Villa Park that day. We carried the guilt, the shame and confusion of it for weeks after. It stuck in our minds far longer than the disappointment of the loss of three points.
If you get the chance to derail an opponent for weeks then you have to take it regardless. Confidence is all at that level.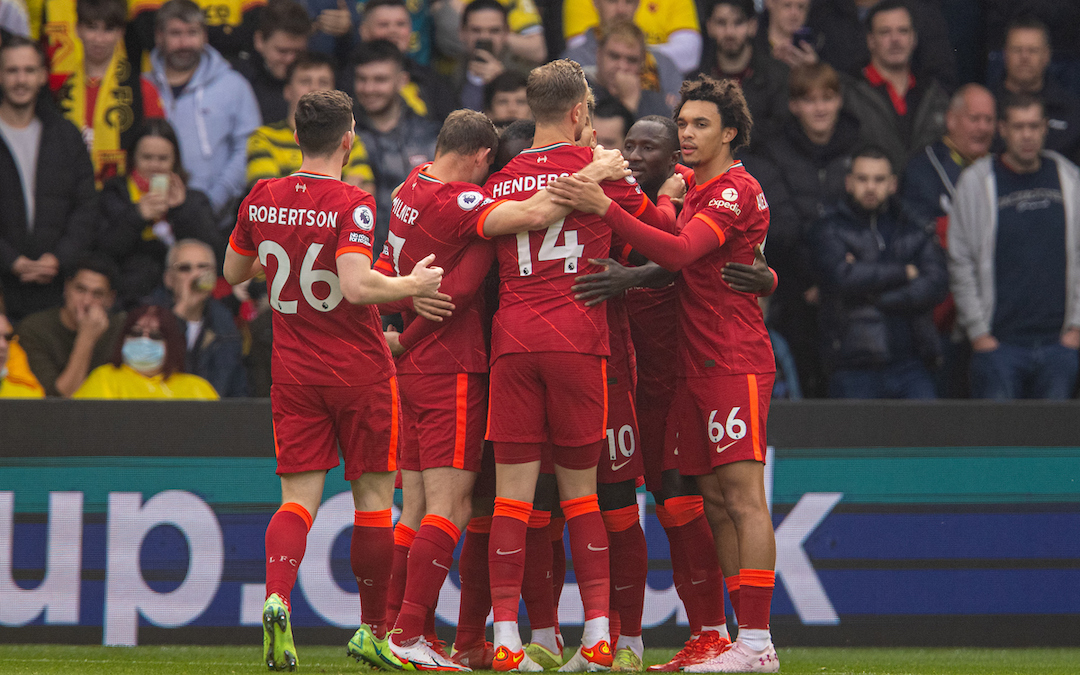 Liverpool tore a woeful Watford to pieces on Saturday. Mo Salah scores the best goal in a fortnight as he used the game to produce a showreel of his genius, Sadio Mane casually knocks in his century goal and Roberto Firmino takes home the match ball, yet, somehow, Liverpool are only third favourites to lift the title trophy.
Fine. Keep looking the other way. The Red men are coming up the hill, boys, and stealth reduces pressure. Shine your light elsewhere.
People can look at that Salah goal and nod at its greatness, but for those of us fortunate to be in the front few rows in the Vicarage Road Stand it was impossible not to see the craft of it too. It was a series of short verses before the main chorus. 
He could have lost the ball at least four times before he shot. A tap to push the ball a handful of centimetres to convince the defender that they could challenge for it and then an almost casual pull back with the studs to put them off balance, then a commitment to move in one direction and a sway back to send another hapless Hornet to the ground.
Suddenly Ben Foster just wants the day to be over. He'd done well to deter him twice already and it was telling that Mo laughed loudly to himself when the keeper managed to push an earlier shot over the bar — clearly enjoying the challenge he'd been set. A man who loves goals. Loves the complexity of them. The art.
Then there's Sadio. A hundred Premier League goals — 79 for us, two against us — and he's hardly had a line of press this week. Pundits (and a few Reds) have said he's on the decline and yet only two players have more league goals than him this season. He plays with one of them.
On any other day in any other season, he'd be lauded across the back pages for this monumental achievement. He's now one of just three Africans to score 100 or more Premier League goals. Drogba and… Well, obviously.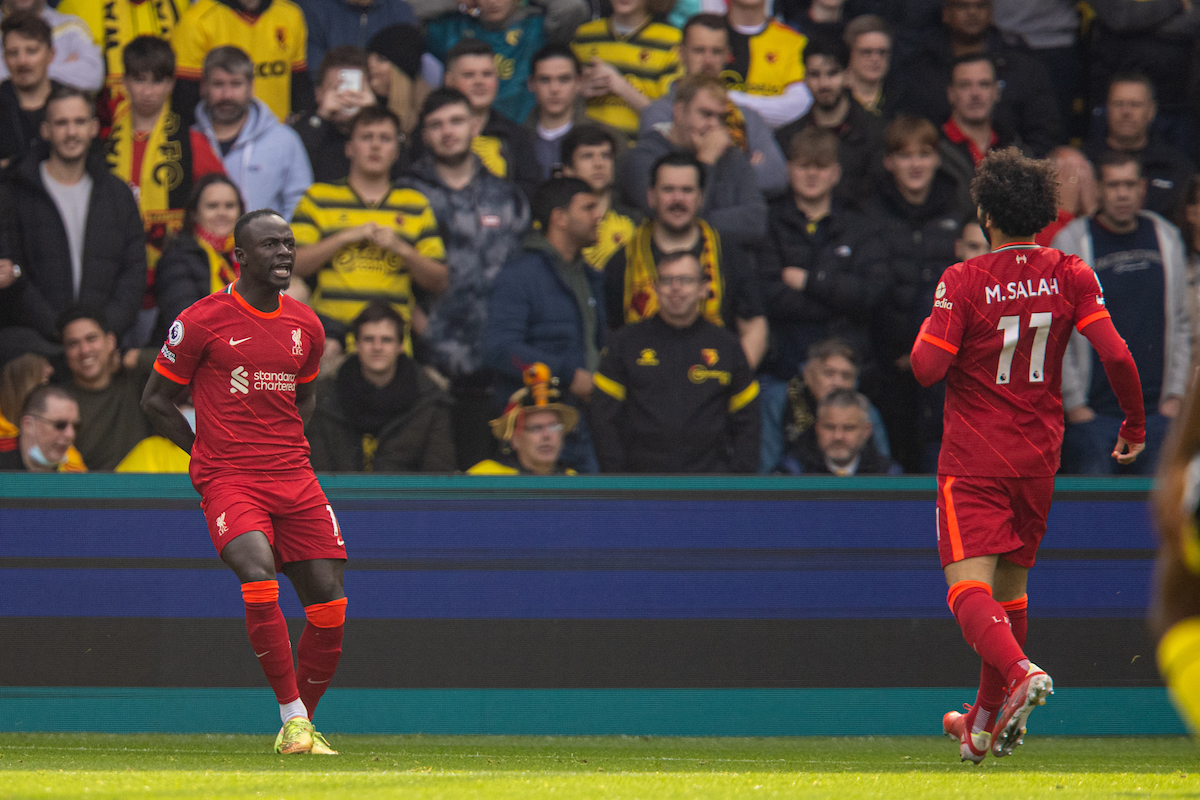 Roberto? A hat trick. His second for us following his bunfight with Arsenal a few Christmases ago. Again, he's been written off time and again, especially with Diogo taking some of his playing time. Only four players have more league goals than him so far this season and he plays with two of… OK, you get the picture.
Keep writing us off. Keep talking about Foden and Grealish, drool over the United signings, tell us how Tuchel has Klopp's number. Bang on about the Newcastle money. Shout all you want. You're going to remember us soon.
Maybe they think the league win coupled with the sixth European Cup has scratched our itch and left us content and satisfied. Maybe some think that this is it for us. That the thirst has been slaked. It has not.
The Red men are coming up the hill, boys. They all laugh at us, they all mock at us, they all say our days are numbered.
It wasn't just a run-of-the-mill win against a lower placed side. It was a public dismantling of a new manager bounce dream. Come the second half, mercy was the only hope Watford had.
There are going to be more days like these. Days when the stars align and Liverpool take the piss.
I love these days.
---
"This team doesn't care about your narratives. From the get go they were on fire."

"This could have been a banana skin to ruin your weekend. It absolutely hasn't gone that way – The Reds are flying."

Post Match Pint 🎥

Subscribe to Listen
👉https://t.co/oaOWcUzrlr pic.twitter.com/VqcqKgXe6x

— The Anfield Wrap (@TheAnfieldWrap) October 16, 2021
Recent Posts: