FOR weeks, months after Jürgen Klopp was announced as Liverpool manager, Sean Rogers would say on our Review show that we'd get whacked at some stage.
That we would have a moment, a game, when the wheels came off completely and we'd have to pick up the pieces afterwards and accept that this sort of thing happened every now and again when you walked the tightrope.
You've got a choice here. So has the manager. So, frankly, have the players. There's more than one choice. Choose your own review.
Choose your own review. Shall we have a go? It means that Josh Sexton can't move my paragraphs around. But I reckon we can do it together.
Let me ask you a question – when Jack Grealish scored his first and Aston Villa's sixth, deflected off Fabinho's face, did you laugh or were you furious?
IF YOU LAUGHED PLEASE GO TO PARAGRAPH 1. IF YOU WERE FURIOUS PLEASE GO TO PARAGRAPH 5.
1 – Everything was just getting out of hand by this stage and there is something about it which is downright ridiculous. Yes, Liverpool had been very poor and masters of their own downfall but this was simply far too much, like a film full of pratfalls, like Laurel and Hardy or like The Plank starring Tommy Cooper. Everywhere you turned things were just going wrong for The Reds.
DO YOU THINK ASTON VILLA DESERVE CREDIT? IF YES, PARAGRAPH 2. IF NOT, GO TO PARAGRAPH 4.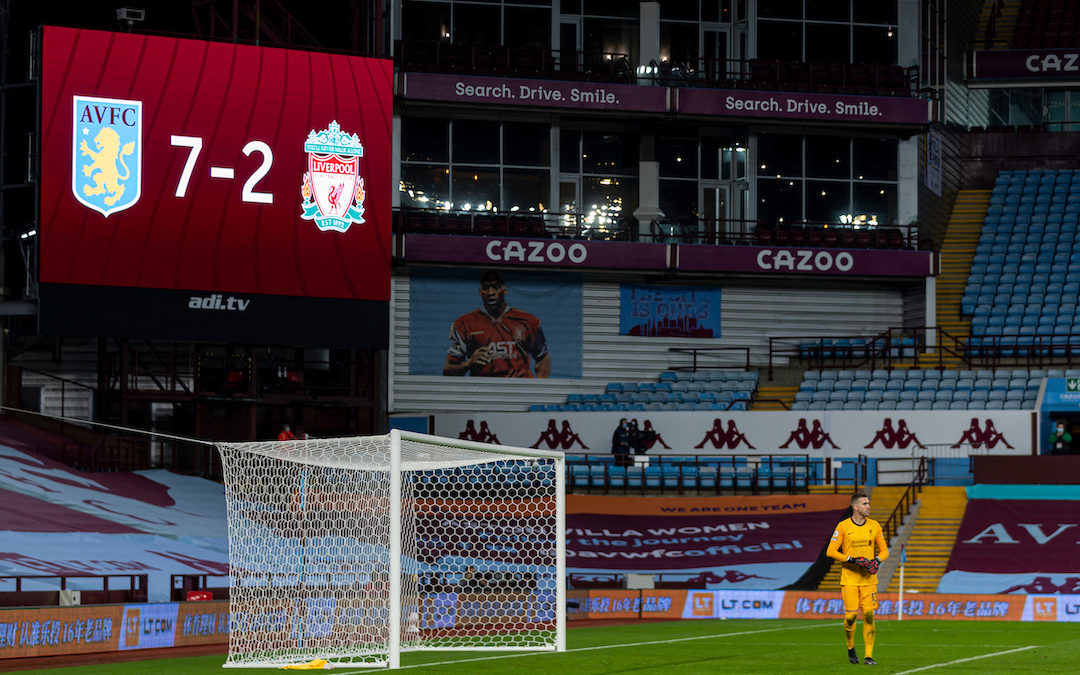 2 – The truth of the matter is that this Villa side very much got on Liverpool's case and exploited a number of things they had observed about The Reds perfectly but then they were also quite fortunate. Sometimes everything you hit goes in, some nights everything you plan works perfectly. Dean Smith and his players deserve an enormous amount of credit.
3 – Throughout the game Oli Watkins showed why he is so dangerous. Brilliant on the flanks but also able to be a penalty-box striker. But Jack Grealish was a delight. He loves the ball at his feet, he loves a touch, loves a look. His decision making is excellent. I was delighted when he signed a new contract, when he didn't go to Manchester United. I think Villa could finish top half but if there is one player from last season's bottom half I wished could play for Liverpool it would be very close between him and Ismaila Sarr, and Grealish is much more for now.
4 – Pick your favourite cliche and put it on like a balm. If you can't support them when they lose, you don't deserve them when they win. Their cup final and within it Liverpool were masters of their own silly, stupid downfall. Whatever. The point is that this Liverpool deserve our love and admiration at all times.
DO YOU AGREE THIS LIVERPOOL DESERVE OUR LOVE AND ADMIRATION AT ALL TIMES? IF SO, GO TO PARAGRAPH 7. IF NOT, GO TO PARAGRAPH 6.
5 – Liverpool today need to take a good long look at themselves. As things unravelled Liverpool looked short of the qualities that have got them to where they have been as a football club across the last three or four years and this just might be the wake-up call they have been waiting for right the way through 2020. For too long there has been a complacency about the side and tonight they were deservedly punished by an Aston Villa side who listed their weaknesses and exploited each.
6 – The first thing is this: Liverpool cannot play without leadership. We cannot. The goals might have been fairly unsaveable in themselves but they were utterly preventable in the build-up play and in the organisation of the side. Not just the defenders but the midfield. They have to sweep back to protect Trent Arnold and Andy Robertson moving forward.
DO YOU AGREE THAT THE SIDE WAS SHORT OF LEADERSHIP? IF SO, JUMP TO PARAGRAPH 9. IF NOT, MOVE TO PARAGRAPH 7.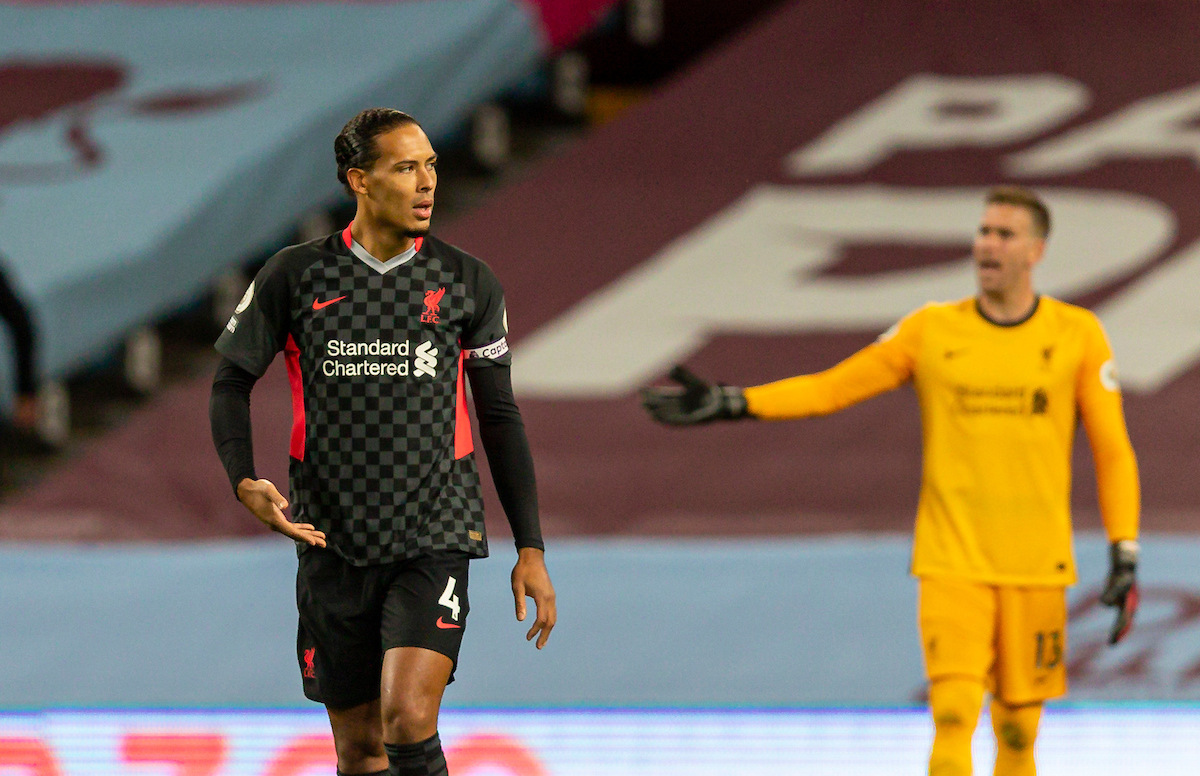 7 – You are going to get beat. There is something about this Liverpool side which makes all reverses seem utterly ridiculous. Only really Arsenal away in the last two years when we had already won the league makes any sense. Score, give two gifts and then have the opposition sit in and hang on. Every other defeat, whether it be Watford or Atletico or Manchester City, have been sufficiently ridiculous. Today is no different. It is just more extreme.
8 – This is why the deflected goals matter. They emphasise that some days everything will just go against you, some days you can embrace chaos but chaos embraces you. Quietly Liverpool had two or three excellent performances but the ball just never bounces for Liverpool in the same way that it bounces for Aston Villa.
DO YOU THINK THE BALL JUST BOUNCED FOR VILLA? IF SO, GO TO PARAGRAPH 11. IF NOT, CONTINUE TO PARAGRAPH 9.
9 – Leadership is a complicated thing but there is something about Liverpool captained by Virgil van Dijk that has never entirely seemed right. This isn't to aggressively criticise the best central defender on the planet, instead to state that he may be better when he can worry about the goalkeeper and the three defenders and holding midfielder around him primarily and not the rest of the side.
10 – In this crazy season the truth of the matter is that resilience is what is going to count.
WERE LIVERPOOL SHORT OF RESILIENCE IN YOUR OPINION? IF SO, GO TO PARAGRAPH 11. IF NOT, GO TO PARAGRAPH 13.
11 – The midfield has to pressure the ball quickly and not allow the side to be overrun with long balls into channels. There is something that Liverpool lack – the high line is there but the pressure isn't. The team is lackadaisical in all all areas and there are a number of individual performances that are genuinely lacking.
12 – But Liverpool today were short of resilience. Short of what has made them effective. They have been very rarely two behind but today they find themselves two behind and they disintegrate. What is there to tell us they will bounce back from all of this? What is there to tell us that they will find their way?
DO YOU THINK INDIVIDUALS NEED TO BE BLAMED? IF SO, GO TO PARAGRAPH 14. IF NOT, GO TO PARAGRAPH 13.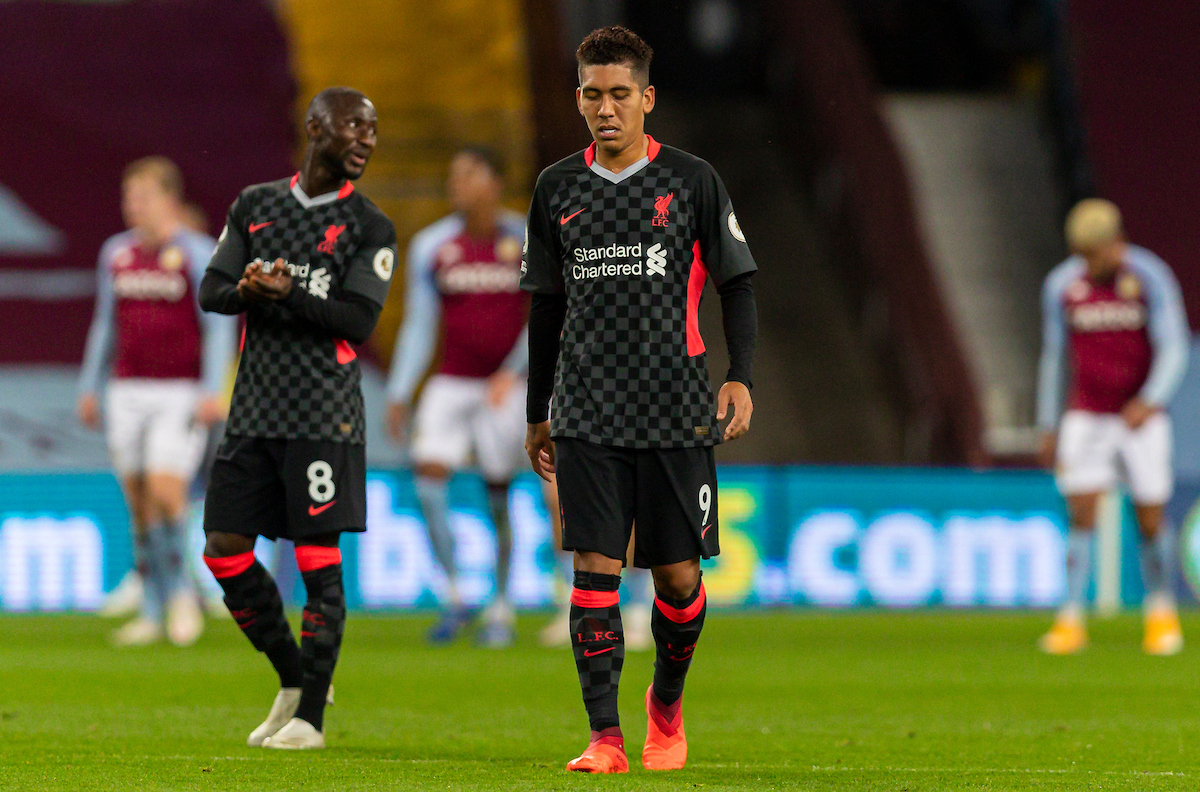 13 – This is best summed up by the penalty we don't get or when the ball is given away by their goalkeeper and we don't capitalise. That is just Liverpool being unfortunate. Everywhere you look at the moment the results are mad. Every day there are games and at least one result which makes you sit up and take notice. This is one.
14 – The manager substitutes Naby Keita at half time and deservedly so but he could have contemplated doing something similar with Fabinho, with Joe Gomez, with Alexander-Arnold and with Roberto Firmino. Repeatedly Roberto Firmino plays his team into trouble. He offers very, very little going in either direction.
DO WE NEED TO HAVE A CHAT ABOUT ROBERTO FIRMINO? IF YES, GO TO PARAGRAPH 16. IF NOT, GO TO PARAGRAPH 15.
15 – The attack created enough chances for there to be chances. Liverpool will do better under normal circumstances from what we saw today. Sometimes things just don't quite click. Tomorrow is another day and we have seen that in the past. Also it is Diogo Jota's first start with the first team.
GO TO PARAGRAPH 22.
16 – In general, Roberto Firmino remains the front three player with the most question marks around him. This is at times best thought of that when Liverpool look short in front of goal it falls to him but on nights like tonight, when he puts in performances like that he does himself no favours. The issue isn't that he doesn't score – though that doesn't help – the issue is that he doesn't bring people into play and that his decision making in all phases of play is ever so poor. Liverpool supporters have made their peace with the idea that isn't going to be a 30-goal-a-season number nine, but that means you can't stink the gaff out when the side is looking for an outball and some creativity.
17 – But Liverpool today were short of resilience. Short of what has made them effective. They have been very rarely two behind but today they find themselves two behind and they disintegrate. What is there to tell us they will bounce back from all of this? What is there to tell us that they will find their way?
DO YOU WANT TO KNOW WHO ELSE IS TO BLAME? IF YES, GO TO PARAGRAPH 18. DO YOU THINK THIS IS, IN PART, ON THE MANAGER? IF SO, GO TO PARAGRAPH 21. IF NOT, GO TO PARAGRAPH 22.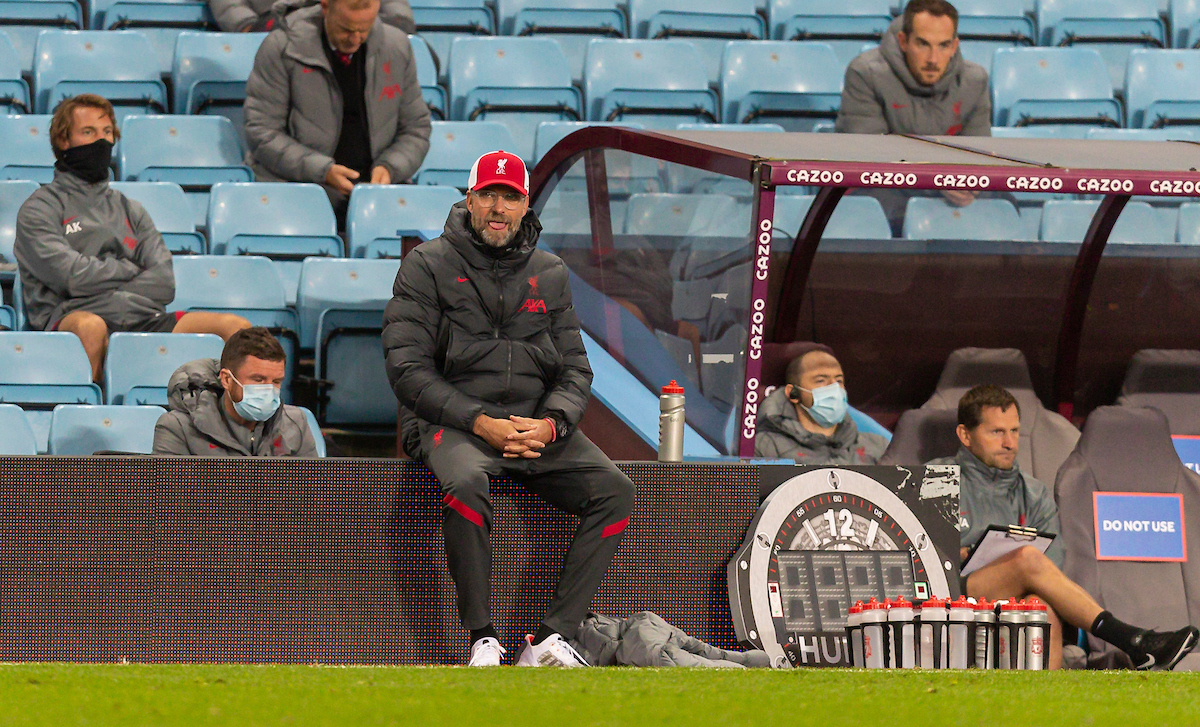 18 – Joe Gomez just loses his mind as the match whirs around him, a state of affairs that stems from the early mishap with the goalkeeper. Fabinho, though, works it out and is unlucky in that sixth goal.
DO YOU THINK WE NEED A NEW KEEPER? IF NO, GO TO PARAGRAPH 19. IF YES, GO TO PARAGRAPH 20.
19 – The truth of the matter is that the substitute goalkeeper is about as good as you are going to get in realistic circumstances. Manchester United are in a weird keeper position but Sergio Romero may be better. Tottenham have gone with Joe Hart as second choice and Adrian is better than him currently. It's the strangest possible position but you have to accept that he is excellent in one-on-one situations and has the character to get through nights even like tonight.
20 – If we have an injury prone first choice then we need to push the boat out on a second, especially one who is good with his feet. It is so important to how we play. Adrian has cost us before and he will do again and we need to do something about it as soon as possible.
21 – The manager has understandably made a virtue of our high line but there just has to be a plan B to get us through phases of the game. We praise this side for being pragmatic but the truth of the situation is that we showed tonight that we can't adapt to sides having adapted to us. We have Everton next and they are likely to have taken what Aston Villa have done to us tonight and will be able to do likewise especially with James Rodriguez.
22 – Football is always about starting again. No matter how good you are. It is always about starting again. From the back to front. Go again. Every season. Every game.
Let's end that nonsense.
Getting beat is dreadful. Getting beat heavily is no barrel of laughs. Until it sort of is, frankly.
There is something very difficult about watching the game in the current environment. In Liverpool, the city, right now, we aren't meant to mix households. But that leads to people watching alone and watching alone is never good. Watching alone hurts. It always has. It can hurt in victory, let alone defeat. Watching alone is to be left with your fear, never to be allowed to nudge and laugh and be aware of one's own ridiculousness.
We did HotMic and John Gibbons said that if you stand on a rake, alone, without an audience then you are a man hit in the face with a rake. But if you stand on a rake and then your friend stands on a rake and then another person stands on a rake you are three people laughing at your own ridiculousness. Laughing at rakes in faces.
To laugh is to live, is to feel. To appreciate. We literally have a song about not being alone. Being alone is shit and I am very, very sorry if you were while watching tonight.
As ever, it is what happens next. This is almost all of football apart from finals and even there Kyiv sticks its hand up.
Aston Villa away. Always an adventure for us. I miss you so keenly, so dearly. I wish we could be together. Goodison next. I have Pretty Green Eyes in my head; sparkle and light. When I wish we could walk together and even see the Blue brethren afterwards but you know I am daft like that, aren't I? (IF YES, GO TO PHIL MCNULTY'S WRITE UP.)
And the main thing to say is this – whatever paragraphs you did or didn't read, everything that we need to know about Aston Villa 7 Liverpool 2 is defined by what happens next. In part, for both sides, but especially for Liverpool.
You can have one of these every now and again, Liverpool. One every four years if that is the price of admission. You can split us all in two even while living the enterprise. But it can't happen again.
Because while some of us can't laugh it off once, all of us can't laugh it off twice.
---
Download our free app for more reaction to the news and events that matter to you…
"We've got right up everyone's noses for a long time. When you're up at the top you're there to be shot at, so you take that on the chin."

"Villa did their homework and thoroughly deserved their win."

Need therapy? Listen to our post match reaction 👉 https://t.co/oaOWcUzrlr pic.twitter.com/mUfiwqrjdL

— The Anfield Wrap (@TheAnfieldWrap) October 5, 2020