Rob Gutmann's preview ahead of Brentford v Liverpool at the Brentford Community Stadium, with The Reds looking a bit lighter in midfield…
I THINK I was at Brentford's old Griffin Park ground on an autumn midweek night in 1983.
My recollection is that The Reds blammed the lower league minnows, I'm going to say 4-1. I'm certain Graeme Souness scored with a trademark edge of the box thumper. I say certain, but these are just fading memories. I could/should check my facts, but I'm happy with my sense of what happened. It seems about right.
I do recall that the prospect of Liverpool actually facing Brentford had attained a gravitas out of all proportion to the actual status of the contest, simply because a very good mate of my brother's was a Brentford fan. I grew up in and went to schools in London, but that kid was the only Brentford supporter I ever encountered. 
Insanely, but in the way kid fans often act, this young Brentford ultra had spent the fortnight since the League Cup draw had paired Liverpool with his team giving it the big one about how we were going to get our comeuppance at the cauldron that was Griffin Park. This would be the 14,000 capacity arena, half filled with Reds on the night of the game by the way, where the third tier west London side were to be entertaining a team that had won five of the seven most recent league titles and three European Cups in the immediate preceding years.
Liverpool, though, were there for the taking according to my brother's pal. To be fair to him, he managed to add the needle and spice the occasion really needed. By the time we kicked off, the game was bigger than the Merseyside derby or Manchester United at Old Trafford.
I like this phenomenon around football fan relationships. Rivalries have their constancies of course, but they're always fluid too. My youngest has started at a great Liverpool high school which is hugely culturally diverse, and because of that he has been exposed to a whole host of new footballing enmities beyond the red/blue ones he experienced at primary level. His best mates now support Everton, City, Chelsea and Spurs. My Raffy is never short of a team he badly wants to see fail.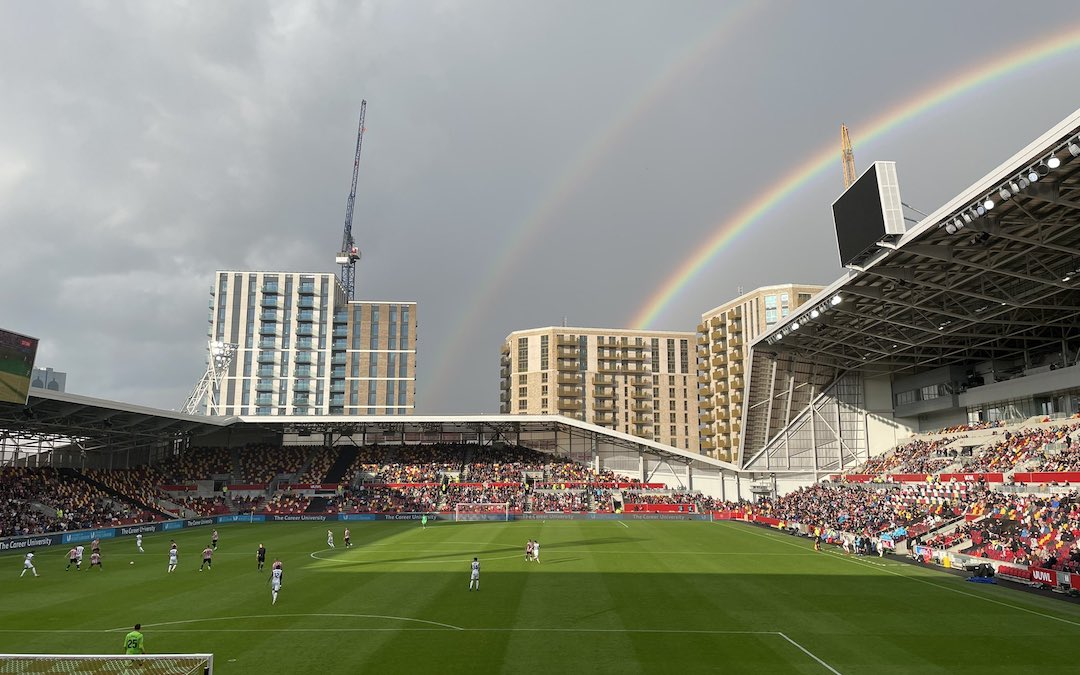 Heading towards this weekend and modern Liverpool's reality is a trip to now Premier League Brentford. That cocky Griffin Park kid, now a man in his 50s I presume, will somewhere, probably on the internet, be telling anyone who cares to listen, how Brentford are going to batter Jurgen Klopp's Liverpool. 
Brentford may be in the big time now, but plucky Liverpool aren't just going to lie down and take their medicine. Klopp's mighty Liverpool edifice lay in ruins in March of this year. The Rome that Jurgen had built had been razed. The manager and his men surveyed the scene of their own devastation, assessed, retrenched, and then got to work. They didn't come out swinging exactly, but set about rebuilding step by step, brick by brick.
A trickle of a recovery has become a river of momentum, with Liverpool on a run that now stretches, from last season to this, to 14 victories from 17 games (in all competitions). Liverpool sit (joint) top of the league and are on the march. 
There can be no doubt that if Liverpool are to reclaim the title then next week's Anfield encounter with Manchester City is a major marker point on the quest. Presently, The Reds lead City by three points. City go to Chelsea this weekend. If Liverpool can defeat Brentford, then who knows what potential scale of reward is possible from the Man City clash.
Brentford away this Saturday is a massive game. The home side's impressive form should serve notice to Klopp and his team that nothing but the same steely focus and determination that has served them at their best, will do.
The improvement in Liverpool's fortunes is, in some quarters, being simplistically attributed to the return of last season's injured playing contingent. Quietly though, the treatment room is still too crowded. At the time of writing, we don't yet know if Roberto Firmino or Trent Alexander-Arnold are available for Saturday. We definitely know that Thiago Alcantara, Naby Keita and Harvey Elliott won't be involved. All of these players have been first picks for Jurgen Klopp in recent times.
The Liverpool boss seems to be increasingly on a mission to demonstrate that his squad has far greater depth and quality than many imagined. He proved that in fairly emphatic fashion by guiding his team to defeat AC Milan with Divock Origi parachuted in from his wilderness, and Virgil van Dijk rested. Against Crystal Palace he gave a debut to Ibrahima Konate and drafted in a new full-back pairing of James Milner and Kostas Tsimikas.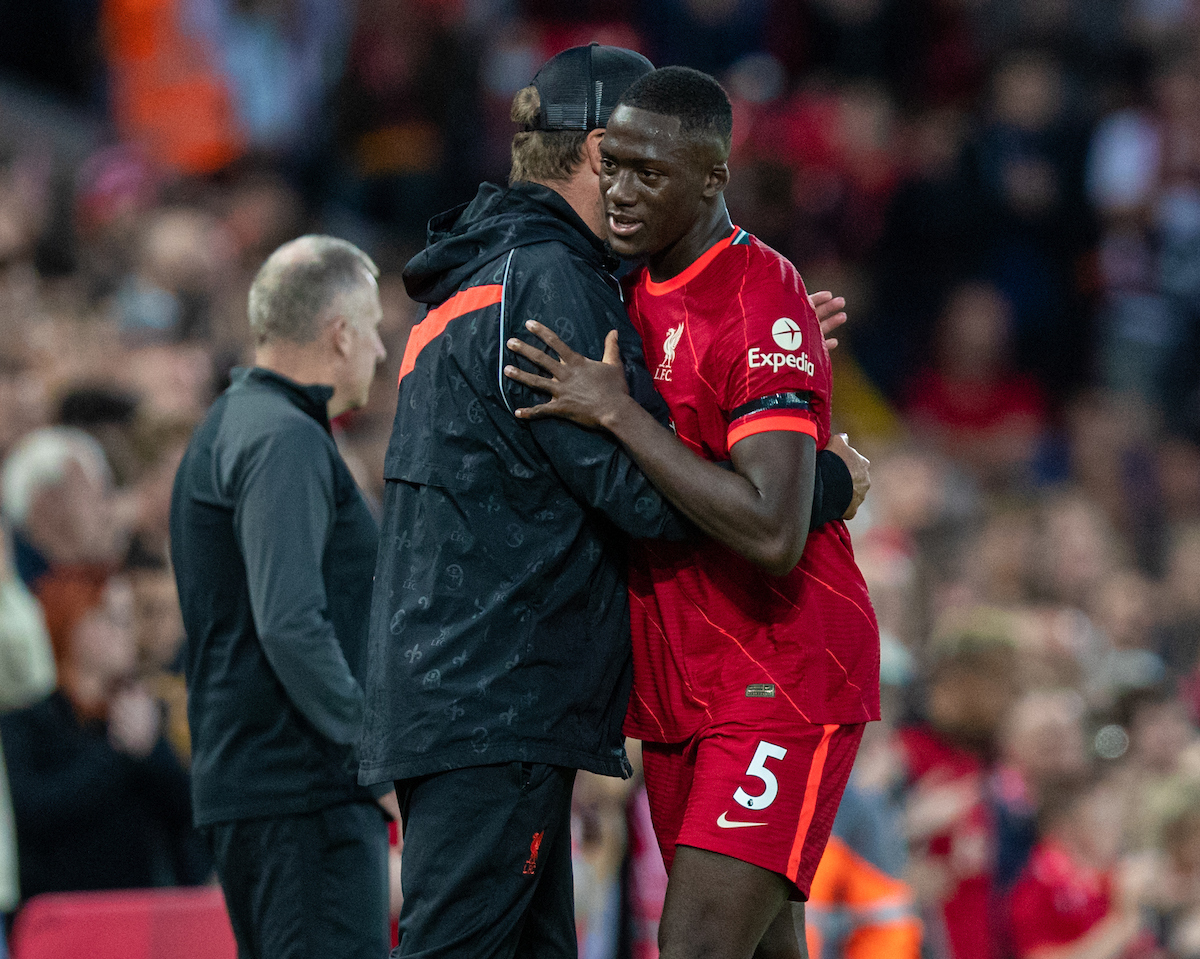 Rotation — heavy rotation — is Klopp's new jam, which all makes second guessing his selection for this weekend a tall order. I'm going to punt that his current 'first-choice' back five will be reestablished. That's Alisson Becker, Trent, Andy Robertson, Virgil and Joel Matip. The aim will surely be to rest Joel against Porto in the week and have him fresh for City on the following Sunday.
Jurgen's midfield options are thinning by the day. He'll work backwards from wanting Fabinho and Jordan Henderson as definite starters against Man City. I think he'll expect Fabinho to give him three games in a week (having been rested for Norwich on Tuesday) but spare Henderson against Porto.
With Thiago, Keita and Elliott ruled out, Alex Oxlade-Chamberlain and Curtis Jones remain the manager's options for the more advanced number eight role. My best guess is that Curtis will deservedly get the nod.
In attack, it will surely be a case of Diogo Jota, Mo Salah and Sadio Mane again, although Bobby Firmino will hope to feature from the bench and maybe start next week in Portugal.
As there's a paucity of away tickets for Saturday's game, I won't be at Brentford in body, but I will in spirit. There's three big points at stake, but somewhere deeply recessed in me will be the desire to wipe some absent eyes.
Up the banishing of yesteryear's ghosts Reds.
Predicted 11: Alisson; Trent, Matip, Van Dijk, Robertson; Fabinho, Henderson, Jones; Salah, Jota, Mane
---
"I know everyone is scrambling over going to watch Ronaldo at old Trafford, but we get to watch Mo Salah in his prime…You can't beat that."

🎥 The Preview Show: Brentford

👉 https://t.co/oaOWcUhPWR pic.twitter.com/2sSKxfNpu1

— The Anfield Wrap (@TheAnfieldWrap) September 24, 2021
Recent Posts: