After a big performance in the win against Leeds United, can Thiago Alcantara make himself a tried and trusted member of this Liverpool team?
LOOKING back, I loved Leeds away.
In the moment, we as human beings are often inclined to accentuate the negatives. To be fair, there were a number of them. Harvey Elliott's injury sparked a period of about 15 minutes which was just eminently negative. Nastiness from small minorities of both sets of supporters and some snideness on the pitch.
However, after the fact, I was able to reflect on the day with much more of a rosy tint. I had a lovely time with my mates and saw loads of old faces I'd not seen in an age. It was a 3-0 win and another valuable three points at a ground which could have easily proved to be a banana skin for The Reds. And there were so many good performances on the day.
On the Post-Match Show I focused specifically on the performance of Thiago Alcantara and I'd like to do the same here. I think he deserves it.
In a strange way, Thiago Alcantara was a microcosm of everything that was wrong with Liverpool last season. That is absolutely no slight on the Spaniard, by the way. It was more the circumstances he had to come into, but of course that didn't stop the criticism — such is life.
First there was the article from a nationally renowned journalist about his lack of assists, which seemed to be batted back by most sane Liverpool fans, but a few still had some reservations of their own. After all, he was supposed to be this sumptuous footballer, unfazed by anything that could be thrown at him, no less by some Premier League grocks.
The problem was that he has to be comfortable enough in his surroundings for all that to be true, and his surroundings were akin to that meme where a cartoon dog is surrounded by fire yet suggests "this is fine". The defenders were out, the midfielders were the defenders, and Thiago was suddenly being asked to put out more fires than your man from Pontypandy.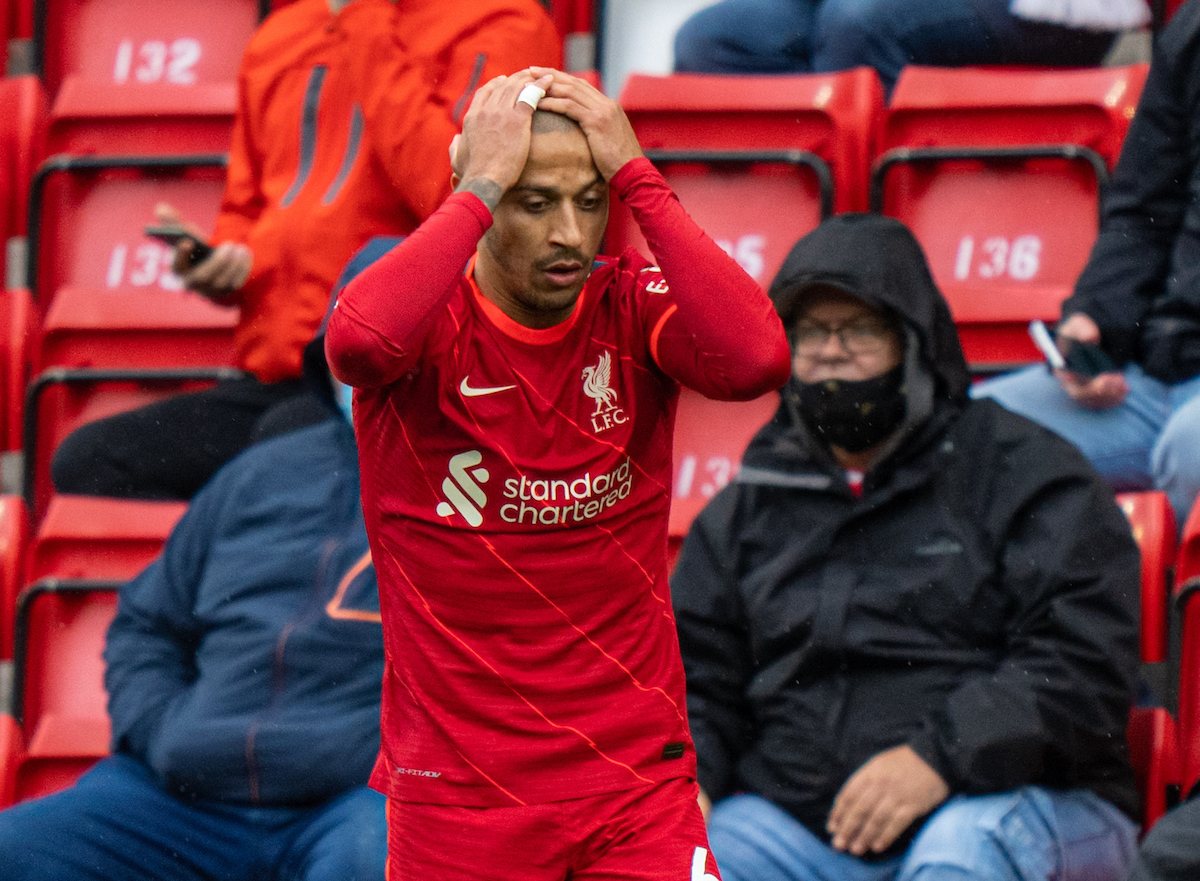 It was far from ideal for him, especially after arriving at a new club during Covid times. We should talk about those circumstances too.
We know all the hits: no crowds, no socialising, no normality. Add in the fact that Thiago himself caught the virus shortly after the first 45 minutes of his Liverpool career, and upon his return was chopped down at knee height by some fella who seems to think he's a pigeon.
So he didn't really get the chance to ignite his career until January, by which time… (Gestures wildly towards the aforementioned fire.)
As The Reds started to settle down, so too did Thiago and he managed to cap his strong end to the season off with his first goal for the club, the springboard to hit the ground running ahead of the new campaign.
Then a late start to this campaign due to his Euros involvement meant we only got to see the Spaniard in fits and starts. That was until Leeds away. As I said before, when Thiago arrived he was supposed to be this sumptuous footballer, unfazed by anything that could be thrown at him, no less by some Premier League grocks.
At Elland Road, Thiago had truly arrived.
Despite the criticism about his assist totals he managed to set Sadio Mane up for his long-awaited goal. Despite the criticism about his tackling he made as many as the rest of his team combined that day, including one which was pretty much a backheel flick that launched Liverpool into a counter attack. Oh and he maintained 90 per cent pass accuracy.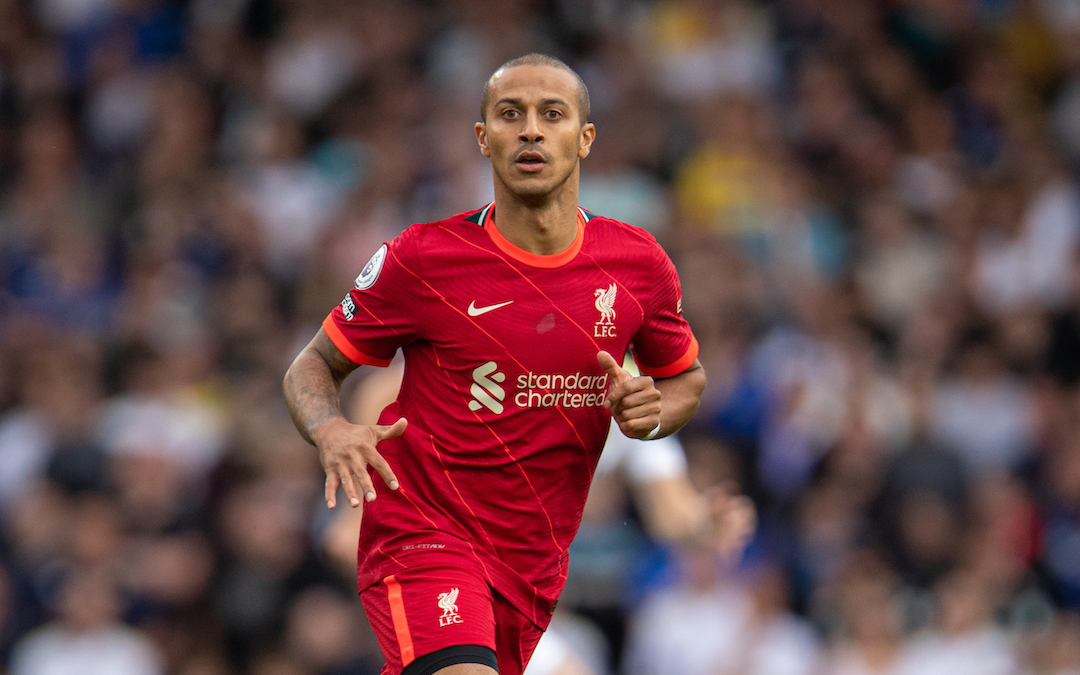 The new rules around what referees are prepared to let go to allow the game to flow seemed a breath of fresh air on the face of things, until teams started to realise they could exploit these rules based on the circumstances of each individual game and the referee. And Leeds were very much in that camp.
The tackle on Harvey Elliott was actually not one of the worst of the day, those were saved for Mane and Mo Salah up top. But Thiago too took more than his fair share of kickings, rode those challenges and still had the courage and determination to pull off some sumptuous feats of footballing brilliance.
All the attributes we expected from the player we signed from Bayern Munich were on display and, though it's just one game, this can hopefully now provide the foundation for a long and successful run in the team for Thiago.
I'd say he's unlikely to play on Wednesday night given the fact that Jordan Henderson didn't start on Sunday, but perhaps the injury to Elliott will make Jurgen Klopp want to go a bit more tried and trusted in this game before going for some wildcards against Crystal Palace at Anfield.
At a point last season there were questions about whether Thiago was one of such wildcards. But now, with tried and trusted hall of famer Gini Wijnaldum living it up in Paris, Thiago can really show his stuff and fill that role for the team.
Or so we should all hope 'cause his song is an absolute bop.
---
"I think you saw yesterday in Thiago exactly why we bought him. World-class throughout, the way he keeps the ball…his technical ability is ridiculous."

🎥 Leeds United 0 Liverpool 3 | The Final Word #TAWVideo

Subscribe to Watch👉https://t.co/RZ5ckXvRKw pic.twitter.com/o5k1ekjLIG

— The Anfield Wrap (@TheAnfieldWrap) September 13, 2021
Recent Posts: