There were some big performances from Liverpool against AC Milan, but few made an impact quite like Jordan Henderson and Fabinho…
MAY 25, 2005 – There are places I'll remember all my life.
Sixteen years on, three goals and another dramatic comeback.
For 30 minutes Liverpool were at their very best. They were the dominant force. The only force. AC Milan were shellshocked and The Reds were unforgiving. The Italian's were shown how intense European nights at Anfield can be.
Just the 13 shots in the opening half hour. Dominant and dangerous, and in total control. Trent Alexander-Arnold creates a goal and everything feels right. Andy Robertson is a man possessed and Jordan Henderson and Fabinho don't give them an inch. But then there's a penalty miss and it becomes a bit nervy. The boat is rocked, and the tide turns.
It's just an absolutely berserk night of football. The very best of the sport. A night that has you scratching your head wondering how Liverpool find themselves behind at the break, before dancing madly into the night when Henderson's volley ripples the net. Yet another magical European night at Anfield.
The emotion and the joy, the excitement and the nervousness. These are the nights we have all missed the most. These are the nights when this team shows their mentality and refuses to go down without a fight. This is what it's all about and what we are all in it for.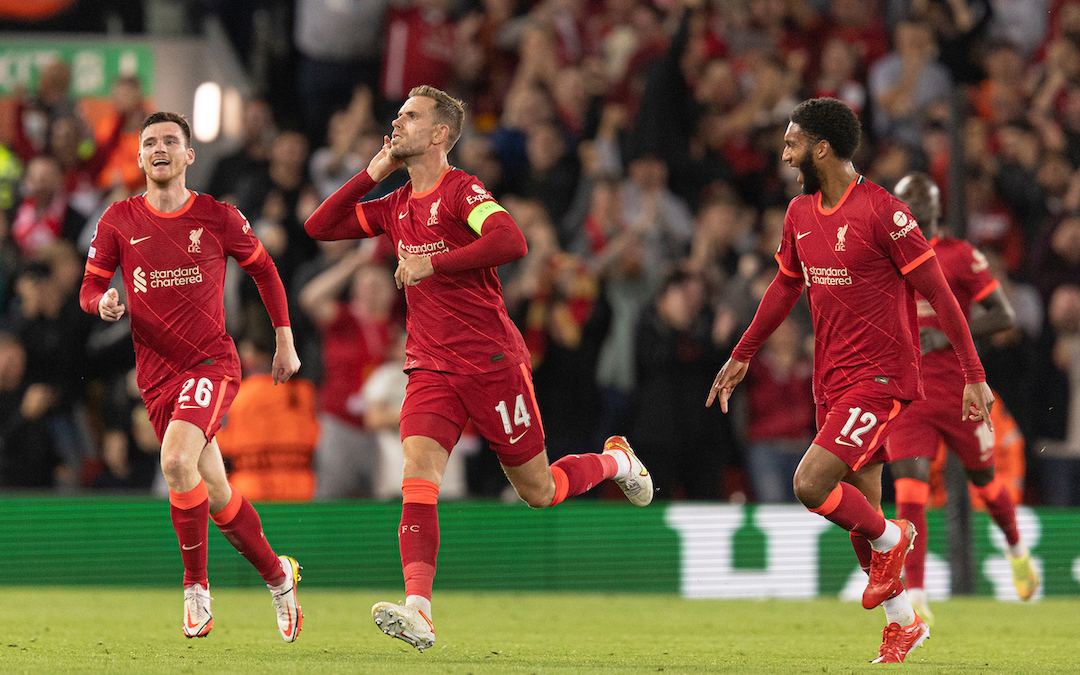 I've always hated comparisons between Henderson and Steven Gerrard. They are too black and white and dismiss Henderson as a player, and captain, in his own right. He is both an exceptional footballer and leader for Liverpool Football Club and will be remembered as such when the time comes.
But last night he is every bit of the man. He steps up in the most Stevie way and drags his team back from the edge. A captain's goal and a leader's moment. A sweetly struck half volley that gave The Reds lift off and has us all dreaming again.
It is a game, though, that is as much decided by Henderson's winner as it is by the sheer resilience of his midfield compatriot.
Even in circumstances as chaotic as this, Fabinho finds a way to bring a sense of calm. It's what we want, it's what Liverpool need. There are few who make you feel as safe as he does. A genuine master of his craft.
He was a one-man midfield at times against Leeds, and a defining force again versus Milan. Everywhere and anywhere, Fabinho was always in the right place at the right time, stamping out dangerous situations with minimal fuss. His reading of the game is phenomenal and while his interventions may not make headlines, they are crucial nonetheless.
He's a player who loves the ugly side of the game. The grit. The niggly fouls. He's the cynic in us all. A player who jumps at the chance to put his foot in and emerge with the ball. No player made more interceptions last night than he did.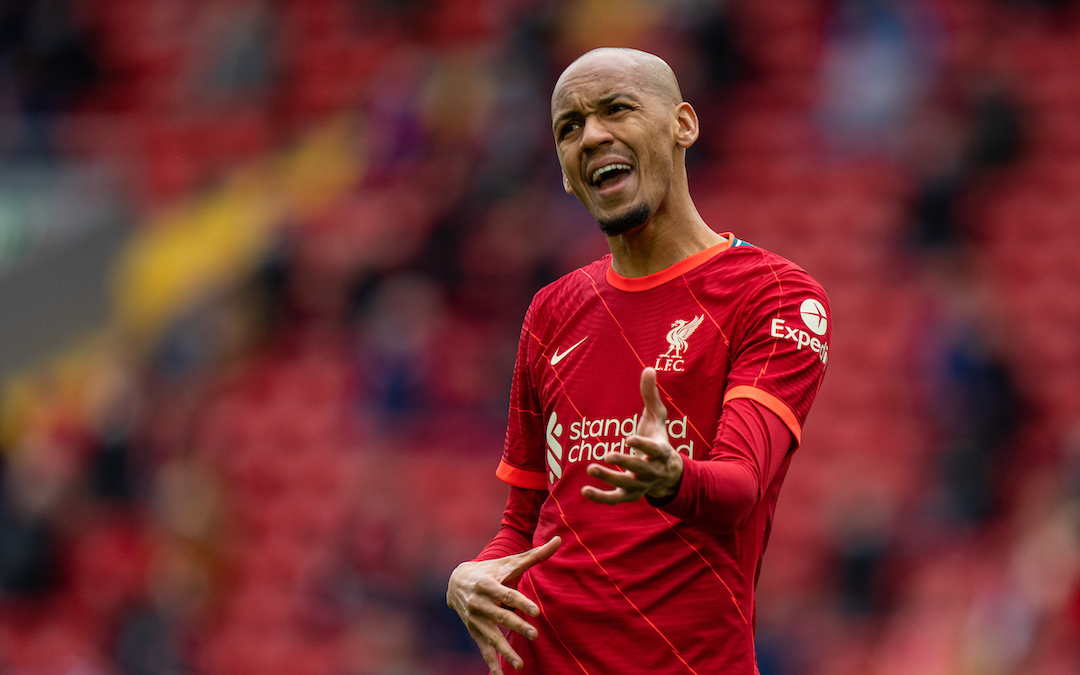 It is a level of performance we've become accustomed to, but one that shouldn't be taken for granted. The perfect security blanket and a player who is so critical to this side. He is the very best at what he does, and Liverpool reap the rewards. They'll need him a few more times this season.
Last night was a reminder of how good football can make you feel. A big European game at Anfield that had it all. Joy and suspense. Nerves then euphoria. There are few things in the world like it.
Liverpool were brilliant and then they weren't. But in the end, they remembered who they are and they made it count. There'll need to be more of that in the weeks to come and Henderson and Fabinho will be right at the heart of it.
Lift off for The Reds in Europe, now the small matter of four games in 10 days. It all starts again on Saturday.
Fewer mistakes and less nerves please, Reds. But I'll take the three points all the same.
---
"It was absolutely unreal being bacl in Anfield for a European night" 🏆

"Jordan Henderson deserved that moment" ✊

Subscribe for all our post match content 👉 https://t.co/RZ5ckXvRKw pic.twitter.com/GbSNRW3bme

— The Anfield Wrap (@TheAnfieldWrap) September 15, 2021
Recent Posts: